Four Wacky-Cool Recipes To Prepare At Home

Here are some of the most outrageous, fun, but sometimes a degree far-out-from-this-world food you can prepare for your guests at your place.
WAFFLED PIZZA DIPPERS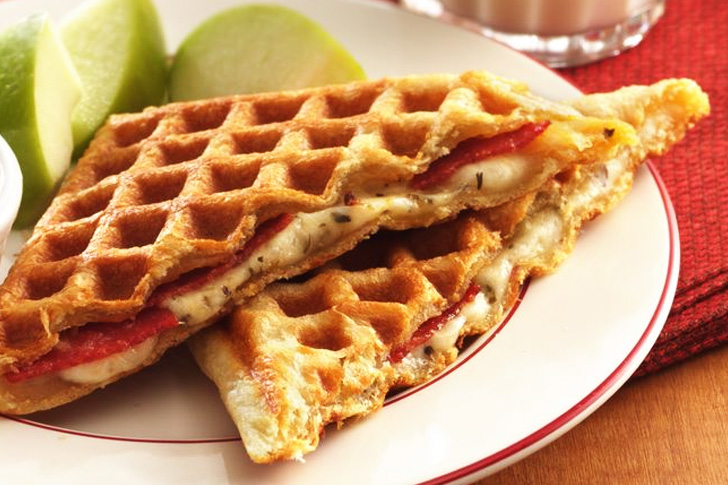 INGREDIENTS
Cheeses:
1 3⁄4 cups shredded mozzarella cheese
– 1⁄4 cup shredded parmesan cheese
Herbs:
1⁄2 teaspoon dried basil leaves
1⁄2 teaspoon dried oregano leaves
Main:
2 cans of refrigerated crescent dinner rolls
1 jar of pizza sauce
32 small pepperoni slices
DIRECTIONS
Setting at medium-high degree, heat the waffle maker with an 8-inch-square cooking surface.
Using a medium bowl, mix the cheeses together with the herbs and set aside for later.
Using a 1 1/2-quart saucepan, heat the pizza sauce and occasionally stir until it is hot in a low-degree fire. Then put the sauce in a small serving bowl.
Open the cans of dough onto the work surface, make four 7×6 inches rectangles, and firmly press the dough.
Place 1 rectangle on the bottom surface of the preheated waffle maker. Be careful to avoid making perforations and swiftly and evenly sprinkle a cup of cheese mixture on top of the dough. Then add half of the sliced pepperoni evenly over the cheese mixture. Cover it again with another rectangle dough and close the waffle maker. For 2 to 3 minutes, allow the waffle to bake until the sandwich is golden brown.
Use a pancake turner to remove waffled pizza from the waffle maker and put it on the cutting board. Let it cool first for 30 seconds before cutting into square sandwiches or triangular snacks.
Repeat with remaining dough, cheese mixture, and pepperoni, and don't forget to serve the snack warm and with the pizza sauce for dipping.
KOOL-AID PICKLES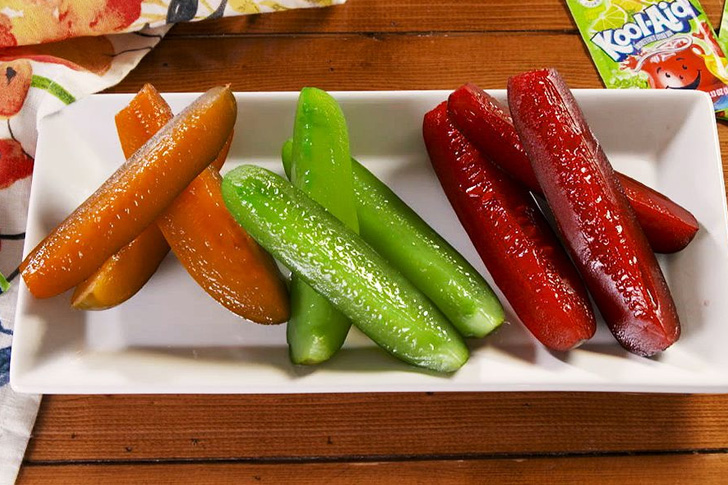 INGREDIENTS
1 jar of whole dill pickles
1 cup of sugar
2 cups of water
2 packets of kool-aid unsweetened cherry drink mix
DIRECTIONS
Drain the whole dill pickles of its juice from the jar, cut the pickles in half lengthwise, and return the pickles to its jar to be set aside for later.
Using a large measuring cup, combine the rest of the ingredients and stir until the sugar is dissolved completely. Then pour the liquid into the pickle jar until all pickles are covered.
Cover the jar and refrigerate for at least 24 hours.
CHOCOLATE SALAMI
INGREDIENTS
1 cup of sun-dried cherries
8 ounces of semisweet chocolate
4 teaspoons of butter
8 teaspoons of sugar
2 ounces of finely chopped almonds
2 ounces of finely chopped pistachios
6 ounces of crushed biscotti
2 teaspoons of candied orange peel
1 ounce of Grand Marnier
3 egg yolks
DIRECTIONS
For 30 minutes, soak the cherries in warm water, then drain well.
In a bowl, put in chocolate with butter and place bowl over a pot steamed in low degree heat until the contents are melted.
Mix in the almonds, pistachios, biscotti, sugar, cherries, orange peel, and Grand Marnier. Be sure to mix all ingredients well.
Finally, remove the bowl from the heat and add the egg yolk. Again, mix well and cool completely.
Using a sheet of wax paper, form a salami shape by rolling the in the paper.
Refrigerate 4 hours or overnight and slice to serve.
FROG LEGS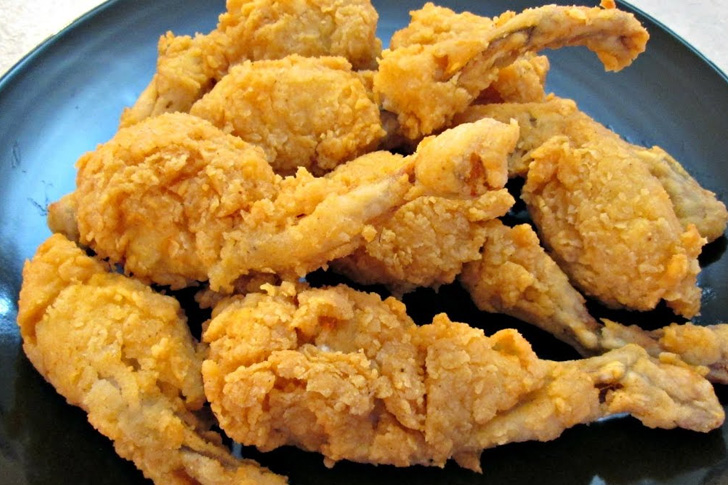 INGREDIENTS
Nutrition
12 frog's legs
2 eggs
1 lemon juice
2 parsley sprigs, chopped
dried breadcrumbs (fine)
salt (to taste)
pepper (to taste)
oil
DIRECTIONS
Be sure to preheat the oven at 375 degrees Fahrenheit.
While preheating, remove the frog's skin from its legs. Rewash them and drain.
Then, marinade frog legs with lemon juice, salt, and pepper.
In a separate bowl, beat the eggs and add the parsley.
Dip the legs in the eggs, then roll in bread crumbs.
Again, heat oil at an appropriate degree of heat with enough oil in a large pan to fry. Fry frog legs in the oven for 3 to 4 minutes.