Top 3 Korean Food Experience You Should Not Miss

All of a sudden, we find South Korean food dominate cities around the world. The past few years have been a series of pop up of the Korean culture in all industries. It was coming first from Korean TV dramas to music, cinematography, and, quite recently, food. Credits to forerunners such as Korean-American Chef David Chang and Kpop wonder Psy (known for the hit Oppa Gangnam Style), we now welcome this culture with arms wide open. Especially these days, with Korean food firmly standing on its own and gaining more popularity, it is now considered a cult of its own. When this pandemic would soon be over, and you decide to book that flight to Korea finally, here are the three food experiences you must try while in the country:
Gwangjang Markets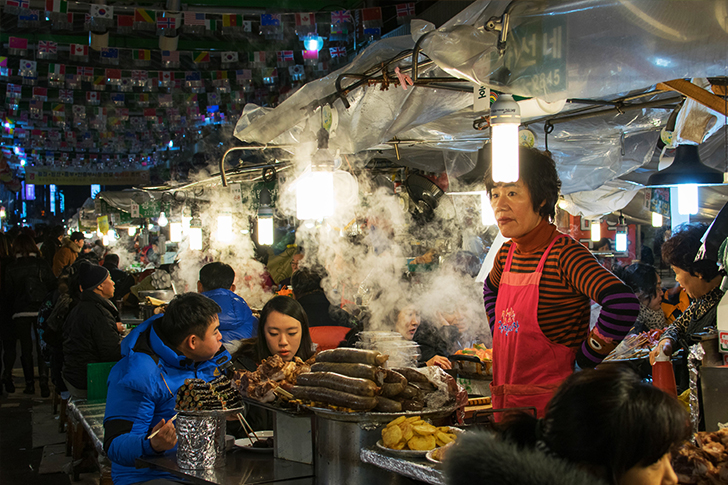 If eating street food is your thing, then you'll surely like Gwangjang Markets. With all its featured sizzling street food, you'll have a hard time choosing which ones to try first. But let us give you some favorites from the area.
Not a long time ago, Cho Yonsoon, a famous stall owner in the area, was credited for her story in Netflix Street Food. As Episode Season 1's South Korea Representative, she opened her booming business to the show and how her fresh-cut noodle soup is a tourist favorite, even amongst locals. The show also presented how her food biz service is fast and friendly. You can try her dish with kimchi dumplings as they are so delicious.
There's also another experience that you must try from this area, and that is San-nakji. It is a dish featuring a small octopus that might still be moving. It isn't a live one, though. It's just a nerve activity happening in the octopus' tentacles posthumously. If you're having trouble about it, might as well get a Soju chilled to some degree first and make sure you've had a few shots before chewing on the octopus.
Korean BBQ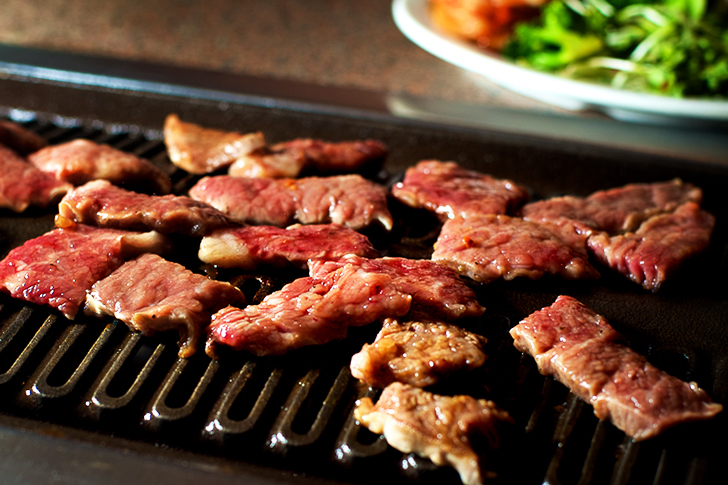 This experience is not for the vegans as Korean BBQs is the barbeque of all barbeques in the country. In Korea, you will see many restaurants offering this dish. Whether it's an indoor resto or not, a grilling station or option is available. In most of these BBQ places, especially when they know that you are a tourist, they will offer to cook the meat for you. It's best to allow them the opportunity to serve you to the degree that they even show you how to eat your BBQ with the famous Korean condiment ssamjang and perilla leaf wrap.
In this Korean BBQ experience, it's advisable to splurge in ordering beef and Hanwoo. It might be the most expensive BBQ, but it is worth the price! Although, because of its price, many BBQ places opt for the high-fat cuts of the pork belly.
While at it, you can try their seasonal selection of mushrooms as they vary every month, except for King Oyster mushrooms that are usually available all year round. Add some salt and a dash of sesame oil, and it should do the trick.
Lastly, serve with an array of banchan (side dishes of various pickled vegetables). Your Korean BBQ experience will be one you'd want over and over again. By the way, did you know that the banchan is for free and can be replenished for more in South Korea? Exciting, right?
Noryangjin Fish Markets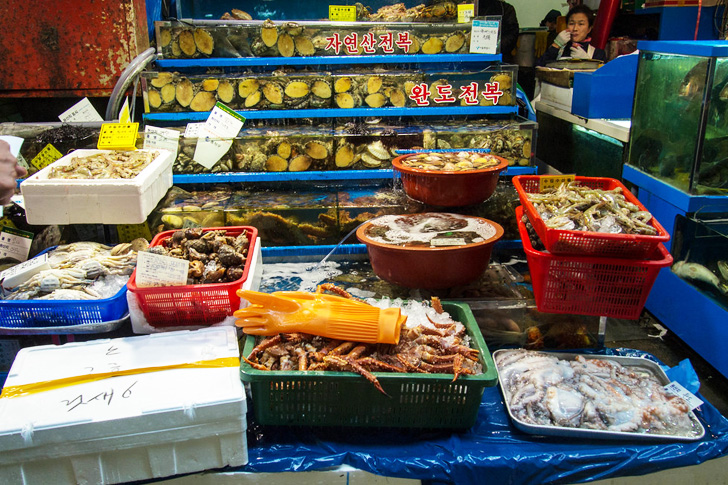 Lastly, our third pick is the Noryangjin fish markets in Seoul. This market is definitely a go-to foodie destination one should make an investment in. It is totally worth your time, and you can find out how South Korean fish markets differ from the rest around the world. In Noryangjin, most of the fish are very much alive and still swim in tanks.
To ensure that the fish you order is fresh, you can order it while it is still alive and have it filleted on the spot. Fishmongers can prepare your fish order into sashimi for takeout. Or you can get the restaurants in the area to cook it for you. This costs lesser than buying your fish from the restaurants.
In the market, you also have a wide range of fish, crabs, and other seafood choices. There's also an array of restaurants to choose from who can cook your food to whatever degree you like. From simple restaurants to fine ones, they have it all. It's totally a food experience you shouldn't miss.