Celebrity Closets that Hold A Different World

One perk of being a celebrity is access to a lot of designer clothes, bags, and shoes. Not only do amazing stylists and fashion designers get to dress them up on a daily basis but they also get to keep the gorgeous outfits that they wear. On top of that, sponsors from all the big brands also willingly give them pieces from their collections. Of course, their whopping net worth will also afford them their own shopping spree whenever they have the time.
With all of this on their schedule, it is but fitting that they have enough storage space for all the articles of clothing that they have. We all know that a Hollywood star's closet is not only massive as a collection but also huge in terms of size, style, and design. Not only are we interested in the investments that they made for their collection, but also the sizable walk-in closets – or rooms, really – that they have. Read on to see our collection of the most enviable celebrities and their magical closets.
Mariah Carey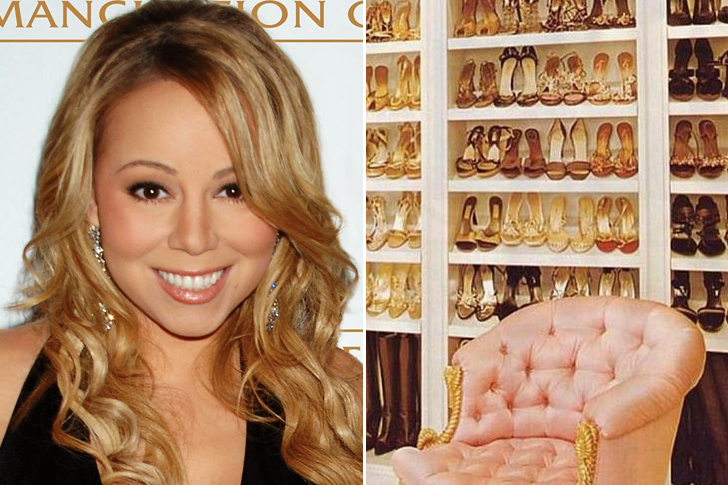 The iconic singer Mariah Carey is known not only for her impressive vocals but also for her shining, shimmering outfits. The apartment that she has in Manhattan doesn't only have the best home security but also the most bedazzling closet you will find. Her wardrobe looks almost like a boutique. It features a dressing area, all her designer clothes arranged by color on the racks, an enormous collection of enviable shoes which includes dozens of stilettos and a special compartment for knee-high boots, and a comfortable chair to plop down on after trying out all the clothes. Carey admits to having a sense of style that is way more glittery than the average person's day to day ensemble. This is the place she houses all the shimmers.
Jennifer Aniston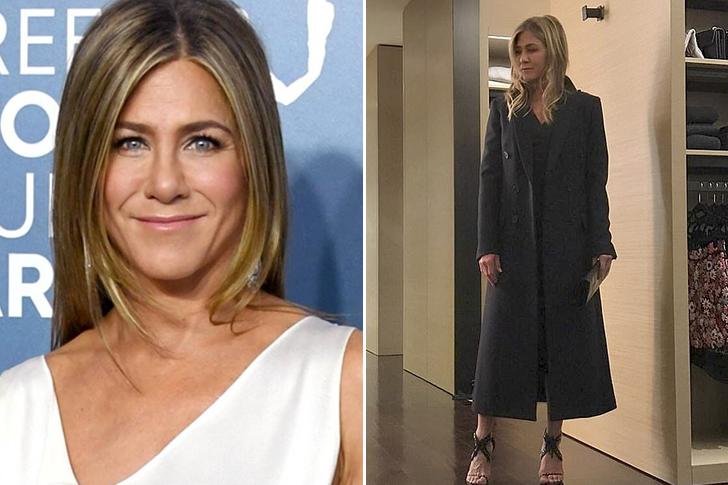 Actress and TV host Jennifer Aniston is not only a style icon but is also an owner of a closet big as an apartment. During the pandemic, the star opted to clean out her closet to do something while on lockdown. On The Ellen DeGeneres Show, DeGeneres started calling her friends to ask them what they were doing at home. Aniston was featured talking to her friend about the progress of her self-initiated endeavor. She claimed that though she had started on it a while back, she still hasn't finished. Inside her gigantic wardrobe are endless aisles of designer skirts, coats, dresses, bags, and jewelry. At the end of the hallway, a mirror that goes up to the roofing stands. With the number of things in there that she has to sort through, she might not be able to finish in a jiffy.
Oprah Winfrey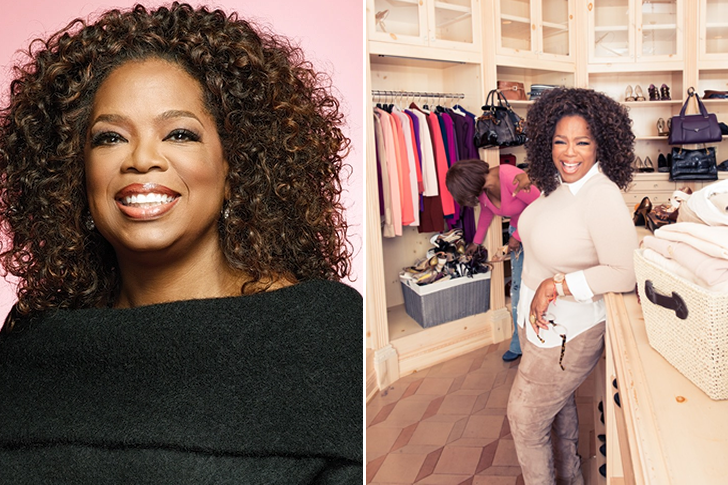 TV host Oprah Winfrey has been in the entertainment industry for decades. With her constantly busy career, she has also been accumulating outfits from all her shows and appearances. When she had to move from Chicago to Los Angeles, she did not only have to make the moving company pack up all her furniture but she also had to personally sift through her massive wardrobe. Her closet cleanup was featured in her show and it showed designer staples like high heels but it also housed lots of sweaters, button-down shirts, and slippers. Winfrey liked to show her fashionable side with her gorgeous shoes but she confessed to taking them off and retiring to her comfortable slippers when the cameras have disappeared.
Heather Dubrow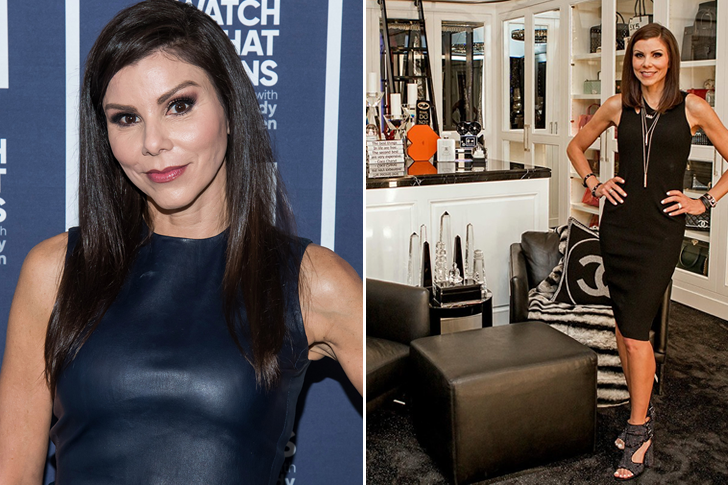 The Real Housewives of Orange County star Heather Dubrow and her husband plastic surgeon Terry made an investment in buying a property that they called Chateau Dubrow. As a personal project, Dubrow designed her mansion's interior herself. The couple no longer hired an interior designer and took it on themselves to create a home for their family. With the whole project in her hands, Dubrow took the opportunity to immerse herself in designing her own closet. The wardrobe is big and rectangular in shape. It features glass wardrobes that flaunt all of her dresses. A black island made of marble sits in the middle of the room containing her jewelry. Last but not least, Dubrow's dressing room has a button that calls the kitchen when she needs a glass of champagne.
Catherine Zeta-Jones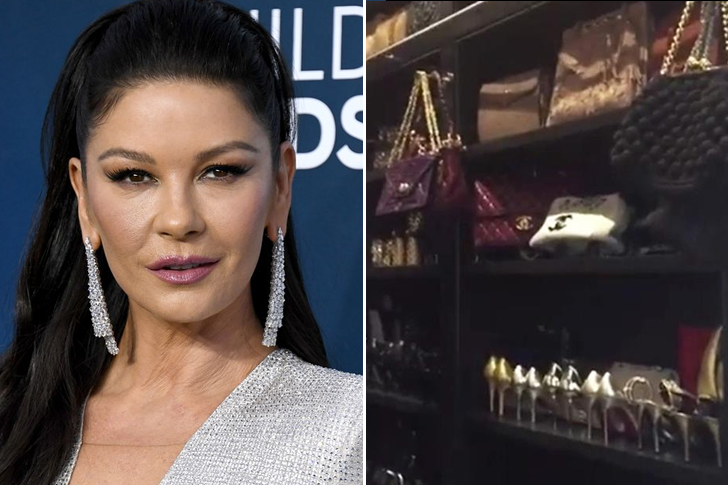 Welsh Actress Catherine Zeta-Jones was a hit on Instagram when she posted on her stories a virtual tour of her closet. Featured in her tour were her shoe and bag collection. She showed off her impressive assortment of Chanel bags, Hermes silk shawls, and sparkly high heels. Her shoes were arranged according to color; her clothes were arranged according to type. Her closet had wooden racks and glass shelves to display her favorites. All of the contents of Jones's wardrobe leave us in amazement but it also makes us wonder about her credit score. Being a celebrity truly has its perks, as a number of items in there were probably given to her for free because of endorsements and sponsorships.
Paris Hilton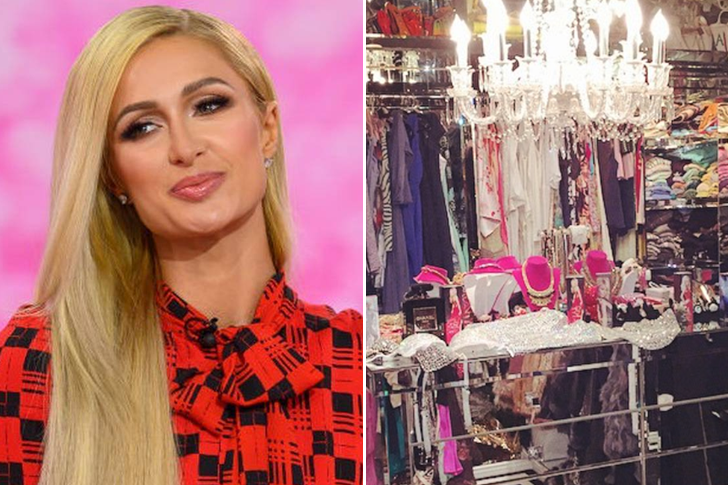 Heiress and model Paris Hilton has always been a fashion icon. With her designer clothes and stylish personality, it isn't a shock that she has one of the most luxurious closets ever. A photo of her was released featuring her wearing a leopard print suit in the middle of her closet. Behind her, her impressive collection of clothes, shoes, and bags are displayed. Her walk-in wardrobe has an island in the middle which holds her accessories. Her shoes are arranged by color. The entire dressing room has a vintage theme and a magnificent chandelier hanging from the roofing. The sophistication may be evident once you see the room but Hilton also admits to keeping toys around her closet to maintain a positive vibe.
Kate Hudson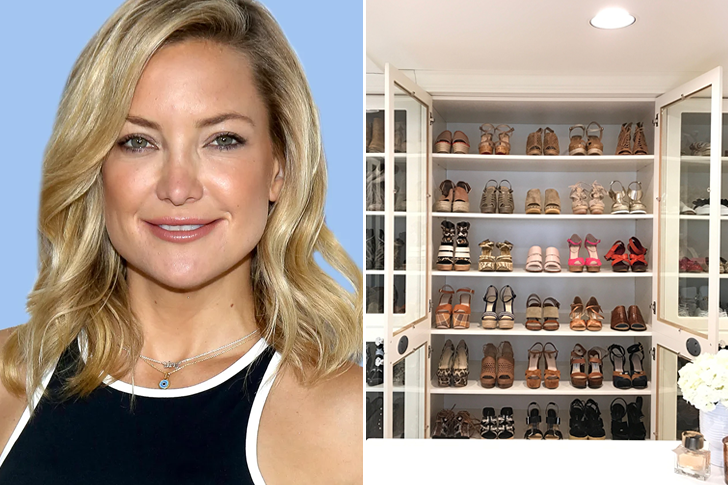 Fashion designer, actress, and Hollywood royalty Kate Hudson is a sucker for shoes. Her extraordinary walk-in closet features her enormous shoe collection. The white shelves that line up her walls house all her prized designer footwear. The colors pop against the white, making her closet look even more appealing. Other than her regular shoes, she also has a special group of them kept in glass to keep them from wear and tear. The celebrity had help from the Neat Method in organizing her precious shoe closet and entire wardrobe. Other than her acting career, Hudson also made an investment in putting up her own clothing line that specialized in workout apparel called Fabletics in 2013. In 2018, she made another fashion line partnering with New York & Company.
Cindy Crawford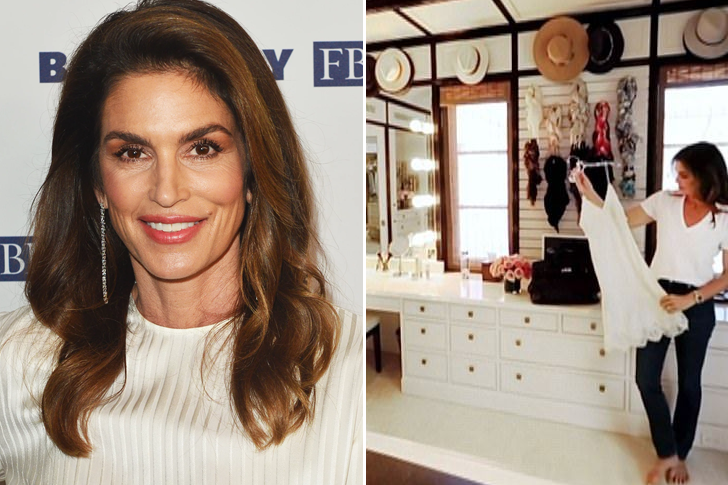 Iconic supermodel Cindy Crawford is not only a big name in fashion but in the entire entertainment industry as well. With this reputation, it comes as no shock for the celebrity to be wanted by big brands and important events. Because of her very successful career, she has managed to earn not only a fortune in her bank account but also a huge collection of designer clothes, bags, shoes, and jewelry in her closet. She keeps all the pieces that she considers memorable and priceless in her collection. Along with her top-notch home security system, Crawford also had a magnificent walk-in closet installed in her Malibu home. The wardrobe houses her favorites including a sultry black Versace dress and her iconic Levi's jeans that she wore in her Pepsi commercial.
Mark Zuckerberg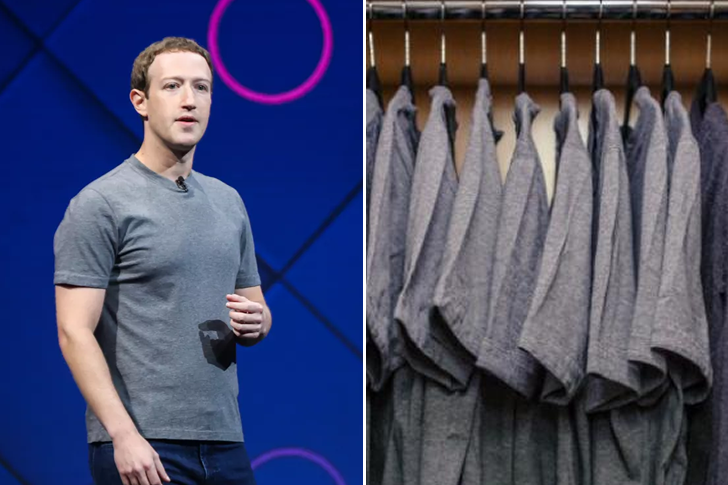 Mark Zuckerberg is undeniably one of the most important people on the planet today. With his contributions to modern technology, one would not be surprised to know that he made investments in not only one property but ten. Among his mansions located in Palo Alto, Lake Tahoe, San Francisco, and Kauai, Hawaii, he and his family spend most of their time residing in Palo Alto which is near the Facebook building. Though we don't see Zuckerberg as one of the more audacious celebrities when it comes to fashion, his 5,600-square-foot estate houses his incredible closet. He posted a photo of his walk-in wardrobe on Facebook and in it are endless stacks of gray t-shirts and classic blue jeans.
Kris Jenner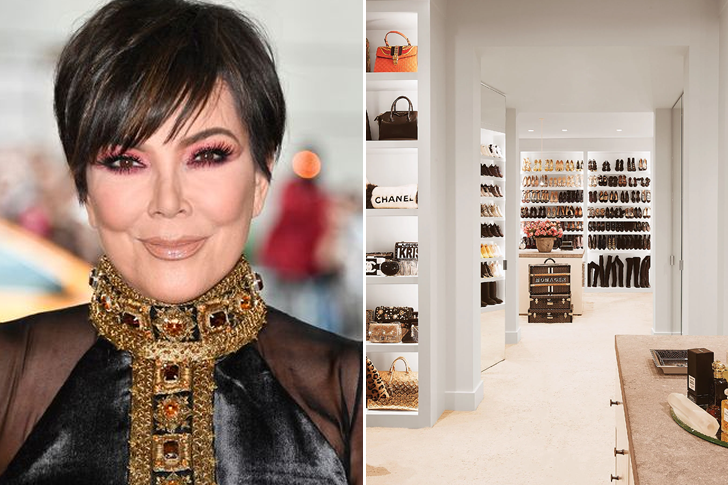 Big-name Kris Jenner showed off her gigantic closet in a closet tour. The size of her wardrobe is just like an apartment suite. Six decades' worth of collectibles has found their way into the grand displays in Jenner's house. Apparently, the Kardashian-Jenner matriarch likes to make investments in designer bags and her dressing room showed rows and rows of Judith Leiber and Birkin bags. Inside her massive closet is a room dedicated to only shoes. It boasted her huge shoe collection including every kind of footwear that exists. Because of regular filming, Jenner said that she needed a huge selection to choose from. She also flaunted her treasured items like a bedazzled clutch from her ex-husband Robert Kardashian and another black clutch she wore at the 1990 Met Gala.
Jessica Simpson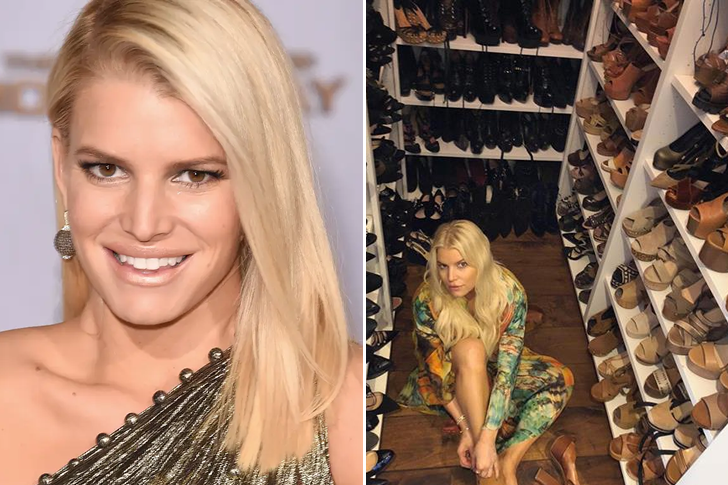 Singer and actress Jessica Simpson came from being a huge celebrity to a successful businesswoman. After a long and productive stay with the entertainment world, she immersed herself in her fashion line which has now grown into a big brand as well. A huge fashion buff, Simpson showed off her enviable closet that housed her amazing shoe collection. She posted snippets of her closet tour on her Instagram account. A lot of her shoes were black and a total of two full walls that reached the roofing housed only black high heels. Obviously, black is a staple because it matches almost every outfit. Aside from her expansive assortment of black footwear, she also has dozens of printed and colored shoes in varied styles.
 Heart Evangelista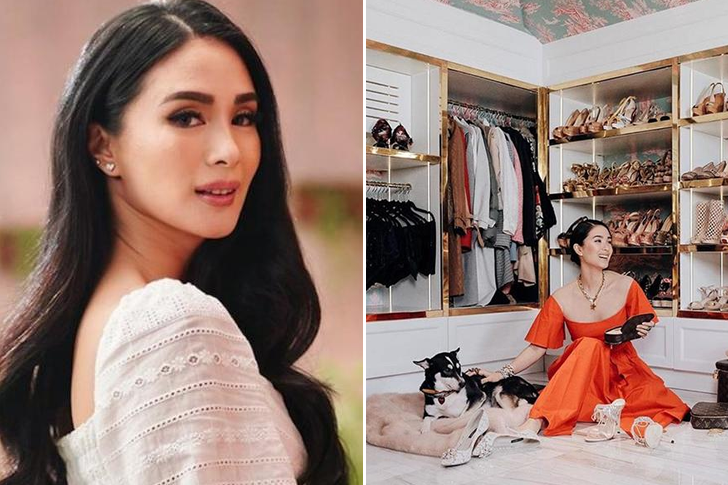 Filipino celebrity Heart Evangelista shared her closet tour and it went viral in the Philippines and around the world. The fashionista showed off her impressive collection of designer clothes, bags, shoes, and scents in her beautiful closet. Practically a room, her gold-trimmed wardrobe featured flooring tiled with marble and a beautiful decorative ceiling. The classy and feminine closet resembled a high-end boutique. Her huge collection was displayed in rows and rows of prized clothing and shelves filled with all her bags. These designer pieces aren't the only things she splurged on in the fashion haven. Her cherished dog Panda also has a designated corner amidst all her favorite items. Lastly, her personal space and office are also located inside her closet.
 Jeffree Star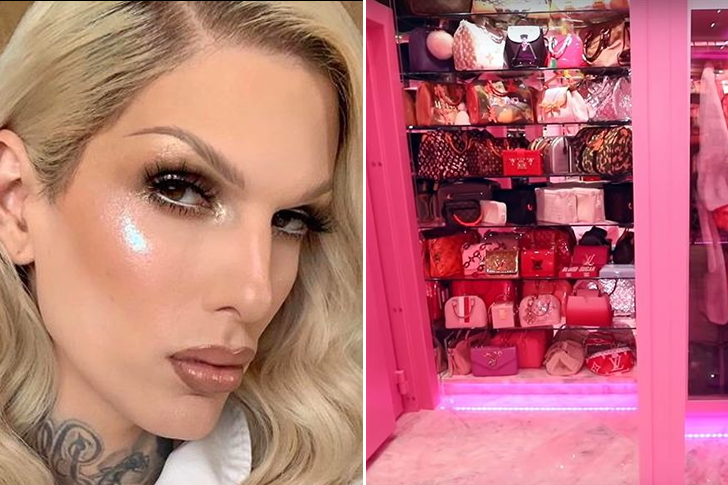 YouTube sensation and entrepreneur Jeffree Star is one of the biggest names in the makeup industry today. The star is known for his impeccable playful style and his makeup brand that became such a hit over the years. Because of his millions of followers on his YouTube channel, his business loan turned into an empire. He has earned not only a great reputation but also a hefty bank account. In the midst of his stardom, he shared with his fans a tour of his closet. His pink-hued room houses all of his treasures. His closet is a vault that is made of bulletproof steel. Inside, neon pink mood lights are installed following the room's contour. The drawers, walls, chairs, and floors are also pink.
Huda Kattan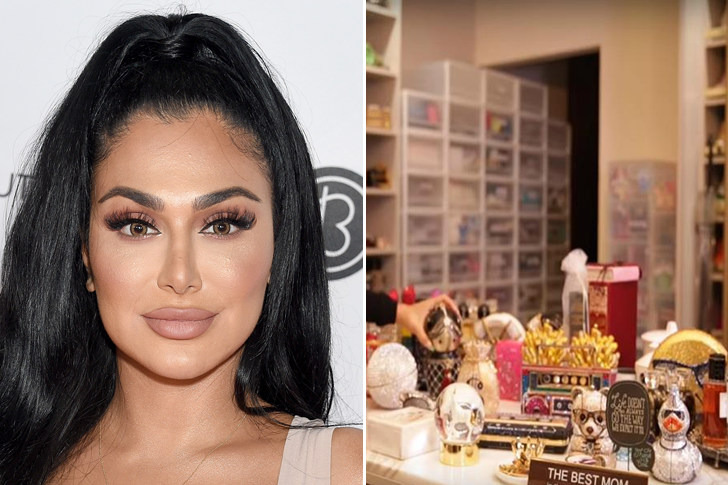 Internet sensation Huda Kattan is the owner and creator of the makeup line Huda Beauty. Just like Jeffree Star, Kattan also made an investment in using YouTube and Instagram to promote her brand successfully. Now one of the biggest names in makeup, Huda Beauty seems to be an internationally known brand. In her closet tour, Kattan flaunted her impressive collection. Her wardrobe boasted bright colors. The full array of all the colors included clothes, vintage Chanel bags, eccentric Louis Vuitton bags which are her favorites, sparkly Judith Leiber bags – her wardrobe's "jewels" and a ton of accessories placed in storage containers.  Endless shelves housed dozens of sunglasses. At the center of the great room sat a table with a marble top.
Ellen DeGeneres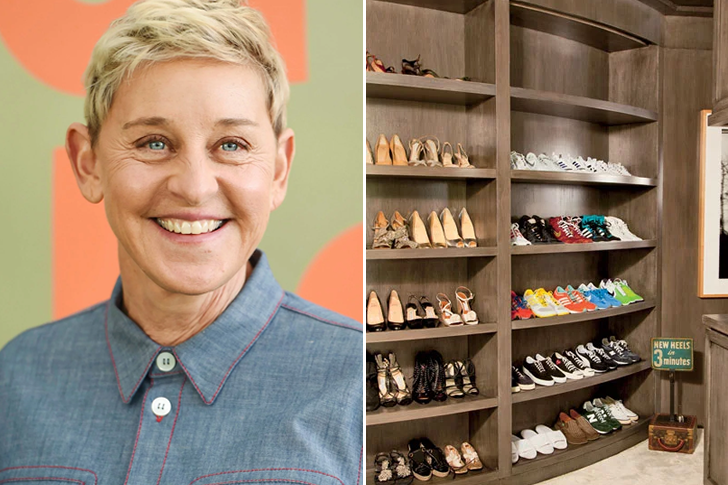 Power couple and huge celebrities in their own rights, couple Ellen DeGeneres and Portia de Rossi shared a picture of their shoe closet. Shelves upon shelves of a big shoe collection which consisted of designer high heels and a huge array of branded sneakers arranged by color went up to the roofing. The huge assortment of footwear isn't the only thing that is eye-catching about the photo though. The closet itself showed class and sophistication. Made of stained walnut, the shelves look simple but utterly elegant. A vintage sign that they admitted to having found from a flea market even completed the rustic look of the walk-in wardrobe. Found in the Beverly Hills mansion of the couple, the closet was designed by Melinda Ritz.
 Marc Jacobs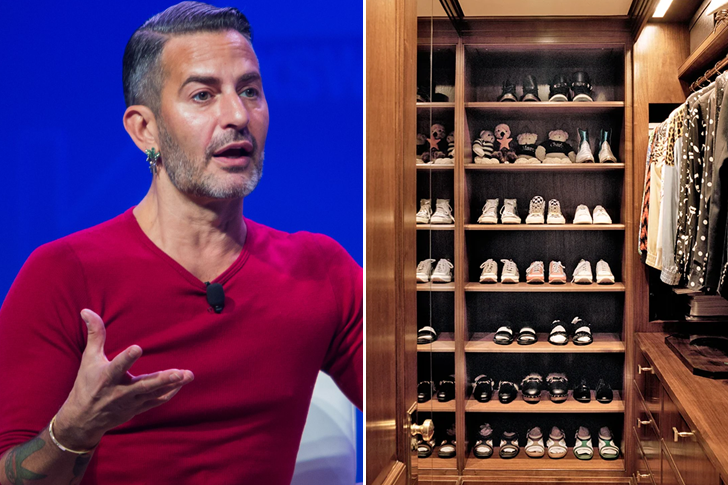 Marc Jacobs is certainly one of the biggest names in fashion. It is only but expected that he himself would have a haven that houses his own collection of fashion finds and designer labels. In one of the photos that were shared online, a mahogany-paneled walk-in wardrobe was featured. This closet is found inside his estate in Manhattan, New York. The wardrobe itself, along with the rest of his stylish home, features hardware by H. Theophile. The elegant wooden flooring, walls, and fixtures make his collection look like they are displayed in one of his luxurious boutiques. With his shoes perfectly aligned and his tops hung neatly next to each other, the lighted shelves and drawers they're in give the classy dressing room a more exclusive vibe.
 Nina Garcia

Project Runway judge and fashion icon Nina Garcia not only knows her thing when it comes to designing couture and runway-worthy pieces but also brings her expertise to her own home. Garcia's apartment located in New York features a walk-in closet that was renovated by Carlos Aparicio. The classy room houses not only her designer picks and impressive collection but also her impeccable taste. A watercolor piece by Salvador Dali is hung on the wall. A comfortable and classy lounge chair by Jean-Michel Frank sits in the middle of the room, and beside it is a tripod side table by Frank. The flooring is carpeted with Tai Ping's creation. For Garcia's personal fashion, style is evident from top to bottom.
Gisele Bündchen and Tom Brady

Celebrity couple Gisele Bundchen and Tom Brady did not only start sharing their lives together when they made an investment in buying their beautiful home, but they also shared a room that contains all of their personal belongings. As a couple, they have one massive elegant walk-in wardrobe in their Los Angeles mansion. Joan Behnke was the designer who worked on the couple's luxurious closet. Along with the light-colored shelves that contain all of their designer outfits, some panels feature full-length mirrors. In the middle of the room, an island with more drawers and a marble countertop lies. On top of it, a glass chandelier hangs from the roofing. There is plenty of space for both Bundchen and Brady to get ready together.
Ralph Lauren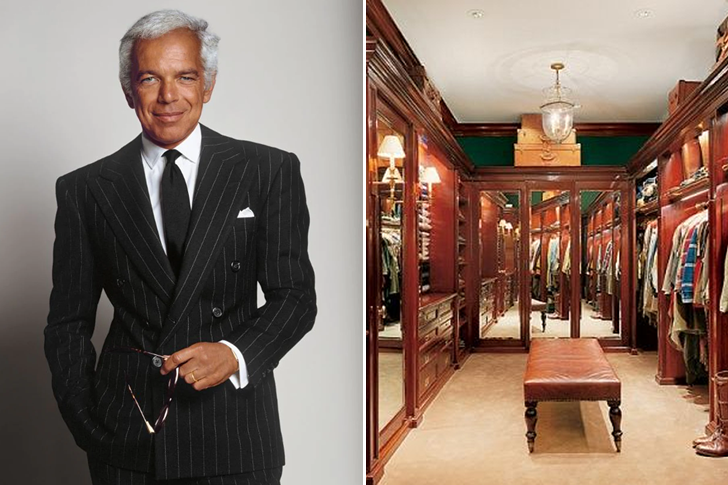 One of the biggest names in the fashion industry is Ralph Lauren. Since he is one of the world's fashion moguls, it is only but fitting that he makes an investment in making sure that his own selection of designer items and fashion treasures are stored in a place that not only highlights them but also takes care of them in every way possible. Lauren's closet in Bedford, New York resembles a refined English estate. The shelves and cabinetry are lighted and are made of mahogany. The upper walls are dark green. A leather bench sits in the middle of the room just like any proper dressing room. Several panels have full-length mirrors. The organization is impeccable and the feel of the room is simply expensive.
 Elton John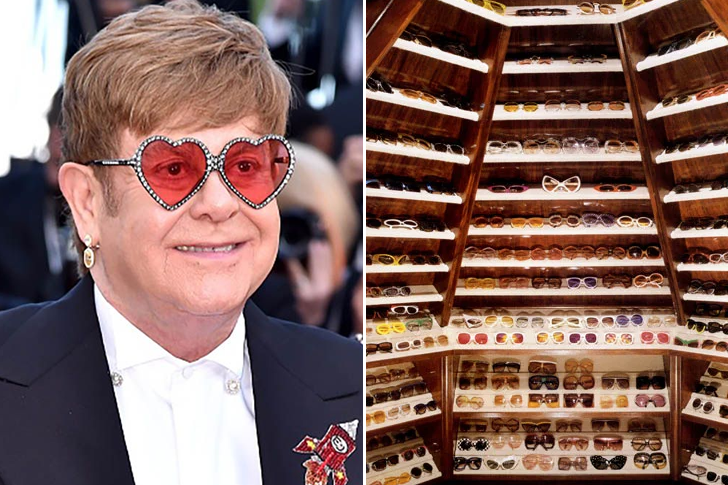 One of the greatest entertainers of all time, Elton John became famous for his music and his style. Being one of the celebrities who are more audacious when it comes to fashion, the popular icon's eclectic personality shines through his wardrobe and overall fashion sense. It is not shocking to know that his closet is just as unique as his degree of panache. His magnificent home in Woodside, Old Windsor features an attic that was custom-made with shelving that houses his gargantuan collection of sunglasses. All of this eyewear came from all the outfits he had donned since the '70s. Another of the rooms that are a part of his wardrobe is dedicated to only Versace silk shirts. He sure knows how to spoil himself!
 C. Sabathia
 
Yankees pitcher C.C. Sabathia has been an athletic star for so long that it has made him both a name and a fortune. Along with this, he has also amassed a colossal shoe collection. When he made an investment of renovating his home in New Jersey, he hired interior designer Martin P. Mitchell and Architect James Paragano to make him a walk-in closet big enough to contain all his shoes. This beautiful and masculine dressing room looks amazing! The cabinets are made of Macassar-ebony and the glass doors flaunt his footwear though they're tucked away. The design even included a bar in the room, along with a comfortable couch. Sabathia exclaimed that he could live in the room for weeks after seeing it.
 Brooke Shields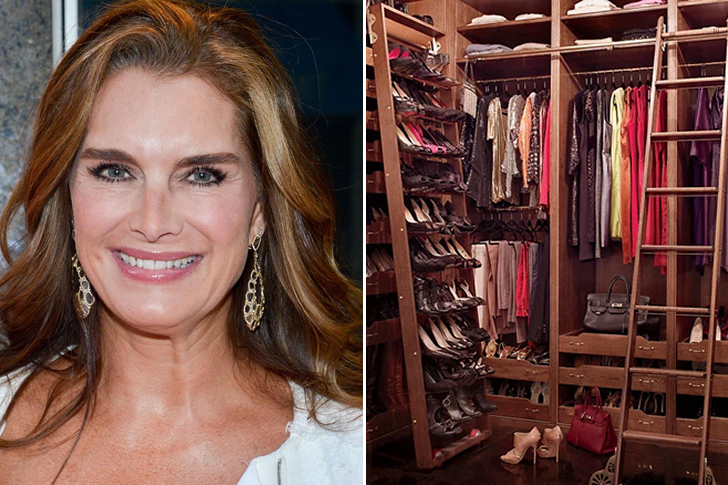 Brooke Shields has graced our screens with her beautiful appearance and her skillful acting. Her townhouse in Greenwich Village features her rustic and very functional closet. Created by MADE, a firm from Brooklyn, New York that specializes in designing and building, her compact but full walk-in closet has a space for all the fashion finds to her name. The shelves are made of rift-sawn white oak. They line the walls and go all the way up to the roofing. Her closet even has a ladder so she could climb up to reach the items at the top shelves. An eclectic shoe rack is also a highlight of the closet. They made the most of the entire room, using every nook and cranny as storage space.
Elizabeth Taylor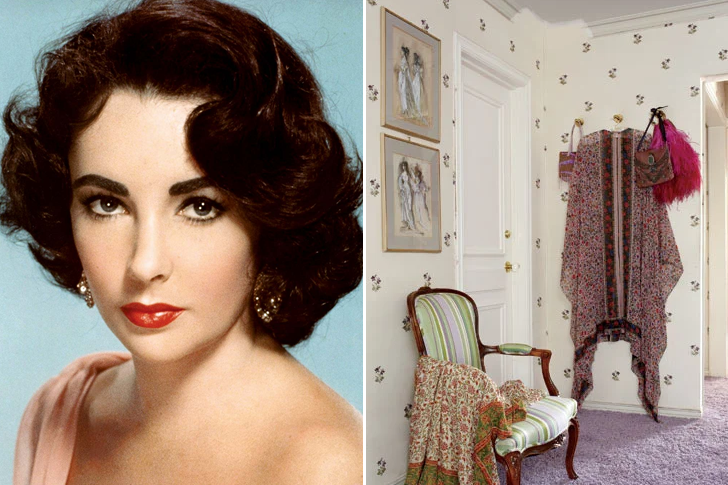 Legendary icon Elizabeth Taylor has been a huge name over the years and with the countless projects that she has immersed herself with, she has not only amassed fame and fortune but also a ton of designer clothes, shoes, bags, and jewelry. Her estate in Beverly Hills has been constantly remodeled so as to contain her ever-growing collection of fashion finds. Not only are these trendy pieces, but they are also iconic items that she wears to memorable events and shows. The walls of her closet are lined with embroidered silk. The flooring flaunts a purple carpet that not only makes her eyes pop but also gives the room a more feminine vibe. Finally hanging on the wall are the costume sketches of Irene Sharaff for Taylor in Doctor Faustus.
Tommy Hilfiger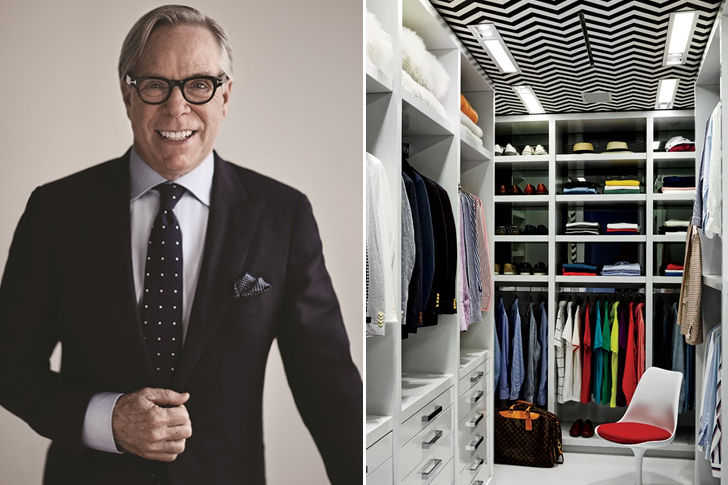 Tommy Hilfiger is the owner and creator of the popular brand named after him. As a fashion icon himself, his closet should surely translate to his reputation, too. His gorgeous modern closet located inside his house in Miami is designed by Martyn Lawrence Bullard. The boutique-looking fun and funky room features a ceiling with a graphic black and white zigzag pattern. The cabinetry is painted white complementing the eye-catching top portion. The shelves and the drawers all contain his precious outfits and the rest of his wearable collection. They are arranged by color and they pop against the white. In the middle of the room is a sole white accent chair with a red cushion. The white flooring makes the place look neat and organized despite the play of color.
Will and Jada Pinkett Smith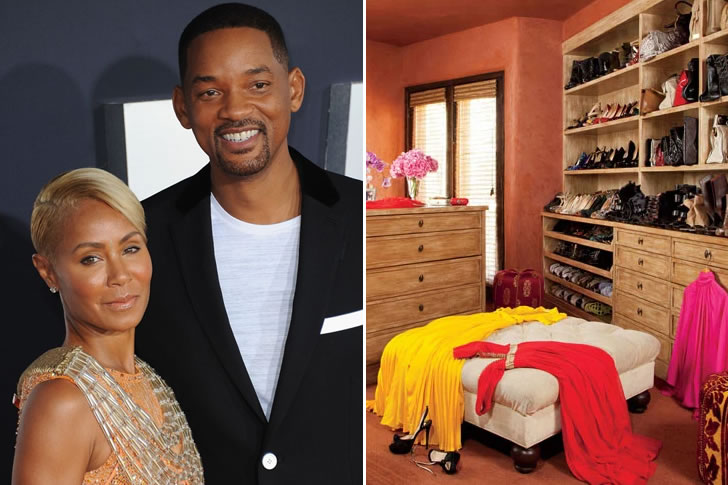 Hollywood power couple Will Smith and Jada Pinkett Smith have inspired so many, not only through their love story but also through their perseverance and hard work in the industry. Along with the love that they have for their respective crafts, their love for their family shines through. They made investments in a lot of properties but the one that they really call home is their huge estate in Calabasas, California. The 25,000-square-foot property features nine bedrooms, an eight-car garage, a pool, a home theater, and of course the couple's lovely closet. The closet that the spouses share is as big as another room. Warm colors are featured in its salmon walls and wooden cabinetry. An oversized ottoman sits in the middle of the room.
Andy Cohen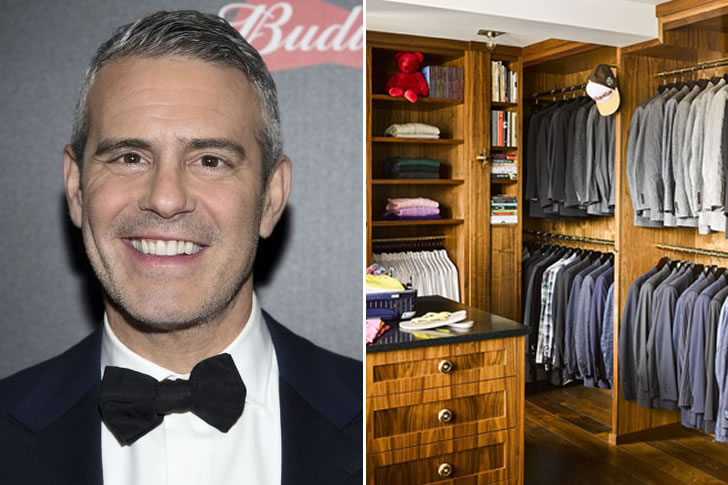 Executive producer, TV host, and all-around media man Andy Cohen is not just talented in front of the camera. He is also quite the fashionista. His property in Greenwich Village is composed of three apartment units put together. With this kind of space, he certainly had a huge closet in mind. Designed by Eric Hughes, his wardrobe looks sophisticated and masculine. The wooden shelves line up the walls from the flooring to the ceiling. In the middle of the room is an island of drawers with the same wooden finish as the shelving. Rows of neatly pressed long-sleeved tops are hung next to each other according to color. A full-length mirror is present so Cohen could admire his OOTD.
Keri Russel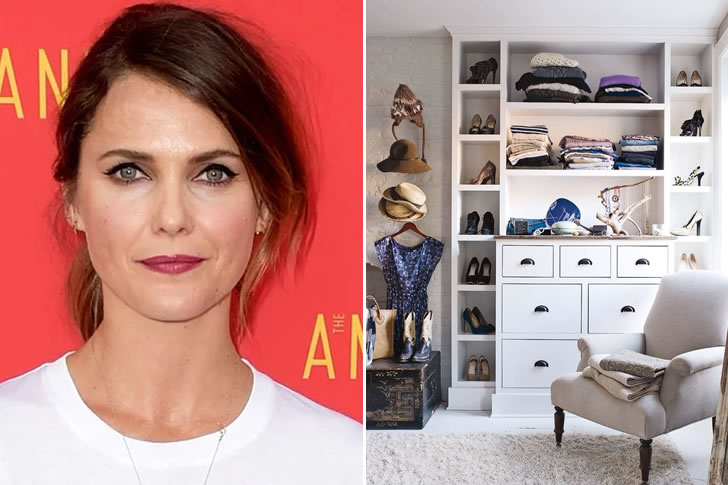 Actress Keri Russell has a white walk-in closet that exudes class and calm. Located in her apartment in Brooklyn, New York, the walk-in wardrobe is as big as a room. From top to bottom the theme of the dressing room is white and it not only makes her clothes, hats, bags, shoes, and accent furniture pop, but it also gives the space a glam vibe. The flooring has a beautiful carpet by Shaw Floors. In the middle of the room is also a linen-upholstered chair designed by John Derian. These features along with the drawers and shelves are white. A vintage full-length mirror stands by a wall. A vintage chest is also a nice touch to her otherwise plain décor.
Nanette Lepore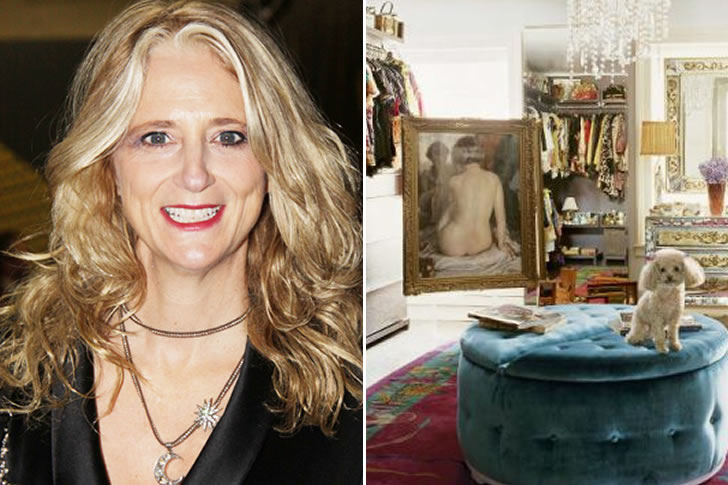 Fashion designer Nanette Lepore has chosen fashion as her style of life. Evidently, the closet located in her property in Manhattan, New York, shows the degree of classy flamboyance she embodies in her designs. Her colorful closet flaunts her style and the fashion finds she has to her name. A graphic carpet from ABS Carpet & Home sits in the middle of the room. On top of this is a plush blue oversized ottoman. In the photo that she shared, her toy poodle named Bunny comfortably poses on it.  Vintage pieces are collected and placed in one area, while the other side of the room is dedicated to Lepore's own designs. She might even do her brainstorming sessions inside the closet as well.
Ray Romano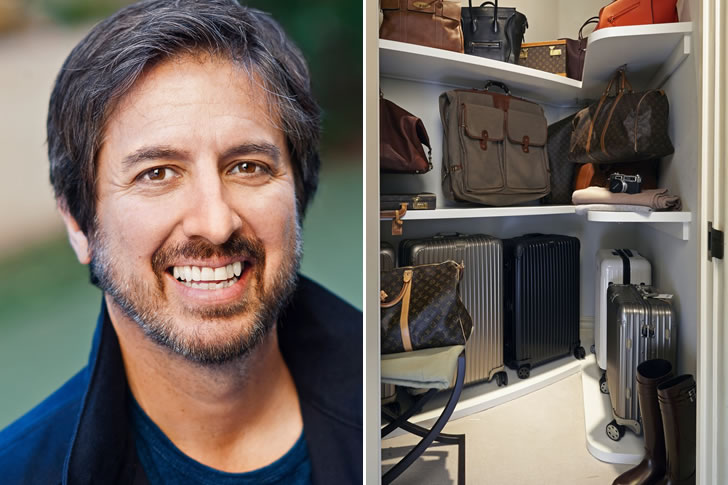 Everybody Loves Raymond star Ray Romano rose to fame as a TV comedian most known for being the lead in the hit sitcom. While most of his fans know that he's a travel buff, what most people don't know about this celebrity, though, is that he has a huge collection of travel bags and accessories. This is why he made an investment in creating a storage space just for his stuff. Working with Lisa Adams, he turned 40 square feet of his property into a closet that houses his luggage, smaller bags, and other travel essentials. His huge collection is displayed in the closet. The walk-in bag cabinet contains customized shelving with curved shapes. Wall hooks were also installed for the bags that need to be hung.
 Blake Lively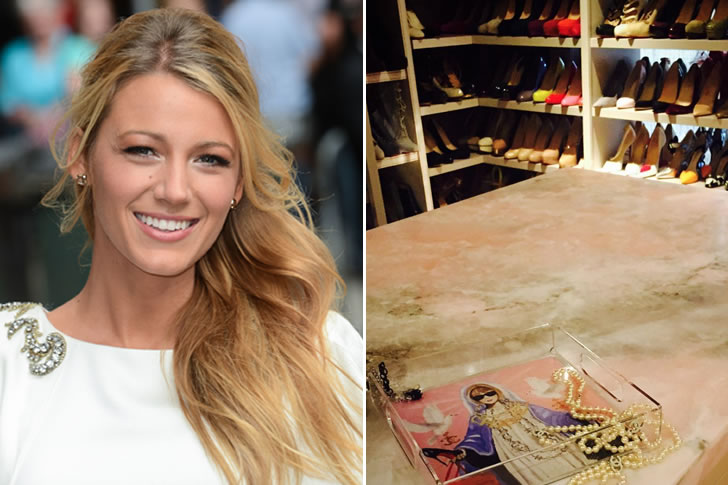 Gossip Girl star Blake Lively has become such a fashion icon after playing Serena Van Der Woodsen in the CW series. The actress has been wowing the public with her outfits and a great sense of style. The Los Angeles home that she shares with her husband, actor Ryan Reynolds, houses one of her closets. She flaunted her prized walk-in wardrobe on Instagram. We all know she loves to make investments in designer footwear. She showed off an entire wall that went up to the roofing filled with high heels. Along with her mini closet tour, she told her fans that one tip is to always give your shoes more room than the rest of your items so as not to ruin them.
 Lauren Conrad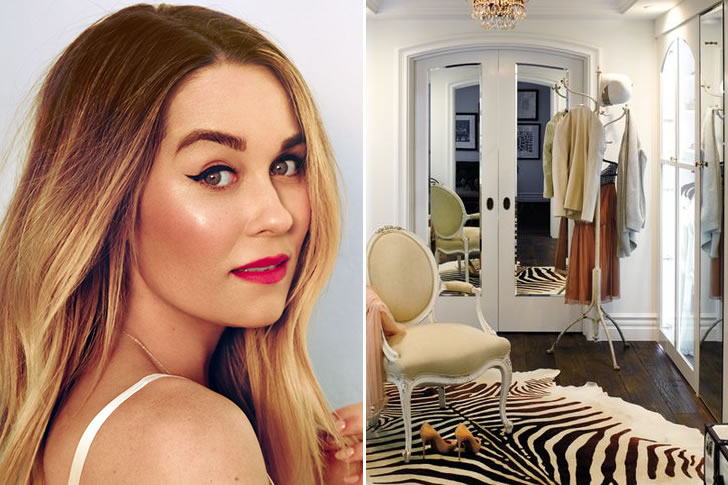 Laguna Beach star Lauren Conrad took a degree in fashion in New York. Through the knowledge and skills she learned from her time in the fashion house, she became a hugely successful businesswoman. Her acting career surely helped her clothing and cosmetic line business as well. Her products are known to be retailed at Kohls. Because of her great interest in fashion and beauty, her husband William Tell made an investment in a 3,300-square-foot penthouse in Beverly Hills with a magnificent walk-in closet just for her. Glass panels were featured in her dressing room, along with a vintage chair and a graphic rug. Nothing can ever compare to a husband's love and understanding of a woman's interest in shopping.
Chelsea Handler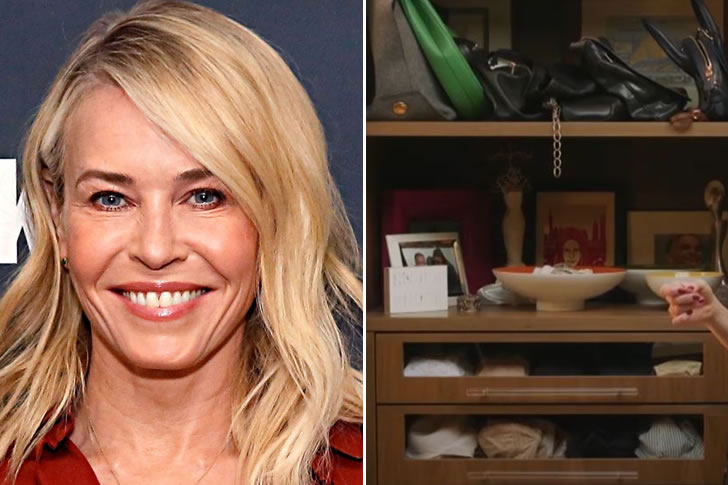 Though the moving company worked with Chelsea Handler's 5,500-square-foot Bel Air home, she wasn't really convinced about the house she bought when she moved in. Because of this, the comedian went the extra mile and personalized her new purchase to make it feel more like home. In this house, her fun and eclectic collection of clothes are all contained in her walk-in closet. The funky finds that are in her selection are aptly displayed on the shelving. She showed off a set of underwear with each one dedicated to each day of the week. She also flaunted a retro pair of her favorite Air Jordan I's. Of course, like all big houses, there are always secrets. Handler's big secret is that she had a bar installed in one of the drawers of her closet.
Jennifer Lopez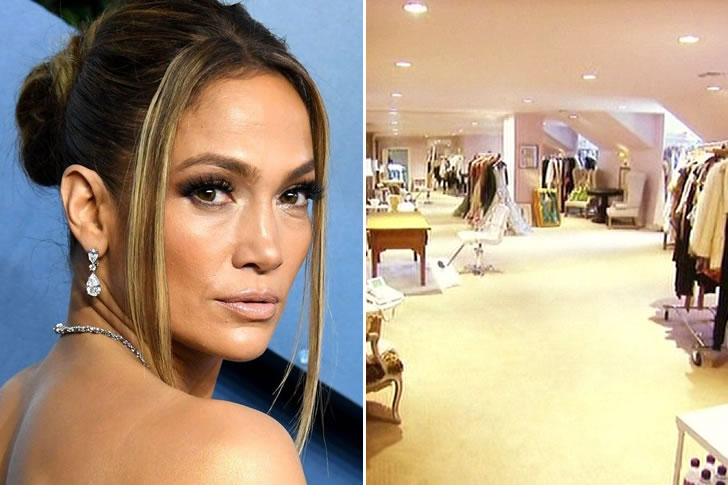 The ultimate performer Jennifer Lopez showed off her closet to the world in one exclusive tour. Inside her beautiful home, a room was created to house her most prized outfits and collections. It is dedicated to some memorable outfits she wore on iconic occasions. She kept the pair of Prada shoes that she wore in The Boy Next Door, one of the first films she has ever made. She also held on to the blue dress by Versace that she donned during the VMAs. The degree of organization evident in her closet is impeccable. She divided the whole space into two: formal and casual wear. Her hundreds of jeans were arranged by color. Her coats were also neatly hung next to each other.
Theresa Roemer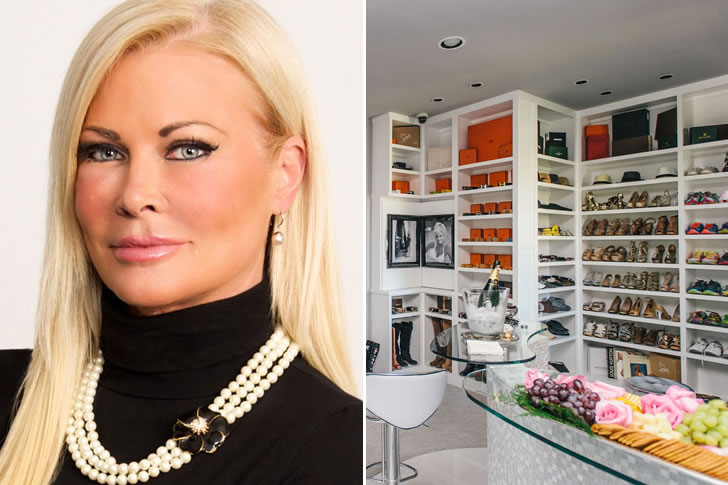 Theresa Roemer started out her career as a bodybuilder. Eventually, she turned into one of the most popular fitness trainers in the country. Also an oil mogul, Roemer probably has the biggest closet you'll ever see! Her Houston home dedicates 3,000-square-foot for her closet space alone. If you want to compare it with other stars' closets, it's 1,000 square feet bigger than Jennifer Aniston's wardrobe. The first floor of her closet is created solely for her bags. On the second and third floors, clothes and shoes are displayed. Roemer's greatest treasures including her designer wears and a number of crystal-encrusted clutches sit on the shelves. With a house like this, a great home security system is most likely installed.
Khloé Kardashian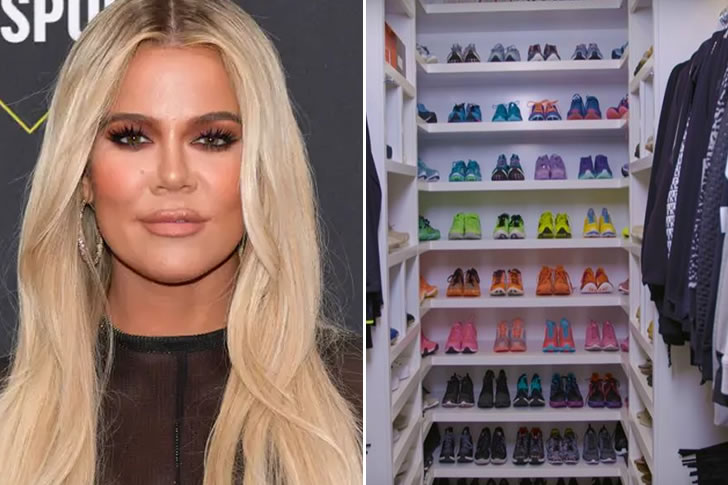 When a girl's most prized treasures are housed in suede-line glass shelves and cases, you wouldn't be surprised when she thinks the room they're in is the one she considers her favorite. Khloe Kardashian is one fashionista who is in love with workout gear and fitness fashion. She has an entire walk-in closet that involves only her workout clothes. Her designer finds are color coordinated and are arranged by type. There are different units dedicated to her leggings (which are arranged according to length), jackets, trainers, and tops. She has a glass cabinet designated for her gloves and resistance bands. The dressing room also boasts her investments in different designer sneakers. On top of this, a mini-fridge is also found inside the room. What a way to stay in shape!
Kim Kardashian
Another Kardashian celebrity on this list is celebrity Kim Kardashian. Being one fashion icon herself, Kardashian has a lot of closets and we're sure that every one of them is pretty filled up with an extensive array of designer clothes, shoes, bags, and jewelry. The area of her house that she dedicates for housing her beautiful collection is worth a huge amount of investment money. For $10 million, she made sure that all of her precious pieces were stored properly and in style. She boasted her dressing room in an Instagram post. At the back wall, her giant collection of Birkin bags could be seen. All of her bags and footwear are neatly organized by color and type. An area is dedicated solely for all things shiny, and another for all things fluffy.
 Rachel Zoe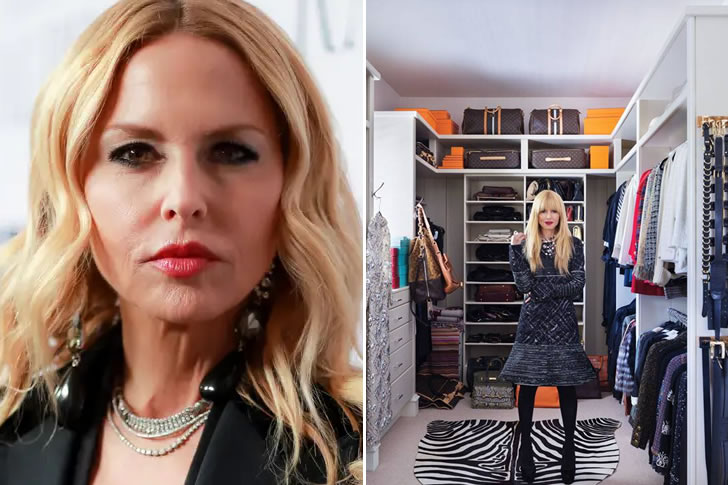 Stylist and businesswoman Rachel Zoe took up a degree in psychology at the George Washington University. After she graduated, though, she realized that she wanted to pursue a degree in fashion instead. Though she had little to no experience in this field, she worked her way up to being one of the most popular stylists in Hollywood. She even ventured to design herself after a while. Working with the biggest names in the industry, it is only but fitting that Zoe also had an enviable closet. Her own dressing room is like a dream. An entire wall had shelves that displayed only shoes. She also displays her favorite pieces like a gold-plated bracelet from Lise Freede and a camel tote from Shiraleah.
Based on materials from Collider, Elle Décor, Love Property, Architectural Digest
You've Reached The End