Celebrity Closets that Hold A Different World
Mariah Carey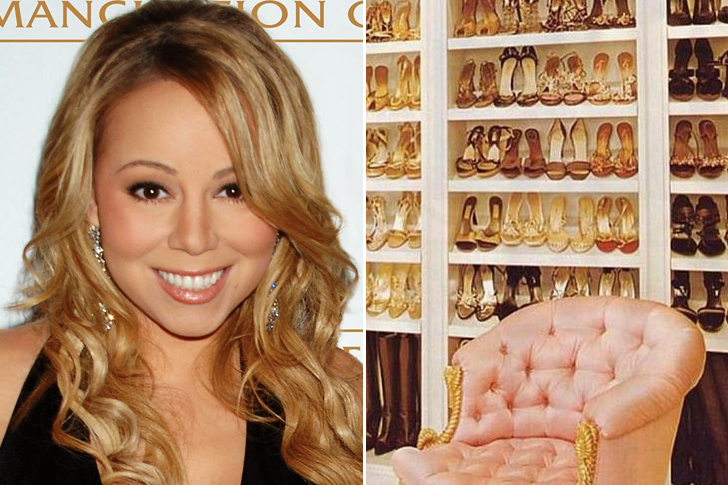 The iconic singer Mariah Carey is known not only for her impressive vocals but also for her shining, shimmering outfits. The apartment that she has in Manhattan doesn't only have the best home security but also the most bedazzling closet you will find. Her wardrobe looks almost like a boutique. It features a dressing area, all her designer clothes arranged by color on the racks, an enormous collection of enviable shoes which includes dozens of stilettos and a special compartment for knee-high boots, and a comfortable chair to plop down on after trying out all the clothes. Carey admits to having a sense of style that is way more glittery than the average person's day to day ensemble. This is the place she houses all the shimmers.
Jennifer Aniston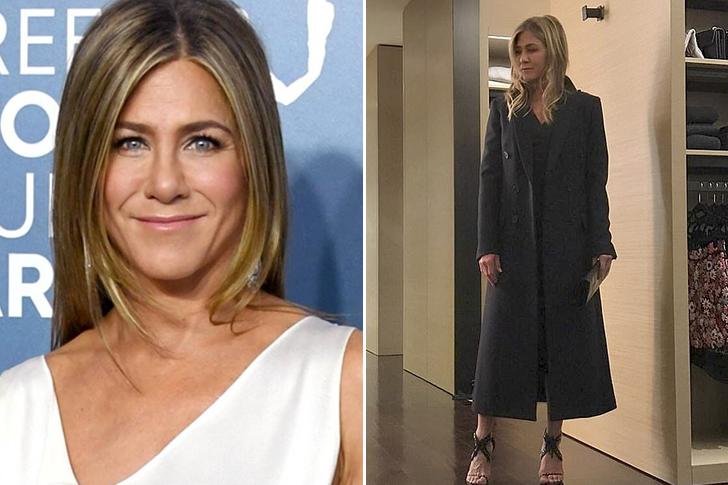 Actress and TV host Jennifer Aniston is not only a style icon but is also an owner of a closet big as an apartment. During the pandemic, the star opted to clean out her closet to do something while on lockdown. On The Ellen DeGeneres Show, DeGeneres started calling her friends to ask them what they were doing at home. Aniston was featured talking to her friend about the progress of her self-initiated endeavor. She claimed that though she had started on it a while back, she still hasn't finished. Inside her gigantic wardrobe are endless aisles of designer skirts, coats, dresses, bags, and jewelry. At the end of the hallway, a mirror that goes up to the roofing stands. With the number of things in there that she has to sort through, she might not be able to finish in a jiffy.
Oprah Winfrey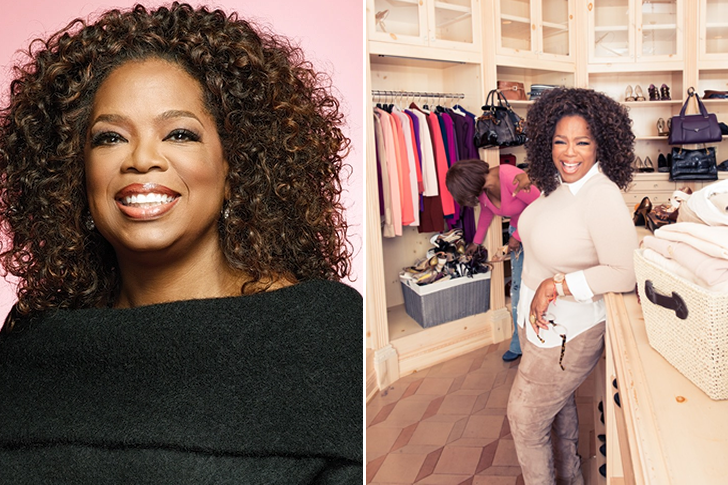 TV host Oprah Winfrey has been in the entertainment industry for decades. With her constantly busy career, she has also been accumulating outfits from all her shows and appearances. When she had to move from Chicago to Los Angeles, she did not only have to make the moving company pack up all her furniture but she also had to personally sift through her massive wardrobe. Her closet cleanup was featured in her show and it showed designer staples like high heels but it also housed lots of sweaters, button-down shirts, and slippers. Winfrey liked to show her fashionable side with her gorgeous shoes but she confessed to taking them off and retiring to her comfortable slippers when the cameras have disappeared.
Heather Dubrow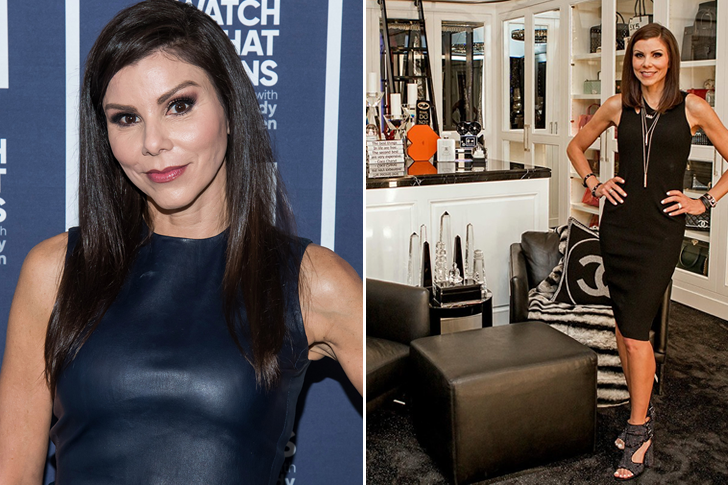 The Real Housewives of Orange County star Heather Dubrow and her husband plastic surgeon Terry made an investment in buying a property that they called Chateau Dubrow. As a personal project, Dubrow designed her mansion's interior herself. The couple no longer hired an interior designer and took it on themselves to create a home for their family. With the whole project in her hands, Dubrow took the opportunity to immerse herself in designing her own closet. The wardrobe is big and rectangular in shape. It features glass wardrobes that flaunt all of her dresses. A black island made of marble sits in the middle of the room containing her jewelry. Last but not least, Dubrow's dressing room has a button that calls the kitchen when she needs a glass of champagne.
Catherine Zeta-Jones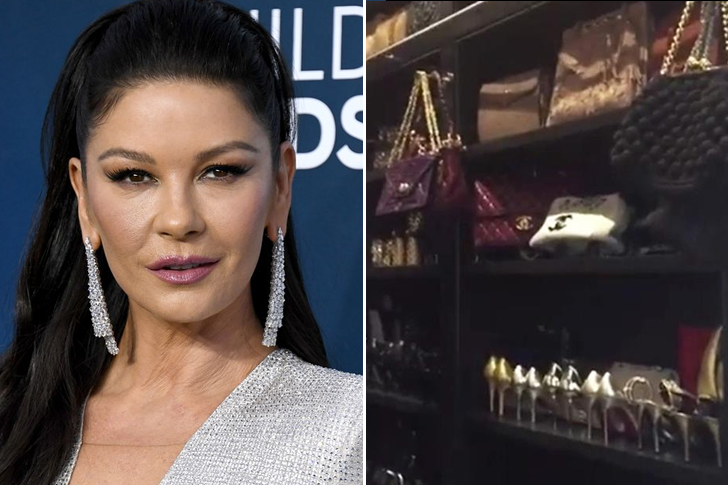 Welsh Actress Catherine Zeta-Jones was a hit on Instagram when she posted on her stories a virtual tour of her closet. Featured in her tour were her shoe and bag collection. She showed off her impressive assortment of Chanel bags, Hermes silk shawls, and sparkly high heels. Her shoes were arranged according to color; her clothes were arranged according to type. Her closet had wooden racks and glass shelves to display her favorites. All of the contents of Jones's wardrobe leave us in amazement but it also makes us wonder about her credit score. Being a celebrity truly has its perks, as a number of items in there were probably given to her for free because of endorsements and sponsorships.
Paris Hilton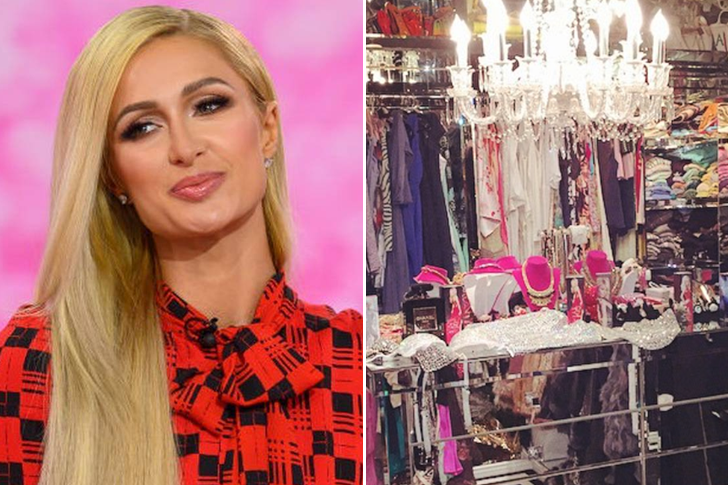 Heiress and model Paris Hilton has always been a fashion icon. With her designer clothes and stylish personality, it isn't a shock that she has one of the most luxurious closets ever. A photo of her was released featuring her wearing a leopard print suit in the middle of her closet. Behind her, her impressive collection of clothes, shoes, and bags are displayed. Her walk-in wardrobe has an island in the middle which holds her accessories. Her shoes are arranged by color. The entire dressing room has a vintage theme and a magnificent chandelier hanging from the roofing. The sophistication may be evident once you see the room but Hilton also admits to keeping toys around her closet to maintain a positive vibe.
Kate Hudson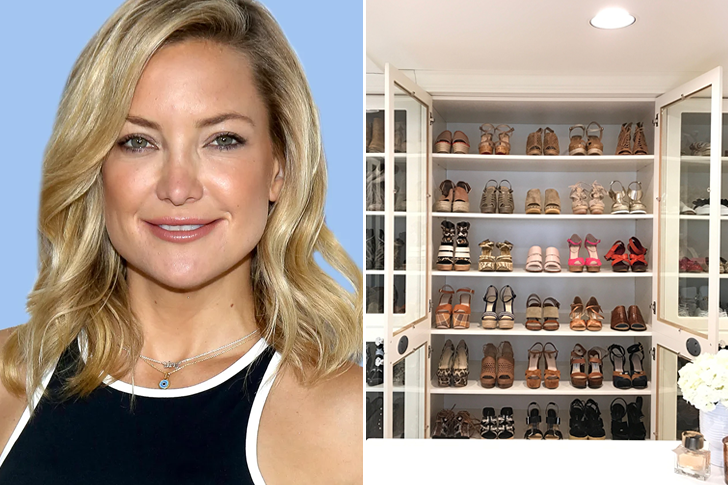 Fashion designer, actress, and Hollywood royalty Kate Hudson is a sucker for shoes. Her extraordinary walk-in closet features her enormous shoe collection. The white shelves that line up her walls house all her prized designer footwear. The colors pop against the white, making her closet look even more appealing. Other than her regular shoes, she also has a special group of them kept in glass to keep them from wear and tear. The celebrity had help from the Neat Method in organizing her precious shoe closet and entire wardrobe. Other than her acting career, Hudson also made an investment in putting up her own clothing line that specialized in workout apparel called Fabletics in 2013. In 2018, she made another fashion line partnering with New York & Company.
Cindy Crawford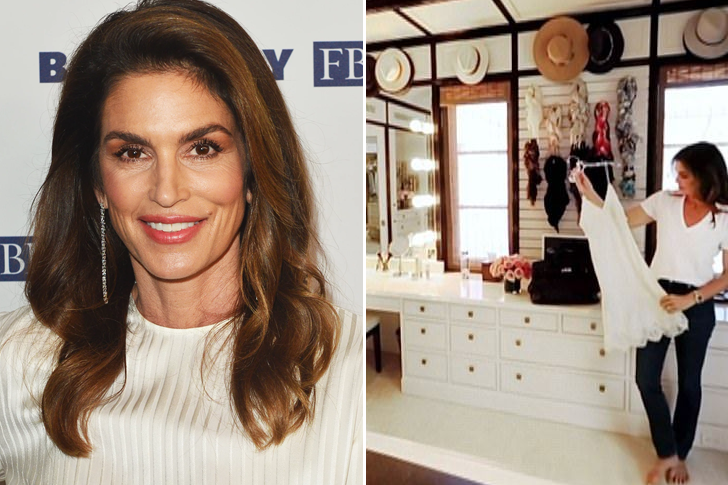 Iconic supermodel Cindy Crawford is not only a big name in fashion but in the entire entertainment industry as well. With this reputation, it comes as no shock for the celebrity to be wanted by big brands and important events. Because of her very successful career, she has managed to earn not only a fortune in her bank account but also a huge collection of designer clothes, bags, shoes, and jewelry in her closet. She keeps all the pieces that she considers memorable and priceless in her collection. Along with her top-notch home security system, Crawford also had a magnificent walk-in closet installed in her Malibu home. The wardrobe houses her favorites including a sultry black Versace dress and her iconic Levi's jeans that she wore in her Pepsi commercial.
Mark Zuckerberg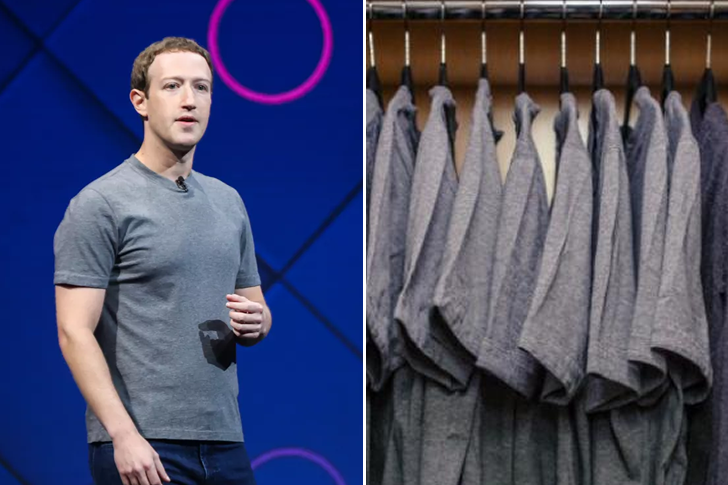 Mark Zuckerberg is undeniably one of the most important people on the planet today. With his contributions to modern technology, one would not be surprised to know that he made investments in not only one property but ten. Among his mansions located in Palo Alto, Lake Tahoe, San Francisco, and Kauai, Hawaii, he and his family spend most of their time residing in Palo Alto which is near the Facebook building. Though we don't see Zuckerberg as one of the more audacious celebrities when it comes to fashion, his 5,600-square-foot estate houses his incredible closet. He posted a photo of his walk-in wardrobe on Facebook and in it are endless stacks of gray t-shirts and classic blue jeans.
Kris Jenner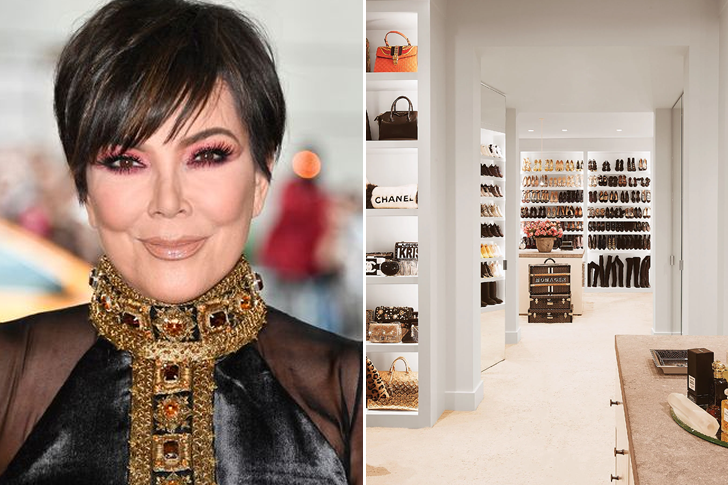 Big-name Kris Jenner showed off her gigantic closet in a closet tour. The size of her wardrobe is just like an apartment suite. Six decades' worth of collectibles has found their way into the grand displays in Jenner's house. Apparently, the Kardashian-Jenner matriarch likes to make investments in designer bags and her dressing room showed rows and rows of Judith Leiber and Birkin bags. Inside her massive closet is a room dedicated to only shoes. It boasted her huge shoe collection including every kind of footwear that exists. Because of regular filming, Jenner said that she needed a huge selection to choose from. She also flaunted her treasured items like a bedazzled clutch from her ex-husband Robert Kardashian and another black clutch she wore at the 1990 Met Gala.