Take A Look At These Amazing Celebrity Couple's Mansions That You Might Be Dreaming Of
Jimmy Buffett & Jane Slagsvol
Jimmy Buffet and his wife, Jane Slagsvol, know how to live a good life. The Margaritaville musician has a colossal mansion in Palm Beach, Florida. The property cost the couple $4.95 million and is located in an exclusive neighborhood in Eden Properties. It is the perfect laidback home for the superstar, who loves to relax in his 4,039-square-foot mansion.
Buffett has been living in Florida after he faced struggles in his music career. Buffett spent his childhood in Mobile, Alabama and got a degree in history from the University of Southern Mississippi. Aside from his decades-long success as a singer, he is also an actor, an author, and a restaurant owner. The couple has three children together. Their kids are lucky to have them as parents and live in a spacious home that can provide them not just with the basic necessities, but luxurious facilities as well.
Jon Stewart & Tracey McShane
     
Jon Stewart has been married to Tracey McShane since 2000, and they have an exceptional marriage. Oprah called it the real deal because she can see that their connection is fantastic. Stewart is an American TV host and comedian. He hosted a news program, The Daily Show, from 1999 to 2015. The host is among the highest-paid personalities, and he can afford any home security system for his wife and kids.
They have a property in New Jersey. They live there in a massive mansion near Red Bank. The house has many features that everyone can enjoy, including kids. There is a vast open space with a BBQ place, fireplace, and most importantly, a sanctuary for neglected animals such as dogs, pigs, and horses. Stewart is an animal lover, so the animal sanctuary was an important feature for him. The family supported him and turned their home into a massive farm!
Kate Moss & Nikolai von Bismarck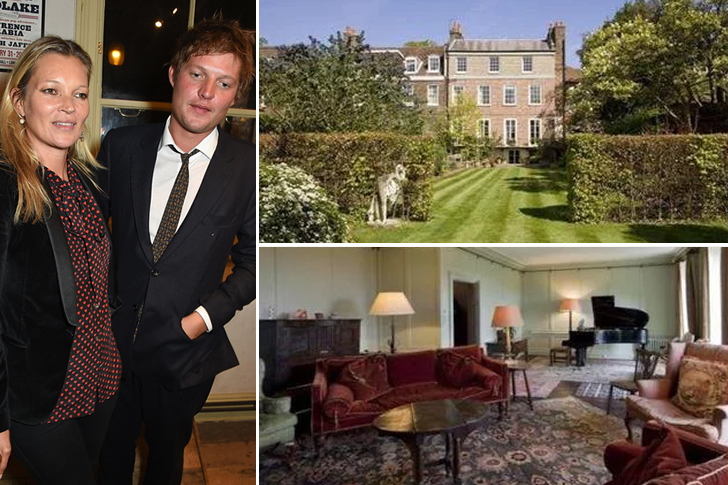 Kate Moss is an English model who has graced the covers of Vanity Fair, W, British Vogue, and many other prestigious publications. Due to experiencing many difficulties throughout her career, she gave herself a massive reward by buying a stunning house! The supermodel spent her investment money of $12.6 million on a 6,728-square-foot home in one of London's highest points, Highgate Hill.
It looks like she has a new lodger living under her roof, her current boyfriend Nikolai von Bismarck. He may be 13 years younger than the model, but the vast age gap did not matter in their love story. They are living happily in the mansion, although they are not married yet. Bismarck has been a very supportive boyfriend. Although he has a different career, he still sometimes appears in fashion shows with her. Moss is happy to have him home, and with the amenities of their house, they would want to relax there all day!
Bruce Willis & Emma Frances Heming Willis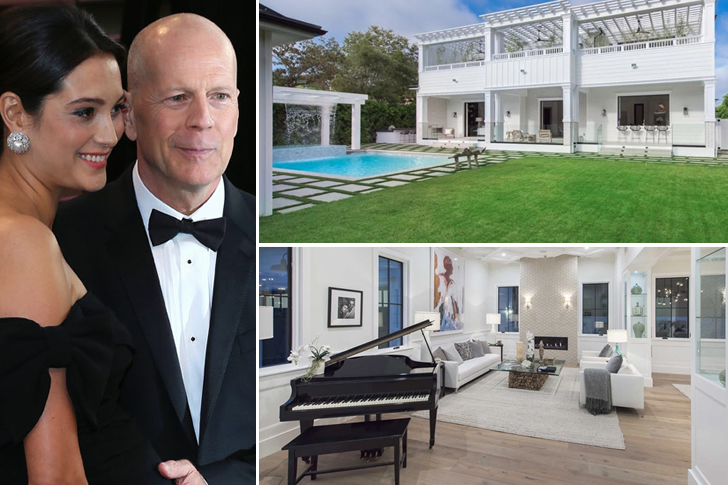 Both Bruce Willis and Emma Heming are trendsetters in the show industry. The Die Hard star recently moved to their new home in Brentwood Park. The property is an amazing investment at a $9.8 million mansion. Well, for them it is worth the price because the house has all the facilities they need! It includes 12 bathrooms, seven bedrooms, two kitchens, a huge pool, a sauna, and an outdoor dining area. We are blown away by the structure of this residence.
The family also used double-height glass doors for extra protection. Most corners of the home are decorated nicely. The couple likes to enjoy their private gym, and it seems that they have everything there to stay fit and healthy. The gym has a balance beam, free weights, and spin bike – how cool, right? Staying here will surely relieve all stress.
Julia Roberts & Daniel Moder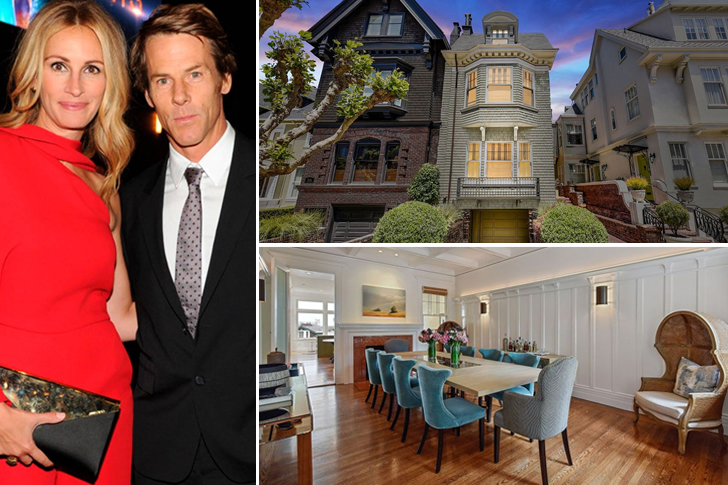 Working with your husband in the same industry is such a bliss. Julia Roberts and Daniel Moder love to spend their money on investments like a good residence. Aside from being an award-winning actress, Roberts was the highest-paid actress in the '90s. She and Moder purchased a house in the Presidio Heights neighborhood of San Francisco worth $8.3 million. The house is still under construction, but it appears to be looking great already!
Living in this exclusive village has many requirements, and they were favored by the Silicon Valley to have one. The home has amazing views, and it is the ideal place for people who want to raise their kids in a peaceful location. The 6,245-square-foot residence has five bedrooms and four bathrooms! We are excited to see the home after its renovation. We know that this will be one for the books!
Courteney Cox & John McDaid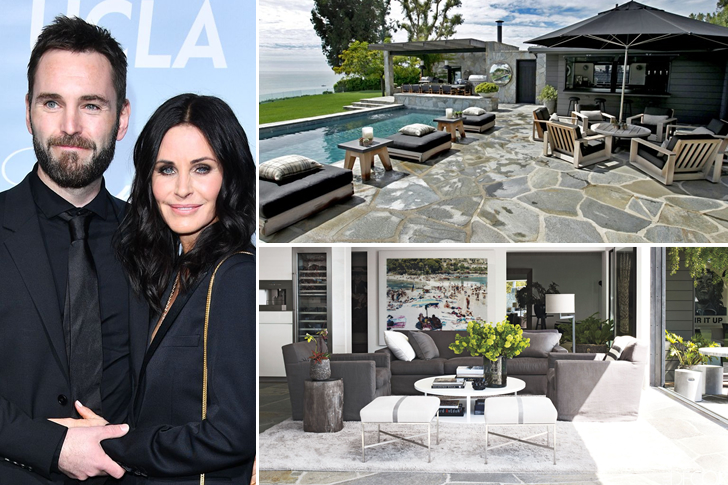 Courteney Cox's purple apartment in Friends gave many viewers interior design ideas for years. However, she has a more magnificent home in real life! She is residing in a beachside home in Malibu, California, with her boyfriend, Johnny McDaid. The beach house has its own swimming pool and tennis court. In addition, the amazing views of the ocean will melt all your problems away. You know what is even great about the house is that it has guest cottages.
When the actress shared a glimpse of her house on social media, many fans saw that she had an excellent eye for design. She previously wanted to be an architect before she became a star. To her credit, she still adds her personal touch to her house and made sure that every detail is perfect! Right now, she has a TV mounted in the living room and glass doors are like paradise leading you to the garden.
Heidi Klum & Tom Kaulitz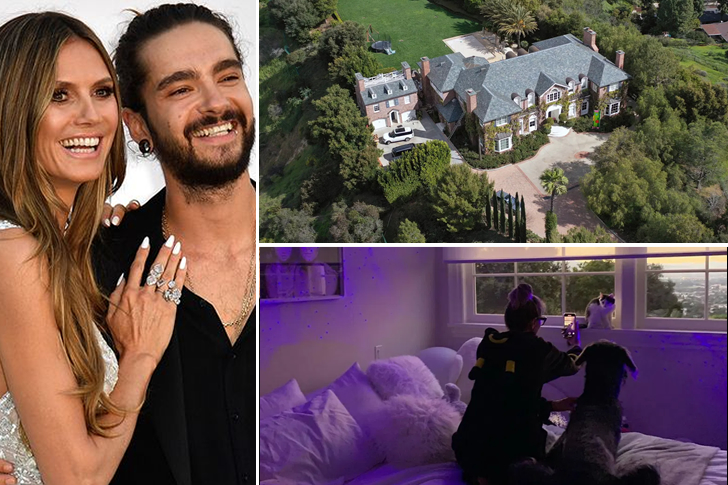 Supermodel royalty Heidi Klum and Tom Kaulitz have been dwelling in their lavish estate in Bel Air since purchasing the investment property in 2014. The newlyweds have the best views in Los Angeles, and we can't stop being jealous. The home is perched on a hillside. The supermodel has a green thumb and included numerous gardening boxes to add beauty to their home.
Their brick home entrance is covered in ivy leaves. The couple enjoys the beautiful view of the city that overlooks the mountainside. They choose to live here since it is away from the hustle and bustle of the city, making it easier for children to have peace. A huge space and backyard are perfect for the children. With a residence like theirs, they get to wake up to gorgeous views every day. They're certainly living the dream.
Cristiano Ronaldo & Georgina Rodriguez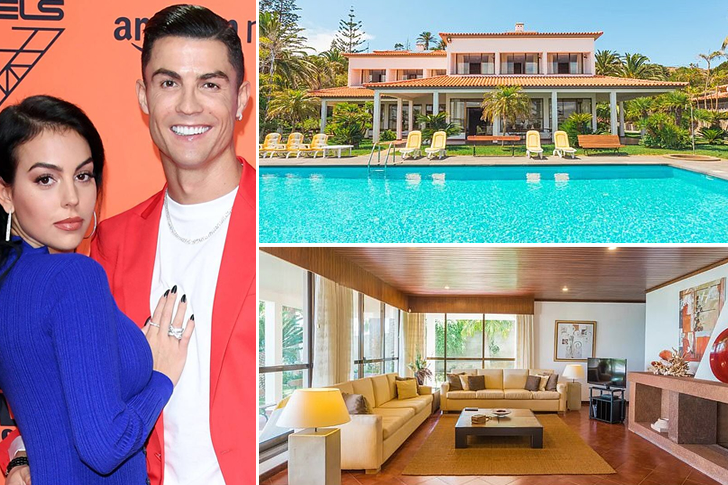 Cristiano Ronaldo is among the successful and outstanding football players in the world. He won many awards in the span of his career, including four European Golden Shoes, five Ballon d'Or, and five UEFA Champions Leagues. Ronaldo is one of the most marketable athletes, and it is evident that he has a high credit score in the business.
One of the star's most precious properties is their villa in Madeira, where he lives with his girlfriend Georgina Rodriguez. We cannot think of a better place to chill than this gorgeous home. The property includes an outdoor and indoor pool, a massive playroom for the kids, a home gym, and breathtaking views. The house has six bedrooms and six bathrooms painted with white walls. The couple always spent their time in the playroom to play with the kids. They also added animal prints and colors to make it more fun.
Sandra Bullock & Bryan Randall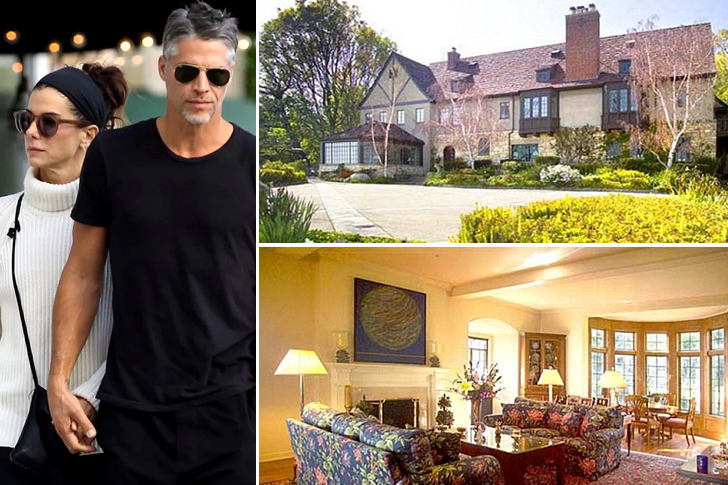 Having a strong relationship bond requires many factors. A relationship works when each person is trying hard not to give up despite their struggles. Sandra Bullock and Bryan Randall have a strong connection, though the lovers have been private about their lives. They both met in early 2015, and look at them now. The Miss Congeniality actress was immediately attracted to the handsome man, and they hit it off.
Even though they keep their lives very personal, they were not hesitant to share some details about their home. Bullock bought a 1940 Beverly Hills house for $23 million, and it was one of the best investments they made. The four-acre land has seven bedrooms, a pool, tennis court, eight bathrooms, a private gym, a home theater, and a detached guest house. We definitely would want to watch one of her movies in that theater room!
Reese Witherspoon & Jim Toth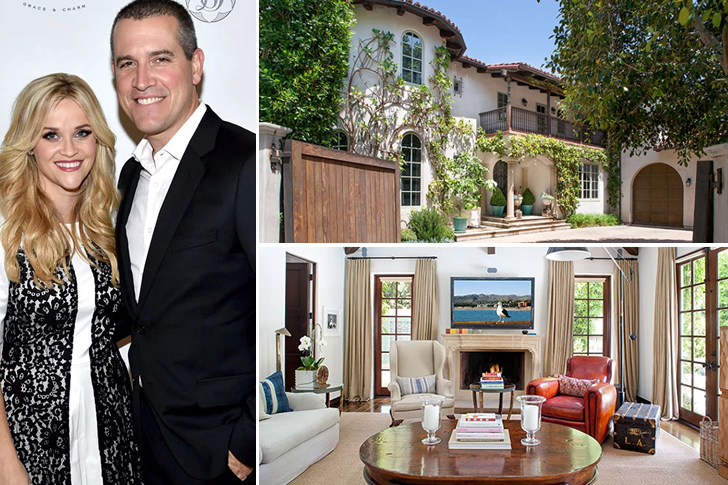 The award-winning actress Reese Witherspoon and her husband Jim Toth purchased a new $16 million estate recently. The actress continues to prove her rich rank by living in their new castle in Brentwood, Los Angeles. She got famous for her role in Legally Blonde as Elle Woods, while her husband is a Hollywood talent agent. With their combined net worth, they clearly did not need any home loans to buy this beautiful mansion.
The couple's house is composed of nine bathrooms and seven bedrooms. The 9,504-square-foot residence speaks luxury, and the exterior will take your breath away. The interior has all the amenities they need, including a chef's kitchen, a fireplace, a library, and a formal dining room. If someone is given a chance to live here, they will surely never leave. We can't stop praising their home and its wonderful features inside and out!
Cindy Crawford & Rande Gerber
Another Hollywood power couple Cindy Crawford and Rande Gerber, who at long last purchased a compound in Malibu. Gerber is a multi-millionaire entrepreneur, and with his wife a successful model, they can buy anything they want. Since they have been successful in their respective careers, purchasing a house won't be a problem with their credit scores. The home of the couple, which costs $7.5 million, is now being listed for sale, which was hard for them.
Regardless, the property has the best amenities, including an infinity stone with cobalt blue sun loungers, a stone terrace, and wooden frames. The overlooking ocean and the breathtaking sunrise is one to die for! They purchased the property in 2004. Cindy's favorite spot is the kitchen. Food makes the family come together and she enjoys cooking for the whole family in their home. The place is guaranteed to be the best for any buyer!
Billy Dee Williams & Teruko Nakagami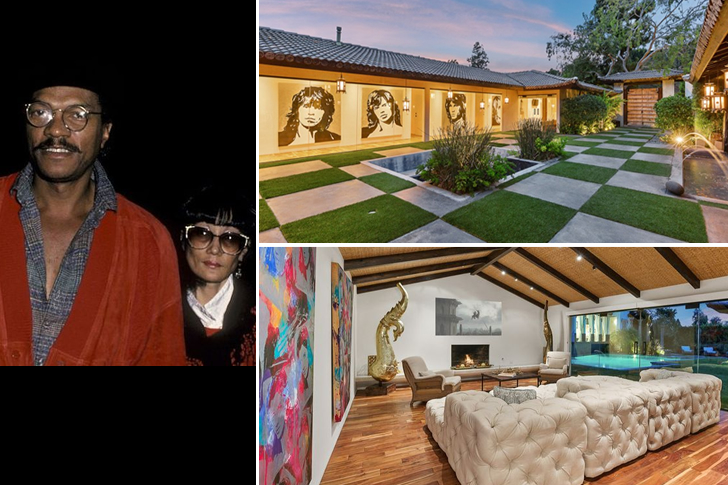 Billy Dee Williams became famous for his role in the Star Wars franchise. His wife, Teruko Nakagami, was happy to meet him in this lifetime. The couple has been private about their lives, having shunned many Hollywood events and preferring to spend their quiet time at their house instead. The couple must have acquired a state-of-the-art home security system in their Beverly Hills abode. The property cost $553,000 when Billy first bought it in 1984, and the interior is sure grand. They have been together for 47 years, though there are still few pictures of them together online.
The amazing indoor-outdoor villa has charming courtyards. It has more to offer with its Balinese flair. It is a 6,00-square-foot home that includes 7.5 bathrooms and seven bedrooms. While it is a beauty, the couple listed the property. Many would surely want this for its dramatic ceilings and wide rooms.
Bill Cosby & Camille Olivia Cosby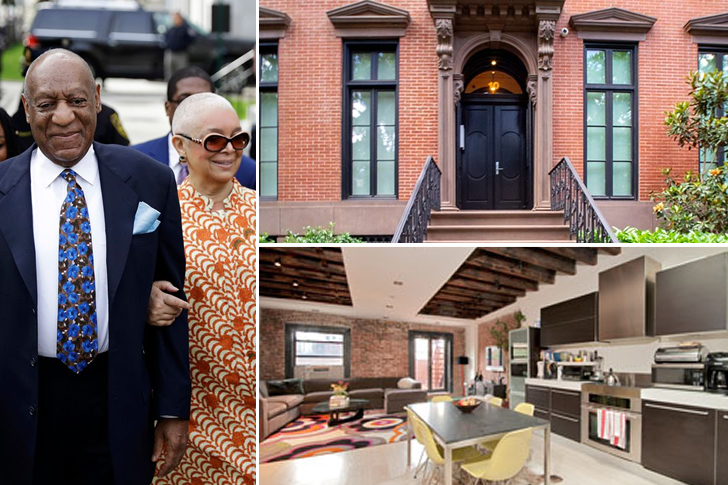 Camille Cosby is a famous producer and manager born in Washington, D.C. She is the wife of comedian and actor Bill Cosby and possesses a net worth of $20 million. The couple has a house in Brooklyn. While many think this is just a single-family house, it is actually a private residence with four small apartments. This brown house was built in the 19th century and has one of the best views in Manhattan. Many wanted to have this place as their investment because it is rare to see a house like this nowadays.
It is a beauty, and the couple was lucky to get this property. The builder of this house is unknown, and he should know that he is the best! He made the best cookie-cutter using the styles of the Greek and Renaissance period. Bill has a show called The Cosby Show and he mostly filmed in their house.
Chuck Norris & Gena Norris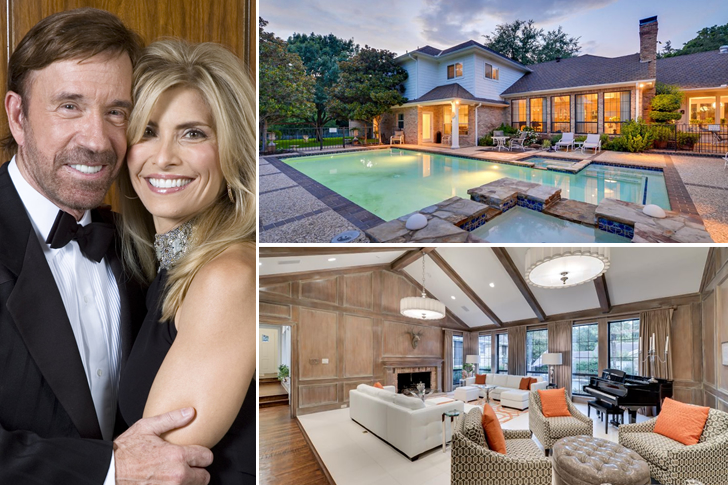 Actor and celebrity martial artist Chuck Norris put up his 7,362-square-foot for $1.2 million. The four-bedroom home was his beloved shelter for years. It is located in the Northwood Hills area, and its style is similar to a Mediterranean ranch. Many of Norris' films were shot here because it includes a separate building perfect for filming. The amenities of the property are luxurious. It includes a home theater, pool, private gym, and a vast living room with a skylight view.
Norris has appeared in many TV series and films such as Walker, Texas Ranger. The movie was filmed in their home, which was extremely convenient for the actor. It makes sense that he and his wife Gena are sad to let go of this home due to the memories it holds for them. However, they will not have trouble finding another home for their family with their net worth and investments.
Snoop Dogg & Shante Broadus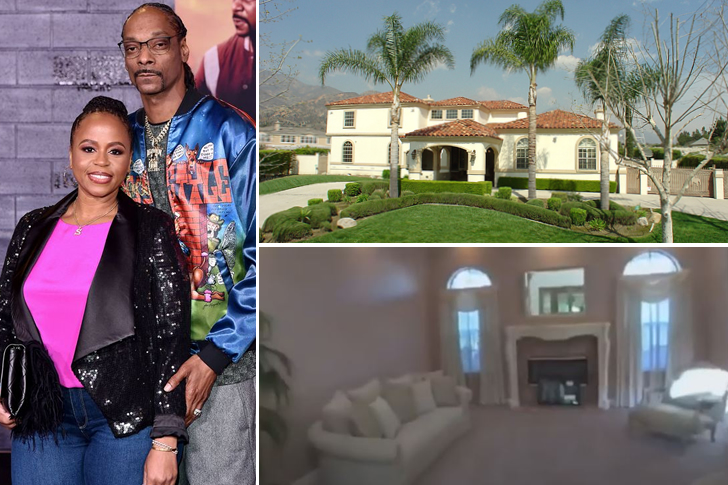 Celebrities want to live the best lives. They earned that since they have dedicated their talents and time to obtain that. Legendary rapper Snoop Dogg has been rapping all his life and is now reaping the fruits of his hard work. He became a star after being featured on Dr. Dre's single Deep Cover. Since then, his career has blossomed.
While fame can leave celebrities with plenty of money, he decided to make the best investment. He purchased a mansion at the Los Angeles eastside back in 1988. He and his wife, Shante Broadus, have been living here since. Snoop reportedly purchased the house for $720,000, which is a good steal! The house is 4,000 square feet, takes up 2 acres of land, and has four bedrooms and four bathrooms. It was the dream house of the couple, who are glad to have the best angle and panoramic views in L.A.
LEONARDO DICAPRIO & CAMILA MORRONE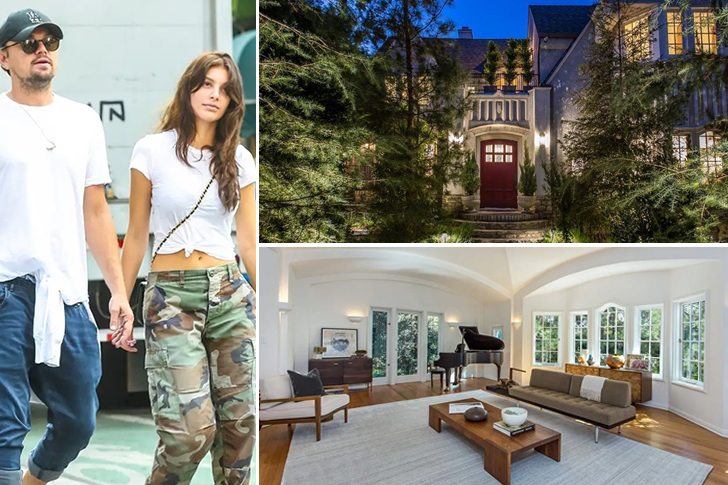 Leonardo DiCaprio is one of the Hollywood celebrities who are into real estate. He started purchasing real estate since he began earning millions. At present, he owns six luxurious properties that are either for lease or for his own use.
DiCaprio has his Malibu beach-front house listed for rent, as well as his Hollywood Hills abode that is said to be rented by Tobey Maguire. He also owns two apartments in New York City that are worth about $12 million combined. Additionally, he also has an island in Belize to be made as a resort. Since DiCaprio and his girlfriend, Camila Morrone, are said to have moved in together. It was assumed that they reside in the actor's Los Feliz residence, where they were said to have spent their days together. Either way, the couple are very private about their relationship. They are too timid to share the details of their relationship, the more about their dwelling place. For that, they probably have installed a high-quality home security system to keep them at peace all the time.
PAT SAJAK & LESLEY BROWN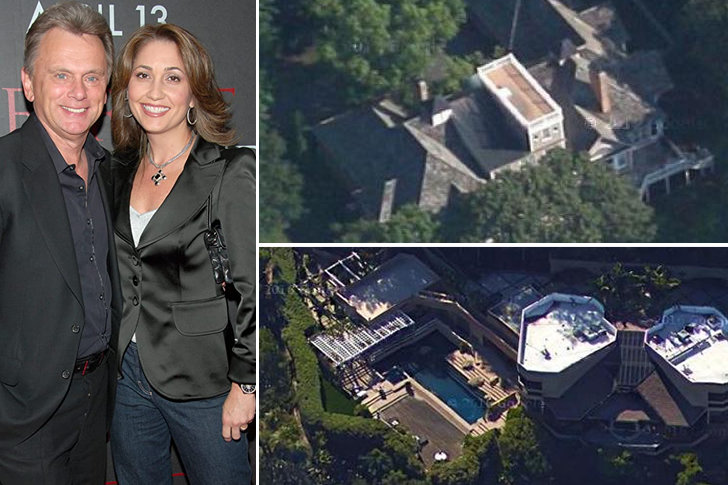 Pat Sajak, and his photographer wife, Lesly Brown, are the actual winners of the game show Wheel of Fortune! Sajak has hosted the show since 1983 and earned his prominence as the longest-running game show host in history. Sajak's fortune was inevitable as his career progressed. He and his wife, Brown, were able to purchase an estate in the gated neighborhood of Severna Park in Maryland that serves as their main residence. The said estate amounts to $1.275 million at the time of the purchase. Sajak acquired their beautiful abode through a home loan. The house was fully paid by the end of 1998, just a couple of years after it was purchased. They also have a home in Los Angeles located in the San Fernando Valley. Their L. A home serves as their second home, especially whenever they have tapings or business to attend to in L.A.
WESLEY SNIPES & NAKYUNG PARK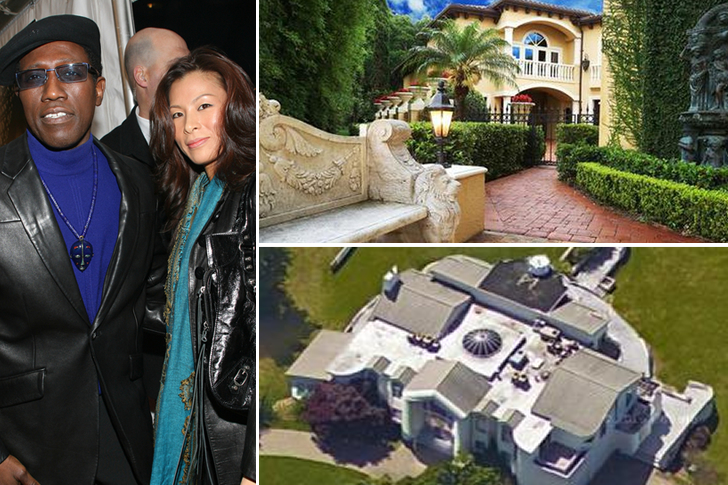 Wesley Snipes is among the 1990s celebrities that made action movies way cooler. His impressive stunts and acting skills are all believable, thanks to his real-life training in martial arts. As he rose to fame, he made several investments as a reward for himself and his wife, Nakyung Park. Such is the New Jersey mansion and his home in Windermere Isleworth. Eventually, these properties went on sale when Snipes' career slowed down. It seems that he is not making enough money to pay for the mortgage rates despite his efforts to make it back into the scene. In 2014, their Alpine home in New Jersey was sold for $4.125 million. Likewise, their 1.6 acre home in Isleworth, Orlando Florida was recently sold for $3.4 million. Currently, Snipes and Park, together with their four kids, are residing in their Los Angeles home.
MARK ZUCKERBERG & PRISCILLA CHAN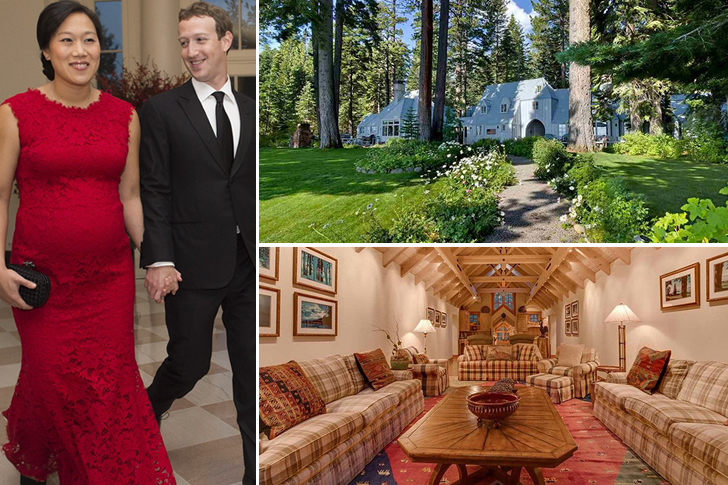 The billionaire, Mark Zuckerberg, and his wife, Priscilla Chan, do not mind spending millions of dollars for properties if it entails privacy and peace of mind. Knowing that it is Mark Zuckerberg, Facebook's founder and CEO, he probably has plans for it that will equate to growing his net worth eventually.
The Zuckerbergs owned houses in Palo Alto and San Francisco. Their primary residence is in Palo Alto, California, generally described as having a low-key and functional design. What lacks in style seems to be filled with grandiosity. It was reported that Zuckerberg bought the surrounding properties of their home. They also own a vacation house in Lake Tahoe. Technically, they purchased the whole block and the two mansions in the lakeside spot, which cost them $59 million. It was not clear whether these properties were acquired through home finance or paid in full. Regardless, it just proves that your reasoning will change if you're a billionaire like them.
SHAKIRA & GERARD PIQUÉ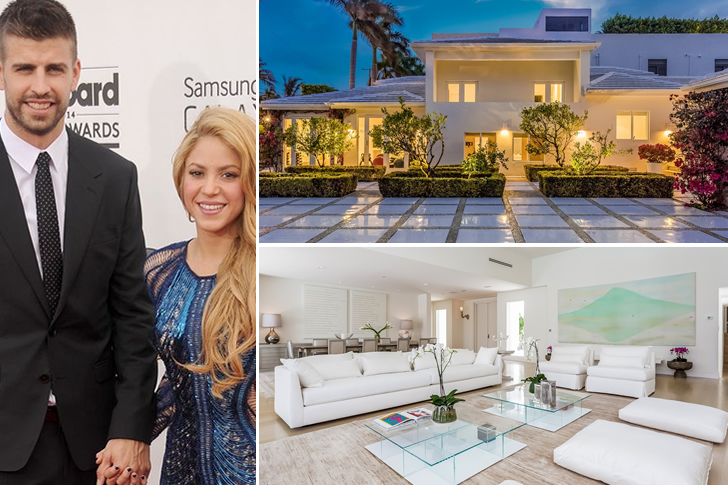 Shakira and Gerard Pique are already in their 11th year together, yet popping "I do" is still not a priority for the two. The couple made a statement before that they are never going to get married, stating that they don't need further validation since they are committed to each other. Shakira, Pique, and their two kids reside in their mansions in Barcelona, Spain. The couple owns two estates in Barcelona and shuffles their time living in both houses. The first one was purchased in 2012, while the other one was acquired in 2015. Both feature luxury and amenities that are fit for celebrities like them.  Apparently, their home in Esplugues de Llobregat was robbed by unknown infiltrators in 2018.  The offenders took some valuable items, but thankfully, no one got hurt. From here, the couple must have installed a tighter home security system to avoid such incidents again.
JIM PARSONS & TODD SPIEWAK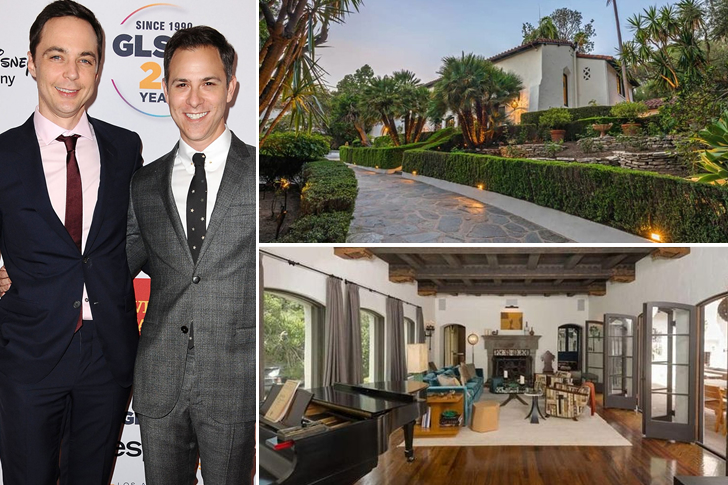 It was a celebration of love for Jim Parsons and Todd Spiewak when the two got married in 2017. The two have known each other for almost two decades and have been with each other since. The Big Bang Theory star gained prominence for his role as Sheldon. Spiewak, on the other hand, is a producer of TV shows. Together, they have a net worth of $167 million.
In 2018, Parsons listed his house in Los Feliz worth $8.9 million. The Seyler mansion was once owned by Robert Pattinson. It was bought by Parsons in 2014 for almost $7 million, making it their first home. It is a 4000-square-foot Spanish-style house that features a lagoon-like swimming pool. The couple now resides in their Gramercy Park penthouse that Parsons purchased years ago. Initially, Parsons only owned two units on the said apartment, but as his investment money grew, he later bought two more.
JAY LENO & MAVIS ELIZABETH NICHOLSON-LENO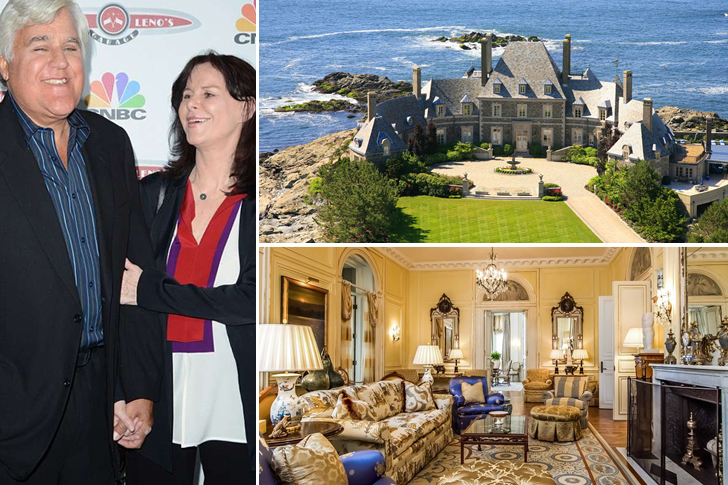 Jay Leno and Mavis Elizabeth Nicholson-Leno are among the celebrity couples who have the most beautiful and magnificent houses in Hollywood. Leno is a veteran comedian and host known for his TV show, The Tonight Show With Jay Leno. The funny guy made us laugh for years until he showed his other side to us: his love for cars. Leno is also an avid car and motorbike collector. He has 286 units of mostly restored vintage vehicles in his garage. This results in Leno hosting his self-titled car show. What we don't know is that he is also fascinated with vintage houses.
Leno and his wife bought the Oceanfront mansion in Rhodes Island in 2017. The Newport mansion is situated in a nine-acre lot by the ocean that houses a 14-bedroom abode that costs $13.5 million. The acquisition of the estate and its home insurance was under Mavis House LLC. They made no renovations or home improvement as Leno and his wife got the property fully furnished.
 RON HOWARD & CHERYL HOWARD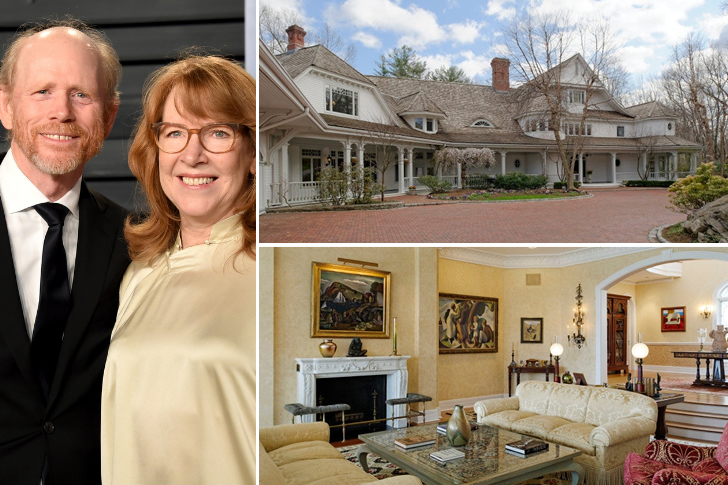 Ron Howard is a former child star who succeeded in his acting career, without tumbling down along the way. When he proved his vitality as an actor is impeccable, Howard went behind the camera to pursue a career as a film director. Howard is the man behind A Beautiful Mind that earned him trophies at the Academy Awards. He also directed Da Vinci Code and its sequel. His success in directing films not only provided him with two stars in Hollywood Walk of Fame but also a beautiful all-American style mansion where he and his wife, Cheryl Howard, housed their family for years. Their decision to raise their children away from the busy life of Hollywood led them to buy the 32-acres estate in Conyers Farm. Now that their kids are all grown up, the couple decided to put their ancestral house up for listing. It was sold for $27.5 million, probably through home finance.
ELLEN DEGENERES & PORTIA DE ROSSI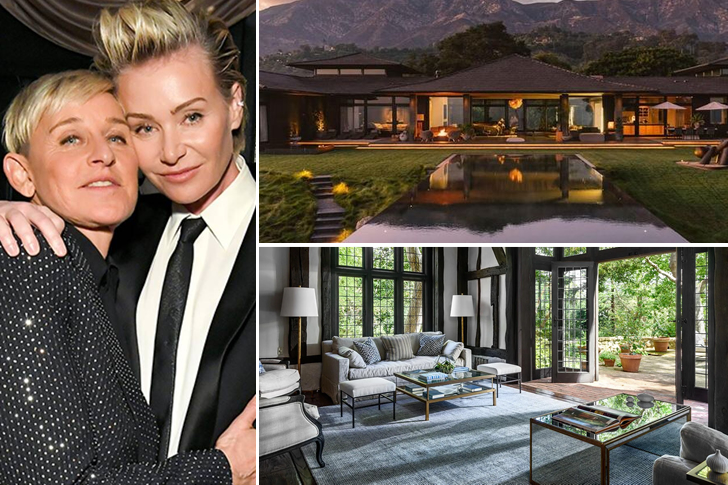 Over the years, Ellen DeGeneres and Portia De Rossi have owned several mansions all over California. From a $3 million worth mansion, they now own a $49 million mansion in Montecito, Santa Barbara. It is one of the biggest home splurges that DeGeneres has made since 2003. DeGeneres was said to have been buying and flipping houses, which explains why she has no problem with mortgages. It certainly doesn't hurt that she has a net worth of $490 million.
The exclusive, gated neighborhood of Montecito is popularly known to house celebrities such as Oprah Winfrey and royal couple Meghan Markle and Prince Harry. DeGeneres must have loved the neighborhood in Montecito for it is said to be her third house in that area. She previously bought a Balinese-style mansion at the price of $27 million. Now, DeGeneres and Rossi enjoy their 9000-square-foot mansion that has a large pool and a separate barn.
SAM ELLIOTT & KATHARINE JULIET ROSS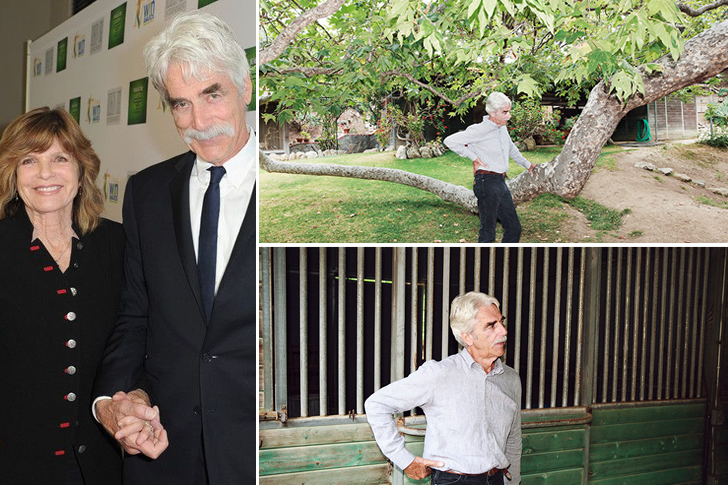 Sam Elliott recently starred in the box office hit A Star is Born with Lady Gaga and Bradley Cooper. Elliott played the older brother of Cooper and won an award for his performance. Likewise, he is also part of Netflix's series The Ranch with Ashton Kutcher. While it is overwhelming for the actor, beside him is his proud wife, Katherine Ross. The couple has been married for more than three decades already. The couple owns a house in California, where they usually stay when they are working. They also have a property in Oregon where they go if they want to relax. Apparently, Elliott, being a handyman himself, is having a hard time going to hardware stores nowadays. He mentioned that people are noticing him now, making it difficult to do errands. For that, he will need to call plumbing services for any home improvement projects.
 MATT DAMON & LUCIANA BARROSO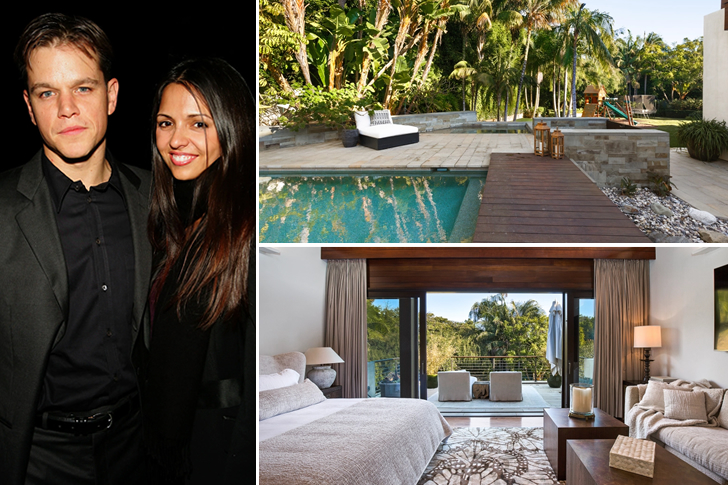 Matt Damon and his wife, Luciana Barroso, are soon to call a moving company. They recently put their Los Angeles abode up for listing. They said to be moving to New York to use their lavish penthouse at Brooklyn Heights. The L.A mansion is up for grabs for $21 million. While the family of six seems to enjoy their modern L. A home, the couple must have planned their relocation a long time ago. It was said that they bought the New York property two years ago.
Damon and Barroso met in 2005 in a very unconventional way, but very movie-like! The actor meets a bartender, they fall in love with each other, and the rest is history. The couple now has four kids that are growing up fast. Could they be relocating for their kids? We are yet to find out.
EDDIE MURPHY & PAIGE BUTCHER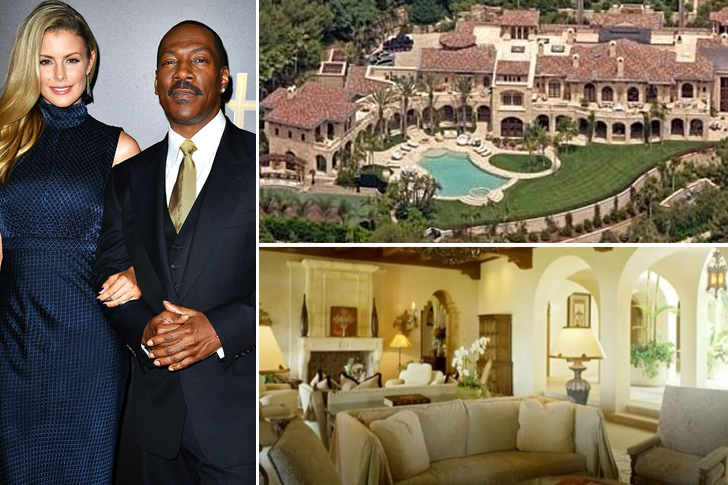 Eddie Murphy and Paige Butcher have been together since 2012 and welcomed their second baby together last November 2018, but they haven't tied the knot yet. It's nothing to worry about, as their relationship is still solid as a rock. The couple resides in Murphy's Beverly Hills mansion. It was acquired in 2001 for $10 million. As Murphy has fathered a total of 10 kids, his mansion is enough to accommodate all of them. It has ten bedrooms and a separate guest house just in case he will call for a family meeting or a reunion. Murphy is said to have spent a whopping $20 million in total for the renovation of their Beverly house. It included roof repair, wall repaint, room renovation, and many more. Well, Murphy got it covered well as he is one of the most successful comedians of all time.
SAMUEL L. JACKSON & LATANYA RICHARDSON JACKSON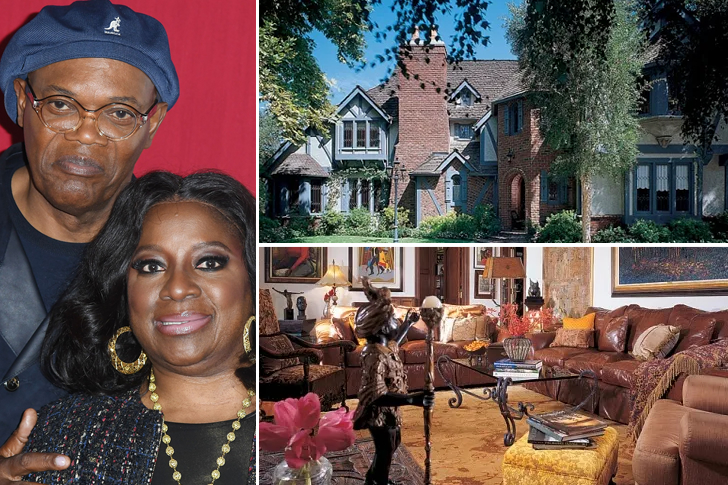 Samuel L. Jackson and LaTanya Richardson Jackson are one of the Hollywood couples who have mastered the art of marriage. They have been together for four decades already and haven't been disturbed by controversies. The couple came from small beginnings. A struggling actor brought his family to Los Angeles to try his luck in acting. Gladly he succeeded, partly owing to it to his wife, LaTanya. She stood by him and supported him all the way. The couple deserves all the luxury they have now, including their homes purchased over the years. Their first permanent home is in San Fernando Valley in Los Angeles. It is a Tudor-style mansion that housed them for years until it was sold in 2014. They are now residing at their Beverly Hills luxury home with a full home security system. They also own a posh Upper-East side apartment in Manhattan.
ROBIN WILLIAMS & SUSAN SCHNEIDER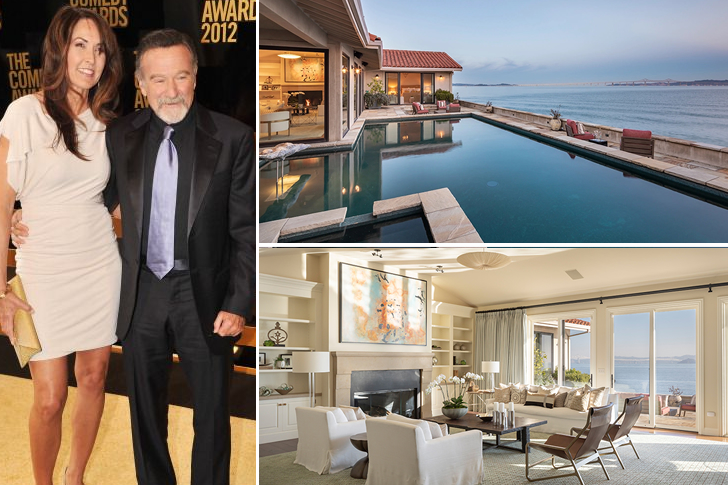 It was a common thing for celebrities to put up their property in the listing. Reasons vary as some go bankrupt while others do it for investment purposes. As for Susan Schneider, Robin Williams' wife, their  San Francisco home was up for sale since it is no longer in use. Robin Williams and Susan Schneider spent their married life in their Tiburon home in the bay since 2011. It was also the last dwelling place of Williams. The modern-style home that housed six bedrooms and a wonderful pool area was sold for $5.35 million, as opposed to the initial asking price of $7 million. The buyer seems to have hit the jackpot as the place holds many memories and is a landmark already. It was finally scratched off the listing in 2020, a year after they put it up for sale.
KIRK DOUGLAS & ANNE BUYDENS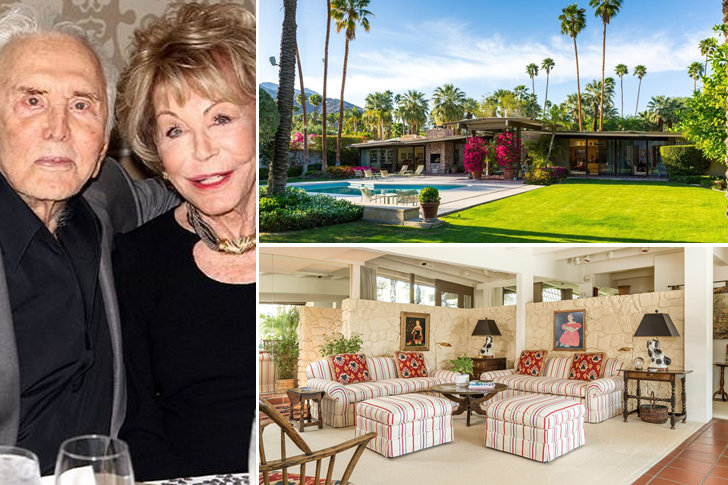 Kirk Douglas and Anne Buydens spent a lasting marriage together. Though their marriage was not all perfect and even complicated at some point, the couple stood by together and stayed true to their promise of "til death do us part". The actor and the philanthropist spent their entire lifetime at their Palm Springs home in California. It was designed for Kirk Douglas in 1954 and houses several luxurious amenities and well-designed features. It was put up for sale and sold for $3.4 million in 2016. In 2020, it was decided that the Old Las Palmas house, along with other iconic houses in the drive, qualified as a historic place. It was reported that the house was renovated where its flooring and other home architecture was retouched. Michael Douglas, Kirk's firstborn, gave his blessing to his close friend who purchased the house.
 Sidney Poitier & Joanna Shimkus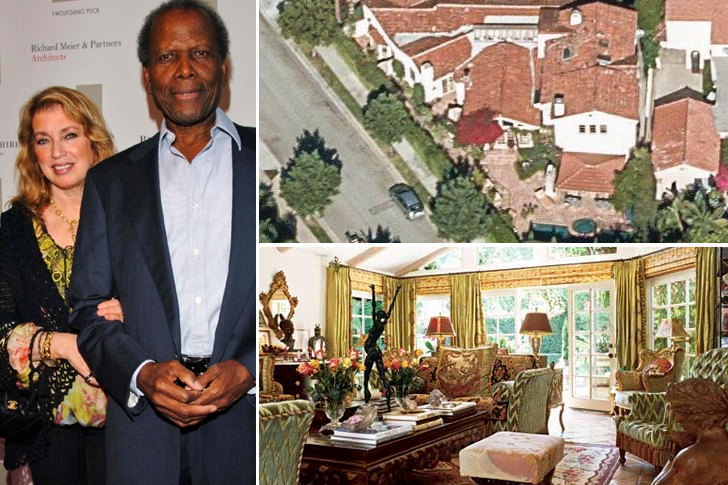 American retired actor and film director Sidney Poitier has a career spanning nearly six decades. With a total net worth of $25 million, it's no surprise that he and his wife, Canadian retired actress Joanna Shimkus own a huge mansion. He is the recipient of an Academy Award for Best Actor, making him the first Afro-Bahamian and black male actor to win the award. Additionally, he is also given credit for being the earliest surviving and oldest living Best Actor Academy Award winner. On the other hand, his wife, Joanna, appeared in various films during the '60s and early '70s, including Boom!, The Lost Man, and The Virgin and the Gypsy.
Poitier and his wife are living together in California, while their children are away in New York. They live in a small place in the LA area while becoming more bicoastal. The couple sold their home in Beverly Hills for a whopping $4.5 million to the co-chairman of Northwest Airlines, Al Checchi.
 Neil Patrick Harris & David Burtka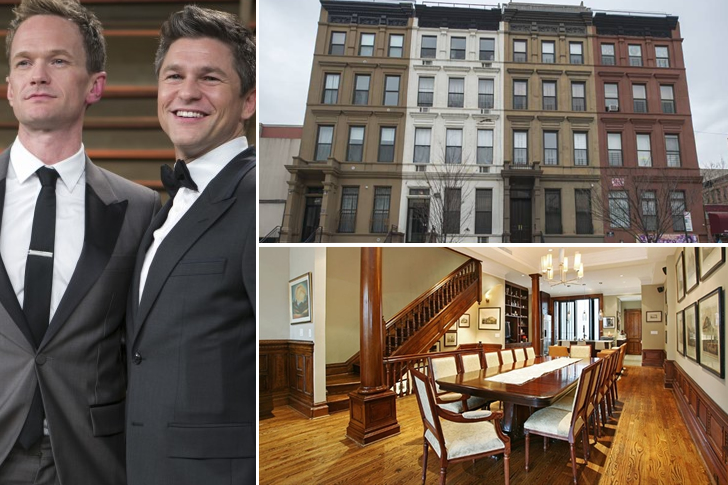 American actor, singer, and comedian Neil Patrick Harris is well known for his role as Barney Stinson in the American sitcom How I Met Your Mother, which ran from 2005 to 2014. Since the '80s, Harris has found success in both TV and film, giving him a net worth of $50 million. He is given credit for being a versatile actor who can play both comedic and dramatic roles. He married to American actor and professional chef David Michael Burtka back in 2014; they have two children via surrogacy.
Harris and Burtka bought a $4 million mansion on Fifth Avenue. It features 8,000 square feet of living space, four bedrooms, a rooftop, a backyard, two terraces, and a modern chef's kitchen. To put it in simpler terms, it is HUGE! They spent more than a year renovating their five-story residence, making it the perfect home for their family of four.
 Lee Majors & Faith Majors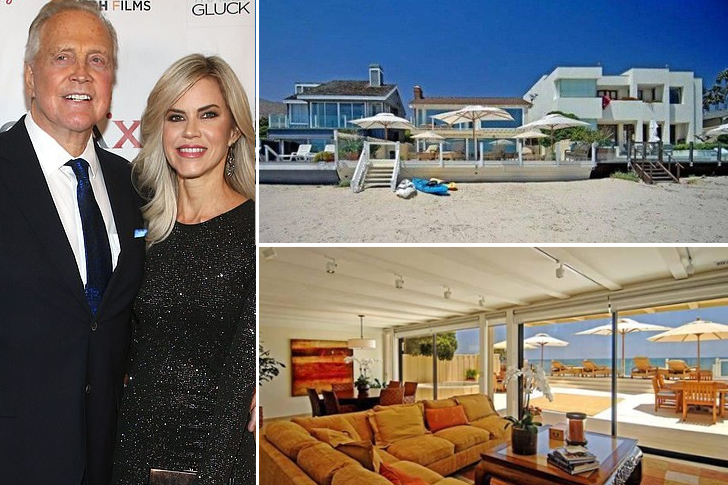 American voice, film, and TV actor Lee Majors is well known for his portrayal of Heath Barkley from 1965 to 1969 in the American Western drama TV series The Big Valley. He was known for his rugged good looks, which he used as his ladder to success. He has been married to Faith Cross Majors since November 1, 2002. However, he had some trouble with his marriage, forcing him to seek help from a lawyer. Luckily, all is well between him and his wife of almost 19 years.
The Majors are owners of a $6 million compound, which is now for rent for a hefty price of $72,500 each month. If you want to live like a millionaire, then you now know what amount to bring each month. It features five bedrooms, four bathrooms, and 3,000 square feet of space. Other than the view of the sweeping ocean from every room in the house, it also offers a private backyard with a spa.
 David Beckham & Victoria Beckham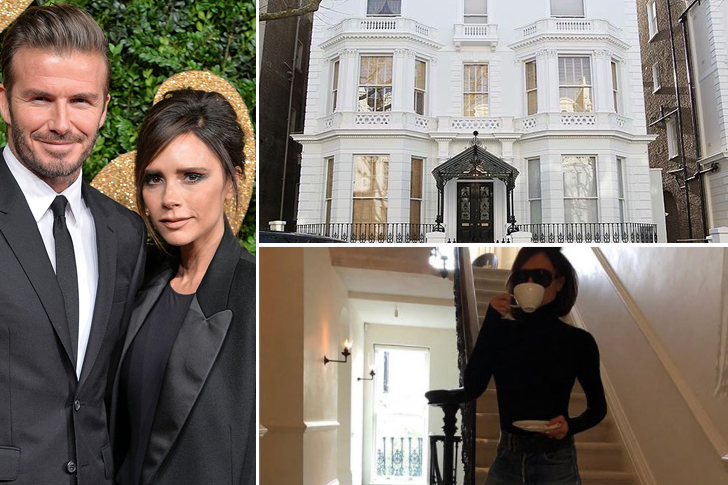 English former professional footballer, and co-owner, and current president of Inter Miami CF David Beckham, and his wife, English fashion personality, and singer Victoria Beckham have been married for more than two decades since they decided to tie the knot back in July 1999. They were rumors that they were splitting up, but, fortunately, these were just rumors.
The couple is worth an estimated amount of $900 million. It's not shocking news since they are successful in their respective fields, along with their smart partnership deals and investments. They own a £31-million mansion, which is three times the value of Meghan Markle and Prince Harry's house, valued at £11.2 million. The house is fitted with state-of-the-art amenities, and the kitchen is one of the high points of the family's home. It features a Dualit toaster, open wooden shelving with strip lighting, and extra space for storage.
 Tina Turner & Erwin Bach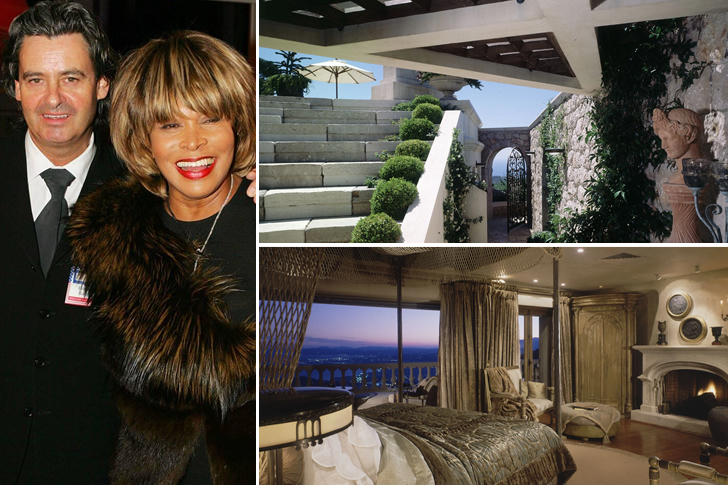 American-born Swiss actress and singer-songwriter Tina Turner came to a degree of prominence for being the frontwoman of The Ike & Tina Turner Revue. She was eventually coined The Queen of Rock 'n' Roll. She was the wife of Ike Turner from 1962 to 1978. After dating for almost 30 years, she tied the knot with German music mogul Erwin Bach, who's 16 years older, in Switzerland back in 2013. She has a total net worth of $250 million, while Bach has a net worth of $50 million. They're certainly quite the power couple.
Turner gave up her American citizenship on October 13 after becoming a Swiss citizen in April 2013, having lived in the country for more than two decades. She has spent most of her time since the '90s together with her husband in a mansion in Kusnacht overlooking Lake Zurich.
 Janet Jackson & Wissam Al Mana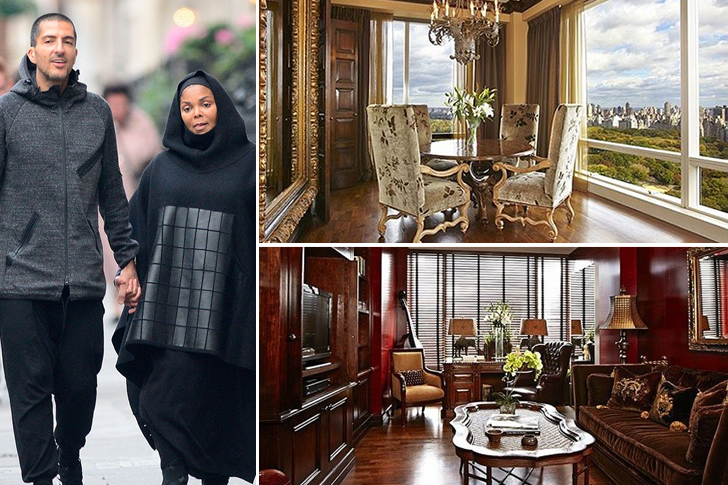 American actress, singer-songwriter, and record producer Janet Jackson is a prominent figure in popular culture and notable for her elaborate, sonically innovative, and socially conscious stage shows. She was formerly married to Qatari billionaire businessman Wissam Al Mana from 2012 until 2017.
As someone who has been famous since the age of 10 years old, it shouldn't come as any surprise that Janet has lived in some of the nicest homes in the world over the years. Together with her husband, and son, Issa, Janet was living in a penthouse in Trump International Hotel and Tower Condominium in Manhattan. She purchased the unit back in 1998 for an estimated $9.8 million. It has enough flooring for her family of three as it features 2,093 square feet of living space, three bedrooms, and three baths. It also comes with a 28-foot long L-shaped living and dining room combo area.
 Serena Williams & Alexis Kerry Ohanian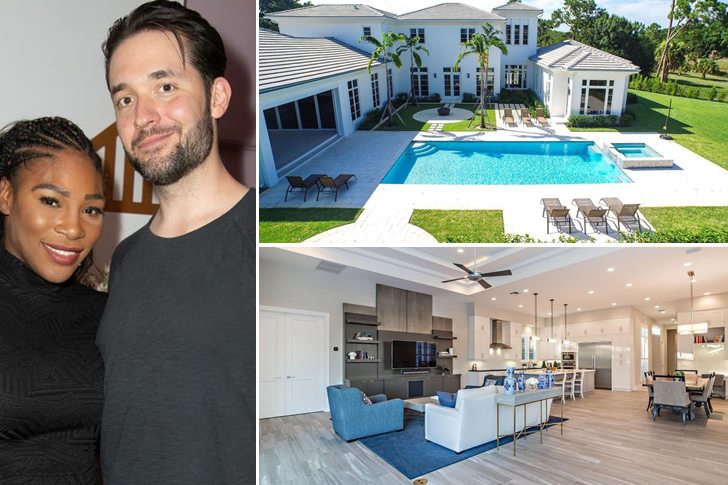 American professional tennis player and the former No.1 women's single in the world Serena Williams needs no lengthy introduction. It's safe to say that everyone knows how successful she was in the sport, having won 23 Grand Slam singles titles. She has a total net worth of $200 million, and her husband, Alexis Ohanian, executive chairman and co-founder of the social news website Reddit, has a total net worth of $40 million.
During the pandemic, Serena and her husband, Alexis, used the time to spend time with their daughter Olympia in their stunning property located in Palm Beach Garden, Florida. It features 7,323 square feet of living space, clay-tile roofing, a tennis court, and a pool with a cabana found in the backyard. It was reportedly purchased by Serena back in 1998 for $525,000, and the house was built two years later.
 Mark Ruffalo & Sunrise Coigney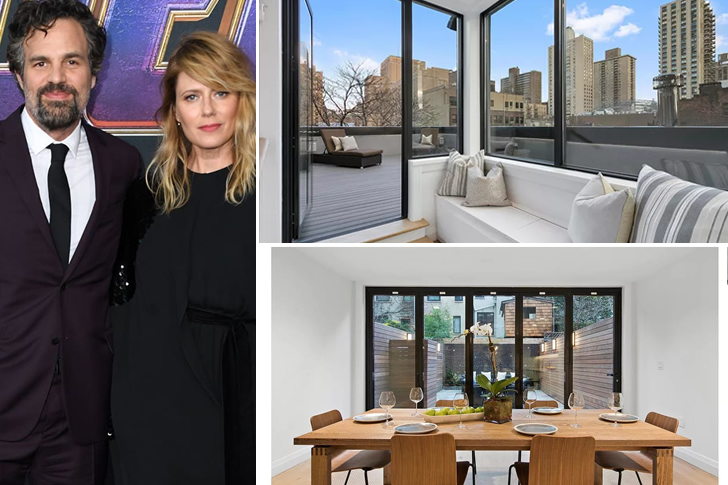 American actor and producer Mark Alan Ruffalo gained international fame for his role in the Marvel Cinematic Universe films as Bruce Banner or the Hulk. He started his acting career back in the '90s, and first rose to prominence for his performance in the 1998 play This is Our Youth by Kenneth Lonergan. He has been married to Sunrise Coigney since 2000, and they have three children together.
Throughout his entire career in the industry, he has accumulated a total net worth of $35 million, some of which come from his real estate investments through the years, including a Hollywood Hills home for $1.65, a $3.125 million house in Brooklyn, and a home in the Catskill Mountains. Ruffalo and his family spend most of their time in the Upstate New York area of Callicoon. He stated that he wanted a more "rustic upbringing" for his family, and the town is a perfect place for them.
 Marie Osmond & Steve Craig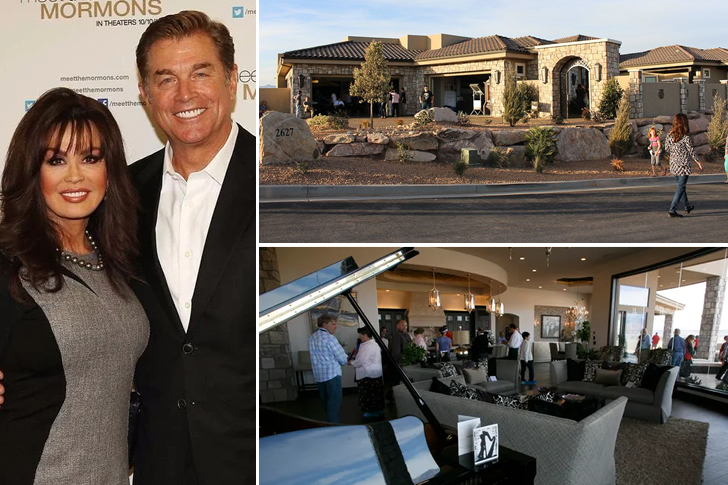 American actress, singer, and author Olive Marie Osmond gained success as a country music artist throughout the '70s and the '80s. Prior to her solo career, she was part of her family's singing group, The Osmonds. With over 20 albums to her name, Osmond definitely has enough money to make investments in real estate. Together with her husband, Steve Craig, they own numerous properties all over America, but her most amazing house to date is the one in St. George, Utah.
Having a combined net worth of $38 million, Osmond and Craig own a $4-million home in St. George. The house features a sauna, a home theater, a recording room, and an island in the center of an outdoor pool. Judging by the price tag on this gorgeous house, it probably has some of the latest amenities she and her husband will surely enjoy.
 Kelly Ripa & Mark Andrew Consuelos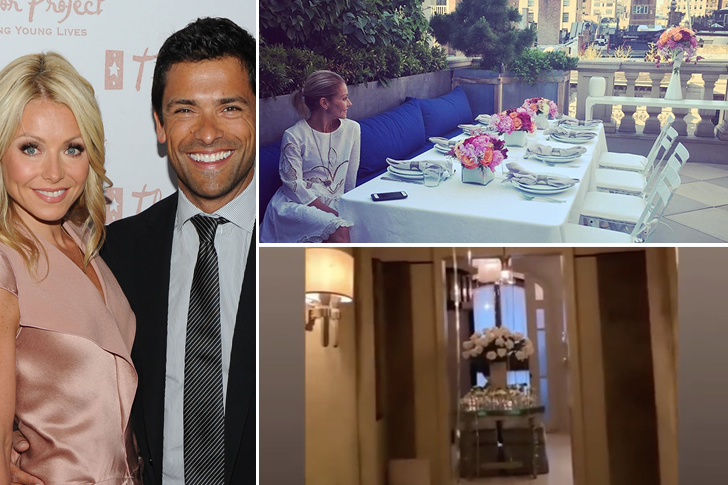 American actress, dancer, and TV producer Kelly Ripa is well known for her role on the ABC American TV soap opera All My Children from 1990 to 2002 as Hayley Vaughan. Her husband, Mark Andrew Consuelos, is an American actor and is also known for his role in the same soap opera TV show as Mateo Santos. Kelly has a total net worth of $120 million and a $22 million salary, while her husband has $40 million to his name.
Kelly and Mark own numerous homes around America. They purchased a 6,700-square-foot home for $9 million and later sold it for $12 million, giving them a $3 million profit. Their primary family home is the townhouse located in the Upper East Side of Manhattan, which they purchased for $27 million. Needless to say, it has all the best amenities and enough flooring space for her and her husband, measuring up to 7,796 square feet of living space.
 Kevin Costner & Christine Baumgartner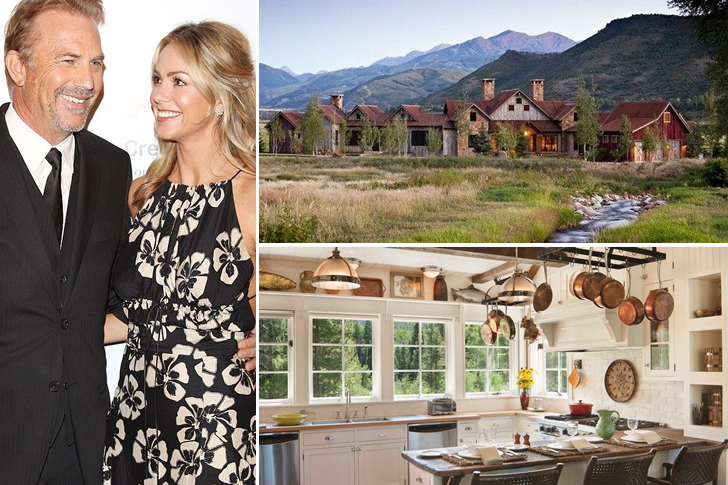 American producer and actor Kevin Costner needs so little introduction as his 160-acre ranch in Aspen is enough for so many people to know him. Even so, he is the husband of model-turned-handbag designer Christine Baumgartner. They got married in Costner's ranch back in September 2004 and have three children together.
Costner has a total net worth of $250 million, so it must not come as a shock that he owns an extremely impressive real estate portfolio. Even though the property's value is undisclosed, we can speculate that it is worth millions of dollars. The property features three lodges that can house a maximum of 27 people, two lakes, an ice rink, a trap door that leads to the pool area, and a private drive that extends into a valley all the way from the gates. It can even be rented out for a whopping $30,000 EACH night. We don't know about you, but we don't think our credit cards could handle it.
 LeBron James & Savannah Brinson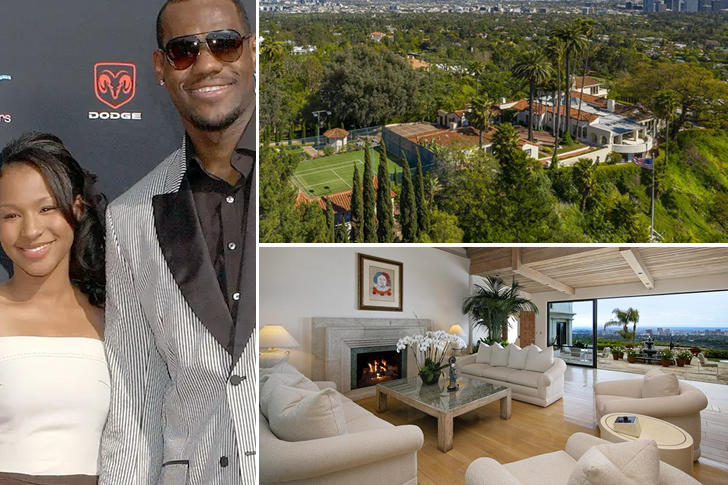 We think it's safe to say that every person, a basketball fan or not, knows who LeBron James is. He is regarded as one of the greatest players to have ever played the sport and is even frequently compared to the great Michael Jordan in debates over who is a much better basketball player in their prime.
His wife, Savannah Brinson, has a net worth of $50 million, which she gives credit to her brands of furniture, interior designing, and mentorship programs. James, on the other hand, has a net worth of $500 million and a $100 million salary for each year he plays in the league. In Ohio, the couple owns one of the most expensive properties in the Cleveland area. They also own a $36.75 million house in Los Angeles. It features 13,000 square feet of living space, four bedrooms, seven bathrooms, and two guest houses. It also comes with a movie theatre and a tennis court.
 Aaron Paul & Lauren Parsekian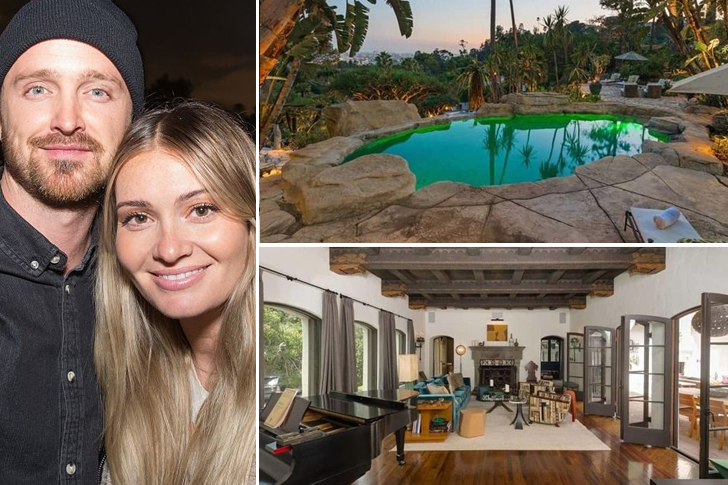 Who could ever forget Jesse Pinkman from the American neo-Western crime drama TV series Breaking Bad? Aaron Paul Sturtevant received numerous awards throughout the show's run, including a Satellite Award for Best Supporting Actor – Series, Miniseries, or Television Film, and a Critics' Choice Television Award for Best Supporting Actor in a Drama Series, and a Primetime Emmy Award for Outstanding Supporting Actor in a Drama Series.
Aaron got engaged to his wife, Lauren Parsekian back in January 2012 in Paris, and got married a year later in May 26, 2013 in a 1920s Parisian-carnival-themed wedding in California. He purchased the Spanish Colonial-style home of The Big Bang Theory actor Jim Parsons in Los Feliz estate for $6.95 million. Originally built in 1922, it features antique tile flooring, hand-stenciled ceilings. It comes with three bedrooms, 3.5 bathrooms, and 4,000 square feet of space.
 Martin Lewis & Lara Lewington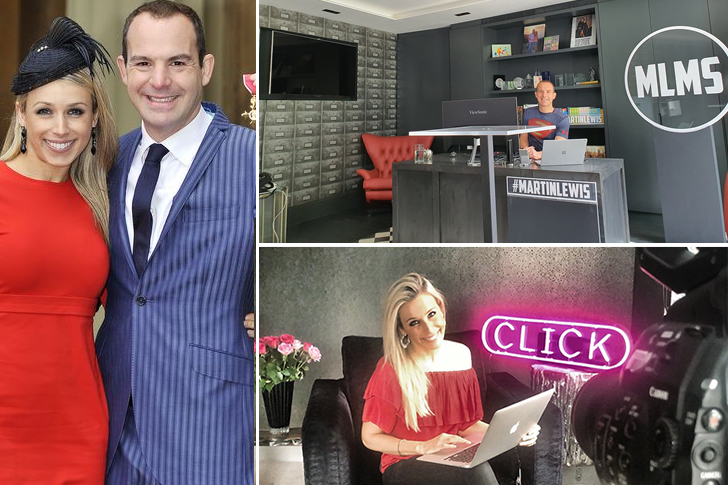 British journalist Martin Lewis is well known for founding the website MoneySavingExpert.com and has a net worth of £128 million. He started the website for just £100 in 2003 and sold it back in 2012 for £87 million. He is married to British TV presenter and journalist Lara Lewington, who co-presents Click, a BBC technology program. They have been married since 2009 and have one child together, Sapphire, born on November 1, 2012.
Martin has shown a glimpse of their home in London, which doubles as his state-of-the-art home studio to safely record episodes of his show for ITV during the coronavirus pandemic. The house features spacious rooms and has plenty of flooring for all his lighting and camera equipment he needs for his broadcasts. His office features black fitted cabinets along the back wall and open shelving behind the desk to put his selection of books on display.
 Megan Rapinoe & Suzanne Brigit Bird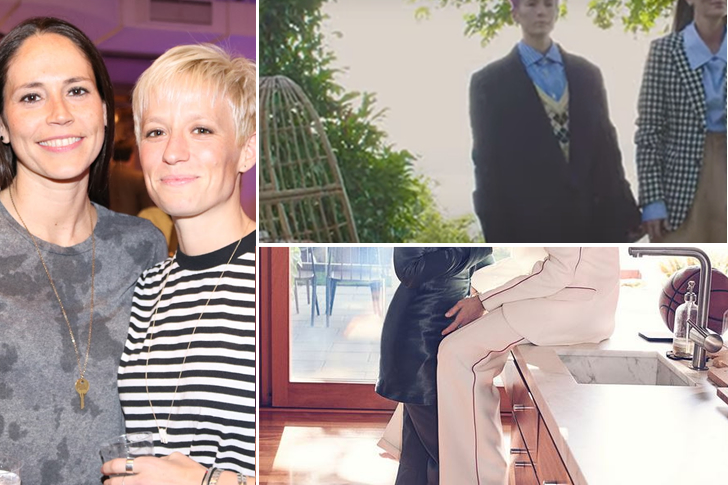 Israeli-American professional basketball player Suzanne Brigit Bird and her girlfriend, American professional soccer player Megan Rapinoe, have a combined net worth of $11.5 million. Even before meeting in the 2016 Olympics in Rio, the two lived in Seattle. Rapinoe made a big step in their relationship a year after they started dating by moving into Bird's condominium in the trendy Queen Anne neighborhood.
Bird stated that even though their main home is in Seattle, they lived in the small apartment throughout the pandemic and added that they had to get creative to stay fit and active during the stay-at-home orders. Not much is known about their home in Seattle nor their condominium, but one thing is for sure: they don't have any trouble with home loans as they are both successful in their own careers and have equally impressive resumes.
Mel Gibson & Rosalind Ross
Mel Gibson and Rosalind Ross are one of the hottest couples in Hollywood today. Ross is Gibson's present partner after the actor dated Oksana Grigorieva for about a year back in 2010. The pair has a 35-year age gap between them, but that didn't stop them from falling for each other the moment they met in 2014. Since then, Gibson and Ross have been together, and they eventually welcomed a baby boy back in 2017, whom they promptly named Lars. We're confident that the two won't be needing any money loan to raise the youngster as the Braveheart actor currently has an astounding net worth of $400 million!
The loved-up duo has been spotted continuously in the Malibu area over the past year. Of course, they must be staying at Gibson's Malibu mansion that's currently up for sale for $14.5 million. The couple surely won't find themselves easily bored while stuck at the luxurious property because the five-bedroom and five-bathroom mansion come with a swimming pool, a French country kitchen, and a stunning view of the Pacific Ocean!
Michael Douglas & Catherine Zeta-Jones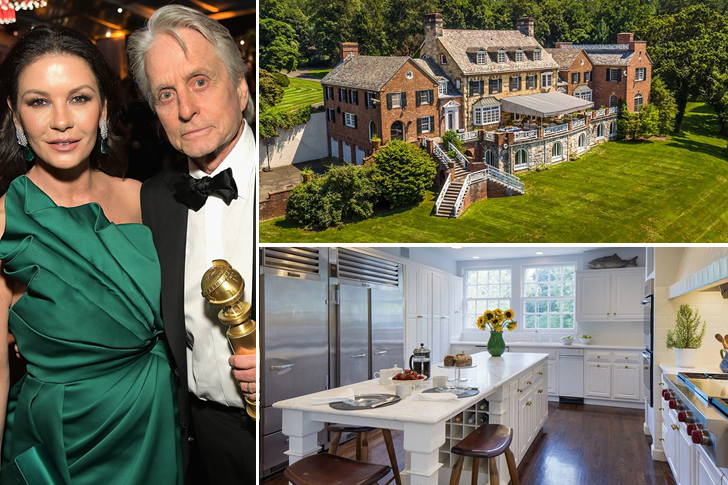 Michael Douglas and Catherine Zeta-Jones are undoubtedly one of Hollywood's most influential power couples. The two have quite an age gap as Douglas is 25 years older than Zeta-Jones, but they certainly didn't let age determine their affection for each other. The pair immediately tied the knot in 2000, almost four years after they were first introduced to each other. Currently, Mr. and Mrs. have been married for more than two decades and have two children together.
Douglas and Zeta-Jones currently live in an Irvington property, just 25 miles outside of Manhattan. The estate features stunning views of the Hudson along with eight bedrooms and almost eleven bathrooms! Other luxurious features of their home include an indoor swimming pool, fitness room, lounge for games, a library, and an outside summer kitchen. In other news, the couple has been actively acquiring New York properties over the past few years. It's only reasonable to expect that this property is just another one of their investments.
Michael Jordan and Yvette Prieto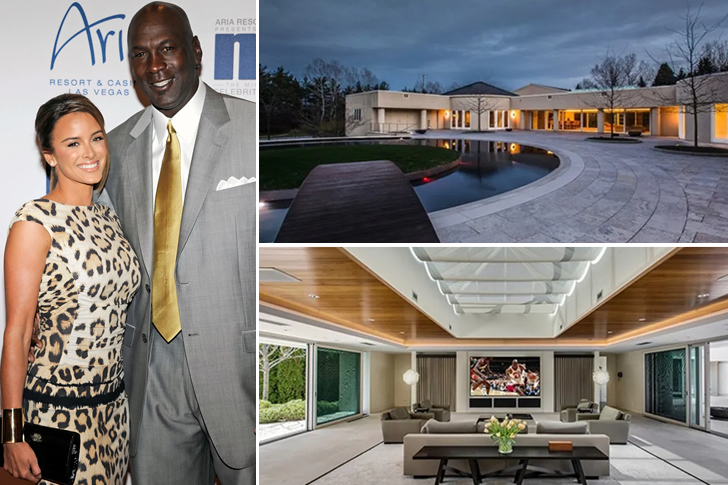 Yvette Prieto is a Cuban model and Michael Jordan's second wife. The two met at a nightclub in Miami, and you could say that they instantly fell for each other. Prieto and Jordan dated for three years, after which Jordan popped the question on Christmas of 2011. The two got married in April 2013 and immediately welcomed twin baby girls a year later.
Michael Jordan owns numerous real estate investments all over the country. In fact, he and his wife have shuffled their time across most of them. One of their properties that they often spend their time on is Jordan's mansion located in the Chicago suburb of Highland Park. You'd certainly know once you've arrived in the Jordan residence as the gate has the iconic number 23 on it. The property showcases nine bedrooms as well as 15 bathrooms— and it's fully equipped with extravagant features. In addition, it comes with a full gym, a putting green, an NBA-regulation basketball court, an infinity pool, and a card room! This palace-like residence is truly fit for basketball royalty and his lovely wife!
Oprah Winfrey & Stedman Graham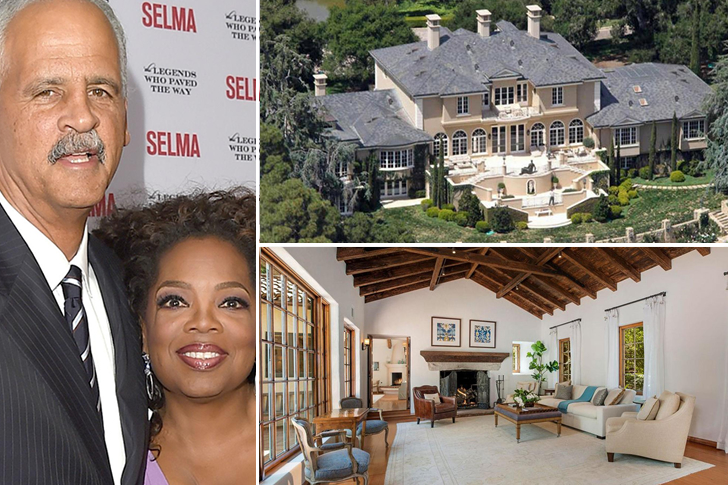 Oprah Winfrey and Stedman Graham's relationship is one of the longest-running relationships in Hollywood today. The couple has lived together for 30 years but has yet to tie the knot formally. It isn't clear whether they ever plan to get married, but that doesn't take away their love and affection for each other. Interestingly, Oprah attributes their longevity as a couple by not being married to each other. She says that marriage just wouldn't work in their case, and they'd long have been separated if they were married.
The couple has lived under one roof since their engagement in 1992. Oprah and Stedman have lived together in the TV host's $50 million-home in Montecito, California. It's incredibly spacious as it sits on 42 acres of land and houses high-end amenities like a tennis court, a man-made lake, and a guest house. As if these features aren't enough, their residence even has two movie theatres, ten fireplaces, a barn, and two orchards! Considering Oprah's massive net worth, their financial advisor wouldn't have minded this luxurious purchase!
Phil Mickelson and Amy Mickelson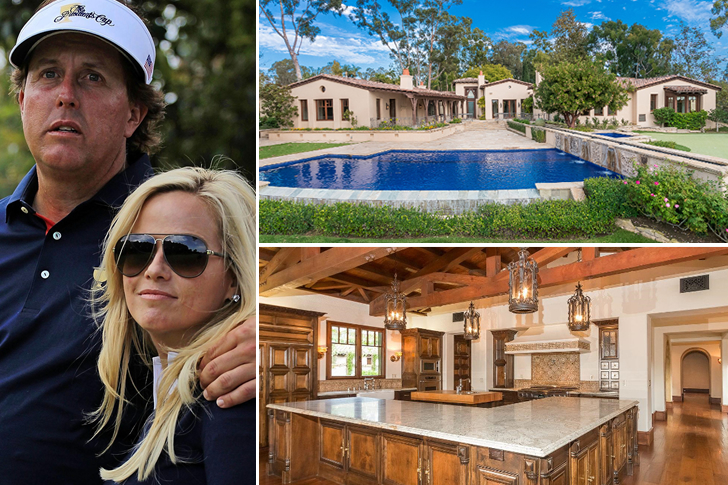 Amy Mickelson, formerly Amy McBride, is the wife of American professional golfer Phil Mickelson. The couple met way back in 1992 during their college years at Arizona State. At the time, Amy was already a cheerleader for the Phoenix Suns, and Phil was on his way to becoming a star golfer. The two instantly fell for each other as they immediately got married four years later, in 1996. They have welcomed three kids through their 25 years of marriage.
Phil, Amy, and their three children have lived together in Phil's beautiful Rancho Santa Fe home. Their residence is conveniently located on a 4.55-acre land filled with pepper and olive trees. The landscaper for Mickelson's home definitely deserves credit for creating an Italian countryside vibe! To add, Mickelson's one-of-a-kind property comes with all the niceties that a pro golfer would want. It has an infinity-edge pool, a summer kitchen, a gym, and even a putting green!
Pierce Brosnan & Keely Shaye Smith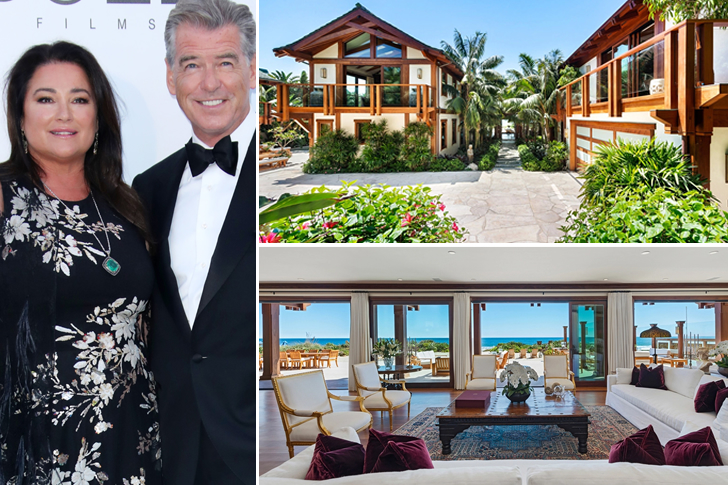 Keely Shaye Smith is the long-time wife of former James Bond actor Pierce Brosnan. The two have been married since 2001 and have two children together. Brosnan and Smith met in 1994 in Cabo, San Lucas, and you could say that they immediately fell for each other as they have been together since then. We should credit the couple for having a healthy and loving relationship as they are now in their 20th year of marriage!
The husband and wife managed to live together in quite a massive mansion in Malibu. It took them ten years to build this five-bedroom and 14-room estate with seven fireplaces and a two-story pool house! Of course, the villa comes with a complete package of facilities such as a gym, a Japanese spa, and a state-of-the-art screening room! James Bond and his wife sure know how to live luxuriously!
Rachael Ray & John Cusimano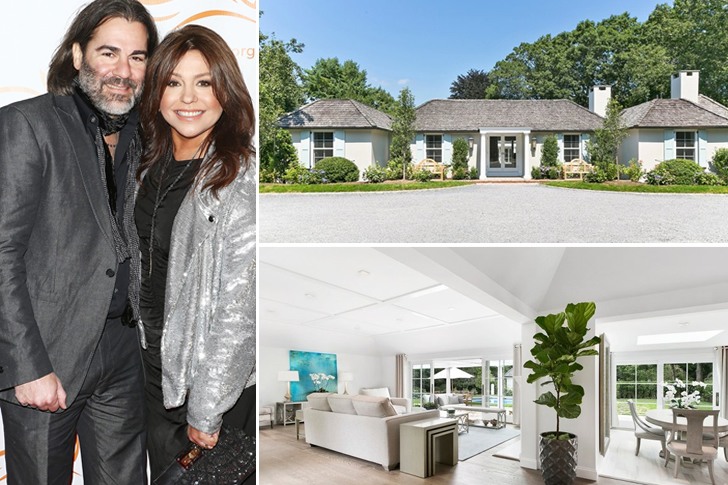 Celebrity chef Rachael Ray married entertainment lawyer John Cusimano back in 2005. Rachael certainly married a man that has many passions as John is also a lead singer for his own band. Rachael and John met back in 2001 at a mutual friend's party, and you could say that they instantly fell for each other. Fast forward today, and they are now enjoying their 15th year of marriage!
The couple currently has a combined net worth of $110 million. If you ask us, they certainly made fair use of their massive fortune by purchasing a six-acre Southampton estate back in 2008. Rachael and John paid $2.6 million for the property, which came with a swimming pool, tennis court, a buildable parcel, a pond, and even a writer's cottage! You could certainly expect that their home comes with a state-of-the-art kitchen where Rachael can work her magic!
Randy Travis & Mary Travis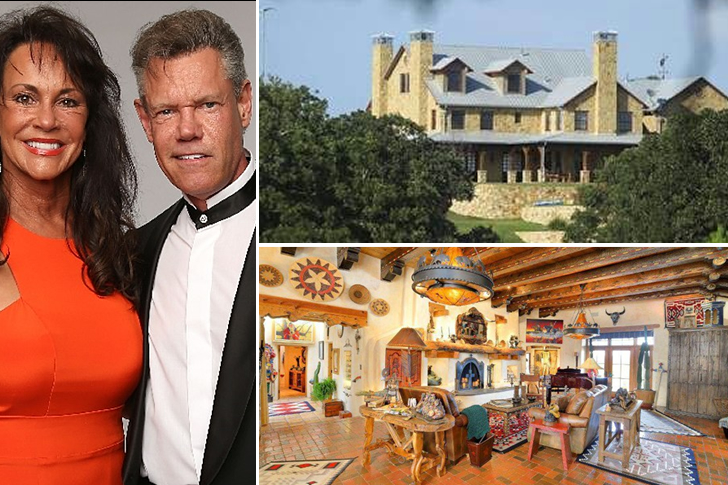 Randy Travis is one of country music's most iconic singer, songwriter, and guitarist. He married Mary Travis in an emotional ceremony back in 2015, although they have already known each other for over 30 years. Randy certainly got lucky with his wife, as Mary stood by his side through his recent struggles. The loyal woman surely deserves all the credit for supporting her husband!
The couple is currently living together in Randy's home in Tioga, Texas. Their Tioga residence contains five beds with six baths in a 1,500 square feet property. The property certainly looks massive from the outside, and it even has an expansive front lawn. Although Randy's music career has long been over, we're confident that he's enjoying life with his wife's company in the said high-end property. Given that he's currently recovering from his health condition, the privacy that their Tioga home brings could be critical in a slow and steady road to recovery.
Robert Redford & Sibylle Szaggars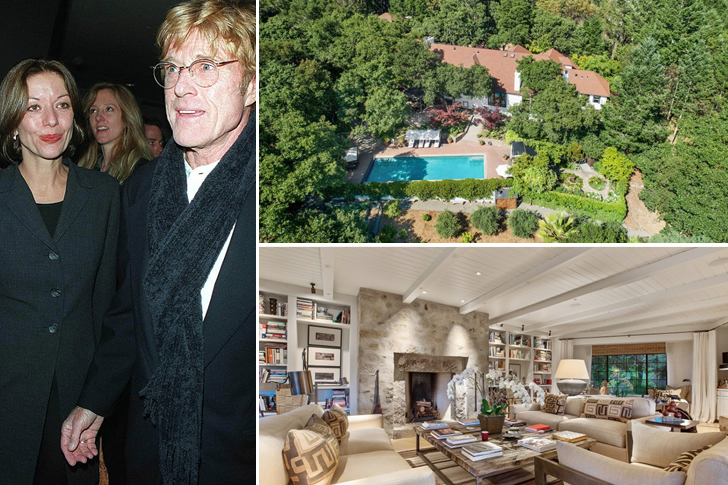 Sibylle Szaggars is Robert Redford's new wife. It is unclear how the two met, but they have been together since 1996. Redford and Szaggars dated for a long time— 12 years to be exact— until Redford finally decided to make it official and formally tied the knot in July of 2009. The couple doesn't have children of their own, but Szaggars has two living stepchildren from Redford's previous marriage.
The two have been living together in their scenic estate in Napa County. Redford and Szaggars' residence is a beautiful mansion that sits on 5,200 square feet of living space. It also has eight rooms, three bedrooms, and three and a half bathrooms. The property has facilities perfect for anyone who wants to get in touch with their creative self as it has an artist's studio, another workshop, and a pathway that leads into a nearby resort. That's not all, though! Of course, the estate didn't forget about its essential features like a swimming pool, expansive patios, and a hot tub. The couple certainly won't have any problems maintaining this property to a certain degree as they share a combined fortune of $202 million!
Sean Connery & Michelle Roquebrune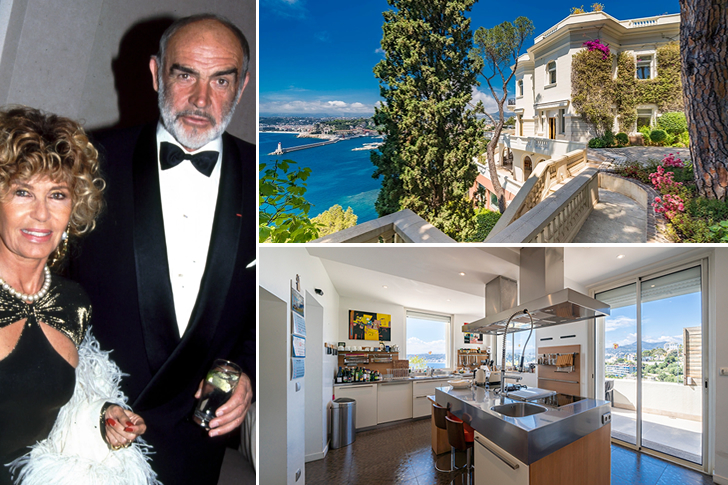 Micheline Roquebrune is the second wife of the famous James Bond actor, Sean Connery. The couple met during a golf event in Morocco in 1970, and they instantly fell for each other. Roquebrune and Connery eventually tied the knot five years later, in 1975. Roquebrune once said that she had no idea how big of a star Connery was, but she felt a connection when they first met. Now, the couple has been married for an astounding 45 years!
Roquebrune and Connery have been able to live in some of the most lavish residences throughout the years. In our opinion, the most beautiful home they ever lived in is Connery's $34 million-villa on the French Riviera. The veteran actor bought the property after their marriage in 1975 and has kept the property ever since. The estate, perched in the rocky cliffs with pristine views of the blue Mediterranean, showcases two swimming pools, a gym, a private balcony, and an elevator. The original James Bond's financial advisor certainly didn't mind the purchase as Connery has always been savvy with his finances.
Shania Twain & Frederic Thiebaud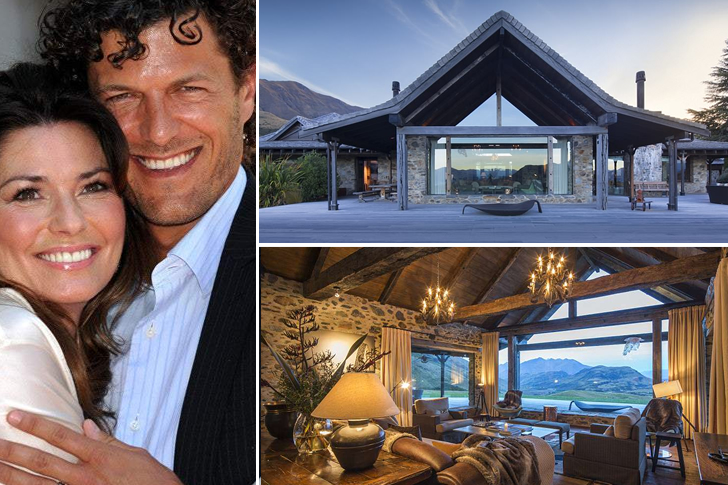 Frederic Thiebaud is the current husband of singer and songwriter Shania Twain. Both Shania and Thiebaud are very much in love with each other, but they certainly took a very unusual route to get their relationship to the next level. Apparently, the couple had previous marriages with other partners that didn't work out. Eventually, they sought the comfort of each other and got through all their post-marriage struggles together. They officially tied the knot back in January 2011 and are well on their way to a decade of marriage now!
Twain and Thiebaud both have numerous real estate investments worldwide, but one can argue that their New Zealand luxury lodge is their most beautiful property. The grand estate houses several suites and on-site amenities such as a game room, swimming pool, and spa. Twain and Thiebaud indeed showed their business savvy by renting the place out when they're not in town. In turn, anyone can spend time in this luxurious New Zealand lodge and enjoy a wide range of activities such as rock climbing, horse riding, and hunting around the vicinity.
Simon Cowell & Lauren Silverman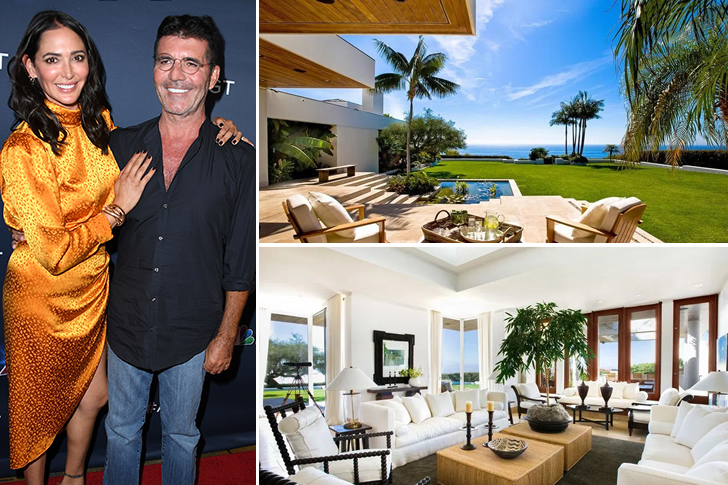 Simon Cowell has always been perceived as a ladies man in Hollywood. Things changed when Simon eventually settled down with his girlfriend of seven years, Lauren Silverman. The two have yet to make it official and tie the knot, but the couple already welcomed their son Eric back in 2014. Things are definitely pointing out to a wedding pretty soon as Simon shared that he plans on marrying Lauren "as soon as possible."
The couple has been living together under one roof together with their son. In an illustration of his sincerity and commitment to family life, Simon purchased a beautiful Malibu residence for his family in 2017 for a whopping $22 million. By the looks of it, the TV personality's estate has all the necessities that the family of a Hollywood mogul should have. It has six bedrooms, a gym, a tennis court, and a gorgeous swimming pool. Interestingly, Simon's family has spent the majority of the past year in this mansion. They certainly didn't experience any degree of boredom with all the amenities that the house has to offer!
Sissy Spacek and Jack Fisk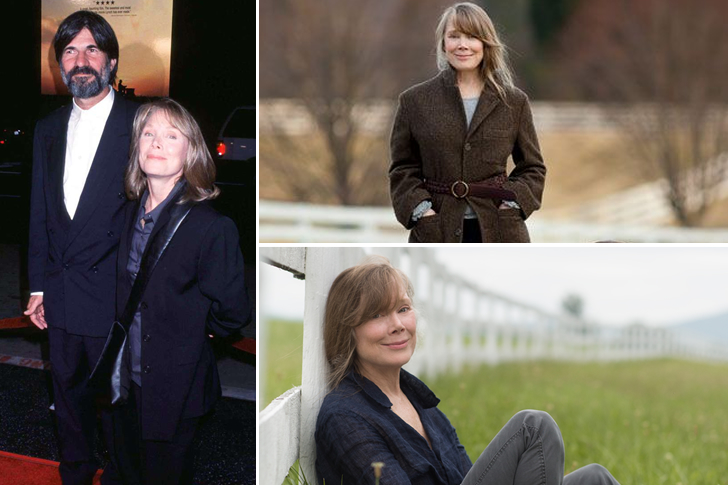 You could say that Sissy Spacek and Jack Fisk's marriage is one for the books. Their romance began when Spacek started her acting career. They met on the set of the movie Badlands back in 1972, where they immediately fell for each other. Spacek and Fisk officially tied the knot back in 1974 and are currently on their 45th year of marriage. Both of the lovebirds definitely deserve credit for their long-running relationship!
Admirably, Spacek and Fisk are one of Hollywood's longest-running marriages. The couple attributes their healthy marriage towards their decision to live away from the bright lights of Los Angeles. Interestingly, the loved-up air has been able to balance a flourishing Hollywood career while living on their family farm located in Virginia. Space has nothing but chickens, horses, dogs, and the great outdoors. It's incredible how this Hollywood couple chose to live humbly despite all their success and a combined net worth of $30 million— but we guess the Hollywood glam life is not every husband and wife's cup of tea.
Stephen Colbert & Evelyn McGee-Colbert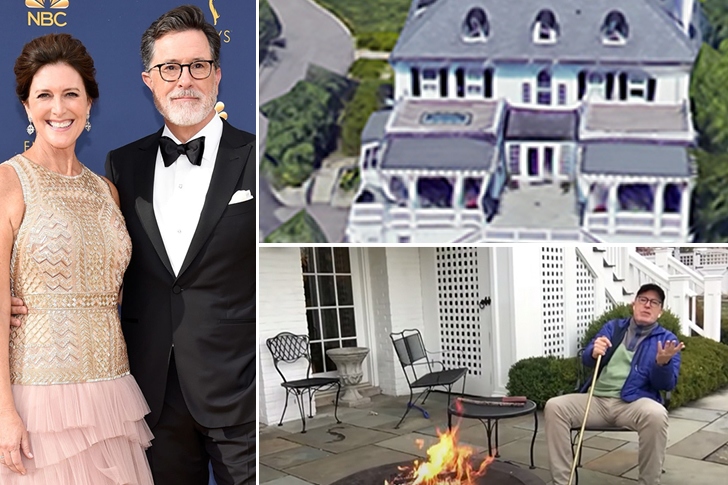 Evelyn McGee-Colbert is the wife of the host for CBS's The Late Night Show With Stephen Colbert. Amusingly, the couple met during a short vacation that Stephen took in their hometown of Charleston, South Carolina. The TV host said that he knew Evelyn would be the woman he would marry since he first saw her. From that day, the couple immediately started dating and officially tied the knot in 1993.
Since 2000, the lovebirds have been residing in Montclair, New Jersey, together with their three kids. The Colberts prefer their privacy with regards to their current home— they even have their family vehicles registered to a real estate agency. In fact, the only information that we have about The Colberts' residence is that it features a sizable main house with a large yard and a sprawling back deck. Stephen and his family definitely deserve credit for keeping their personal life and their home low-key.
Steve Harvey & Marjorie Elaine Harvey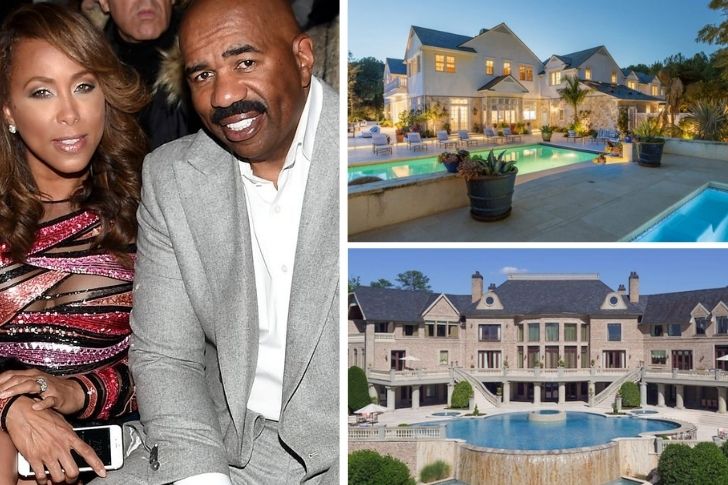 Steve Harvey has undoubtedly become one of the wealthiest comedians and television personalities in Hollywood today— and that fact just became more apparent with his recent purchase of Tyler Perry's Atlanta mansion for a staggering $15 million. The property sits on 17 acres of land and has around 35,000 feet of living space that is more than enough for Steve and his family to live in.
It's also worth noting that Tyler Perry had already invested millions into renovating the house after he bought it in 2009, and Steve definitely saw the beauty of the place after visiting it. The property is just absolutely stunning, and the degree of character put into customizing every part of the property is mesmerizing. Tyler Perry's real estate portfolio is always a hot topic among celebrities, and we're excited about what kind of parties Steve and his family will hold in their gorgeous new home.
Steven Tyler & Aimee Preston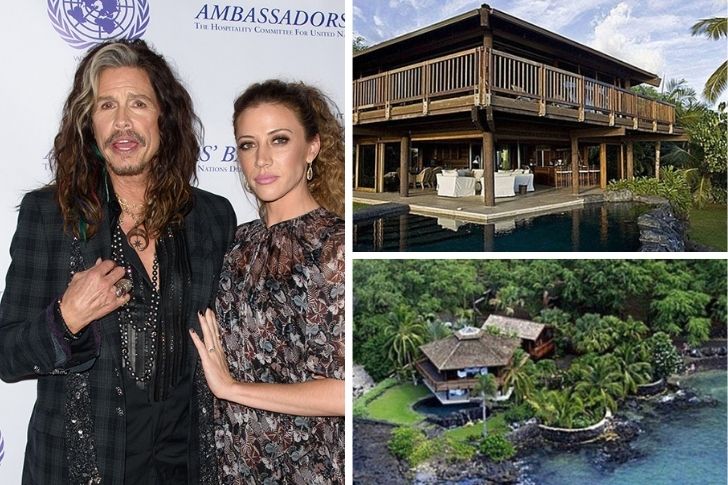 Steve Tyler certainly knows how to live like a rock star even in retirement. Despite having millions of dollars in his bank account, the Aerosmith frontman spends his money wisely. That much is true with Steve's recent acquisition of this beautiful Hawaiian bungalow retreat house on the island of Maui.
The property was recently listed at $6.5 million, but Steve got away with purchasing it for $4.9 million, which is a steal considering the design and quality of the materials used in building the home. The beautiful stone flooring is a unique complement to the wood exterior. The property also comes with a beachfront view that is definitely a priceless feature you won't find anywhere in the city. Steven and his wife Aimee fell in love with the property at first sight, so much so that they immediately sealed the deal on this beauty.
Sylvester Stallone & Jennifer Flavin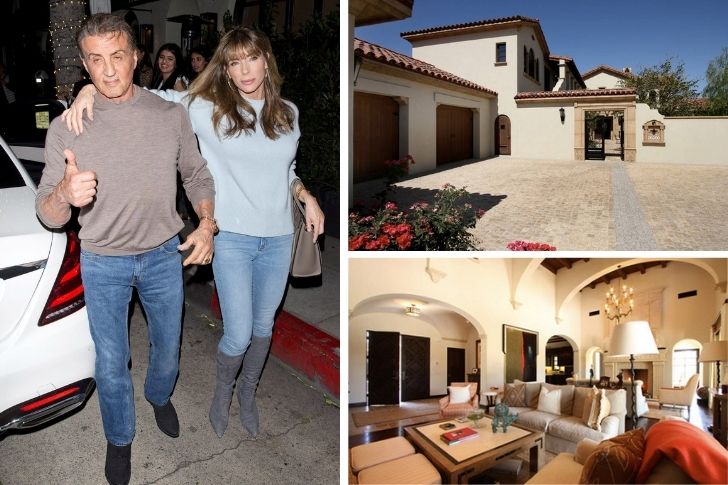 Sylvester Stallone certainly knows how to live like a king with his real estate portfolio filled with several mansions. At a net worth of $400 million, it's no surprise that the Rocky actor has more than enough resources to fund his investments in real estate. That much is true when we take a look at his Beverly Park mansion in Los Angeles.
The home has 15,401 square feet of living space with seven bathrooms, five bedrooms, and a mountain view that will put more expensive houses on the block to shame. The unique blend of Mediterranean and Spanish influence is breathtaking and cannot be replicated easily. Records show that Stallone bought the property for around $9 million, but more realistic estimates place it at around $26 million. That's an incredible amount considering the fact that Stallone has more than one property that's worth over $10 million.
Tim Allen & Jane Hajduk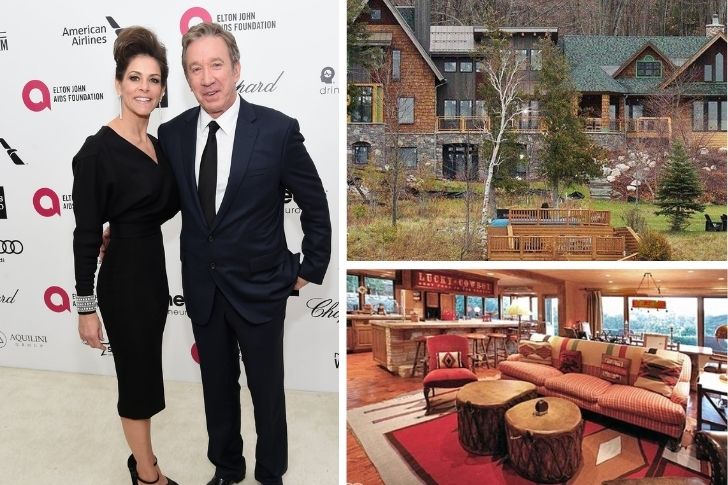 Tim Allen is an actor and comedian that is best known for his portrayal of Tim "The Tool Man" Taylor in the classic television series Home Improvement. Hollywood is undoubtedly paying Tim well as he is able to indulge in financial investments left and right in the real estate business.
Tim recently sold off his property in Hollywood Hills in the West area for a cool $1.7 million. The home has a ranch-style design that is reminiscent of the ranches commonly seen in the 1950s and features an open-floor design that invites a feeling of warmth and belonging to anyone coming into the main living area. The house sits on 2,604 square feet of living space and has a formal living room, dining room, and kitchen specially made for a chef. The home also has wood pine floors from Vermont, accents of rocks and stone, and a beautiful fireplace that exudes a vibrant aura of masculinity to space.
Tim Mcgraw & Faith Hill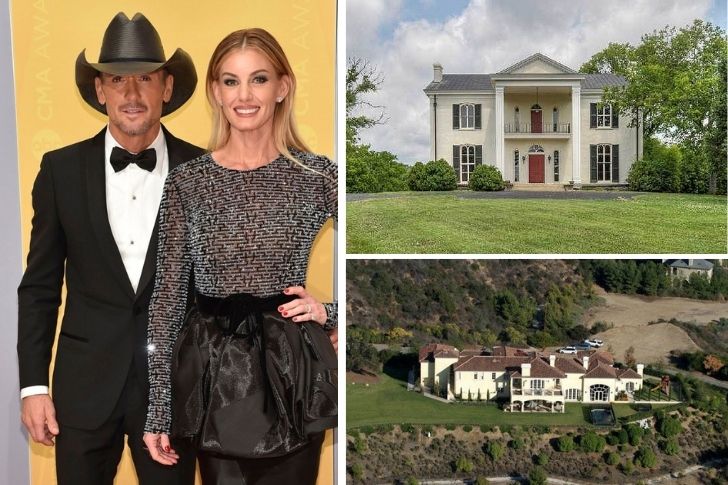 Tim McGraw and Faith Hill are some of the country's biggest stars in the music industry, and together, they comprise a majority of the influence on music during their prime. The couple not only takes credit for being a power duo in music but is also underrated when it comes to their taste in beautiful real estate properties.
Tim bought his Nashville mansion in 2004, and despite owning the property for more than a decade, the home has certainly aged well. Stunningly, it shows no sign of neglect or a decrease in quality. The home sits on 11.6 acres of untouched land and has excellent expansion potential, should the couple decide to increase living space. This stunning Nashville mansion features a 4-car garage, a state-of-the-art home theatre system, and a pool with a loft. On the other hand, the primary living space consists of 5 bedrooms and 11 bathrooms spread across 9,000 square feet. This home is one of the many properties under Tim and Faith's portfolio, and we're excited to discover what they plan on doing to this home in the future.
 Tom Hanks & Rita Wilson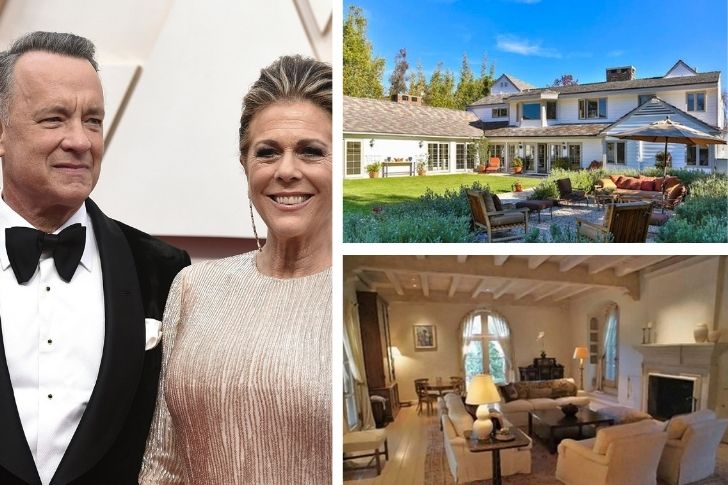 Tom Hanks is one of the most respected actors of his generation and upholds a degree of professionalism and skill that rivals the standards of today's celebrities. He is also the recipient of numerous awards ranging from Academy Awards to Golden Globes and is a role model to many actors and actresses in the industry. As a result, Tom has amassed a whopping net worth of $400 million which allows him to make expensive investments into real estate properties without having to worry too much about the price.
One of the actor's beautiful homes is in the Pacific Palisades neighborhood of Los Angeles. The property was purchased by Tom in 2010 for $26 million, and one can only imagine how much that price has appreciated in a decade. It features 4 bedrooms and 5 bathrooms on 14,513 square feet of living space. It's the perfect home for this amazing actor and his wife, Rita Wilson.
Tom Selleck & Jillie Mack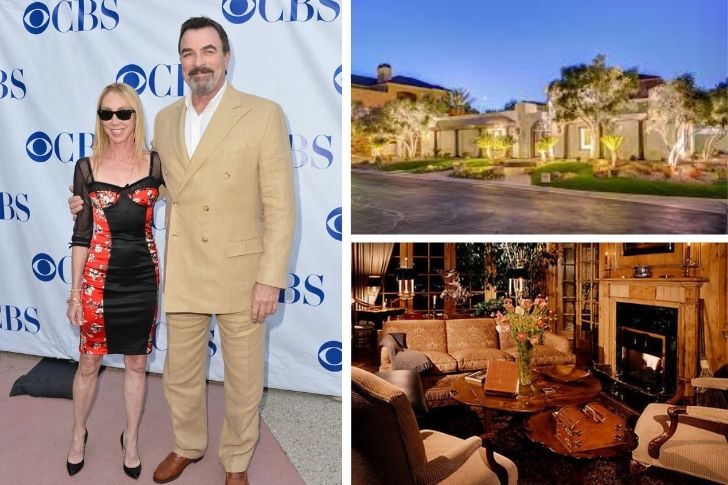 Tom Selleck has been an icon in the entertainment business for many years and despite being one of the household names that his peers look up to, he never really took a liking to the fame and popularity he attained. Nowadays, Tom enjoys life in quarantine at the comfort of his 65-acre ranch in California and stated that working on his property has kept him sane amidst the current global situation.
The ranch features a Spanish/Colonial style that has the luxury of accommodating staff and caretakers with its expansive living space. As a financial investment, Tom's purchase of this California ranch may be one of his best decisions yet. The ranch features 8 bedrooms, stables for horses, a swimming pool, cabana, tennis court, putting course, and even a practice green. With such an extensive list of amenities, it's no wonder that Tom and his wife, Jillie Mack, seem to never get bored.
Tommy Lee Jones & Dawn Laurel-Jones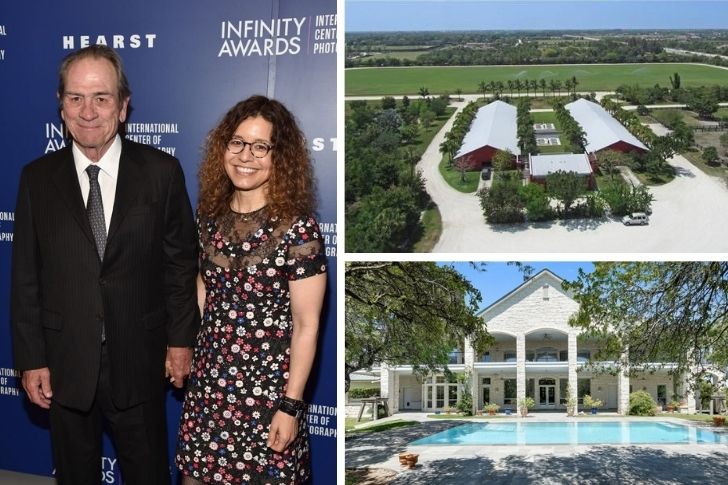 Tommy Lee Jones is an American actor that has been on the receiving end of many accolades throughout his successful career. In fact, he's had four Academy Award nominations with one Best Supporting Actor win for his U.S Marshal role in The Fugitive. Many people recognize Tommy as the infamous K in the Men in Black series, which raises him as an icon to many people who are fans of the franchise.
Tommy's fame and success have enabled him to make investments that expand his net worth and secure the future of his wealth. Some of those expenses are his properties in real estate with one being listed at $26.75 million. This Polo farm in Florida is on a 50-acre land with incredible horse trails and various outdoor recreational facilities, perfect for him and his wife, Dawn Laurel-Jones. Despite having a somewhat mediocre main living space, the primary attraction for this property are the land and the outdoor amenities.
Adam Sandler & Jackie Sandler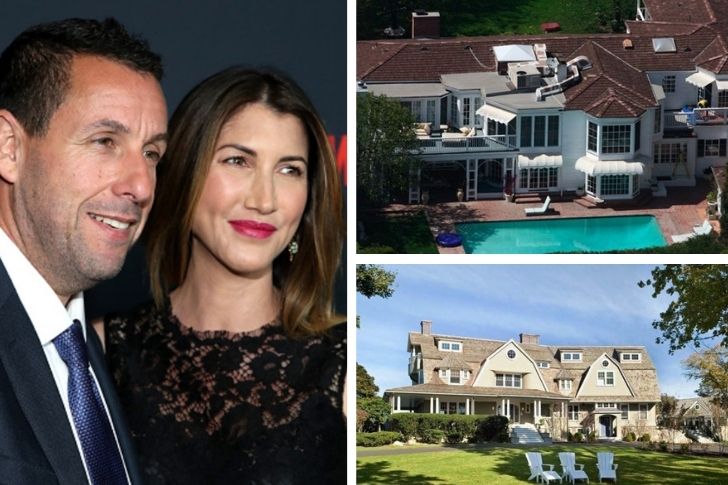 Adam Sandler has been a golden standard in comedy for as long as people can remember, and every time he appears in a movie, fans can always expect to see a brilliant performance from him. The comedic actor has blessed fans with great performances in movies such as Happy Gilmore, Big Daddy, Billy Madison, Click, 50 First Dates, Click, and many more. It's no surprise that Adam has become a huge success and will never have to worry about money management ever again.
With a net worth of $420 million, Adam's $28 million property in Brentwood, Los Angeles, is a great way to spend his wealth. The house sits on 12,860 square feet of living space with a gorgeous backyard. With a combined 11 bedrooms and 18 bathrooms for both houses on the estate, Jackie Sandler must be having a blast, especially since she lives in the same house as the one and only, Adam Sandler.
Alex Trebek & Jean Currivan Trebek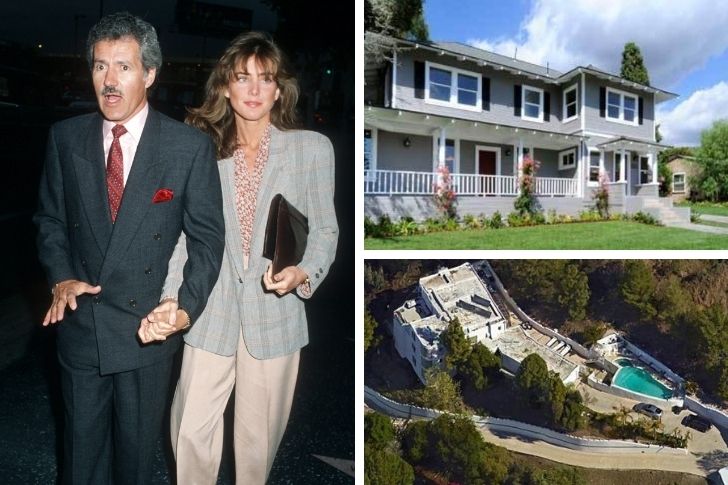 It's hard to find anyone who doesn't know who Alex Trebek is, and regardless if you're a fan of television shows or not, you've probably heard of Alex's successful career on TV since the early '80s. Alex is famous for having a sharp tongue and a sassy attitude towards contestants on his shows and the fans love him for that. He enjoys a sweet net worth of around $75 million which enables him to purchase and build his dream home in Hollywood Hills in 1990 for only $1 million.
The investment made in buying this property is an absolute steal as Alex's realtor said that the property is on 35 acres of land. There haven't been any reports of whether Alex and his wife, Jean Currivan, did indeed transform the property into something magnificent. Hopefully, when the current global situation has ended and media outlets are less restricted, fans can get a glimpse of what Alex has done to his home.
Bruce Springsteen & Patti Scialfa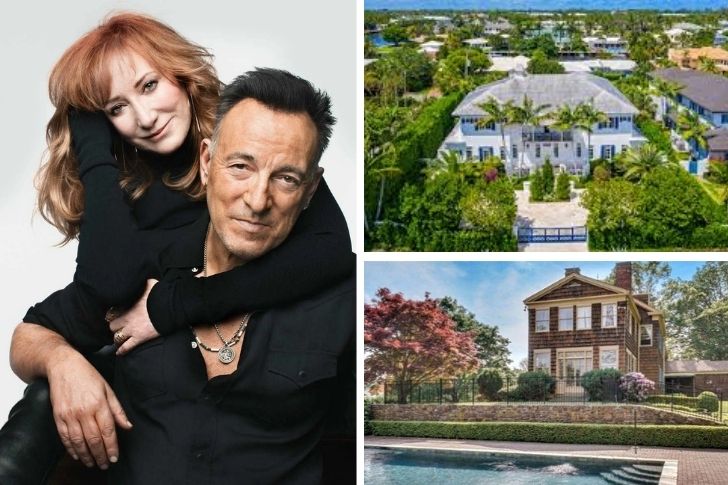 Bruce Springsteen, or The Boss, as what many people know him for, is one of the founding members of the famous E Street Band. The rock and roll musician is an arena star and a respected singer-songwriter with many successful albums under his name. Bruce has won dozens of awards in his career, including 20 Grammy Awards, which make him one the most successful musical figures of all time. You would be hard-pressed to find anyone who could take the credit away from his achievements as Bruce relied on no one to reach the level of success he has today.
Nowadays, Bruce enjoys life on his 400-acre ranch in Colts Neck, New Jersey, with his wife, Patti Scialfa. With such an enormous piece of land to work with, Bruce never has to worry about space when adding recreational facilities to his property.
Cameron Diaz & Benji Madden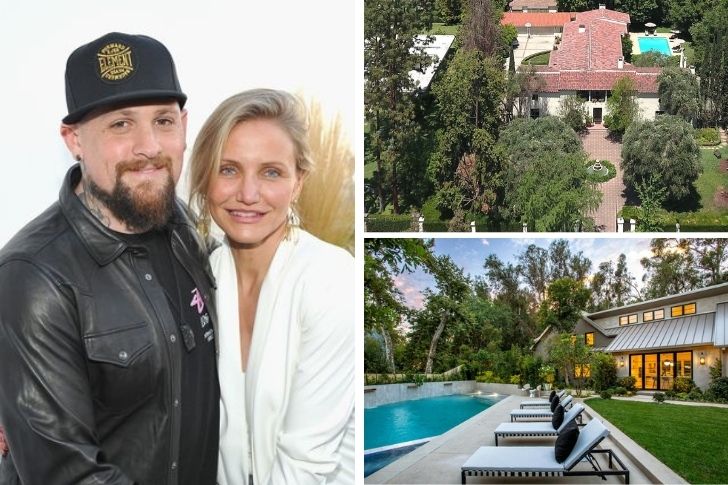 Cameron Diaz is an American actress who is famous for portraying female lead roles in rom-com movies and has also starred in blockbuster action films as well, such as Charlie's Angels. Cameron broke through the entertainment industry with her early modeling days when she was 16 years old. For her first film, it was with none other than Jim Carrey himself in The Mask. Since her acting career started early, Cameron has performed in several films and has amassed a net worth of $140 million.
The actress recently made a hefty investment in the real estate business with her acquisition of a $14.7 million property in Beverly Hills, California. This is a new estate that is quite modern and fits the needs of Cameron, her husband Benji, and their 9-month old daughter, Raddix. The new home sits on 10,000 square feet of living space and the property covers 1.7 acres of land. With 7 bedrooms, 10 bathrooms, a huge living room, outdoor gardens, and an incredible fireplace, Cameron and her family have all the amenities they need to live comfortably.
Carrie Underwood & Mike Fisher
Everyone knows Carrie Underwood as the Season 4 American Idol winner that took the world by storm with her success and popularity after her time on the show. The singer gained even bigger recognition when she became one of the highest-selling country artists of her time. Carrie has also won numerous Grammy, Country Music Association, and Academy of Country Music awards which pushed her induction into the Grand Ole Opry in 2008.
It's no secret that Carrie has made incredible bank throughout the years with her successful albums and because of her hard work, which she has attained a net worth of $140 million. With the money in Carrie's bank account, she was able to make significant investments towards the future of her family. Carrie and her husband, Mike, live with their two sons on a farm just outside Nashville. Despite not sharing any house tours yet, fans are able to get glimpses of their beautiful home through social media.
Christopher Walken & Georgianne Walken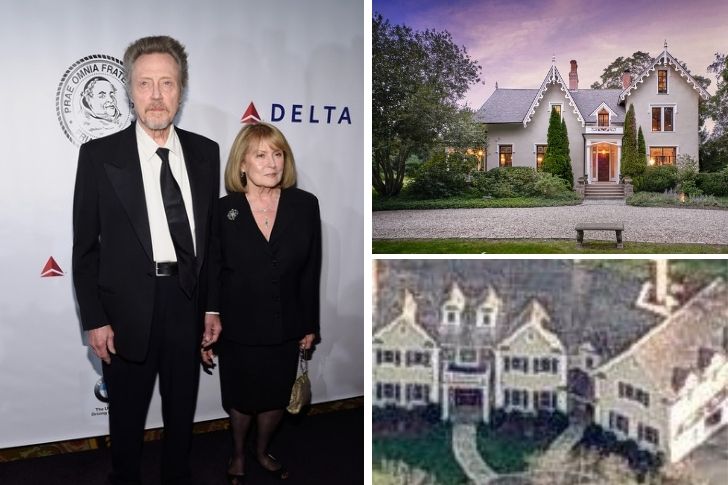 Christopher Walken has a rich and successful career that wasn't achieved overnight but was the result of a lifetime dedication from the famous actor. Christopher is an actor, comedian, singer, producer, director, screenwriter, and dancer who has gained global recognition for an extensive list of acting credits. Some of his famous roles are in movies such as The Deer Hunter, A View to Kill, Sarah Plain and Tall, and Catch Me If You Can.
Christopher's decades-long career has rewarded him with the money he needs to make investments towards his retirement. The actor's property in Wilton, Connecticut, is certainly a cozy alcove that he and his family can spend their days relaxing. The 2-story modern home features a combination of contemporary and Cape Cod-style elements which make the house a beauty like no other. Christopher and his wife Georgianne purchased the rural home for $1.57 million and have been under their care and maintenance ever since. 
Daniel Craig & Rachel Weisz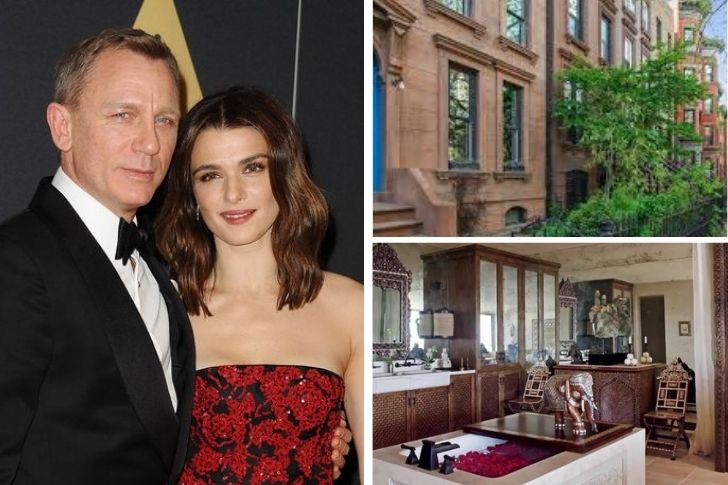 Daniel Craig is a famous British actor that gained legendary status for his portrayal as the 8th James Bond actor. Many actors who've taken up the mantle of the iconic action star have etched their names into history and that's especially true with Daniel's success and fame. To date, Daniel has amassed an incredible fortune of $160 million which puts him in the position to make financial investments in lucrative markets such as the real estate industry.
Daniel and his wife, Rachel Weisz, recently sold their beautiful East Village Apartment for $6 million and purchased another apartment in Cobble Hill. The apartment is a Brooklyn brownstone, which the actor has stated that he prefers over others. The 5-story building sits on 6,000 square feet of living space which has historical roots. The apartment was originally built in 1901 and has 6 bedrooms, 5 and a half bathrooms, an elevator, a garden, a patio, and a roof deck.
 Denzel Washington & Pauletta Washington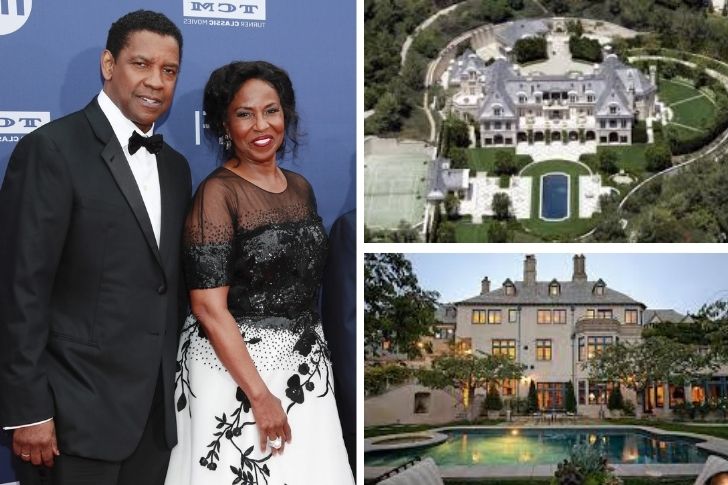 Considered as one of Hollywood's power couples, Denzel Washington and his wife Pauletta Washington have been married since 1983. Aside from being blessed with four children, the two's career in Hollywood is also showered with a long list of projects that add up to their gigantic income.
By just knowing Denzel's net worth of $300 million, it is safe to say that the couple has thought of money management strategies for their massive wealth. Aside from purchasing numerous luxury cars and businesses, The Equalizer actor bought a 28,887 square-foot mansion in Beverly Hills, California, in 1992 for a whopping price of $2.675 million. Located in the gated Beverly Park, Denzel and his family's mansion boasts of a large pool, a tennis court, eight spacious bedrooms, 14 bathrooms, and a beautiful fountain that welcomes guests upon arrival. The entire mansion is decorated with a Mediterranean theme which the couple always had in mind when they renovated it.
Dr. Phil & Robin McGraw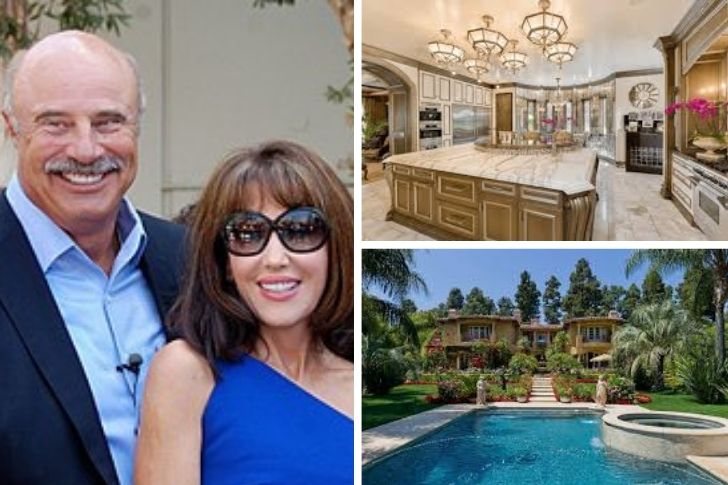 Renowned psychologist and TV personality Dr. Phil has earned a reputation in Hollywood as a therapist and life advisor for many celebrities and high-profile personalities. Robin McGraw, his wife since 1976, is a New York Times best-selling author and has landed major book projects that catapulted her career as a renowned writer. Both of their respective careers have earned the right to buy luxury cars, partner with businesses, and investments in real-estate and lavish homes that they deserve and enjoy.
Take for example their spacious Beverly Hills mansion. It was set to have the price of $30 million upon purchase, which did not seem to affect the couple's bank accounts. It boasts of its 12,000-square-foot property that offers distant views of Hollywood. The couple comfortably enjoys the amenities of their European-themed home with wrought-iron balconies, columns, five bedrooms, nine bathrooms, kitchen, living areas, and home office. The outdoors features a tennis court, swimming pool, and beautiful landscaping to boot.
Ellen DeGeneres & Portia de Rossi
Ellen DeGeneres and Portia de Rossi are not new in buying luxury real estate for years. The two would often buy lavish estates, renovate them, and sell to property seekers at a higher price. One property they have sold in the past was a huge mansion that was bought by pop singer Ariana Grande.
Recently, the power couple bought a Montecito estate worth $49 million in cash, one of her investments that would not make a dent out of her massive $370 million net worth. After hiring a moving company, Ellen and Portia are both seen enjoying their Balinese-style property in their recent photos, clearly showing how they have put their attention in decorating their home. Their latest investment spans 4.3 acres and includes five structures hidden behind towering walls and thick gates. It has a 9,000-square-foot mansion, a large guest house, a pool house, a detached garage that has housed numerous luxury cars, and a spacious barn.
Elton John & David James Furnish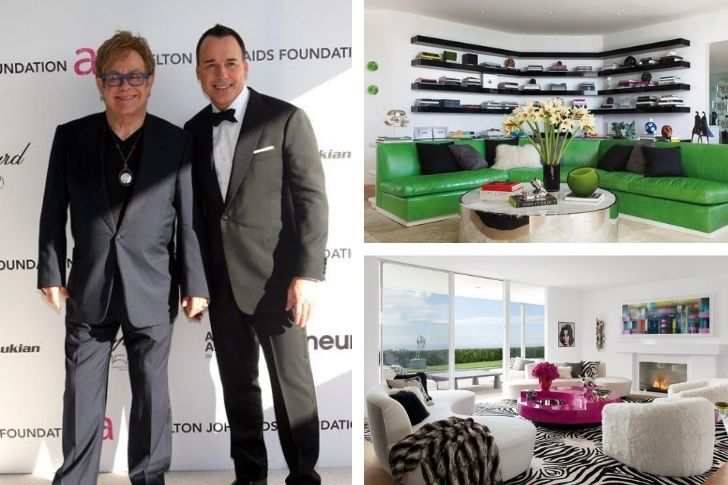 Elton John and David James Furnish have been married for several years. Both have accumulated a large amount of savings that will not leave their two sons Elijah and Zachary on student loans until they grow older.  Since they had a civil partnership in 2005 and officially married in 2014, the couple has invested in multiple real estate properties including homes in Beverly Hills, Atlanta, London, Windsor, and Nice.
However, their child-friendly LA home is where they are based at the moment. The couple bought the property for £6 million which boasts of a massive living room decorated with intricate and rare art pieces, a dining room with baroque-style dining chairs and a selection of glass vases, and a large swimming pool that are enjoyed by their kids. When lounging by the pool, their family surely enjoys the overlooking view of Los Angeles at the far distance.
Garth Brooks and Trisha Yearwood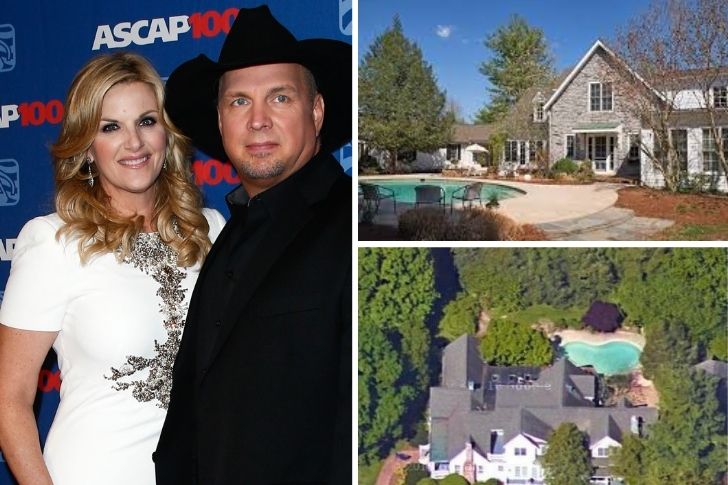 Garth Brooks and Trisha Yearwood are both established country singers who have had major concerts, recording deals, and brand tie-ups to boot. With their separate careers in music, the two can surely combine their income and buy investments outside their music.
That is why it is not surprising to learn that the couple was able to purchase their 1958-built Malibu mansion that serves as their vacation hideaway anytime they wanted to have some peace and quiet from their bustling music careers. The stunning beach house spans 4,200-square-foot and has four huge bedrooms and 3.5 bathrooms. Their outdoors are landscaped in a ranch-style theme, with amenities such as a fireplace, basketball court, and a loggia perfect for their family recreational activities. The place is located in a gated community and is a stone's throw away from Paradise Cove Beach. Garths and Trisha were able to purchase their mansion in 2008 for $5 million.
George Clooney & Amal Ramzi Alamuddin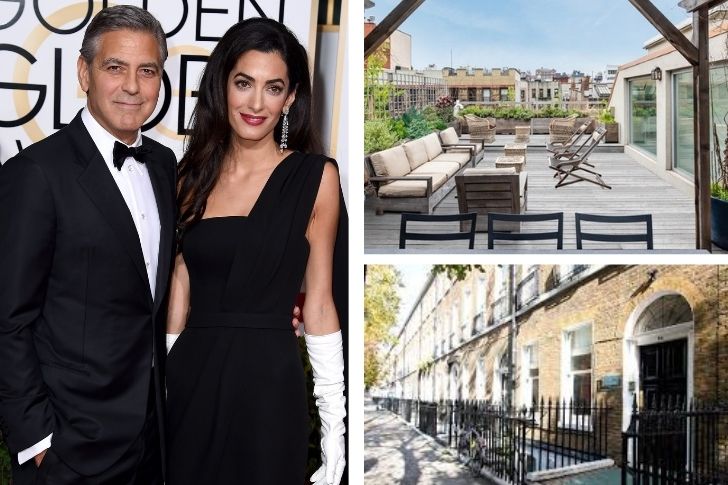 George Clooney and Amal Ramzi Alamuddin are one of the most famous A-list couples in the world. How could they not be? He is one of Hollywood's elite actors, while his wife is a renowned barrister at Doughty Street Chambers. Her expertise lies in international law and human rights.
With these credits to their names, it may be safe to assume that they're worth millions, too, and they indeed are. It may not even come as a surprise that they live in an opulent home in the British countryside with a staggering price of $10 million. With this price, you can expect it to have the best amenities and features, and you'll not be wrong about it. The moment George and Amal moved in after their wedding in 2014, they had it renovated and added their own private cinema. It also comes with a pool house and a vast terrace where they can entertain their guests.
Gordon Ramsay & Tana Ramsay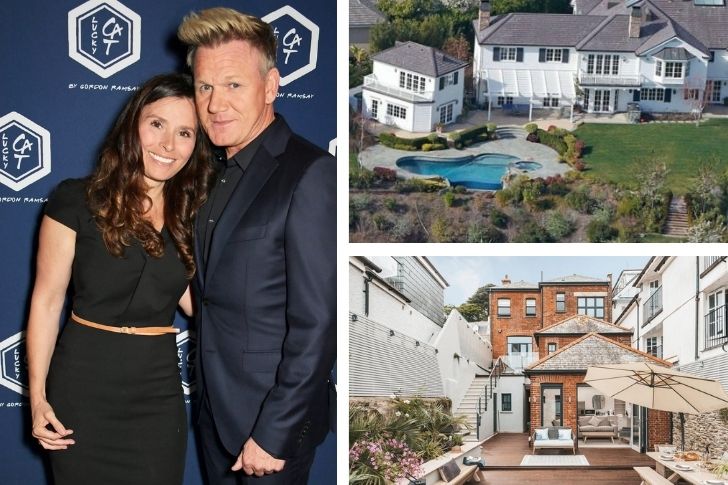 As a famous restaurateur, chef, and an overall food critic, it is only befitting that Gordon Ramsay has a vast kitchen at home. Well, it looks like the kitchen is not the only massive part of their house, the whole abode, too. He and his wife of 25 years, Tana Ramsay, live in a stunning £4 million home in Cornwall, England.
Thankfully, the couple gave a glimpse of their house on Instagram, showing designed cream walls and the same-colored flooring with a glass flooring insert that would let them see the basement. How cool was that? Just like what you would expect, it comes with a massive kitchen with navy blue cupboards and a purple island with a white marble countertop with grey quilted velvet stools. It also has a rod full of hanging copper pans where Gordon can quickly get it when he's cooking for the family or guests.
Hugh Jackman & Deborra-Lee Furness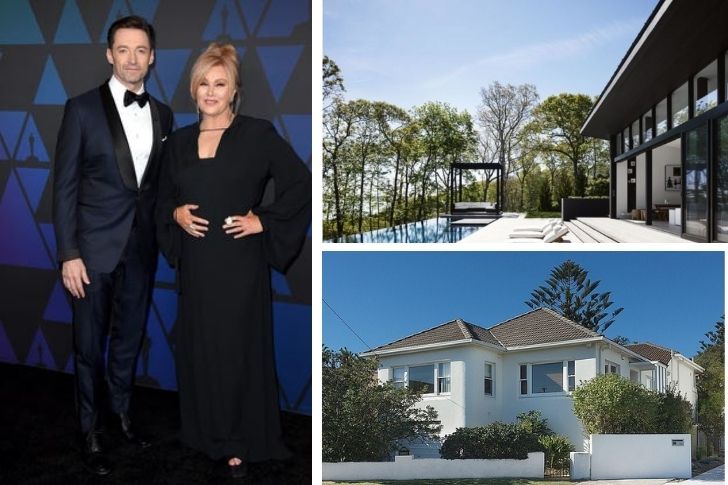 Hugh Jackman and his wife, Deborra-Lee Furness, have made a significant investment in properties. Yup, they own a couple of houses, and one of those is this beautiful abode in the Hamptons. Although the couple doesn't reveal the price they have paid for this, it's undoubtedly worth millions. What does this house have to brag about?
It carries a monochromatic design that every minimalist in town will surely love. Mostly composed of black and white paints and white furniture, you'll fall in love with its simplicity. Deborra-Lee herself admitted that she's into black and white, so it has become the home's primary color. The guest house underwent a significant restoration to have it painted dark, while the main house looked brighter in white. It seems like the four years of renovation and styling that were spent to perfect their dream house's look is all worth it.
Will Smith & Jada Pinkett-Smith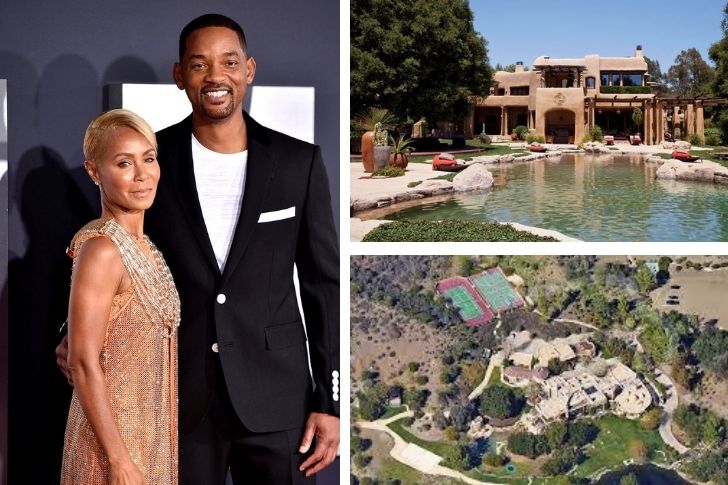 Will Smith and Jada Pinkett-Smith don't only stun fans with their long-standing relationship. They also inspire them for their wise investment planning. This couple has been known for owning several properties around the world. They have a home in Pennsylvania, Calabasas, and even in Hawaii.
Their estate in Hawaii is not just the common land that you'll often see. It's a four-property compound that spans seven acres. Yep, it's that big. As this pair is also known for buying and selling houses, they have put this massive land on the market for a hefty price of $12 million. The new owner will surely enjoy the three-bedroom main house with two wood-burning fireplaces and the two-bed guest house. It also comes with a carriage with one bed and a multipurpose studio. By the looks of it, anyone who will live here will never run out of things to do.
Jason Statham & Rosie Huntington-Whiteley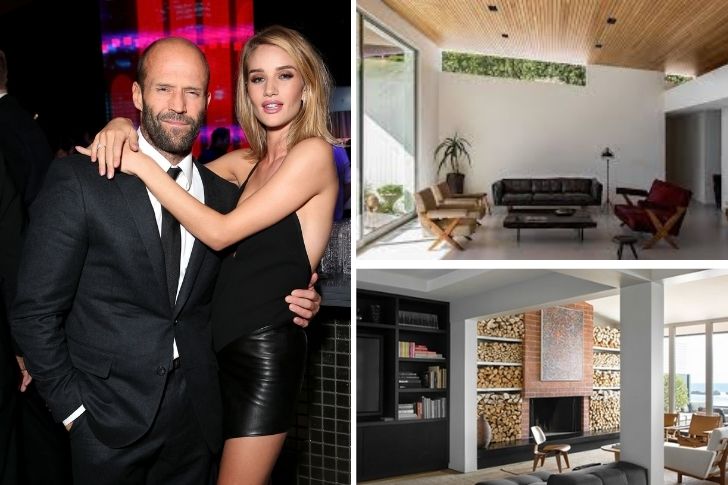 After landing a few acting gigs for music videos, Jason Statham finally got his big break when he starred in Guy Ritchie's Lock, Stock, and Two Smoking Barrels. Since then, he has become well-known for his role in the Transporter movies, Crank, and The Fast and the Furious flicks. Meanwhile, his soon-to-be wife, former Victoria's Secret Angel Rosie Huntington-Whiteley, also had a few stints in the entertainment industry, most notably in Transformers: Dark of the Moon and Mad Max: Fury Road.
Like many celebrities, Rosie and Jason have also made a few investments in the real estate business. In recent news, the couple has sold their gorgeous Malibu beach house for an impressive price of $18.5 million. The 3,909-square-foot home has four bedrooms, four bathrooms, plenty of living space, and most especially, 24/7 access to the beach. Safe to say that the waves also make soothing lullabies at night.
 Jean-Claude Van Damme & Gladys Portugues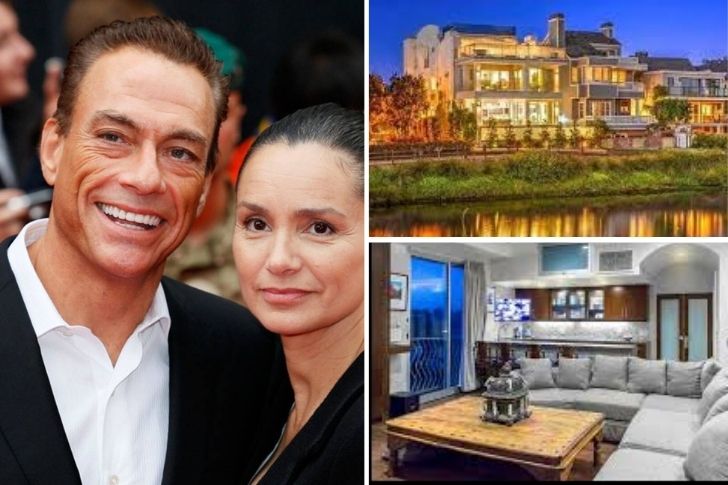 Jean-Claude Van Damme and Gladys Portugues certainly looked like a perfect match for each other. Jean-Claude was a dazzling action film star, and Gladys was an admired actress and bodybuilder. They met at a photoshoot and things must've instantly clicked as they immediately tied the knot in 1987. As a married couple, Gladys and Jean-Claude welcomed two children and are currently in their 25th year of marriage!
In 2013, Jean-Claude and Gladys purchased a brand new contemporary home located in the Silver Strand neighborhood for $6 million. This luxury home included a four-story home with six bedrooms and eight bathrooms and sits on 7,574 square feet. It's also fully equipped with luxury features such as an elevator, a 3D cinema, a bar, a billiard room, a gym, a library, and probably, a home security system. The property also has over-the-top features such as a swim jet hydro spa with fire pits and waterfalls! There's no doubt that Jean-Claude and Gladys know how to live largely!
Giselle Bundchen & Tom Brady
Gisele Bundchen is the wife of legendary NFL quarterback Tom Brady. The two met back in 2006 on a blind date and instantly fell for each other. Gisele recalls that she immediately fell in love with Brady's kind eyes and sweet gestures. The two eventually formally tied the knot in 2009 and are currently entering their 12th year of marriage! Throughout their marriage, they have been able to welcome two children named Benjamin and Vivian.
The couple shares a combined fortune of $600 million. They own a long list of properties and investments between them. One of the most beautiful properties they own is their sprawling house in Los Angeles' Brentwood neighborhood. The property has an interior space of 18,000 square feet and sits on 22,000 feet of land. It's fully equipped with luxury features like five fireplaces, an infinity pool, a library, and its own wooden dock!
Jessica Simpson & Eric Johnson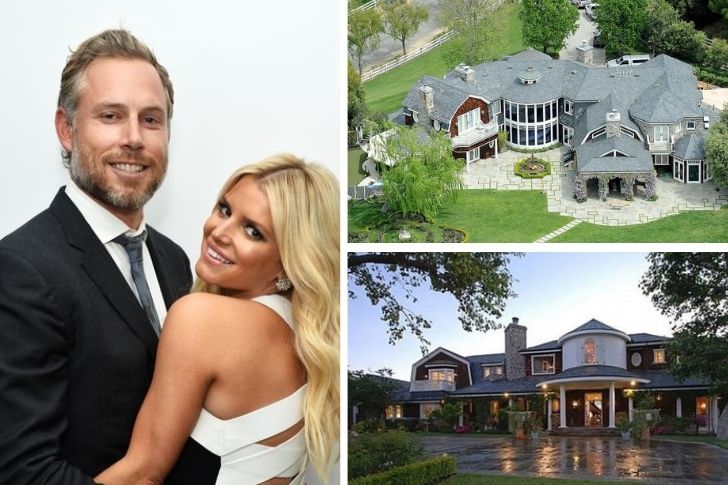 Jessica Simpson and Eric Johnson's relationship is a classic example of a love that lasts! The couple met back in 2010 and instantly fell for each other as Eric proposed to her in the same year. They were engaged for almost 2014 until the pair decided to walk down the aisle and tie the knot formally. Now, they're currently in their sixth year of marriage, and in the ten years of their adorable relationship, they bore three children!
Jessica and Eric have been living together with their three kids in a massive $11.5 million home in Los Angeles. The beautiful property has six bedrooms and includes a set of resort-style amenities together with a pool and home theater. There's also plenty of outdoor space as the entire property sits on two acres of land. Without a doubt, this estate is an ideal place to grow up for their kids. The couple deserves credit for making their residence a child-friendly oasis!
Ciara & Russell Wilson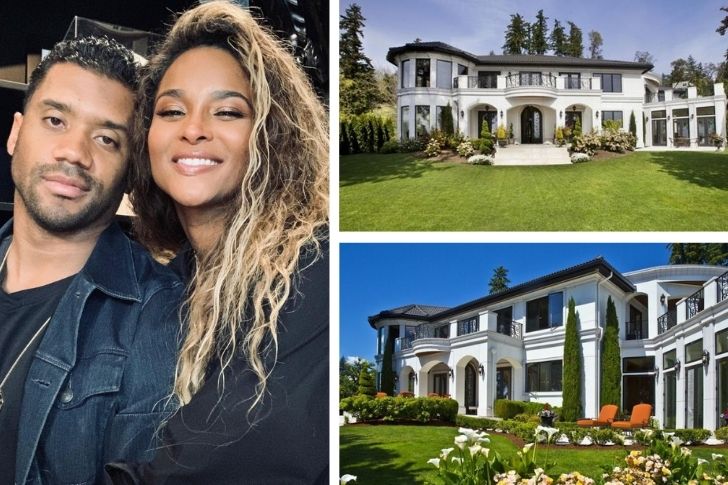 Ciara and Russell Wilson have been married since July 2016. It's unclear how they met at first, but they revealed their relationship in 2015 when they attended a special White House state dinner. Things certainly escalated quickly when Russell proposed to Ciara in March 2016 and immediately tied the knot in July of the same year. The couple is currently in their fourth year of marriage and just welcomed their third child together in 2020.
There's no question that this quarterback-singer couple has a lot of properties and investments between them. One of their properties is their beautiful residential home in Bellevue, Washington, just outside of Seattle. Russell purchased the home for $6.8 million back in 2015 and currently resides in the property together with Ciara and their kids. The seven-bedroom property is fully equipped with luxury features like a swimming pool, gym, movie theater, and its own dock. The residence has recorded at least 14 permits for renovations, and it seems that it won't stop anytime soon as Ciara and Russell continue to improve their Seattle property.
Taraji Henson & Kelvin Hayden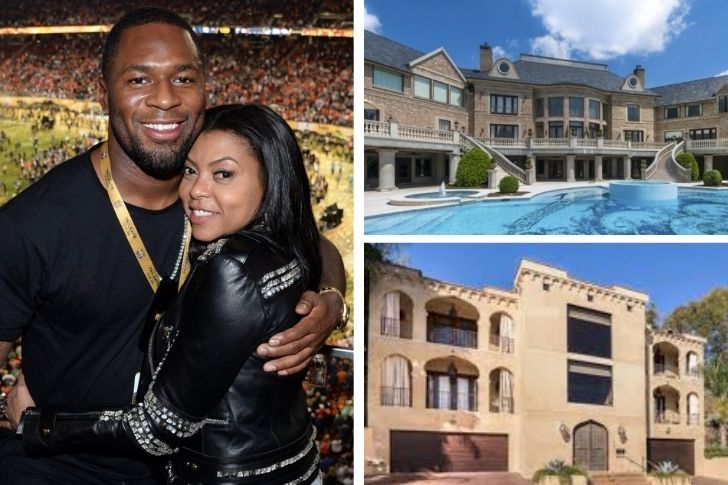 Taraji Henson and Kelvin Hayden have been dating each other since 2015. Kelvin eventually wanted to take things to the next level, as he proposed to Taraji on Mother's day of 2018. The couple originally planned to walk down the aisle in 2020 but it was postponed due to the current global situation. However, they would probably make the necessary adjustments to continue their wedding – safely, of course.
It's assumed that they have been living together in Taraji's Los Angeles property during their two-year engagement. The sprawling Hollywood Hills residence features three bedrooms, three bathrooms, a salt-water swimming pool with a waterfall, and a zen garden. She also deserves credit for purchasing a home that has 360-degree views of Los Angeles. This just completes their beautiful outdoor area! They can certainly enjoy each other's company, especially with such an exceptional and scenic view of the city.
Kim Kardashian & Kanye West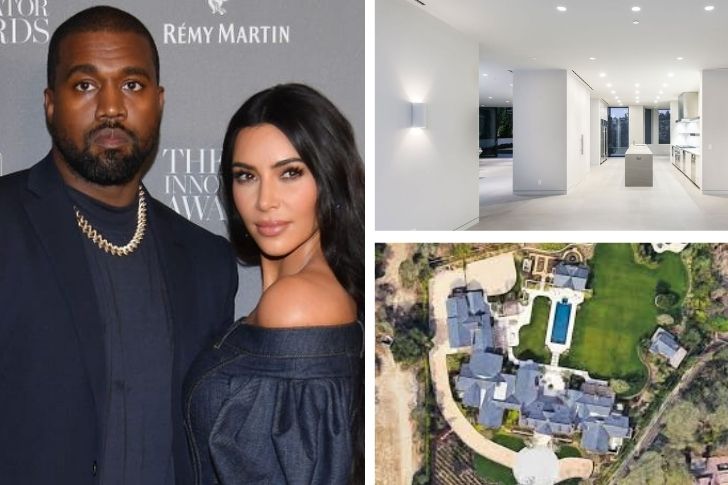 Kim Kardashian and Kanye West first met through Brandy back in 2003, to which Kanye shared that he immediately formed a crush on her. It wasn't until 2012 until Kim and Kanye went public with their relationship and showed the world their affection for each other. After years of publicly dating, Kanye proposed in 2013, and the two tied the knot shortly in 2014.
Kim and Kanye are certainly one of the most influential couples in Hollywood today. They have both experienced a gigantic increase in their net worth over the past few years. In turn, they went and secured themselves a couple of properties and good investments. One of the properties they consider a good investment is their $60 million home in Calabasas, California. Kim and Kanye's sprawling Calabasas residence features a minimalist vibe, and it is fully equipped with luxury features such as a private movie theatre, a two-story playroom for their kids, and a swimming pool that is heated all the time.
Beyonce and Jay Z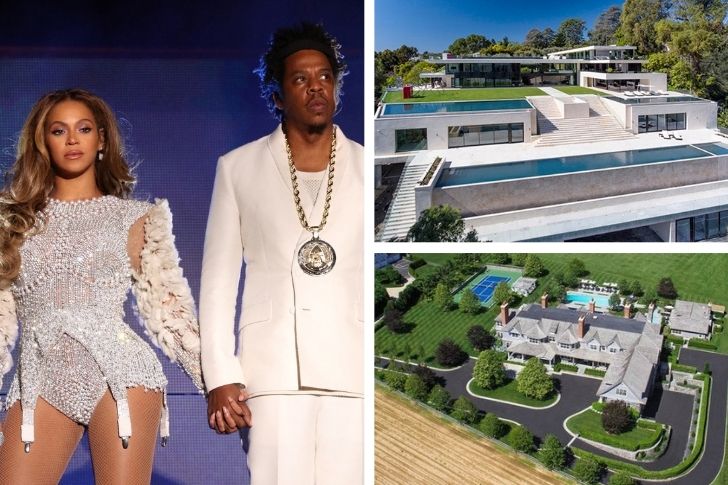 Beyonce and Jay Z are two of the most influential people in modern pop culture. The power couple met back in 1999, and they eventually started dating in 2001. What followed is a string of music collaborations between the two artists, which ultimately led to them revealing that they were already a couple. Jay Z eventually 'put a ring on it' in 2008 in a super-secret wedding ceremony that only a select few were invited to. Modern pop's most influential pair have been married for twelve years now and have since welcomed three beautiful children.
Beyonce and Jay Z are no strangers to luxury living. The couple went on a mansion-hunt when they looked for a permanent residence a couple of years ago. The search eventually ended when they came across a Bel-Air mansion, which was worth $90 million! The property was marked the most expensive property sale in 2017, and it spans up to 1.88 acres and has eight bedrooms, eleven bathrooms, a home cinema, up to four swimming pools, a basketball court, and a car garage for 15 cars! The power couple definitely deserves credit for waiting for the right time until the home of their dreams was available on the market!
Chrissy Teigen & John Legend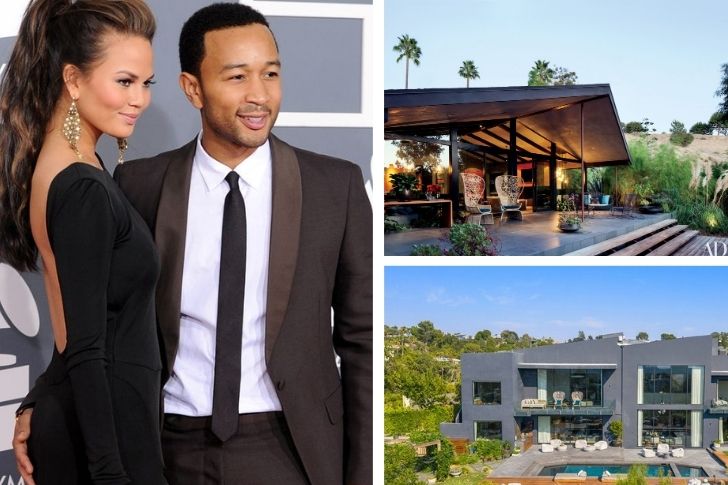 Chrissy Teigen and John Legend are one of Hollywood's most beloved marriages. They first met on the music video set for John Legend's Stereo. Things must have clicked between them as they began dating shortly in 2008. John eventually decided to propose in 2011, and the two tied the knot in a quiet courthouse ceremony in 2013. They certainly won't need any lawyer to intervene between them as the couple looks incredibly happy and are now in their seventh year of marriage!
This power couple currently resides in their brand new 8,250-square-foot mansion in Beverly Hills together with their three kids. They purchased the sprawling property for $14.1 million back in 2016, and it's equipped with luxury features such as a gym, movie theater, saltwater pool, jacuzzi, and a chef's kitchen. Of course, they made sure to buy a property that gives their kids all the room to play and learn. It's a great place for children, especially since it came with an impressive stock of massive candy jars.
Kurt Russel & Goldie Hawn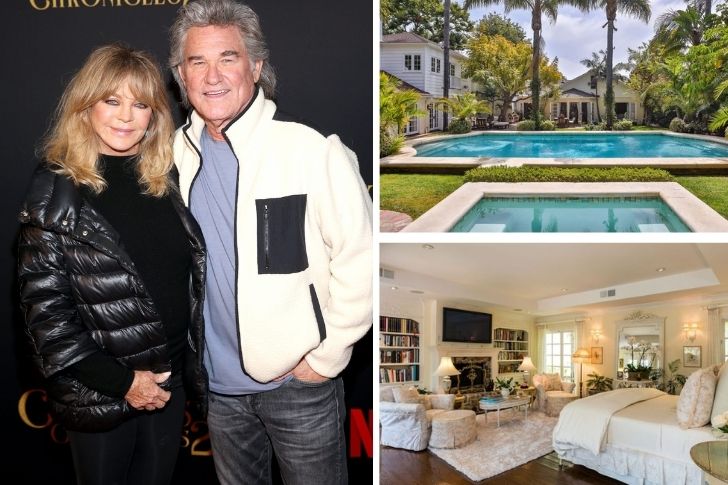 The Kurt Russell-Goldie Hawn relationship is one of the most iconic as they are one of the longest-lasting couples in Hollywood. They have been together for an astounding 37 years, and what's even more astounding is that they never decided to formally tie the knot. Their decision definitely did not affect their relationship as it seems that their commitment to each other has never been stronger. Both deserve credit for doing things their own way and experiencing each other's company the way they want to.
Kurt and Goldie have had several properties and real estate investments throughout their three-decade relationship. Their first real estate purchase as a couple was their mansion in the Pacific Palisades. Goldie, now 75 years old, recently showcased their LA residence, and it featured a luxurious living room, a home gym, a beautiful garden, and tons of living space for their five dogs to play around. They recently put up the property for sale, and at a bargain price of $6 million, you can get to live in Goldie and Kurt's residence for the past 37 years!
Kevin Bacon & Kyra Sedgwick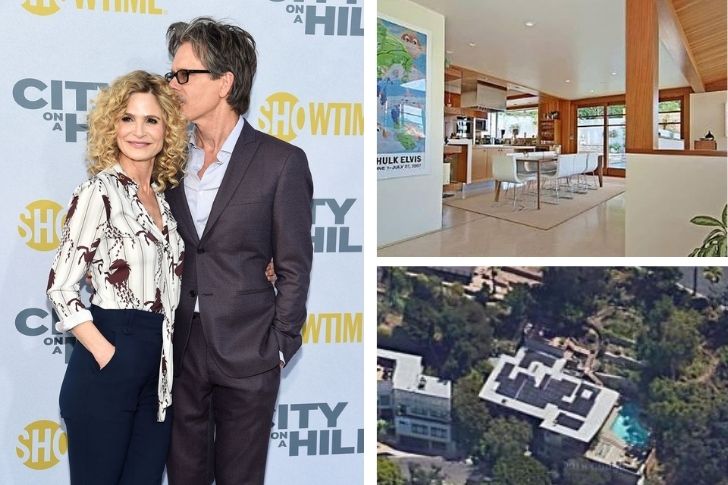 Kevin Bacon and Kyra Sedgwick also belong in Hollywood's list of long-lasting marriages. The couple is currently in their 32nd year of marriage, and it seems that they're happier than ever! They first met when Kevin was doing a play way back in the 1970s. They instantly fell in love even if he was not Kyra's "type." Thirty-two years later, they share two children and a lovely residence in Los Angeles!
Kevin and Kyra's Los Angeles residence is just one out of two real estate investments that they share together. They also have a residence in New York, but they have been staying in Los Angeles since last year. The property has two bedrooms, three bathrooms, and a substantial 2,760 square feet of living space. The residence also features a swimming pool and a living room with an open floor plan.
Matthew Broderick & Sarah Jessica Parker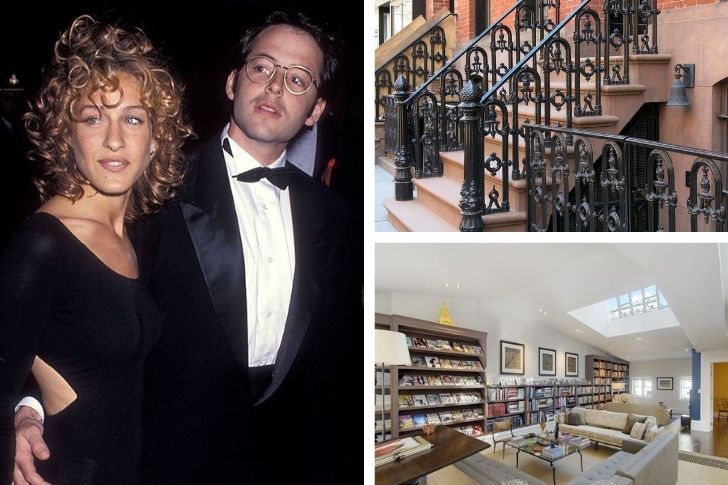 Believe it or not, Matthew Broderick and his wife, Sarah Jessica Parker, have been married for over 23 years! They certainly came a long way from meeting each other back in 1991 at Broadway. Now, they share three children and seem to be happier than ever! Interestingly, the couple kept their relationship as private as possible. It certainly worked as their marriage is one of Hollywood's long-lasting marriages!
Sarah and Matthew share a diverse investment portfolio when it comes to real estate. One of the properties they purchased during their marriage is their $2.995 million West Village Townhouse in New York. The property features a lovely red-brick layout that has three stories and spans up to 4,182 square feet! Interestingly, you can purchase this property off of Parker and Broderick as they just put it up for sale for $15 million!
Warren Beatty & Annette Benning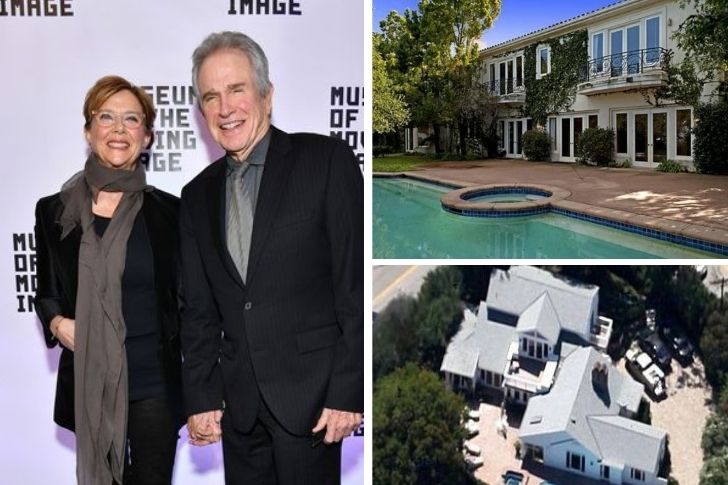 If there's one Hollywood couple that's worth asking for tips on long and successful marriages, it would be Warren Beatty and Annette Bening. They have been married for almost 28 years now and share four children together. At first, Warren was known to be a womanizer, and everything certainly changed when he met Annette on the set of the 1991 film Bugsy. Since then, their relationship has felt like a real-life fairy tale!
Warren and Annette have been known to own several real estate investments throughout Los Angeles. One of their most lavish and beautiful properties is their mansion in Beverly Crest that they purchased back in 1992. It comes with six large bedrooms and eight bathrooms. The residence is also fully equipped with luxurious essentials like a gym, library, swimming pool, a landscaped garden, and lodgings for a maid or butler.
Christopher Guest& Jamie Lee Curtis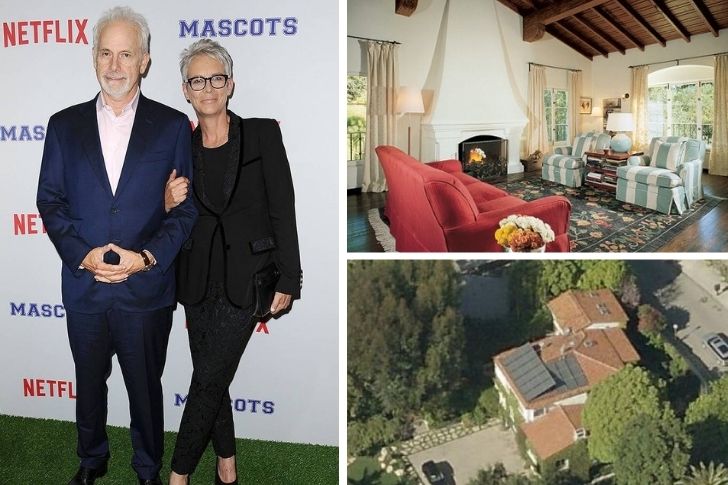 Jamie Lee Curtis is one of those girls who flipped through a magazine and set her eyes out on the man she was going to marry. She indeed married the man she saw on the Rolling Stones magazine in the form of Christopher Guest. Interestingly, they have been married for an incredible 35 years now, and their relationship seems to be stronger than ever! They certainly came a long way from eyeing each other out in a restaurant en route to a first date days later!
Jamie and Christopher are one of the Hollywood couples who own several real estate investments in Los Angeles. Their most recent purchase is a beautiful $2.2 million home in Santa Monica. It features a wood-paneled two-story layout that comes with three bedrooms and two bathrooms. The interior seems to be more than adequate as it has 1,900 square feet of floor space, and outdoors, the property has its very own swimming pool in the backyard.
Angela Bassett & Courtney B. Vance
Angela Bassett and Courtney B. Vance's relationship is one long-lasting marriage that we absolutely admire. The couple has been married for almost 23 years now and is still going strong to this day. Angela and Courtney definitely came a long way from meeting back in the 1980s. They met in an elite drama school while they worked on their college degrees. Everything must've clicked as Angela revealed that marrying Courtney was her "best decision ever."
Angela and Courtney have been able to acquire numerous real estate properties and investments throughout the years. One of their properties is their residence in La Canada, Los Angeles. They purchased the property back in 2007 for $3.7 million, and it came with luxury features like a swimming pool and lawn. The home is certainly an upgrade from their previous residence located in the Hancock Park area of L.A.
Maggie Gyllenhaal & Jake Skarsgaard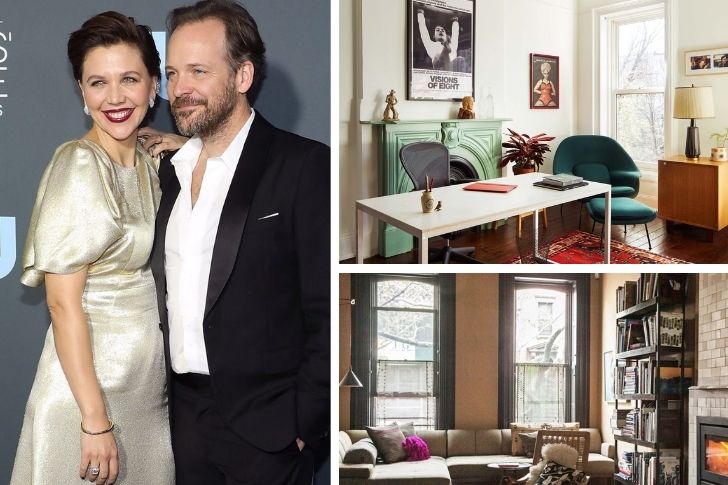 Jake Gyllenhaal introduced his close friend Peter Sarsgaard to his sister, Maggie Gyllenhaal, back in 2002. Without a doubt, the two fell for each other immediately as they announced their engagement four years later in 2006. They went on to marry each other in 2009 at a small chapel located in Brindisi, Italy. It's safe to say that Jake played a special role in their wedding!
Maggie and Peter aren't a pair to miss out on good real estate investments. They purchased a Brooklyn Brownstone for $1.91 million, and it came with eleven rooms and 3,600 square feet of living space. It also features its own backyard! Everyone knows that you're sitting in a prime New York property when it comes with its own backyard. It spans up to 55 square feet, and it's home to the couple's cherry trees and a Meyer lemon tree.
Maya Rudolph & Paul Thomas Anderson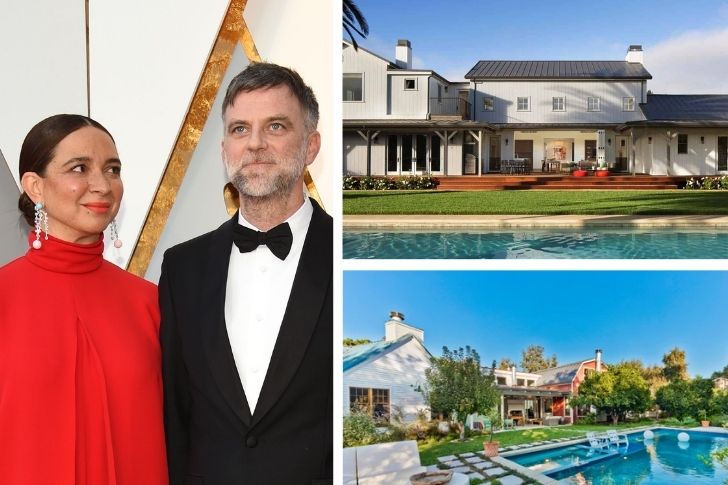 The lovely couple Maya Rudolph and Paul Thomas Anderson have confirmed that they had been together for almost 17 years. Despite them having no legal status as an official married couple, Maya makes it a point to still call him her husband. To this day, the pair still seem as happy as ever, and it looks like that it's not going to change anytime soon.
When asked how she was able to keep up with the spark of being together for such a long time, she told the press that she made an effort to put in the work. She also shared that she feels blessed to have such a large family with Paul, never imagining that they could have four kids together. It's a nice sight to see, and currently, they live in San Fernando Valley. With the couple's successful careers, their children probably won't need student loans in the future.
 Steve Carrell & Nancy Carell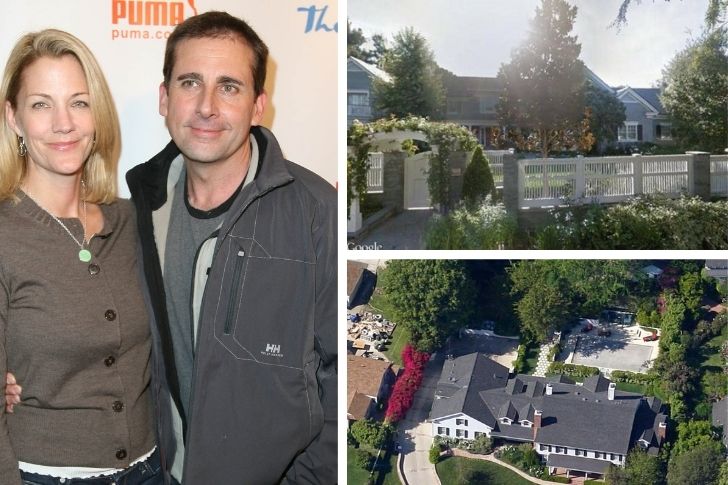 Steve Carrell is known as one of America's most popular comedians, but many people may not know of his beautiful mansion in Los Angeles, California, where he lives together with his beautiful wife Nancy. The lovely couple lives together in this 16,853-square-foot mansion, featuring a total of five bedrooms and eight bathrooms. Previously owned by another actor Jonathan Winters, it is situated in the Toluca Lake neighborhood, which is known for being one of the most affluent towns in LA county.
The Carrells didn't waste any time in setting up their new home, starting fresh and decorating it with their own personal taste. They spent their hard-earned investment money to design their home with a variety of features, including a spa, a mudroom, a personal study, and a den that leads to an outdoor patio. With all these features, it's a miracle that we still see Steve in public, because if we were in his shoes, we wouldn't want to leave this exquisite home.
 John Krasinski & Emily Blunt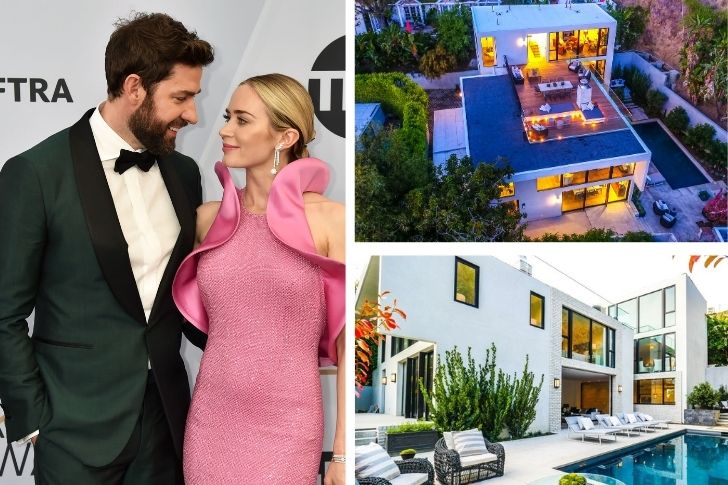 If you've watched A Quiet Place, then you've probably seen actors John Krasinski and Emily Blunt in action. The onscreen and offscreen power couple got married back in 2010, and since then, they have had two beautiful daughters together. However, that's not the only thing that's beautiful, because if we look at their house, you'll find it to be an architectural marvel with a stunning design and luxurious amenities.
The couple purchased this stunning 5,000-square-feet property for around $15 million. For them, it certainly welcomes a change in scenery from their East Coast bustling city lifestyle to tropical, balmy nights in the Hollywood Hills Californian scenery. The stunning property features a gourmet kitchen, a personal gym, outdoor entertaining areas, and many more. For a house like this, we're sure that it has its own home security system as well.
 Meryl Streep & Don Gummer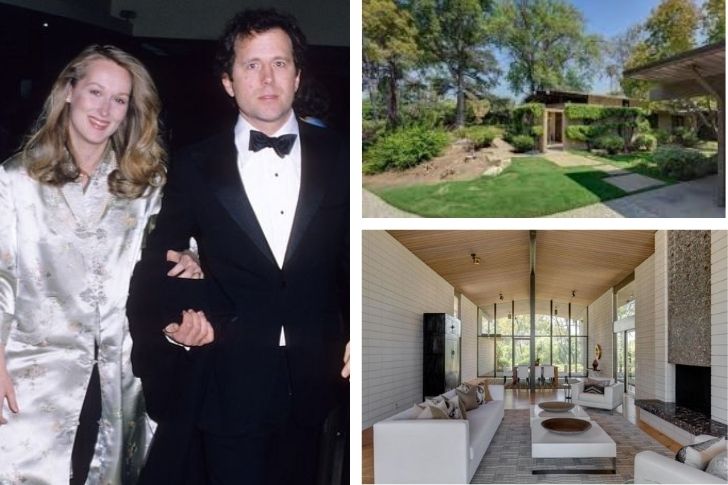 Veteran Hollywood actress Meryl Steep has been living in this midcentury home located in Pasadena, California, together with her husband, Academy Award-winner Don Gummer. The property was built all the way back in 1959 by architects Smith and Williams. Featuring various glass facades and stunning views of the California landscape, the couple made a solid bang-for-the-buck in making a purchase for this house for only $3.6 million, which was a significant discount from its listed price of $4.13 million.
Inside, you can find that the house was inspired by Japanese architectural styling, featuring three bedrooms, three bathrooms, soaring ceilings, and even a separate 1.97-acre tree-filled property. You can also find a small road that contains a collection of mid-century exquisite pieces. With the earnings from their successful careers, the couple surely didn't need any home loans to purchase this property.
 Chris Hemsworth & Elsa Pataky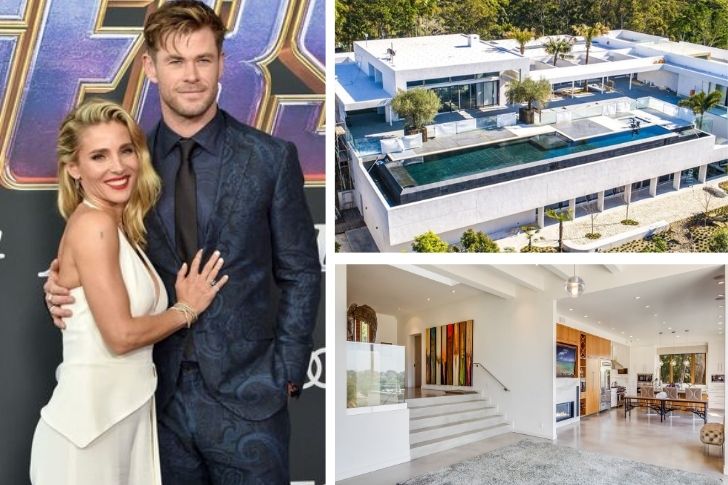 Chris Hemsworth is looking as healthy and buff as ever, thanks to his workout and personal training for playing the Marvel character, Thor. It's not just him that's big, because if you look at the Australian actor's stunning estate, then you'll envy both his appearance and his household, too. Together with his wife Elsa Pataky, the power couple lives in their 4.2-hectare estate with their three lovely children.
Chris bought their home a few years back and began various renovations on it to include the amenities it has now. These include an infinity pool and a home gym, which is probably some of the Hollywood actor's best investments for his own personal use. Other features we could find are an open-plan kitchen, a spacious living room, a games room, and a picturesque sun desk. We can see also that Chris is an avid user of Instagram, and from the looks of his posts, we can see his various routines in his household, from his workouts, cooking, and family bonding with his wife and kids. It's every person's dream to be able to live an awesome life like that, and the actor's one lucky man to be able to have it with his beautiful family.
 Sarah Michelle Gellar & Freddie Prinze Jr.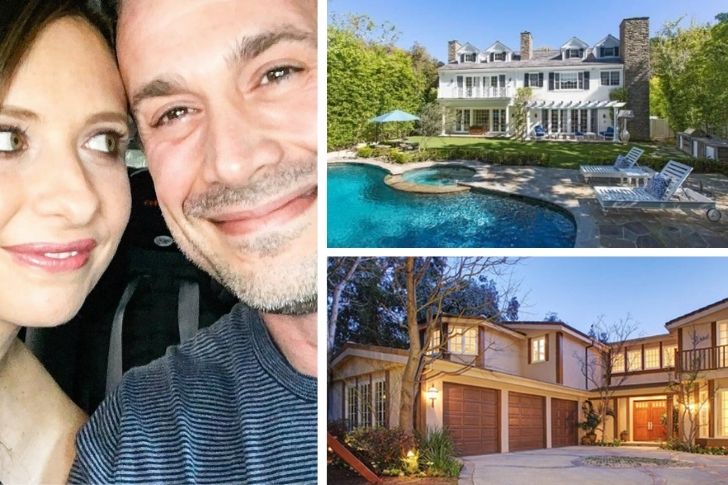 If you grew up during the '90s, you've probably heard of the hit celebrity couple of Sarah Michelle Gellar and Freddie Prinze Jr. becoming a couple back in 1997, the pair have been going strong since then. Together, they live in this luxurious family home complete with five bedrooms and four bathrooms in the gated Stonehenge community found in Bel Air.
Featuring a traditional look, coupled with some rustic themes, the house features various amenities such as marble fireplaces, antique-style tables, and a nature-inspired living room – that's not all, however. Despite some contemporary themes going around, there's some sense of modernity on the inside, too. The home also features a pool table and a wide-screen television that's perfect for video games and watching some competitive football matches. It's clear that with the right investments, you can get the dream house you always wanted for both you and your future partner.
 Robert Downey Jr. & Susan Levin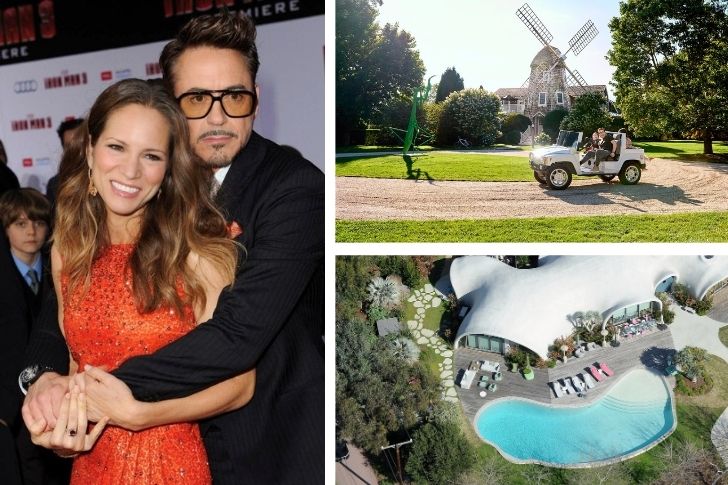 You were anticipating Robert Downey Jr.'s property to be a gigantic, cutting edge house comparable to that of his famous character Tony Stark. However, it turns out that the Hollywood actor is not in many ways different from normal people. He lives differently compared to the unconventional extremely rich person philanthropist playboy who needs no financial advisor that we have been so used to seeing him as.
Robert and his wife, Susan, opened their entryways to the Building Process group, which gave us a look into the domestic life of Iron Man himself. Guess what? It's not futuristic or high-tech at all, but rather cozy and charming as any family home you basically cherish venturing into. Their home, situated within the Hamptons, is of late 19th-century design with a unique architectural design of being modeled like a windmill, which was originally built as a playhouse and a fully-fledged residence.
 Amy Adams & Darren Le Gallo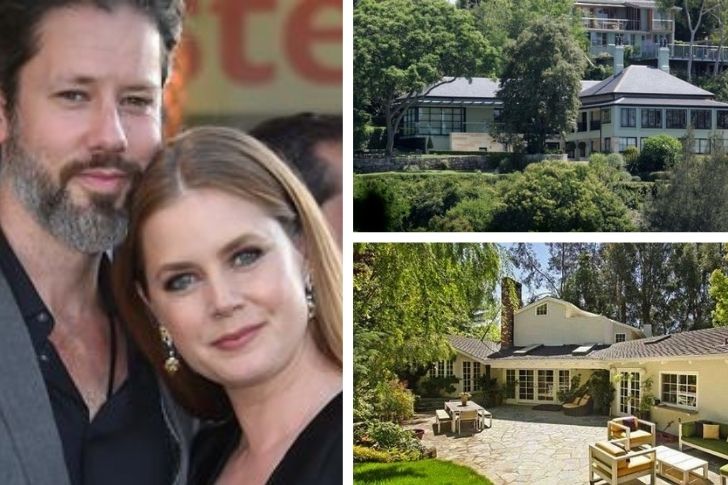 It's been reported that popular actress Amy Adams and her artist fiance Darren Le Gallo have bought this stunning Benedict Canyon property through a trust fund for $1,825,000. It's the perfect time for it too since the actress recently gave birth to a wonderful baby girl. Looking up at the property, we can see that it's made up of 4 bedrooms and 3 bedrooms, and its design just screams out beauty and elegance all throughout.
In addition to that, the couple and their family aren't the only well-known names around the area. Some of their neighbors include actor Jonathan Frakes together with his soap opera wife Genie Francis, as well as business entrepreneur Ted Forstmann who owns the IMG Talent Industry. From the looks of it, they'll surely be enjoying their house, too, because it has just enough roofing to go all around!
 Seth Rogen & Lauren Miller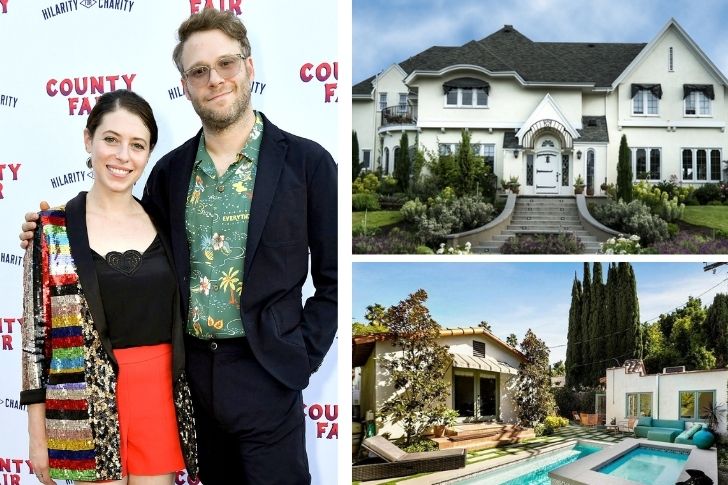 Actor Seth Rogen and beautiful partner Lauren Miller recently purchased this rustic-looking real estate property for $1.93 million. The Spanish Revival-style cottage is situated just outside the West Hollywood area, and the overall vibe the property feels just screams out contemporary and classic. Taking a look at the house itself, it's hard not to fall in love with it.
The three-bedroom, two-bathroom domestic was initially built within the 1920s but has since been redesigned to suit more present-day tastes. The outside, be that as it may, remains generally the same, with a classic ruddy tile roof and a charming terra-cotta patio out front. For the interior, the 1,950-square-foot domestic is sunny and roomy, with cleaned dark hardwood floors standing in stark contrast to the white dividers found. Wide openings make up the formal living room, all the way down to the dining area and kitchen. It gloats overhauled stainless steel apparatuses and a shiny aqua-toned tile backsplash, all spinning around an expansive black-and-white center island.
 Michael J. Fox & Tracy Pollan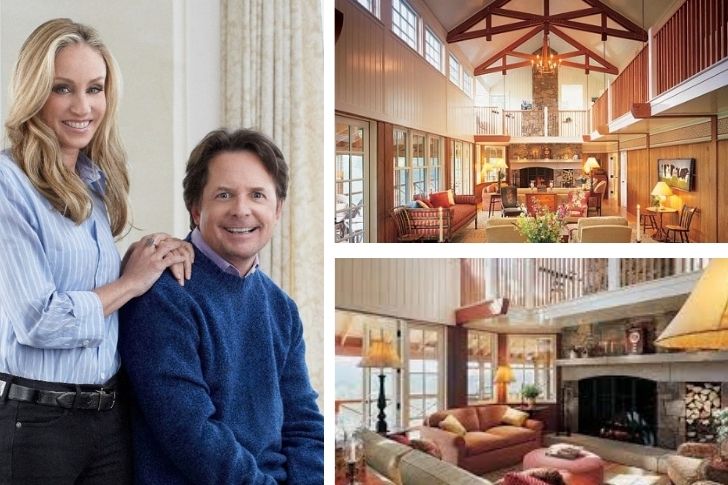 Michael J. Fox and Tracy Pollan have reportedly re-listed their picturesque Connecticut estate with a lower asking price of just only $4.25 million. Built back in 1997, it was customized by the couple, which is why it has such a unique taste to it. If you're planning on checking this property out, then we'd recommend it, because judging by the looks and just how many amenities are present, you're certainly going to get a high return on your investment money once you make the purchase for it.
Going inside the property, we're greeted by a spacious area comprising both the living and dining rooms. Beside it, there are another handful of intimately scaled rooms, including a family room with its own entertainment system, and a personal library area with high glass windows and minimalist design all around. The neighbors surrounding the property are owned by celebrities such as Kevin Bacon and Kyra Sedgewick, another lovely Hollywood couple.
 Sacha Baron Cohen & Isla Fisher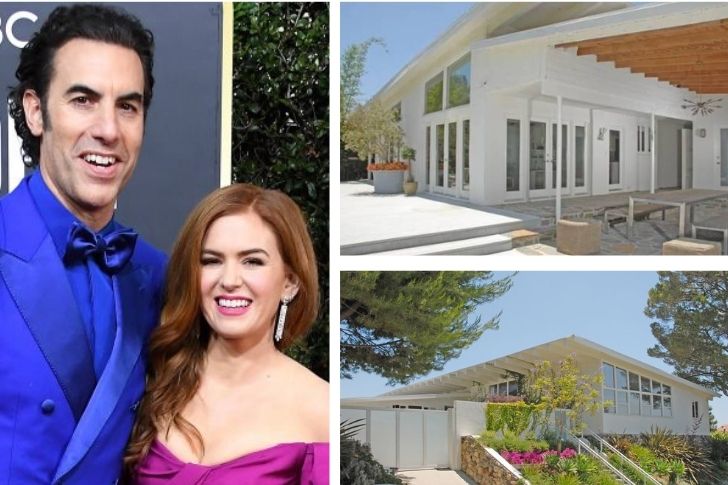 The Borat actor Sacha Baron Cohen, together with his lovely wife Isla Fisher, have just recently listed their home in Los Angeles, California, for a price of $2.95 million. Built back in 1959, the house was reportedly renovated back in 2004 and had been first leased out ever since. Measuring at 2,806 square feet above the 52-acre Woodrow Wilson preserve, it features a relaxing green scape, stunning picturesque views, and an astoundingly cozy vibe when you step inside.
If we take a look inside, there are various amenities included in the place, which include a gourmet eat-in kitchen, a personal spa with its own bathtub, and a multi-level deck that gives access to the views of the frontier landscape. In addition to that, the couple has also included other amenities suited to their own personal wants, such as a gym, an area for specimen planting, and a lagoon-style pool. It's clear that they did some noteworthy investments to be able to include all of these inside their house.
 Elizabeth Banks & Max Handelman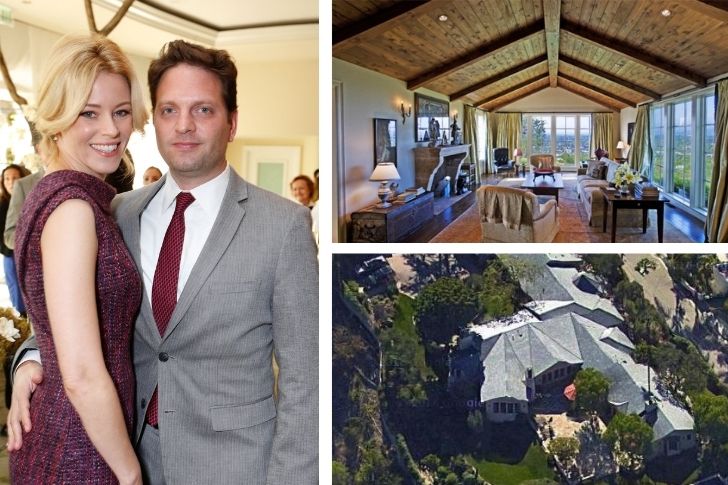 Do you know Elizabeth Banks? You probably do at this point, but what you don't know is that together with her husband Max Handelman, they have a property in Los Angeles that just screams out luxury. The 6,218 square foot property is situated in the Sherman Oaks area and was purchased by the couple for just a little under $7 million. Seems like a hefty price right, but for celebrities such as these two, that'll probably only be petty cash for them.
If we look at the house to see if it was really a bang-for-the-buck, the home houses five bedrooms and four bathrooms, as well as having the architecture akin to a chic farmhouse. Featuring a slate roof, oak floors, and wood-beamed ceilings, it's certainly a unique piece of American real estate, as only a few houses would push through with this type of design. That's not all, however, as the exterior of the property contains dining and lounging spaces all over the deck, and also a saltwater pool found on the premises of the property next to the lawn.
 Viola Davis & Julius Tennon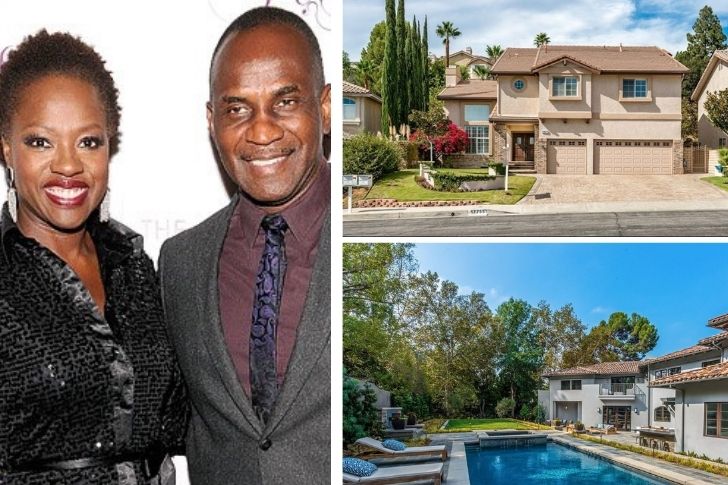 Famous for her role in the popular mystery TV series How to Get Away with Murder, actress Viola Davis, together with her husband Julius Tennon recently sold their home in Granada Hills for $1.15 million. Having been built back in 1991, it was the couple's home for more than a decade. If we were given the chance to ask Viola, we'd question how to maintain a healthy relationship and how was she able to maintain her house in pristine condition.
Looking into the 3,900 square feet property, we're looking at five bedrooms and four bathrooms. When first stepping foot inside, we're greeted by the living room with three fireplaces, matching the overall ambiance that the house gives off. Outside, you can find a swimming pool, a barbecue, and a small patio, perfect for someone looking to sit back, relax, and enjoy their time.
 Rachel Zoe and Rodger Berman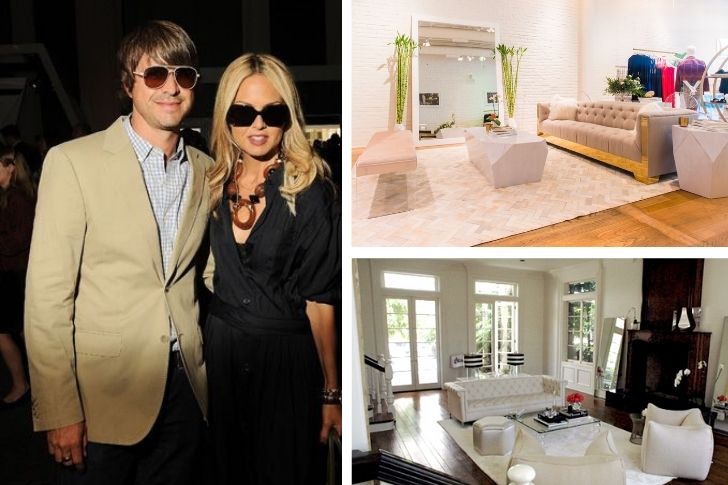 Power couple Rachel Zoe and Rodger Berman have been together for almost 30 years. They've been calling themselves a tag-team when it comes to most of the household chores. After renovating their Beverly Hills, the couple and their young son moved in not too long after. The spacious home has a strong sense of tradition with high ceilings, dark wooden floors, and wooden staircases, whilst the personality of the home's designer is delivered through modern touches.
Taking a look inside, the master bedroom features vintage Knoll armchairs, plush Missoni pillows, and a 'couch bed' by Philippe Starck that the family often falls asleep on while watching movies. Zoe has admitted that her home has taken on a more casual feel, due to the fact that she's now become a mother. It extends towards brightening her children's rooms with color through statement artwork, animal print rugs, and Hermes knit throws. The overall vibe exudes sunny Californian style, from the oversized windows and the lush patio area.
 Tina Fey and Jeff Richmond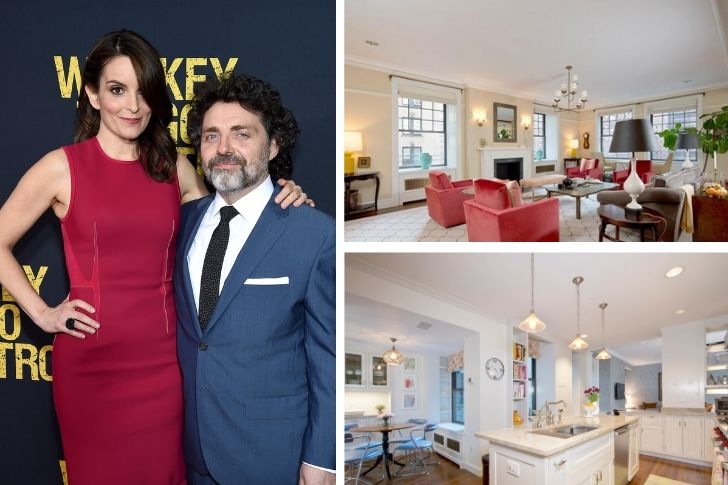 Actress Tina Fey has recently sold her second property this year – her own West Wide Apartment, for only a cool $2.15 million. The second-floor, two-bedroom apartment is a "classic six" and Tina shared the apartment with her husband, 30 Rock composer Jeff Richmond, reports the outlet. Since their purchase back in 2009, the couple has greatly expanded it and moved on from the basis of that property.
Recently, it was reported that the actress had purchased another apartment worth $9.5 million. The asking price for Tina's new home was $7.5 million, but the higher sale price most likely came about because there were plans to combine their units. This creates a ten-room apartment with a private elevator landing and two fireplaces, and it's located at a 13-story prewar building. With someone with just the right investment money, they should make sure they purchase this right away.
 Lisa Kudrow &Michel Stern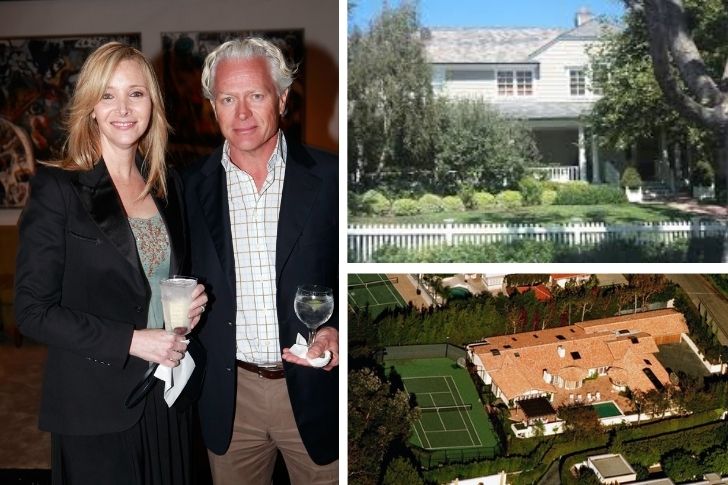 After graduating college with a biology degree, Lisa Kudrow initially hoped to be a physician like her father, though that immediately changed when she became a comedian and actress. Today, Lisa is mostly known for her role as Phoebe in the now-iconic TV show Friends. Meanwhile, her husband, Michel Stern, has a career outside the Hollywood spotlight as a marketing executive. The two officially tied the knot in 1995 and have since also been loving parents to their only son, Julian.
Thanks to their respective careers, this happy couple also purchased several homes through the years. One such house is located in the celebrity-filled neighborhood of Beverly Hills, which they bought back in 1996 for $1.9 million. Although not much is known about the place, the actress has since been more than happy to share pictures of the property on her social media account. Besides its gorgeous living space, the house also has more than a few Friends memorabilia on display.
 Mark Wahlberg &Rhea Durham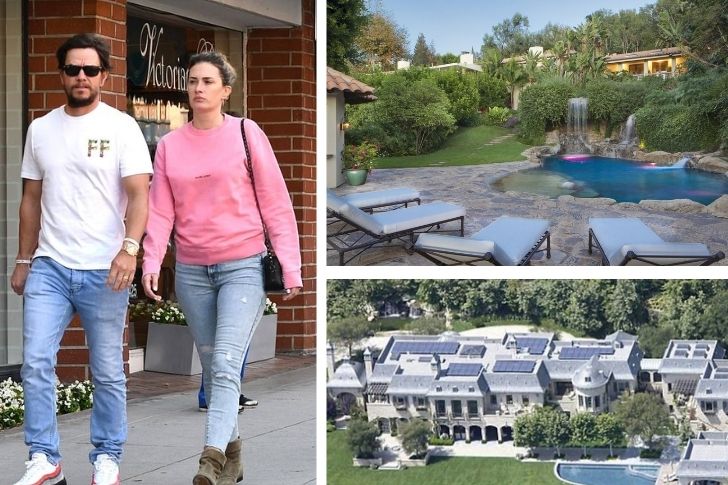 Throughout his career, Mark Wahlberg has had the chance to star in many notable projects, including The Departed, The Italian Job, The Fighter, and the Transformers movies. Besides being an actor, however, Mark is – above all else – a loving father and an all-around family man. With his wife, Rhea Durham, whom he married back in 2009, the two are now also loving parents to their four kids, Ella, Grace, Michael, and Brendan.
With both parents earning quite a fortune, it comes as no surprise that the family's house is an impressive estate located in Beverly Hills. Sitting on a six-acre lot, this 30,000-square-foot investment property has been the couple's sanctuary for almost a decade already. Besides its 11 bedrooms and 18 bathrooms, this humble abode also has just about everything to keep the family and their friends entertained, including a library, a movie theater, a basketball court, a golf course, and a swimming pool.
 Anne Hathaway & Adam Shulman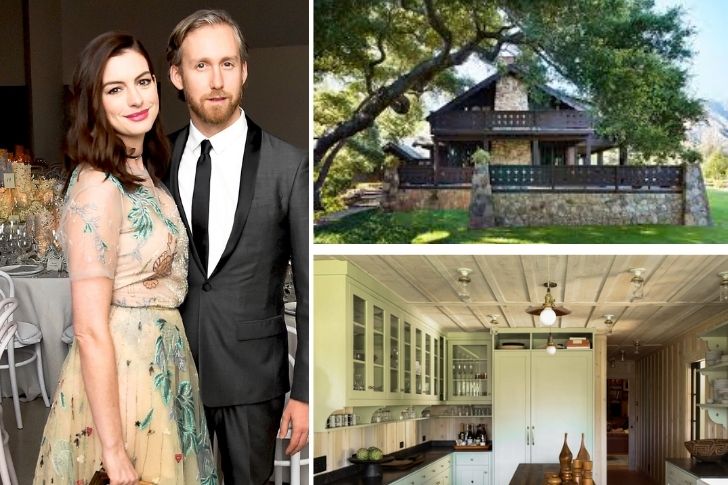 A love-at-first-sight moment often happens only in movies, TV shows, and books. Even so, that doesn't mean it couldn't happen in real life, too. For actress Anne Hathaway, it seems that her stars aligned during one Palm Springs Film Festival, where she then met her now-husband Adam Shulman. Although he's had a few on-screen roles along the way, Adam mostly does behind-the-scenes work as a producer. With that said, he's also made investments in the jewelry business, owning his very own brand called James Banks Designs.
For their sanctuary of choice, it comes as no surprise that this couple's home is beyond stellar. With an interior design reminiscent of Wes Anderson and Yves Saint Laurent's artistic visions, it's safe to say that this property's living space isn't only just comfortable but blooming with color, too. To make it even better, this lovely abode is surrounded by nothing but nature, including a beautiful first-class view of the nearby mountains.
 Justin Timberlake & Jessica Biel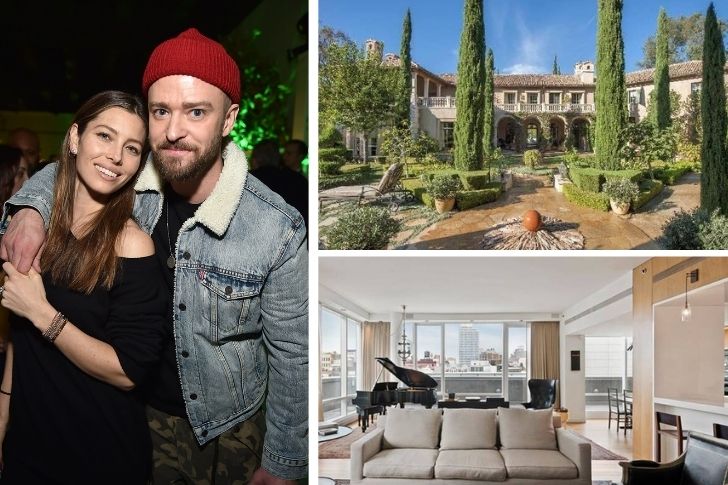 Through the years, Justin Timberlake has released many catchy tracks like Mirrors, What Goes Around Comes Around, and Cry Me a River. With that said, he's also found success as an actor, a profession he shares with his wife, Jessica Biel. Besides being well-known figures in the entertainment industry, the couple is also loving parents to two kids, Silas Randall and Phineas.
In 2015, when they were looking for the ideal place for their kids to grow up in, the couple spent some investment money for a home in Big Sky, a private ski resort. Along with its undoubtedly cozy living space, the family's pad sits on an impressive 13,600-acre lot, with 2,200 of it available for residents to ski on. For its yearly payment of $30,000, along with its club membership joining fee of $300,000, it's safe to say that Justin and Jessica got more than what they paid for when they got their hands on this unit.
 Jimmy Fallon & Nancy Juvonen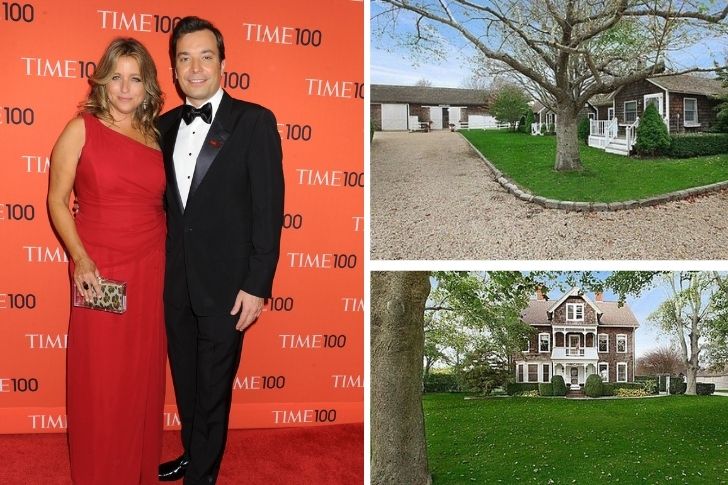 Before he got the chance to be the host of The Tonight Show, Jimmy Fallon began his career in the famous comedy program, Saturday Night Live, where he also met his now-wife, Nancy Juvonen. Even so, their relationship only began to bloom when they shared acting credits in the movie Fever Pitch. Since then, the two have been happily married and share their lives with two kids, Winnie and Franny.
With the couple being kids-at-heart themselves, it comes as no surprise that their Hamptons home is made of all the things needed to make a child's dream house. Through Jimmy's social media posts and his at-home episodes for The Tonight Show, fans of the host and his family get to see that their lovely abode has a slide to get them from one floor to another, a games room with its own piano, drum kit, and foosball table, and an arts and crafts workshop.
 Alicia Keys & Swizz Beatz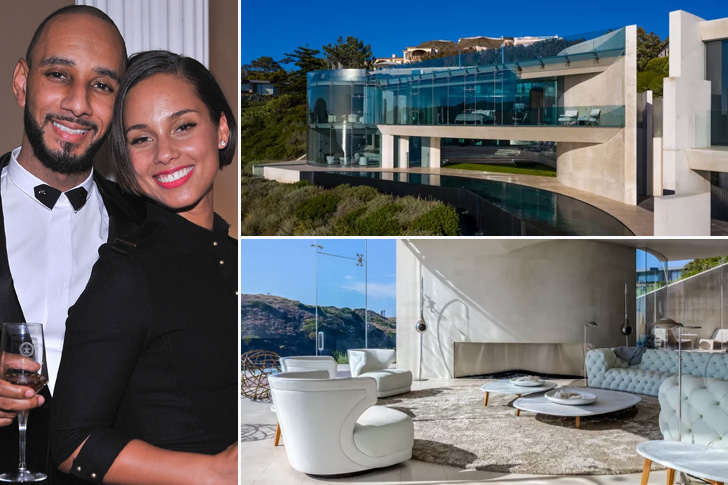 Beginning her career in the music industry at 15 years old, Alicia Keys has since released many highly-acclaimed and beloved records, including Diary, No One, Empire State of Mind, and Girl on Fire. Along the way, she also got the chance to work alongside the record producer Swizz Beatz, whom she's known since her teenage years and now happily calls her husband.
For their sanctuary of choice, the couple decided to spend their investment money on California's modern art piece, the Razor House. Besides its impressive accommodations, including an infinity pool, a gym, two steam rooms, and a home cinema, this 10,653-square-foot pad also had the chance to appear in a movie – one of its rooms did, at least. With that said, fans of the Marvel Cinematic Universe will undoubtedly recognize the Razor House's underground garage, which was used as the basement garage where Tony Stark made his Iron Man suits in.
 Kelly Clarkson & Brandon Blackstock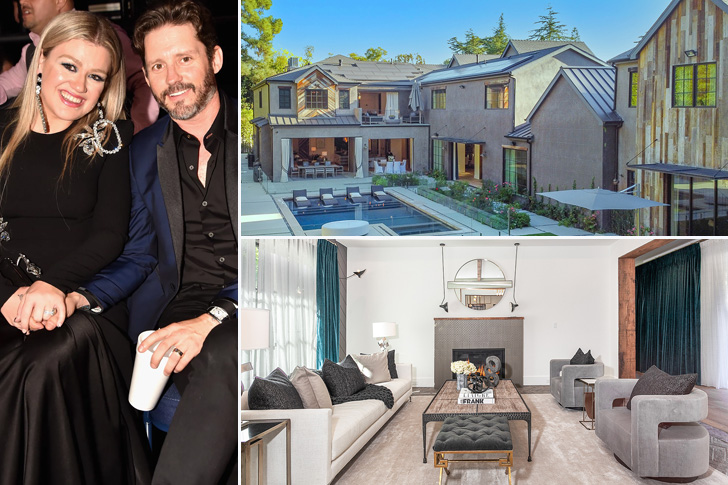 Over the years, many of us have experienced varying degrees of coincidences in our lives. With that said, perhaps it's safe to say that none of our experiences can ever top Kelly Clarkson's. In a literal case of "It's a small world," Kelly is a well-known singer who was mentored by Reba McEntire and once managed by Narvel Blackstock, her ex-husband Brandon Blackstock's stepmom and father, respectively. Since their unfortunate separation, the two have been co-parenting their two kids, River and Remington.
Initially bought in 2018 for $8.5 million, Kelly has recently placed her LA home in the market, with the current selling price being $8.995 million. Besides its eight bedrooms and 11 bathrooms, this 10,100-square-foot house has a main suite with a fireplace and a private patio. Meanwhile, its outdoor space is designed to entertain its residents and their guests, providing a pool, a fire pit, and an outdoor kitchen with its very own pizza oven.
 Gwen Stefani & Blake Shelton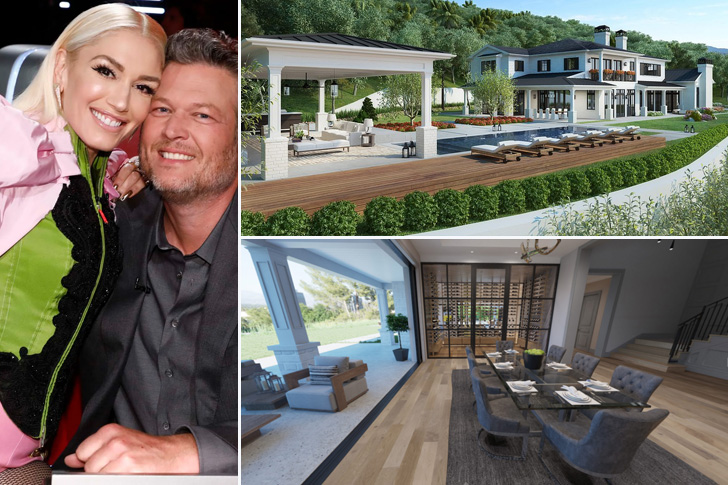 Sharing a common passion for something is undoubtedly one way for people to develop a stronger bond with each other. With that said, it comes as no surprise that Gwen Stefani and Blake Shelton have recently been in a happy relationship. Although they originally excelled in different genres, with Gwen being a pop singer and Blake being a country musician, the two eventually got to work together as judges for the world-famous talent show program, The Voice.
Perhaps to prepare for their future together, the soon-to-be-married couple made investments in a gorgeous home located in Encino, California. Bought for an impressive price of $13.2 million, this 13,000-square-foot house is surely beyond gorgeous and even has its own theater. On the outside, the humble abode entertains its residents with a swimming pool with an inset spa, a cabana with a wet bar, and an outdoor kitchen.
 Adam Levine & Behati Prinsloo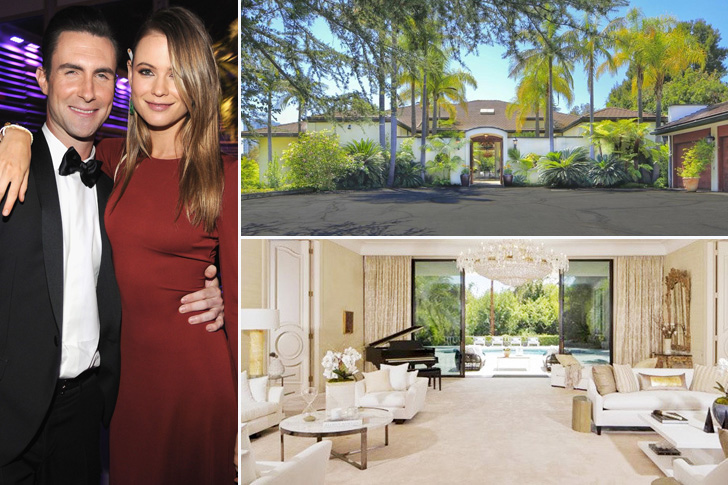 Thanks to his successful career as a musician, Adam Levine has had the chance to work on other projects through the years. One such venture is his company, 222 Productions, which has taken credit for producing the shows Songland and Sugar. Even so, it's safe to say that the singer's greatest achievement is becoming a parent, which he shares with his wife Behati Prinsloo, a model who's worked on more than a few Victoria's Secret fashion shows.
Like many celebrities, this couple is no stranger to owning a few luxurious homes. One such property was their LA estate, which they have recently placed on the market for $18 million. After entering its gated driveway, residents will be welcomed by its tropical atmosphere, complete with its own garden of palm trees and other plants. Along with its all-around comfortable interior living space, this pad also features what is arguably one of the most beautiful pool areas a home can ever have.
 Pharrell Williams & Helen Lasichanh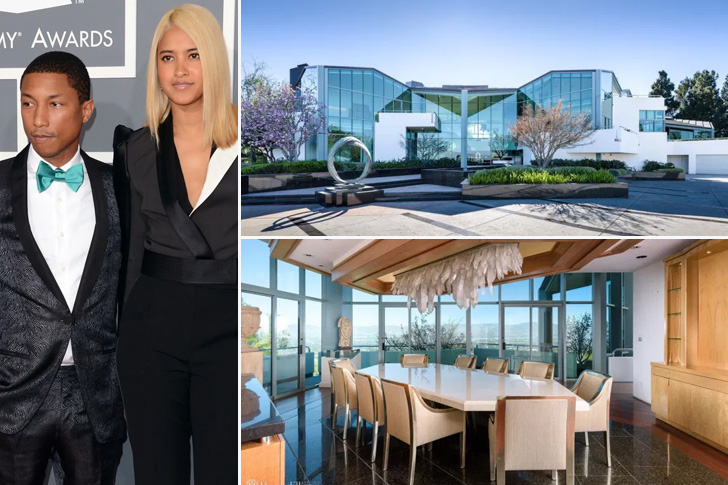 Although Pharrell Williams is known for his career in the entertainment industry as a producer and musician, his best works often involve the investments he's made alongside his wife Helen Lasichanh, who is a model and a designer. The most notable endeavor the couple did in more recent years involves the Los Angeles Mission Christmas Celebration, where they're often seen providing food to the needy. Nothing better than seeing celebrities sharing a portion of their fortunes with those that really need it.
For their sanctuary of choice, the couple decided to spend their wealth on something that's both classy and glassy. This dream house in question is found in Beverly Hills and was once owned by filmmaker Tyler Perry. Although Tyler initially sold this for $17 million, the two managed to get the house for only $15.6 million. Along with its ten bedrooms and 11 bathrooms, this fancy pad also has a tennis court, a pool, and a motor court for Pharrell's car collection.
 Justin Bieber & Hailey Bieber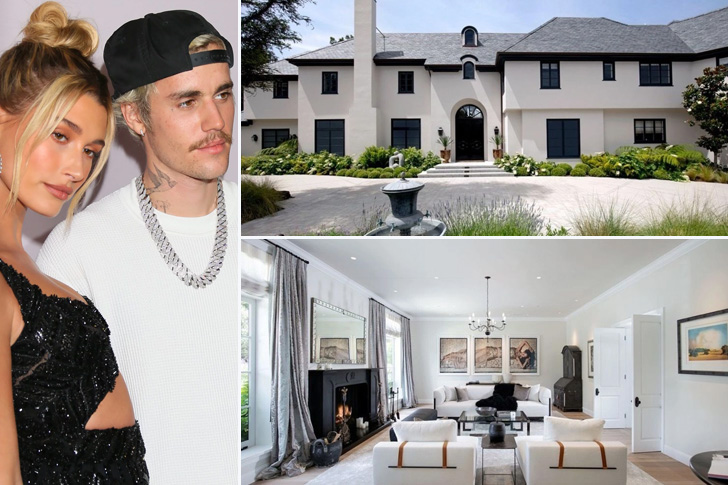 Since his teenage years, Justin Bieber has been known for releasing many of the music industry's catchy tracks, including Sorry, What Do You Mean, Love Yourself, and Cold Water. Despite the fact, however, Justin has since garnered quite the attention for his relationship with now-wife Hailey Baldwin. After tying the knot in 2019, the couple has since been widely-loved by fans. Even so, it's safe to say that none of their support can undoubtedly top the degree of love the two have for each other.
At this point, it has become quite apparent that the Beverly Hills neighborhood is abundant with celebrities. With that said, the Biebers had recently established themselves as members of this roster when they bought their very own mansion for an impressive price of $25.8 million. Sitting on a 2.5-acre lot, the gorgeous 11,000-square-foot house has seven bedrooms, ten bathrooms, a living room with a fireplace, a gym, and a movie theater.
 Mandy Moore & Taylor Goldsmith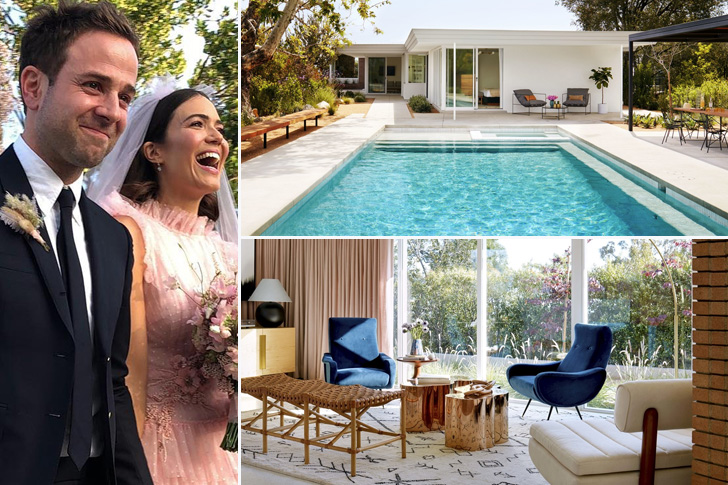 Since 2018, Mandy Moore and Taylor Goldsmith have been sharing their lives as a married couple. In the entertainment industry, the two are known for being talented musicians, though they've also done work on other projects. With that said, Mandy has had the chance to star in notable titles like A Walk to Remember, Chasing Liberty, and Midway. Meanwhile, Taylor also works as a songwriter, taking credit for writing songs for Brandon Flowers, Conor Oberst, and of course, his wife, Mandy.
For their ideal home, the couple decided to settle for this mid-century house in Pasadena. Made in the 1950s, the two decided to add some modern touches to their abode while maintaining its vintage charm. Well, it's safe to say that the results are beyond stunning. Now, this sanctuary is as cozy as it gets and also has its very own outdoor pool, accompanied by a breathtaking view of the San Gabriel mountains and valley.
 Kaley Cuoco & Karl Cook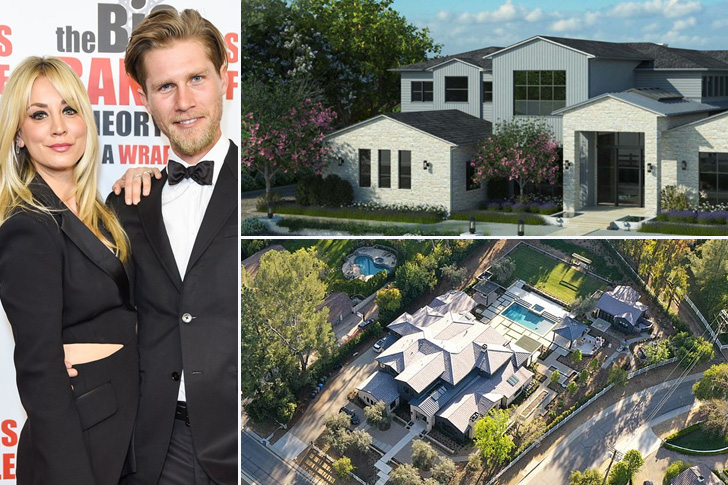 After a few acting projects for shows like 8 Simple Rules and Charmed, Kaley Cuoco finally garnered widespread fame and recognition for her role as Penny in The Big Bang Theory. Besides acting, however, Kaley also has quite a fondness for horses, and so does her now-husband, Karl Cook. In fact, besides being a photographer, Karl is also a well-known figure in the equestrian business, having won more than a few competitions along the way.
Since their marriage in 2018, the two have had a more-than-stable relationship, despite not sharing a house during their first two years. Even so, we're now glad to say that this predicament is no longer of any concern for the couple. Around 2020, Kaley and Karl spent a portion of their investment money on a gorgeous Hidden Hills home. Although not much is known about the property's amenities, it would undoubtedly come as no surprise if it has any horse facilities, like a stable or a riding rink.
 Joseph Gordon-Levitt & Tasha McCauley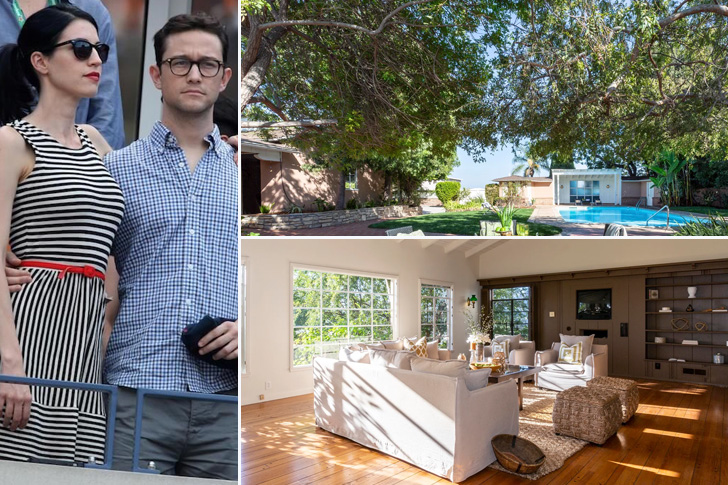 Today, Joseph Gordon-Levitt has become known as one of Hollywood's most talented celebrities, having worked as an actor and all-around filmmaker. With that said, he's had the chance to work on titles like Looper, The Dark Knight Rises, Snowden, and Don Jon. Meanwhile, his wife, Tasha McCauley, is also just as successful, though in a field outside the spotlight. This line of work in question is as the CEO of the technology company GeoSim Systems.
With both parents being successful figures in their respective careers, it's safe to say that their two kids won't be worrying about student loans anytime soon. In recent times, the family is reportedly residing in a Silver Lake home, though not much is known about it yet. Before making the move, however, the couple sold their previous house, a ranch in Los Angeles, for $3.08 million. For the price, the property will provide its owners with amenities like an office, a sunroom, a swimming pool, and a three-car garage.
 Elon Musk & Grimes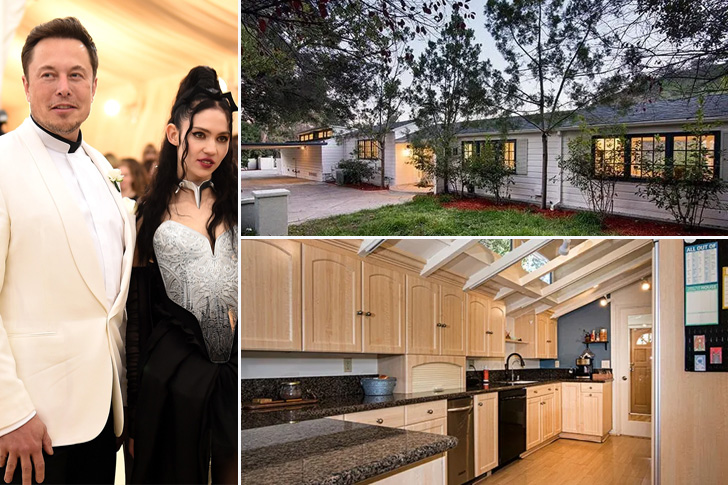 At this point, it's safe to say that almost everyone can recognize Elon Musk. After earning his bachelor's degree in economics and physics, Elon has since become known for his works in Tesla and SpaceX. His greatest milestone, however, is something he achieved outside work. Alongside his partner, the singer Grimes, the couple has since become happy parents to a child whose name has taken the world by storm – X AE A-XII.
Despite their wealth, not to mention Elon's $203 billion net worth, the couple opted for a more modest house in Pasadena. Purchased for a price below its initial $2 million value, this 3,721-square-foot home features five bedrooms, a library, vaulted ceilings, and a living room with its own fireplace. With that said, perhaps it's safe to assume that they will probably make further renovations to the property sometime soon, especially if it means it'll improve their son's way of living.
 Chris Pratt & Katherine Schwarzenegger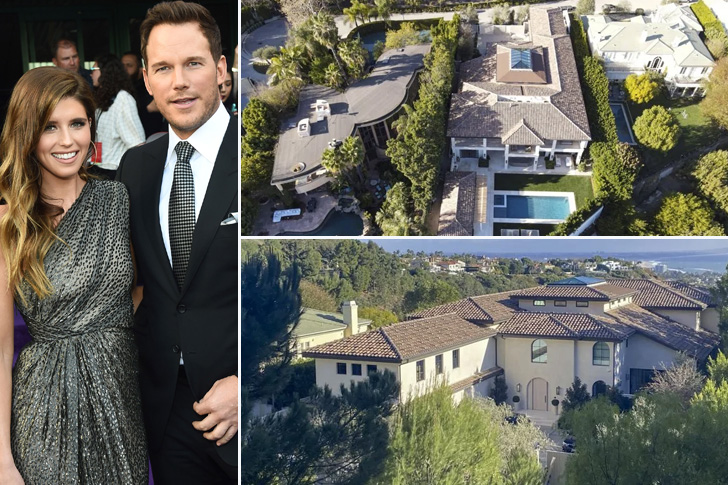 Chris Pratt and Katherine Schwarzenegger are absolutely couple of goals. After putting in a huge investment for the construction of their dream home, they have now moved into their gigantic mansion worth $15.6 million. Located in the posh neighborhood of Pacific Palisades, the property boasts 10,000 square feet of living space with five beds, six baths, and a modern infinity-edge swimming pool. It also comes with a pool house, a home gym, a wine cellar, and huge parking that can hold several vehicles.
Although the house's construction took more than two years to finish, it's undoubtedly all worth it. It has been Chris and Katherine's dream home with their own custom finishes. Although their kid, Lyla Maria Pratt, is only six months old, she has a massive place to run onto and play with her parents and, of course, with grandpa Arnold Schwarzenegger when he visits.
 James Corden & Julia Carey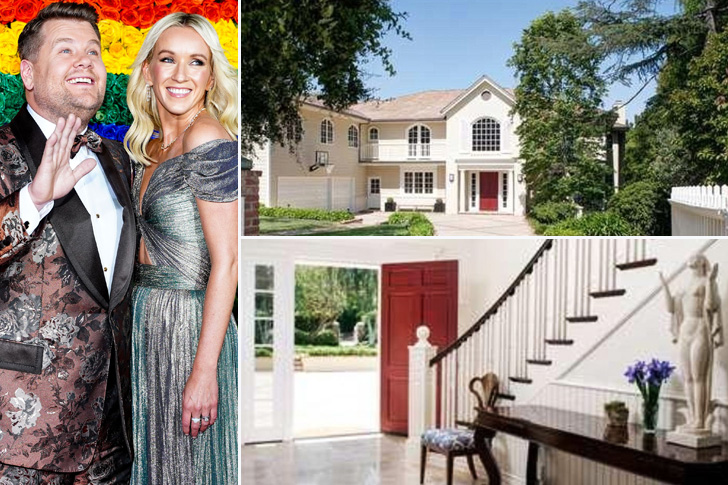 James Corden and Julia Carey's home is a dream house for every couple. After spending good investment money for their humble abode's renovation, they had finally moved in for Christmas in 2017. At the time, the couple filled their house with Christmas decorations to perfectly feel the season, putting them in the festive mode. These designs made the $10 million house look more lavish than it was.
Located in the luxurious Brentwood community, this place has a lot to brag about. It has more than 8,600 square feet of living space, seating on a half-acre of land. It proudly features a number of amenities, like a wood-paneled library, a chef's kitchen, a massive lawn, a pool and spa, a garden, and the list goes on. It looks like this place will never run of great features to boast of, knowing realtors even compares it to a "charming English home and garden".
Jennifer Lopez & Alex Rodriguez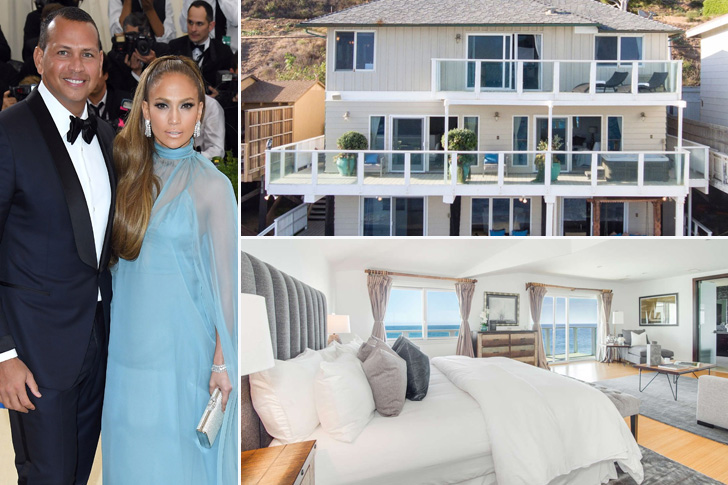 They are yet to get married, but Jennifer Lopez and Alex Rodriguez are now into investment planning together. After they reportedly bought a home, recent reports revealed they had sold their Malibu Beach house for $6.775 million. Their star power might have something to do with the quick selling of the property. In less than two months, it quickly went off the market.
Jennifer and Alex bought this place for $6.6 million in 2019 from the fellow actor Jeremy Piven. They had much of the interior demolished then, and the 51-year-old actress wanted to fix everything about it with the help of the Fixer Upper host and famous home renovation guru Joanna Gaines. However, this plan didn't happen, and the 4,400-square-foot estate eventually hit the market. The new owner would undoubtedly love this place with its beachfront house, gated garden courtyard, an expansive deck with hot tub, and several more amenities that perfectly fit these A-list stars.
Ryan Reynolds & Blake Lively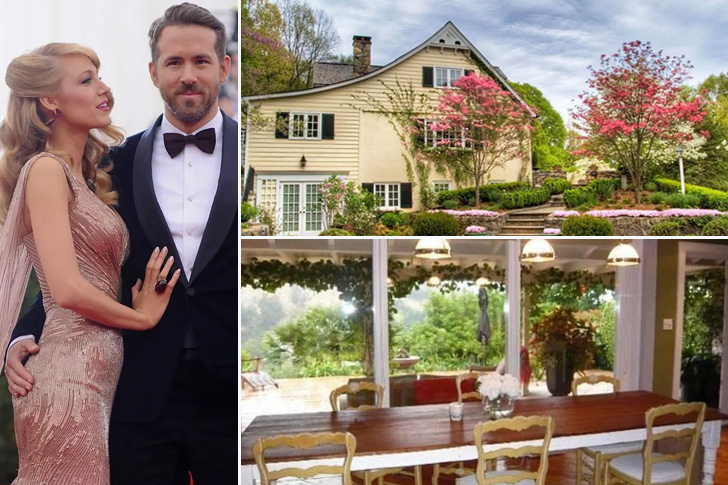 Ryan Reynolds and Blake Lively never brag about their wealth, although their house screams of lavishness. Their Lower Hudson Valley neighbors even love this couple, giving them credit for being well-liked and too friendly.
Sitting across 11.65 acres of land, their massive property has a lot to boast about. It has seven beds, six baths, and an outdoor barn. Ryan and Blake also occasionally give a glimpse of their home in their social media posts. In one of the actors' videos, he can be seen in a room surrounded by wooden panels. He's also seen sitting on a blue couch, which may be placed inside their barn. On the other hand, Blake shares a snap of what-may-be-another-part of the house with huge blocks of bricks. Just by looking at these photos, it may be safe to assume that their home looks grand but still humble, which is just like them.
 Ryan Gosling & Eva Mendes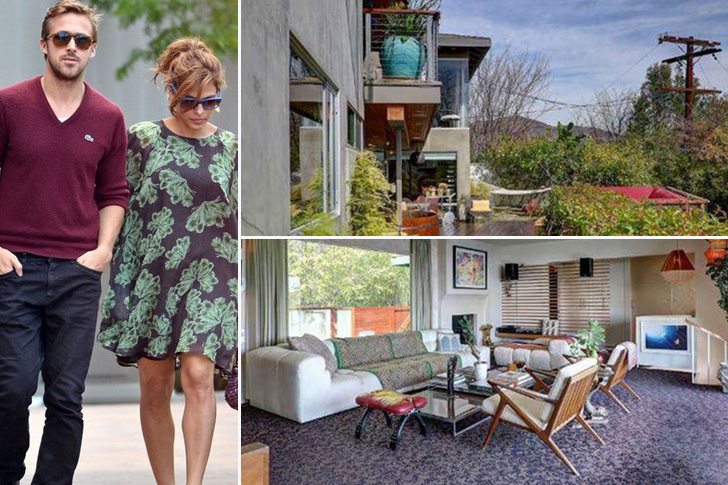 Ryan Gosling and Eva Mendes have been known for being notoriously private about their lives, relationship, and family. However, no matter how privy these two are, it looks like they can't escape fans who are very much interested in them. They even get to see the couple's former love nest, which they put on the market for $1.27 million.
Eva used to own this house that she shared with her long-time partner. The price may be lower compared to other big celebrity houses, but this pad looks incredible. It's every inch modern, carrying a Bohemian style with three beds, two baths, an outdoor shower, a hot cedar tub, and an entertaining deck. It also has its own chicken coop that Ryan and Eva may have used for their organic living. The house has a lot of great stuff and furniture that the new owner will surely love. We just wonder how much did Ryan and Eva have spent on these things using their credit cards?
 Ashton Kutcher & Mila Kunis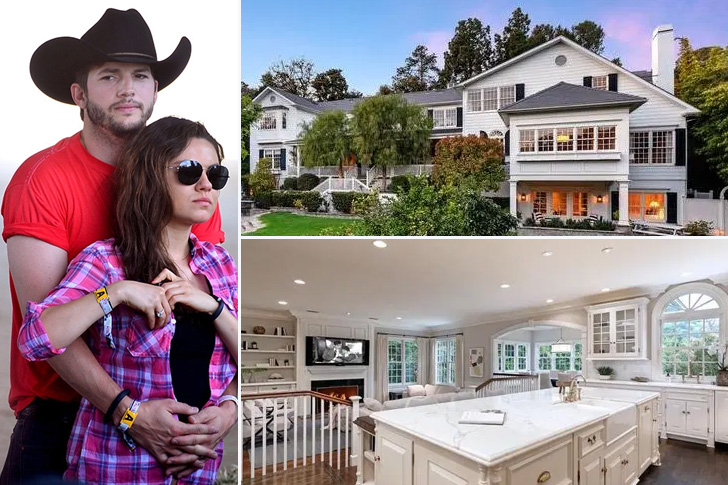 First, they are co-stars; second, they become a couple; now, Ashton Kutcher and Mila Kunis have become investors. The two have many investments, and they have been eyeing the best properties in town. Last year, they put their grand Beverly Hills home on the market for $14 million, and it speaks nothing but lavishness.
This Coldwater Canyon home used to be Ashton and Mila's primary residence and the first-ever marital property that they bought. Built back in 1999, the house has 7,351 square feet of living space with cocoa brown hardwood flooring that comes with five beds and five and a half baths. It has an all-white chef kitchen, filled with a mix of modern and classic appliances. Amenities-wise, it has a lot to be proud of, like a temperature-controlled wine room that can hold hundreds of bottles. It also has its own gym and sauna and several French doors that let them have an easy way out to the fresh mountain air.
 Kristen Bell & Dax Shepard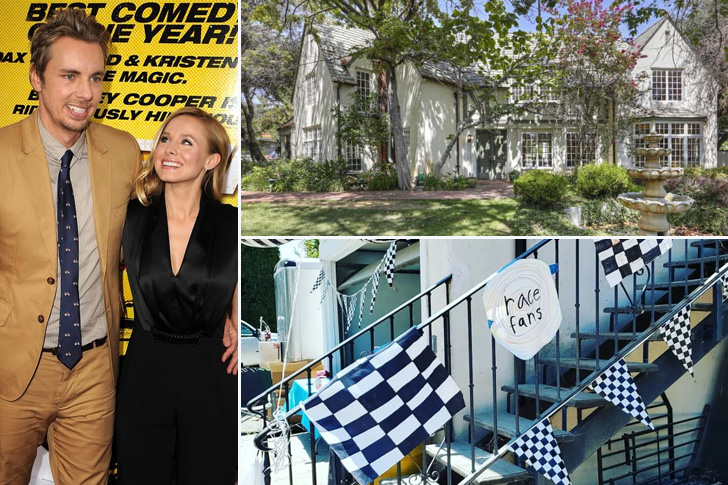 Kristen Bell and Dax Shepard share a stunning house in the neighborhood of Los Feliz. The sprawling Los Angeles home has 4,050 square feet of living space that the 40-year-old actress bought for $4.3 million in 2017. It comes with four beds, four and a half baths, and multiple living areas. It also has a library where their two kids, Delta and Lincoln Bell Shepard, can stay if they want to read or just have some time for themselves.
Built back in 1992, it has many great features and amenities that are probably topped off with the best home security system. It has a breakfast area and a detached garage. Dax even converted the attic to become his Armchair Expert podcast's office space that he's hosting with Monica Padma. If he has his own place, of course, Kristen has to–and her favorite part is the kitchen.
 Nick Jonas & Priyanka Chopra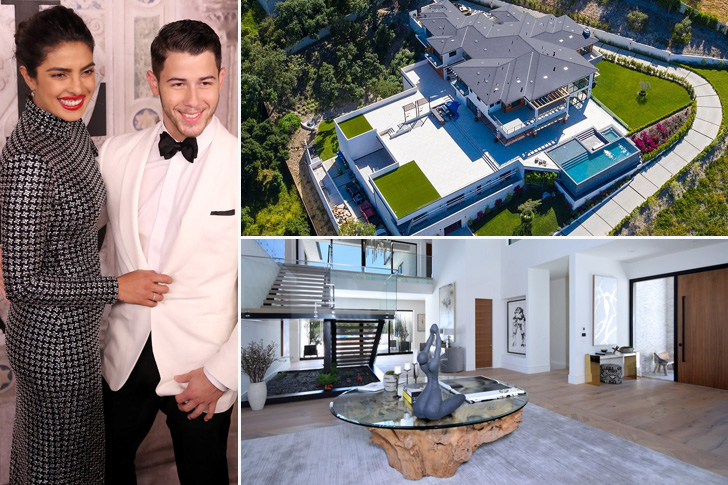 Nick Jonas and Priyanka Chopra have spent a whopping $20 million for a new Encino mansion. No, they didn't need any money loan for this. As one of the most famous Bollywood stars and  Hollywood pop icons in his own right, the couple has now secured their place in the prototypically suburban San Fernando Valley.
This sale is one of the highest on record in Encino, known as one of the most luxurious neighborhoods in LA. It comes with a 3-acre land that gives Nick and Priyanka a good view of the valley and a long driveway that leads to the underground garage that can hold a dozen more luxury cars. Of course, with a house this grand, it features some of the most unbelievable stuff, like a two-lane bowling alley, a mirror-walled gymnasium, a restaurant-quality wet bar, and an IMAX-like movie theatre. What more can you ask for?
 Keith Urban & Nicole Kidman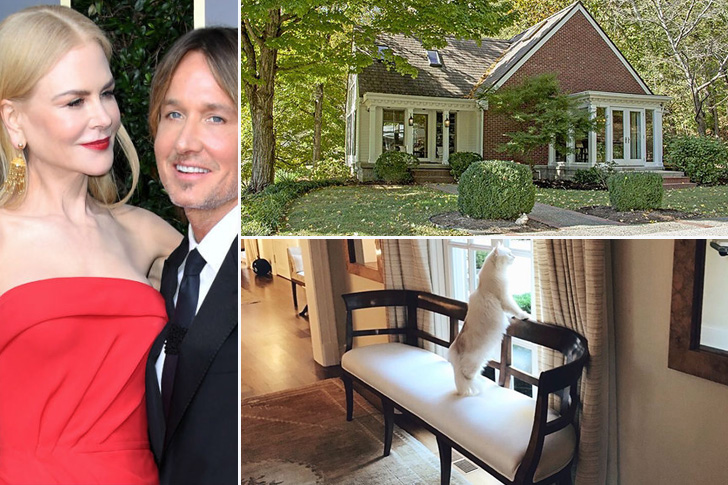 Keith Urban and Nicole Kidman are not just one of the most celebrated celebrity couples. They are also the "goals" when it comes to an impressive property portfolio. Besides a farmhouse in Australia, a penthouse in Sydney, a condo in New York, and a mansion in Los Angeles, they also have a house in Nashville, Tennessee. The couple's primary home is located in Keith's home country. With the number of properties they have, we wonder how much mortgage they have to pay.
Their Tennessee home boasts seven beds and eight baths, sprawling on a 10,925-square-foot of living space. It also has its own swimming pool, home theatre, and a home recording studio for Urban. In an Instagram post, Nicole gives fans a glimpse of their living room where she studies the Italian language. She also shows her posh buttoned chaise longue while reading a book next to the window. With its elegant look, no wonder Keith and Nicole make this their getaway place.
 Jason Momoa & Lisa Bonet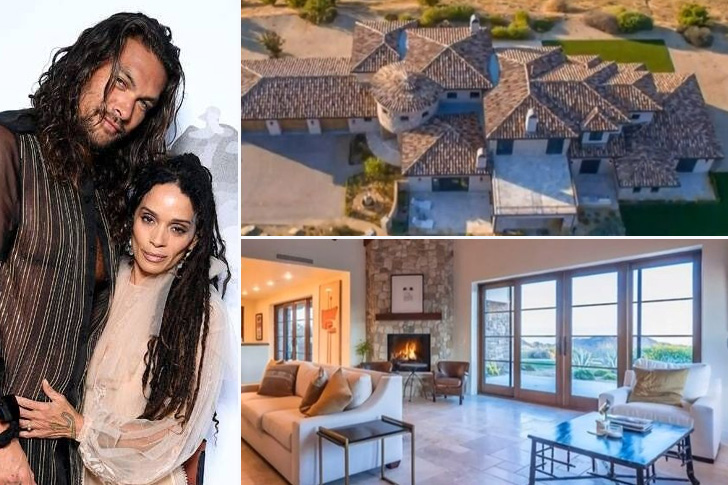 Lisa Bonet and Jason Momoa live in a lovely home in Topanga, California, where they also tied the knot in 2017. The low-key affair was attended by some of their closest friends and family. Knowing how the 41-year-old actor loves the traditional Maori dance, he performed Haka for his wife then.
Nothing is much known about this special event as the couple loves to keep it private, anyway, but their home is nothing but spectacular. It has 6,759 square feet of living space, sprawling on a massive 10.1 acres of land. It also carries a laid-back contemporary feel, giving Jason and Lisa the perfect landscape view outside in every window. It also gives them natural lighting that somehow helps them save on electricity. Surely, these two enjoy this place with their kids, Nakoa-Wolf Manakauapo Namakaeha and Lola Iolani Momoa.
You've Reached The End