50 Most Hilarious Wedding Dresses Ever Worn

Like many other wedding traditions, the bride's attire is undergoing a Renaissance. Your wedding gown should reflect your distinct style and personality, and an eccentric wedding gown is one remarkable way to do it.
Weddings are among the most significant moments in a woman's life because they occur only once in a lifetime (ideally). While some give all their investment money for a flawless dress, some designers have one-of-a-kind wedding dresses for those who want to stand out. Most of us fantasize about fairy tale weddings, but that doesn't mean they're free of bizarre and wacky ideas. Here are some of the most extraordinary wedding dresses (that should never have happened).
A Shotgun Wedding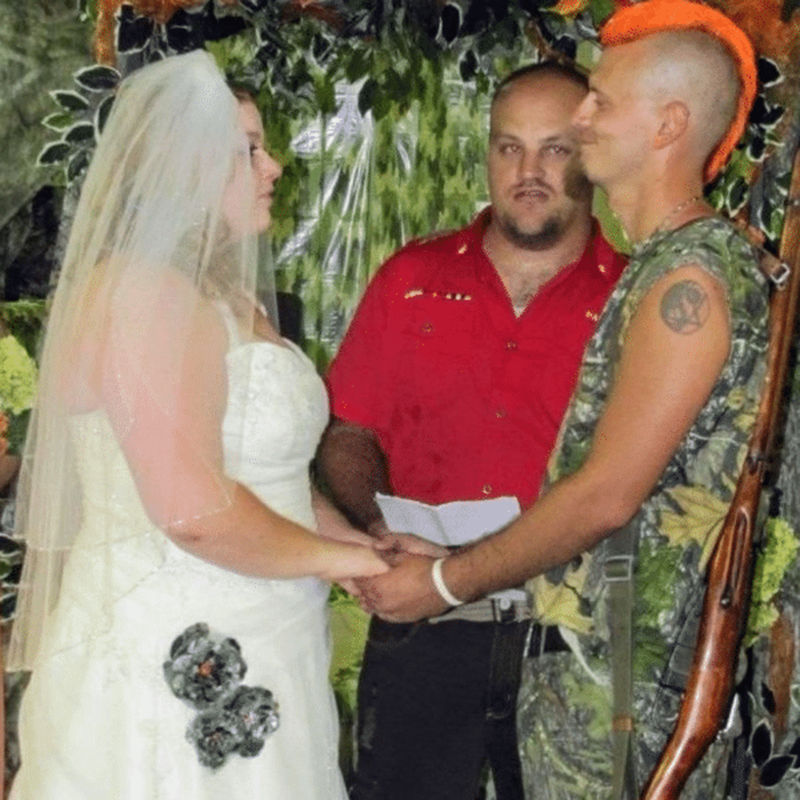 A shotgun wedding is a term you've probably heard before. But no, we don't mean this one.
This picture got us questioning. What's with the groom's orange hair? Why is he wearing a camouflage vest? What's the shotgun for? Well, one thing is for sure. It's not for his bride. As we see it, his bride even matched his camouflage theme and stitched camouflaged flowers onto her dress. It might sound sweet to some degree, but we don't think it's a good idea to wear something this eccentric to your wedding. We hope they are compatible in real life, like their matching wedding dresses.
Pizza, Anyone?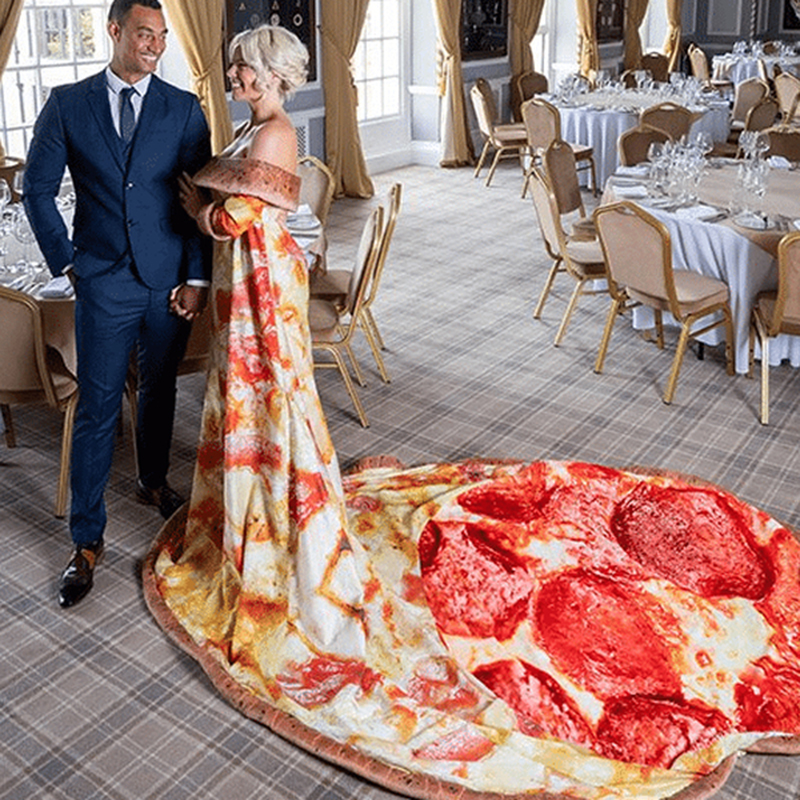 We think of a white gown and white flowers when we say wedding. However, if you're looking for something a little different—and dare we say, cheesy—here's one we can credit to this pizza chain in Chicago. They are holding a competition for upcoming weddings. The package's main attraction is a pizza wedding gown.
The gown has a long and magnificent train, just like a traditional bridal gown. Instead of being pure white, it features a highly detailed print of a pepperoni pizza with a thick crust accent. It comes with a matching pizza bouquet and a six-tier pizza cake. There's nothing more romantic or delectable than that.
She Floats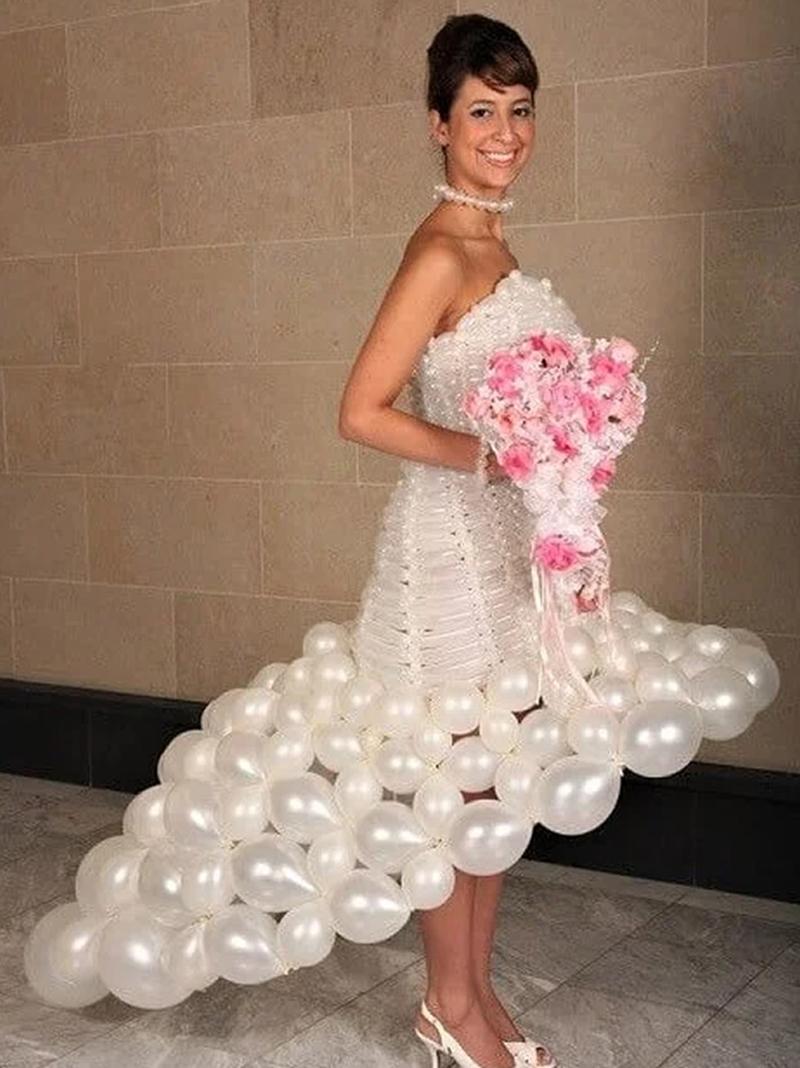 Wearing a specific wedding dress is a cultural and geographical practice that spans the globe. The white wedding gown, in particular, rose to prominence in the 1840s. Since then, designers have produced one-of-a-kind wedding gowns that meet each bride's aspirations and stand out from the crowd.
A bride should feel as though she's floating down the aisle, so a wedding gown made of balloons might not be such a bad idea after all. Now, credits to this designer for taking a bride's unique idea into a spectacular balloon reality. Well, if you can't be a little extra on your wedding day, when can you?
Here comes the bride, all dressed in..a bikini?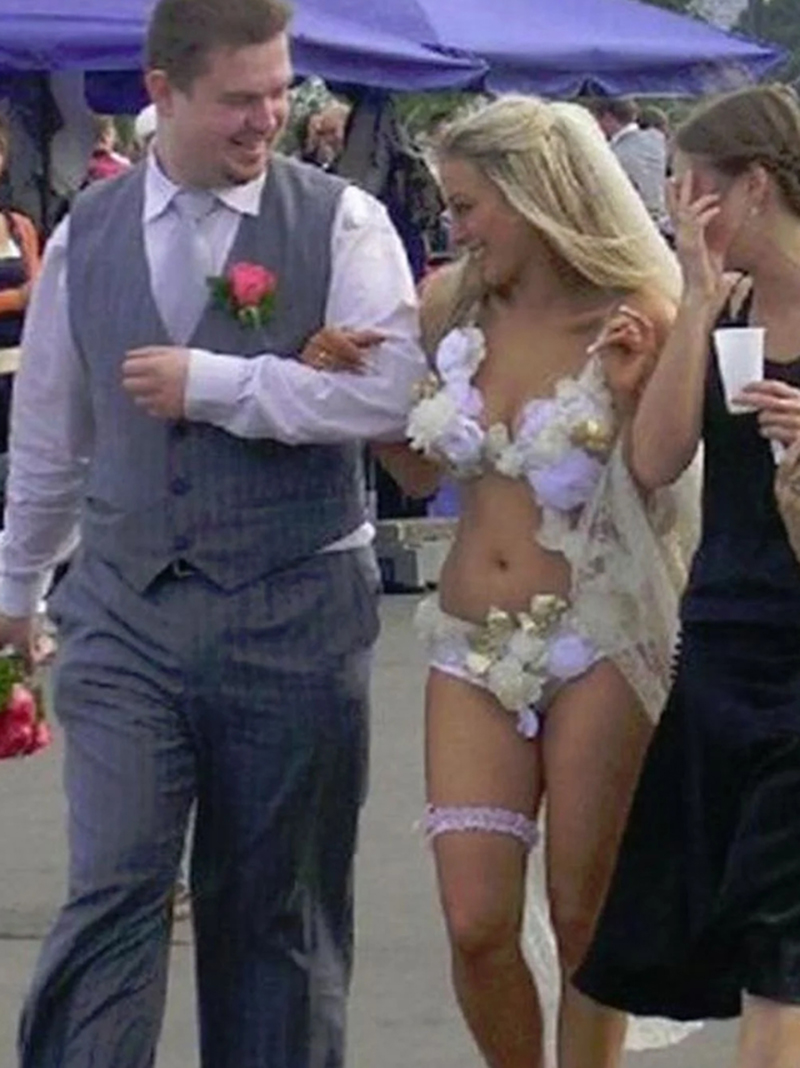 Are you willing to walk up to the altar in a bikini rather than a luxurious wedding gown?
While many brides—and perhaps the majority of their wedding guests—may find the idea unfit for the big day, a few designers are betting that some women would say "I do" to a wedding gown that she can also use to swim laps in. This bride probably did not like the idea of a trail on the flooring. While we often see swimsuits at beach weddings, this bride proved that we could wear what we wanted during our wedding. This bikini is more than a good excuse to reduce weight before the big day.
Too Flowery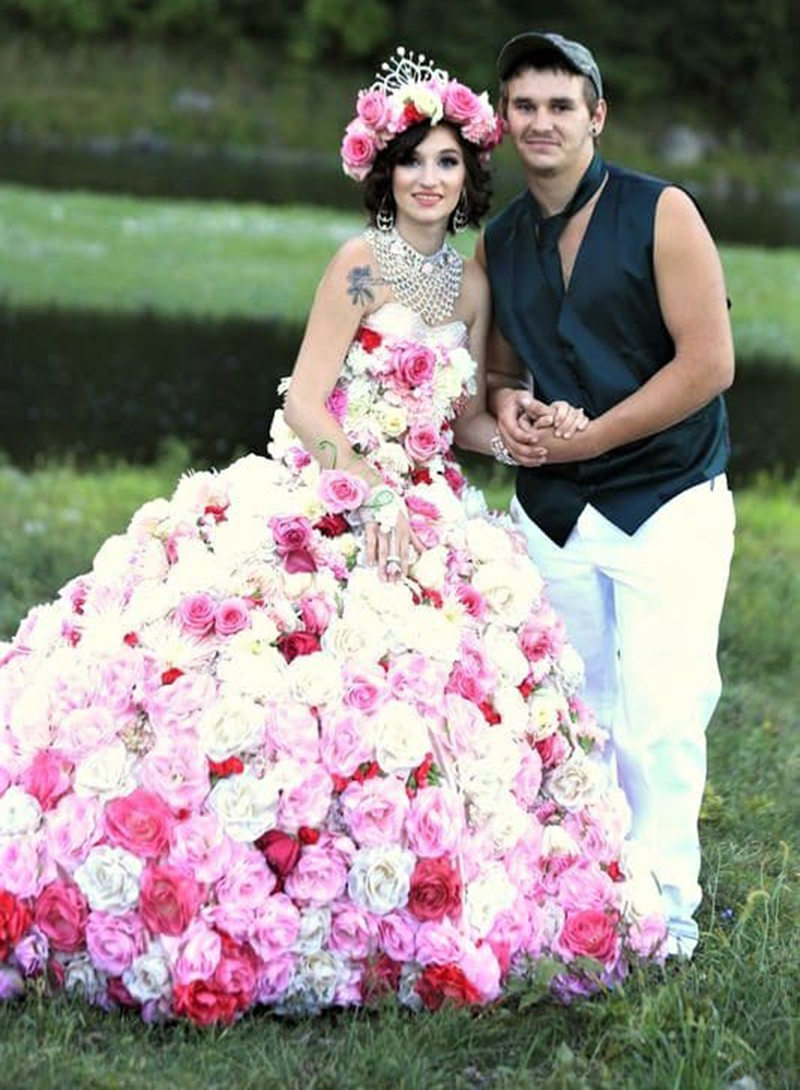 Have you fallen in love with the concept of floral wedding gowns? The only problem is that various people have varied interpretations of "floral wedding gowns." Perhaps you're thinking of elaborate lace appliqués. Maybe you're daydreaming about brightly stitched flowers. You may be picturing yourself in the most beautiful of prints. However, this bride is taking "floral" to another degree.
This dress is a perfectly wearable outfit fashioned from flowers, and your eyes are not deceiving you! It is perfect for our flower lovers out there! Don't be confused when they ask you to throw the bouquet, though. You may end up throwing your dress instead.
A little too short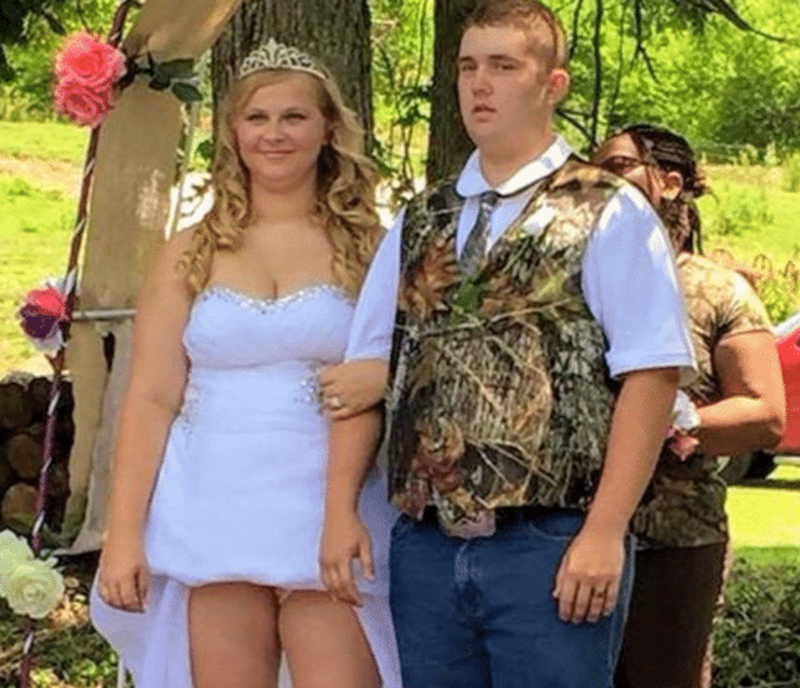 Getting ready for a wedding may be a stressful experience. You'll probably run across someone you don't know or haven't seen in a long time. Furthermore, photographers and event videographers will be present, documenting everything. You want to spend your investment money to look your best. It makes us wonder, can we wear a short dress at our wedding?
Yes. However, there is also a thing as being too revealing. We understand that the bride should be the center of attraction during her wedding. Maybe this dress is too short. It may reveal areas that no wedding guest should view during the reception and ceremony.
Too Patriotic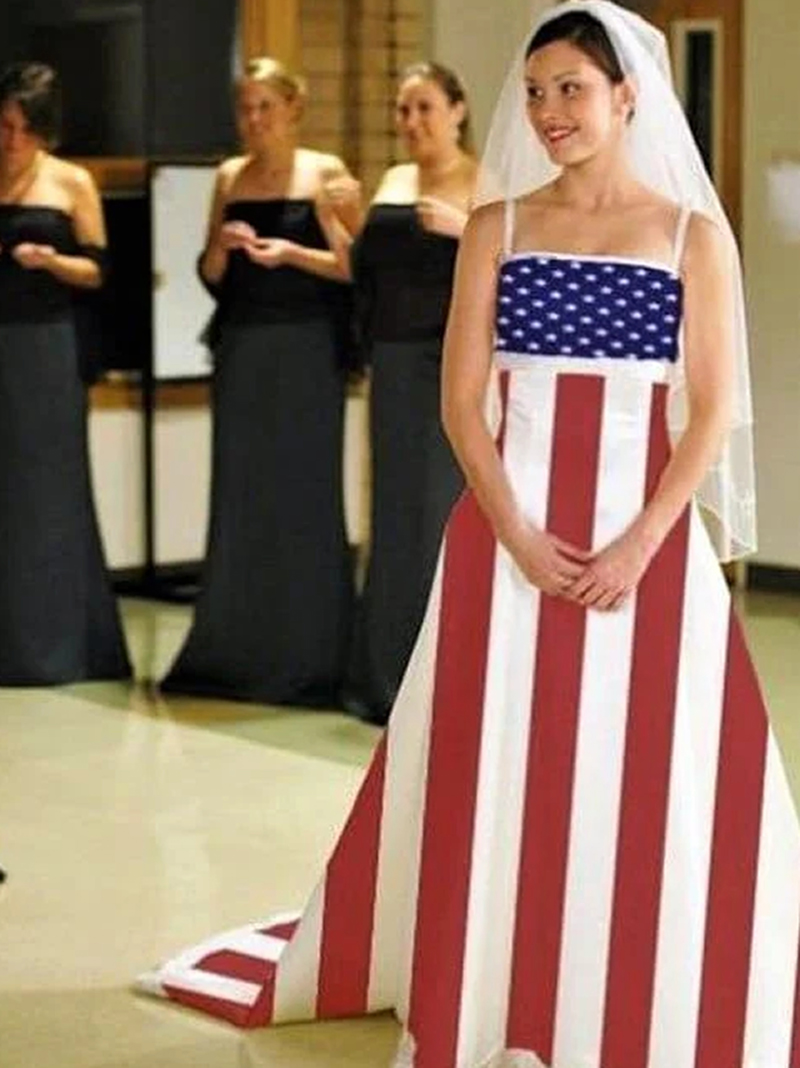 It's hard to believe, but the American flag has a market. We see them in evening gowns, prom dresses, and wedding gowns. It may be a favored method of displaying patriotism to some, but we're unsure if it's appropriate for a wedding. We're not talking about Katy Perry's on-stage outfits or rock stars draped in the flag; we're talking about serious stars and stripes.
This flooring-length gown takes the cake when it comes to unique wedding dresses. We're sure it would take an extremely patriotic bride to say yes to this gown; a 4th of July wedding might be a good idea.
Please save the dogs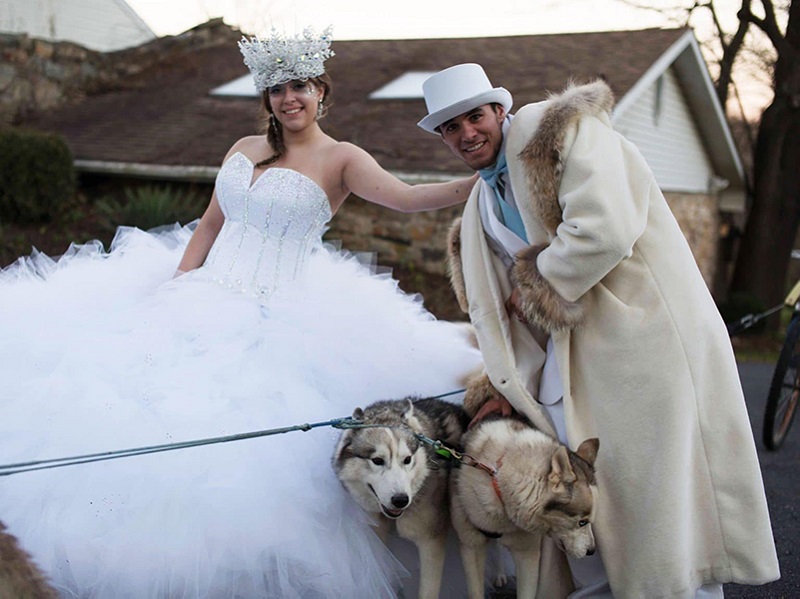 Men can wear furry coats during special occasions. However, we don't think wearing one at your wedding is a good idea.
Indeed, some people would do everything to be stylish while enjoying their wedding. We can't blame the groom if he chose to splurge his credit card on his furry coat. With his oversized fur coat, top hat, and the Husky dogs that complete the scene, we think he's trying to be as extravagant as his groom. However, we don't believe there's anything more lavish than this multi-layered gown and the crown, which appears to be so hefty that her head can barely bear it.
What is he thinking?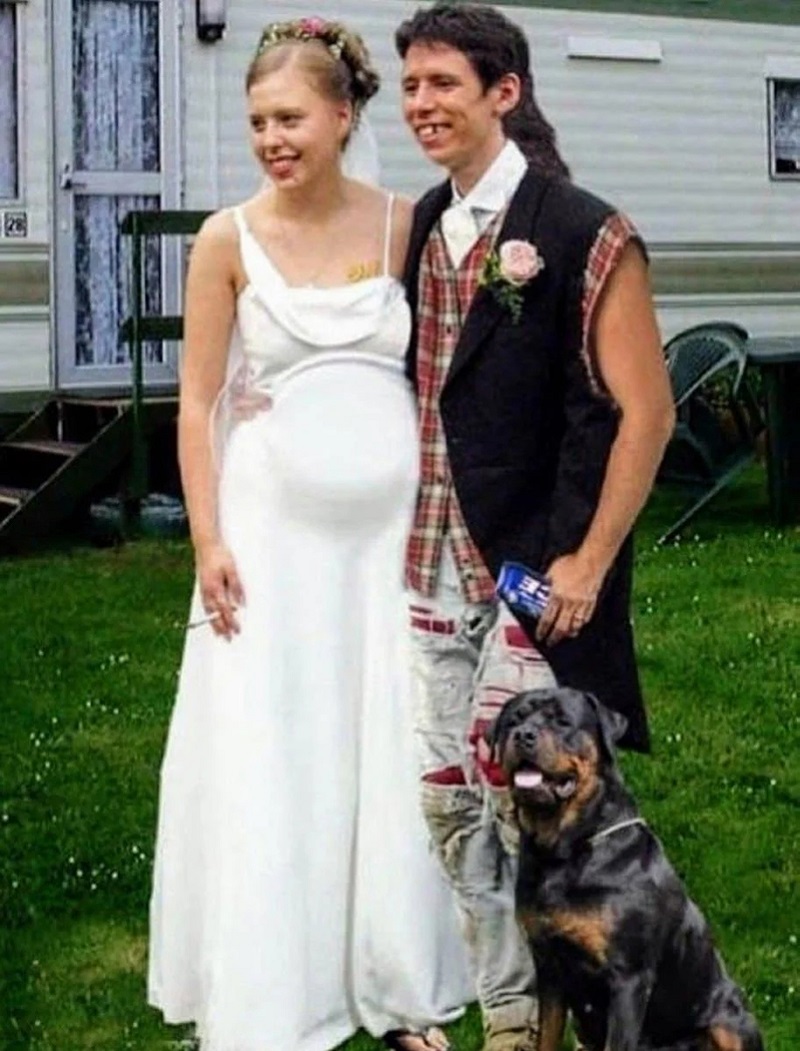 Weddings are among the most critical events in many cultures around the world. It is especially true if you are the one marrying. Let's face it, wedding pictures last a lifetime on social media, so it's crucial to look your best on your special day.
We are not sure what the groom was thinking here. Maybe he's taking a tuxedo to another degree. The bride's gown appears to be from an Haute-Couture collection. We never thought we'd say it because it always seems to be the woman to blame for the mishaps we see here, but this groom has worse taste than the bride, and we're amazed she approved this dress.
The Blushing Bride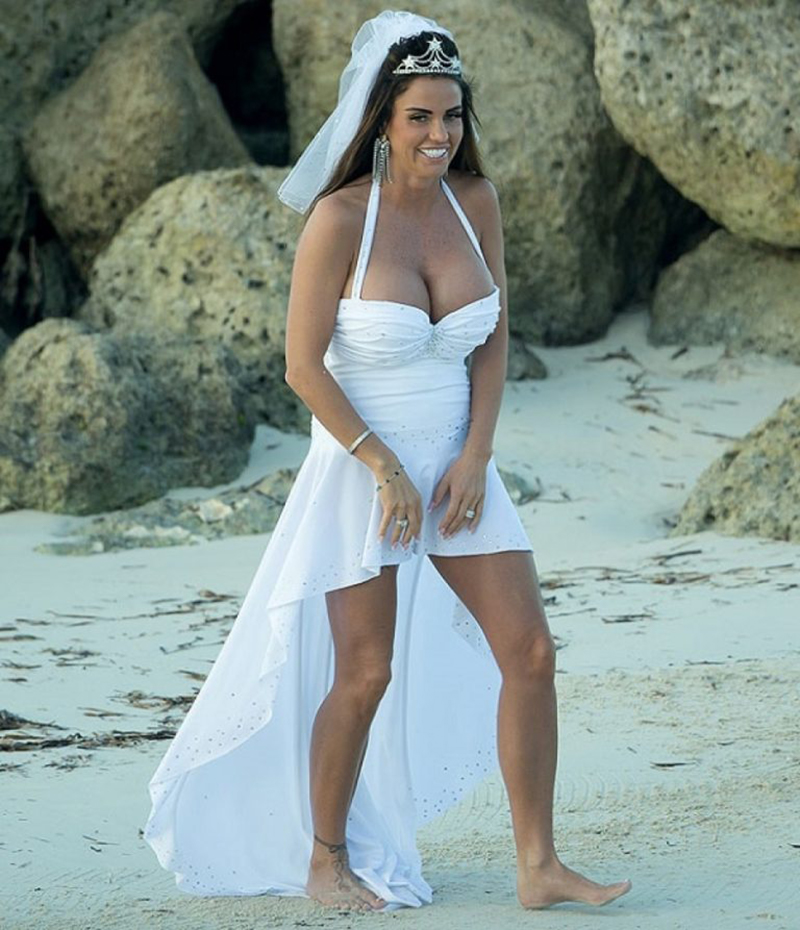 We've gone a long way since the conventional white bridal gowns of the past. They initially gained cultural traction following Queen Victoria's wedding in 1840, when the now-ubiquitous white symbolized a bride's innocence.
Why wear a whole wedding gown when you can wear half of it? It isn't precisely a bridal look. However, it's dedicated to its swimwear design; at the very least, they didn't forget about the flooring-length train! We hate to say it, but we believe this is the most perplexing gown on the list. We hope this bride didn't have second thoughts about her choice, but we wouldn't be surprised if she did!
This Girl is on Fire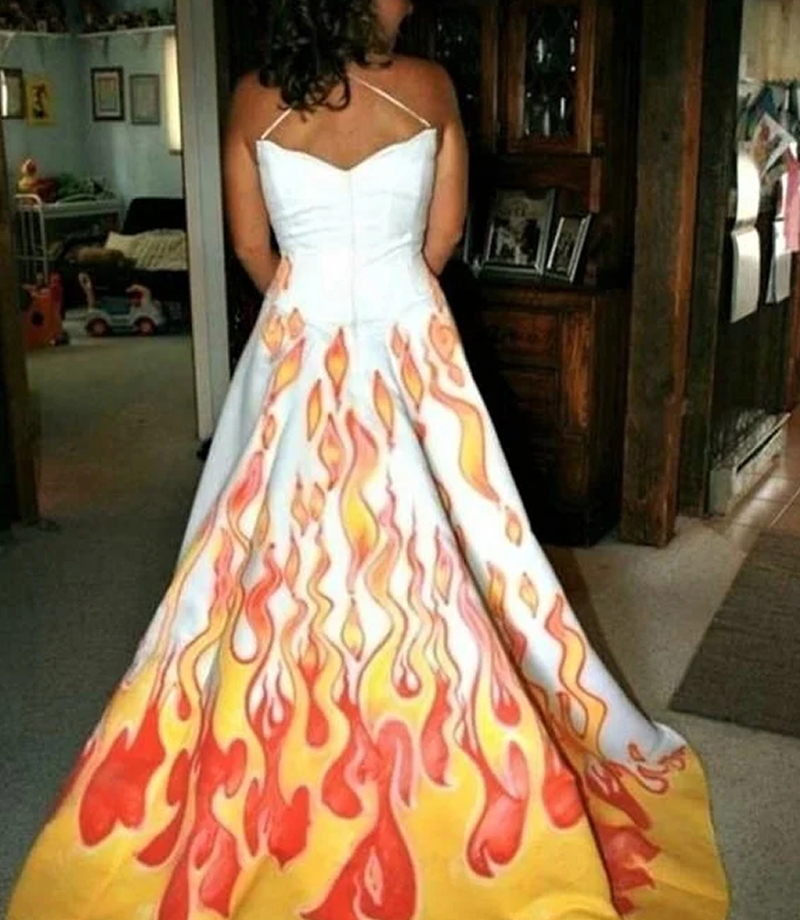 This flooring-length gown set the internet on fire…literally. Why not? That is one sultry gown, and it's scorching hot. As the bride walks down the aisle, flames of red and orange will greet her as her train rises to meet her. Perhaps these flames are painted on her train with red and orange flames that symbolize their fiery hot love.
Flames represent style. They always manage to do so. While the flames aren't particularly artistically created, they provide a hell-raising effect. In this case, we're sure the man had nothing but love for his new bride in his eyes. We can only hope that it isn't foreshadowing the relationship's impending demise.
Wear it the Lady Mary Charteris way.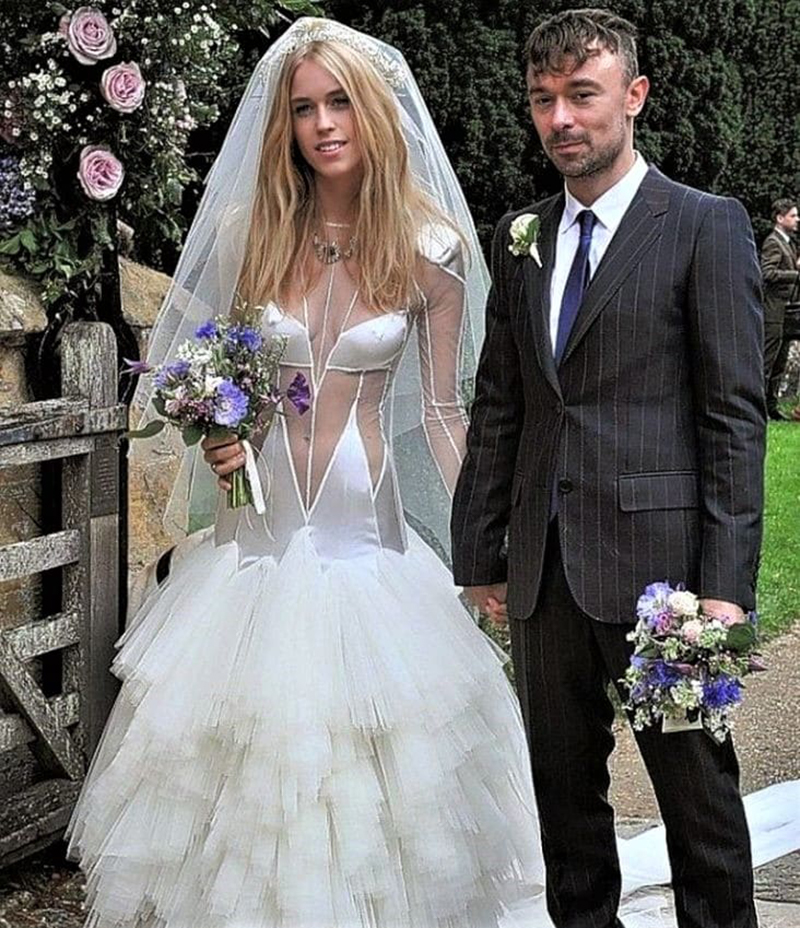 Lady Mary Charteris had an epiphany when she saw an off-white lace bodysuit in Pam Hogg's spring 2012 collection. Credits to the designer, this is something that we had never seen before.
On her wedding day, Charteris wore one of the most outrageous bridal gowns ever seen. Your wedding gown should be timeless and exquisite if you're British royalty. Yet Lady Mary chose to surprise her guests with her choice. She married rock singer Robbie Furze in an eye-catching gown, including a tulle skirt and floral headpiece. Unsurprisingly, the unusual gown was something Gaga would be proud of, and it assured that all eyes were on the bride.
It's no Snowman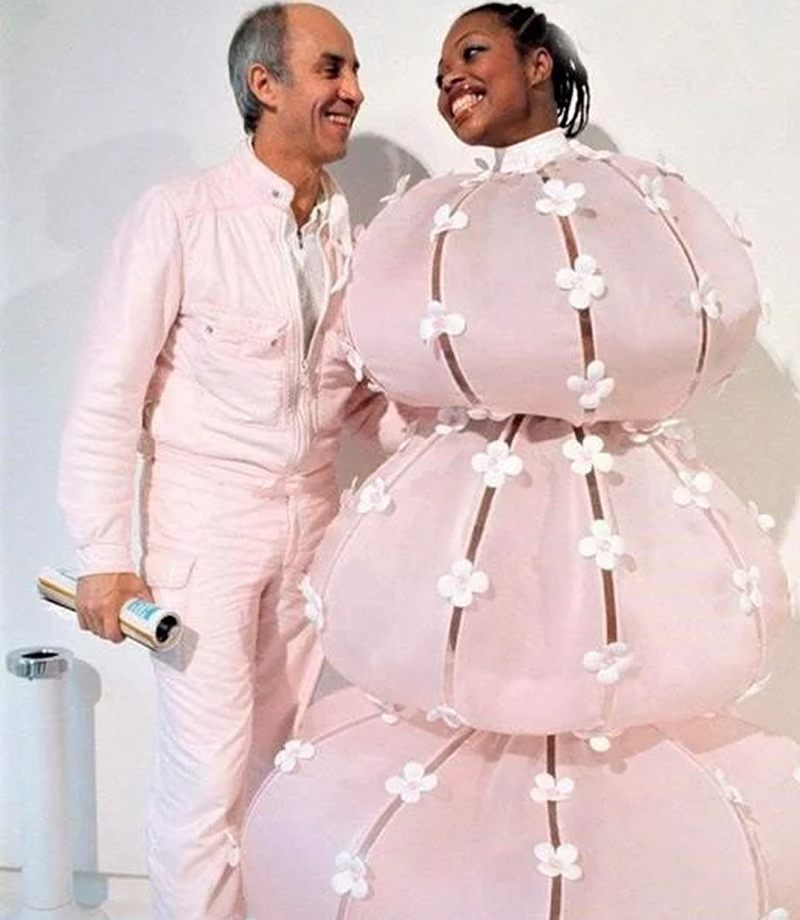 Do you want to build a snowman? What about a bride made of snow? It appears that they have freshly wrapped the bride into three white snowballs with white flowers on top. Let's hope the wedding isn't just a massive snow job to deceive everyone into thinking they're married.
We have a lot of questions here. Where are her arms? Is she going to have to be rolled down the aisle? The groom is even dressed in white boots as if he is ready for any weather. Could he just spend his investment money on a little more than the slightly unzipped white jumpsuit?
Don't burst her bubble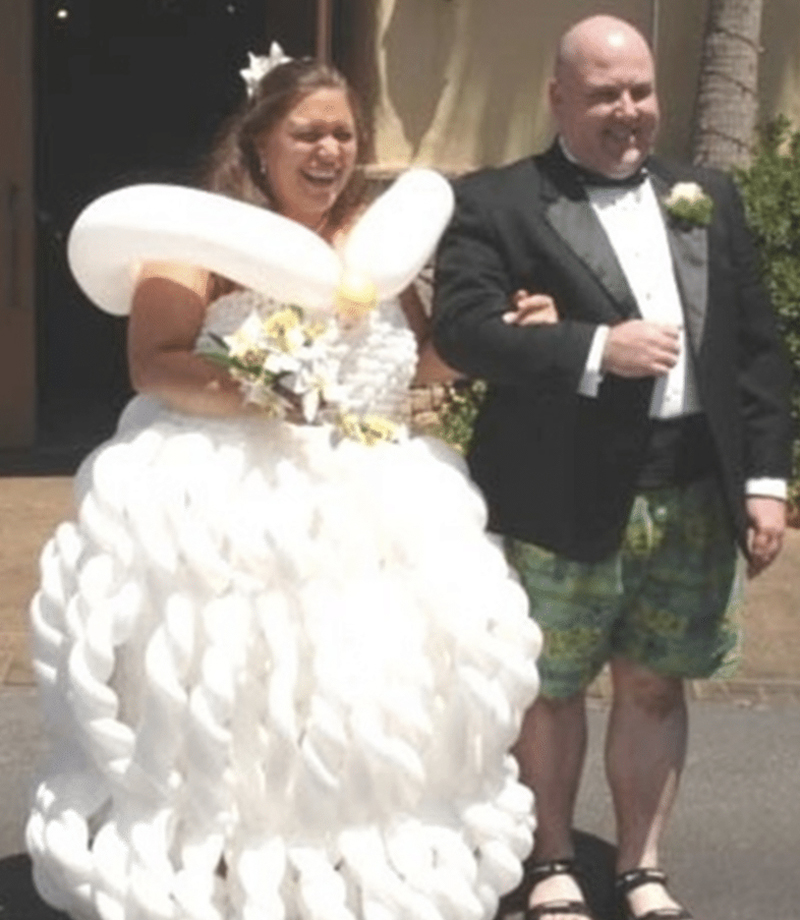 Is she about to be deflated, or is it an elaborate piece of art? Don't come too close if you have any sharp objects on you. Even with a white balloon tiara, this bride's entire gown is sure to pop. Perhaps she met her future husband at the circus, where he created a balloon animal for her.
The flooring-length dress has intricately positioned balloons and is full of a pastel rainbow of balloons that appear to form wings. Whatever the rationale behind this outfit, one thing is sure: it is one-of-a-kind. The bride shouldn't sit down unless she wants to make loud popping noises in celebration.
The Bridal Bakery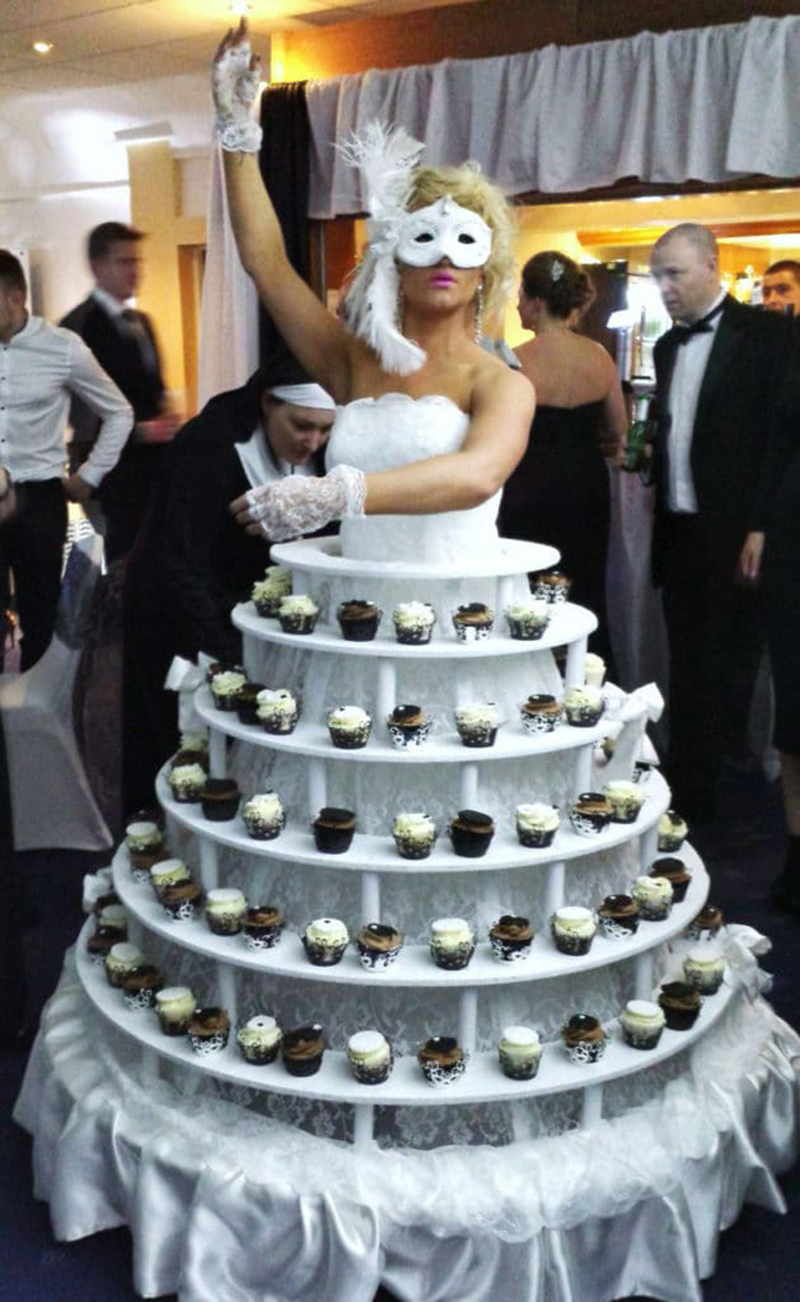 We're ready to do business! This bride didn't play around with her bridal favors. This woman enjoys cake, as evidenced by the tiers upon tiers of cupcakes that line the hemline of her gown. The groom should be concerned—there's probably a huge chance that she'd choose cake over him any day.
Let's be honest, cakes are good for you at all times of the year, whether you're happy, sad, or just plain miserable. That, my friends, is the dreadful but very sweet truth. Credits for putting up the effort, and at the very least, they avoided the costs of hiring waitstaff.
The Hairy Dress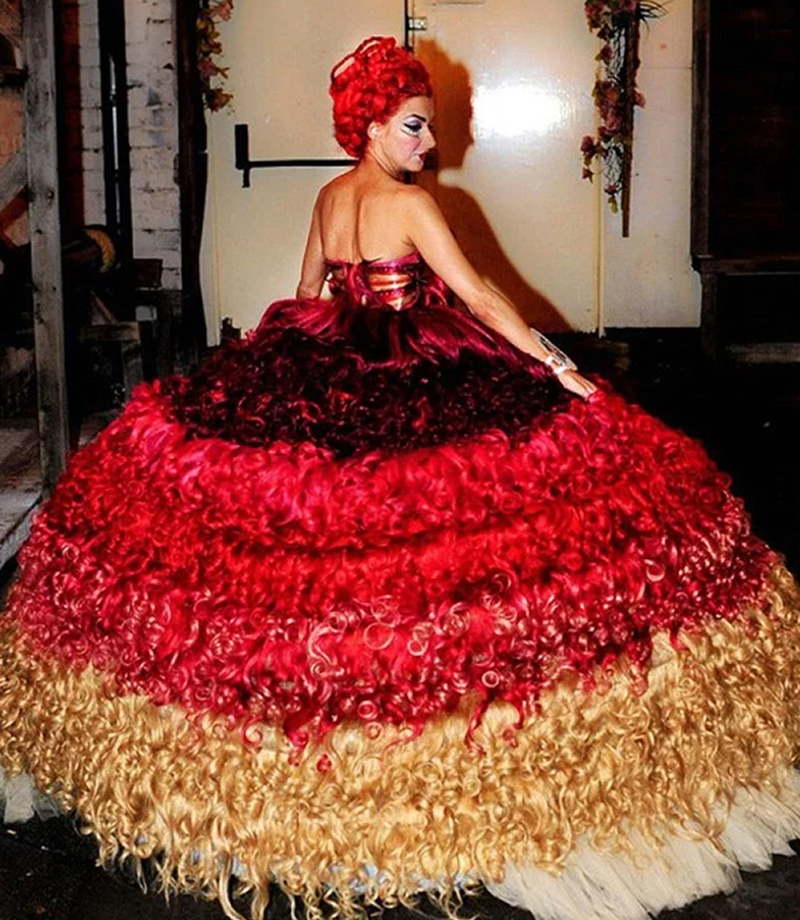 She might have the groom's head if he doesn't watch his step. Let's hope he has a great, healthy head full of hair. This bride appears to have a thing for hair to some degree. They sewed two hundred fifty meters of human hair into this custom-made robe. That's right! It's all human hair that used to be on a person's head.
It's unclear why most of it is painted in various shades of red, ranging from light red to crimson. It's also unclear why the bride's hair is the same color as the gown's reds. What is evident is that the gown is unmistakably unique.
For the Love of the Game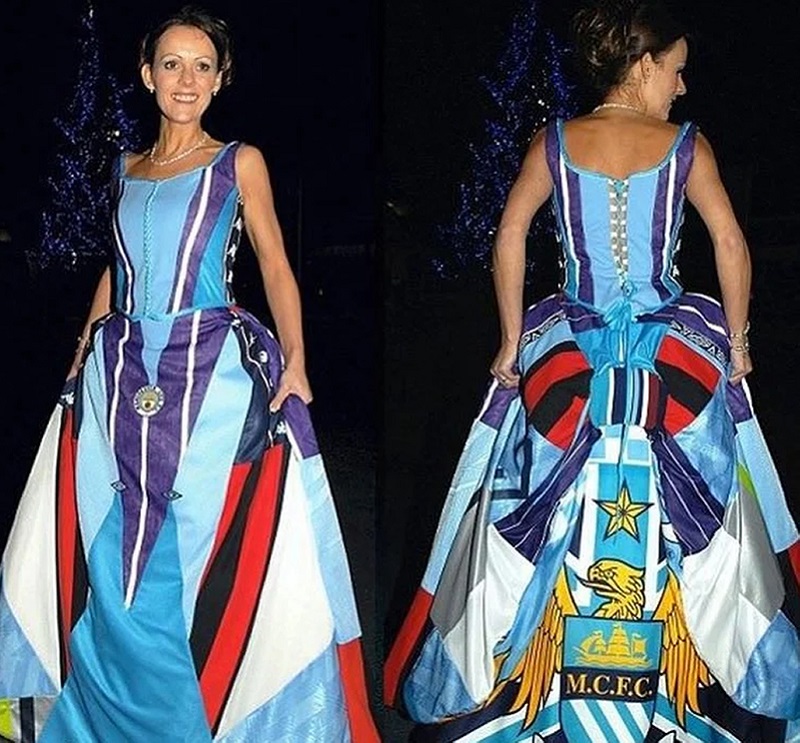 Manchester City isn't slouching when it comes to selling merchandise. However, one area where the club's marketers have fallen short is bridal attire. Karen Bell eschewed the conventional white wedding gown favoring some of Simon's old jerseys when she married him. After the ceremony, Karen and Simon went straight to the Etihad Stadium to see Kun Aguero and his teammates put three past Stoke.
It looks pretty tasteful, considering the brilliantly colored sports clothing acquired over thirty years. However, the dress's appearance isn't everything. What better way to show a man's degree of love? Give up his complete collection of favorite football jerseys.
On the Safe Side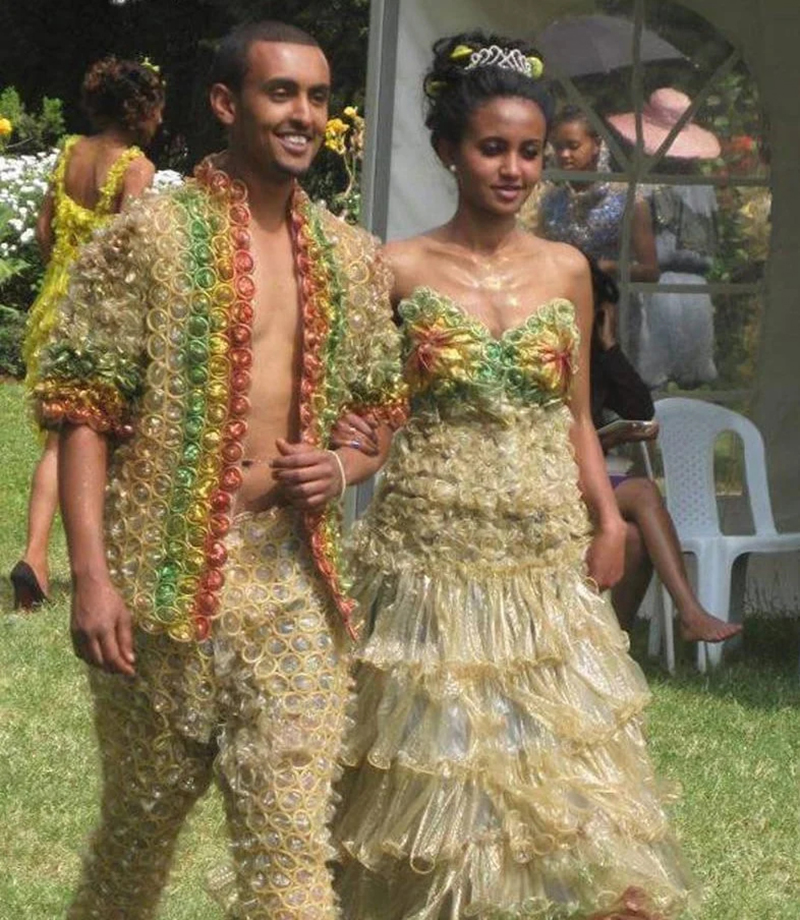 A contraceptive wedding gown is a surprising answer to a crisis, but its message is unmistakable. It also makes for a humorous town monument. What better way to teach your guests about premarital encounters and contraception than by wearing this dress? Many, to be sure.
However, it's not nearly as entertaining or distinctive as this one! We're not sure how this qualifies as acceptable, comfortable, or fashionable. However, we credit the courageous few who believed it was a good idea to design such a dress in the first place. Any blushing bride wearing this gown would undoubtedly make a lasting impact.
The Bridal Peacock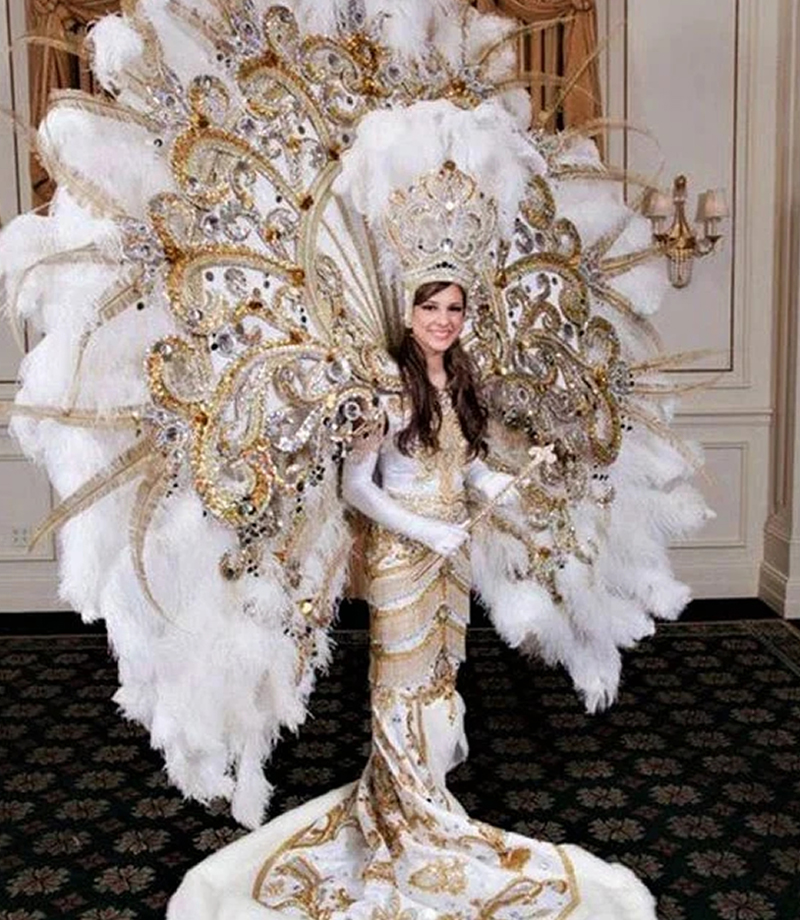 Peacocks have some of the most beautiful plumage in the animal realm, and it appears that the bride below was inspired by them. Unfortunately, she appears to be more of a carnival dancer than a bride. Can we also pay attention to the weight of the gown? Thousands of feathers, plus more gold beading than we've seen so far on this list.
There's no doubt that this is a work of art that took an incalculable time investment to create. However, wouldn't you rather be able to move around and enjoy yourself? After all, it's the bride's big day! We just hope no animals were harmed.
Dress from the Candyland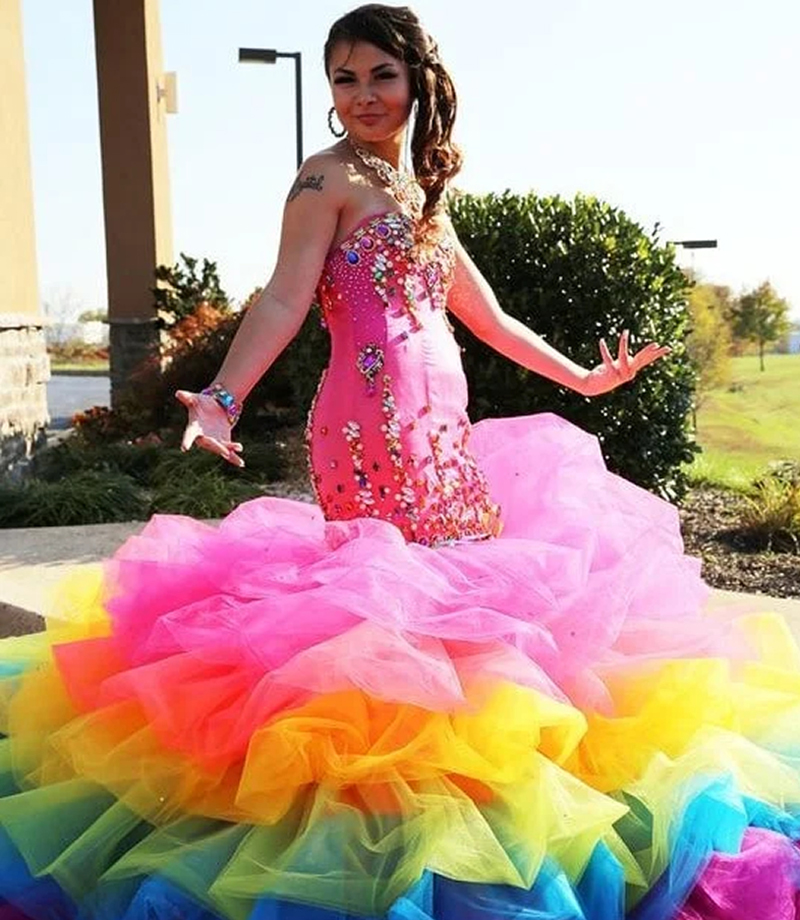 Wearing a rainbow wedding gown has a mystical quality to it. Whether your dress is entirely made of colorful tulle or has dots of every color strewn about, it quickly adds a splash of color to all of your wedding images. It'll give your wedding a jazzy, lively vibe, and because the rainbow can signify so many many things, you can take it to another degree.
Nobody—and that's precisely the point—can pull off a tulle gown in every pastel color of the rainbow.  Some may think it's a little too flashy, but the girl in the photo appears to be rocking it.
The Prom Princess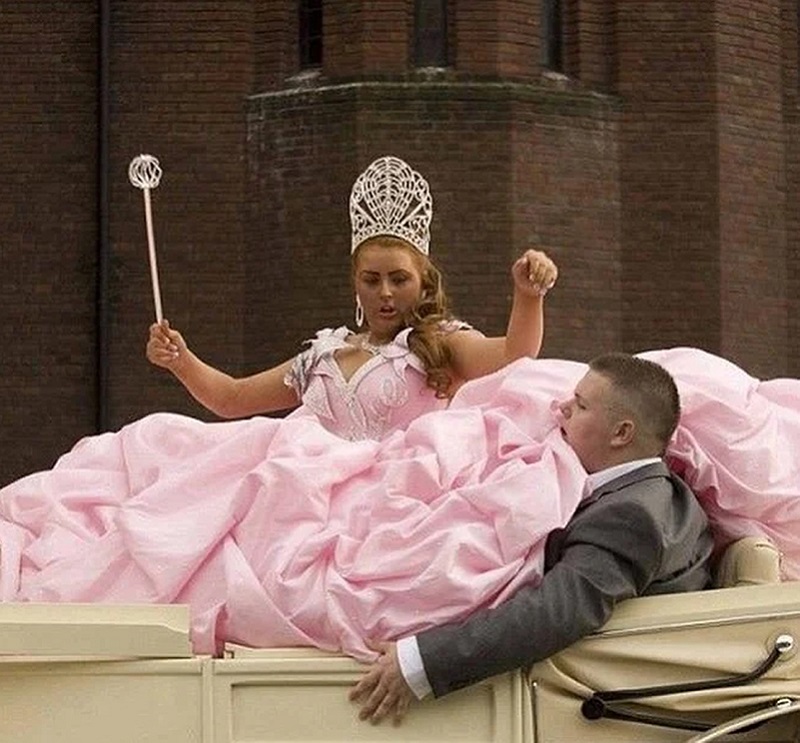 You'll want to stay awhile to appreciate this bridal gown properly. Is it good enough for a fairytale? Yes. Is it a pink color? Yes, twice. Is it on the verge of being shocking? Indeed, we do not doubt that this bride has been referred to as a princess her whole life, so it's only fitting that she is like the princess she is on her wedding day!
In a vast space, frills upon frills of marshmallow pink fabric would look lovely. However, it looks like the bride is suffocating her groom. Does he appear to be bothered by it? We should credit the groom who seems to be doing anything for the sake of his future queen.
Love it or loathe it?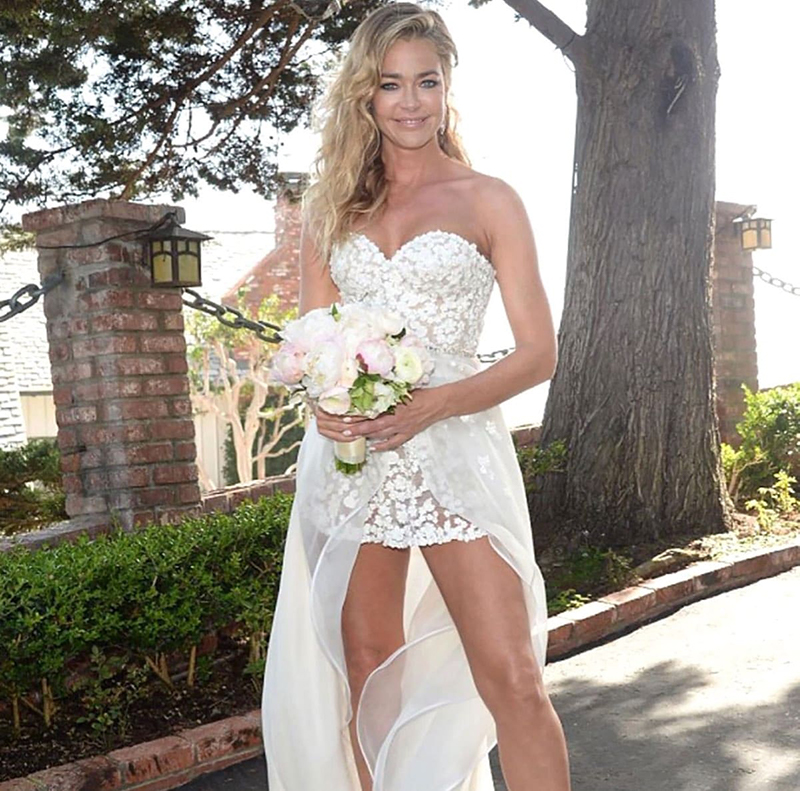 When it comes to wedding gowns, people's opinions are often solid and unwelcome. Yes, the expression "if you don't have anything pleasant to say…" comes to mind, and it certainly applies to the majority of those discussing Denise Richards' wedding gown.
Richards only gave designer Mark Zunino twenty-four hours to make her perfect bridal gown, so planning for the big day was tremendously rushed. The post may have gotten a lot of attention because of the celebrity it was for. Well, she could have used her investment money to buy something grander than this. Remember, the whole world is watching you.
The Ombre Effect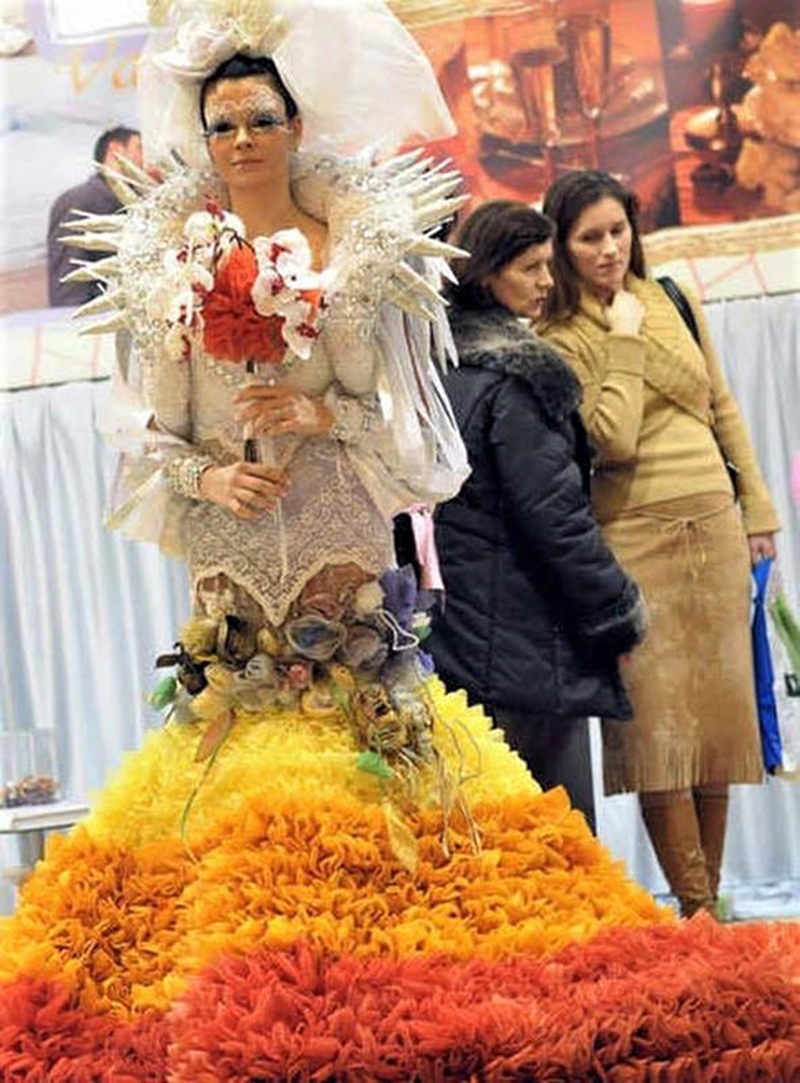 Ironically, the bridal gown with the most puffs and bundles of tulle on the list, as well as an ombre effect, isn't even the one we're most concerned about. Tulles give any ensemble a sense of pomp, air, and joy. They match various outfits and give a pop of color to your ensemble. However, this bride went a little too far.
As a result, this flooring-length gown compensates for what every traditional wedding gown lacks: color! Not just one or two colors, but many things are going wrong here: the make-up, the spikes, and the headdress. We just hope the groom didn't match her gown.
Too Tipsy
It may be the most precise illustration of why wedding day toasts come after the ceremony. Someone appears to have given this bride a little too much celebratory champagne. Although the gown appears to be light and breezy, it may be causing this bride to become a little tipsy. Or perhaps she's experiencing a heavenly degree of happiness on her big wedding day.
The white streams and feather-like boa seem to continue forever. Is the bride carrying her bouquet around her waist as well? Regardless of how light and airy this bridal gown appears to be, the guy appears to need some assistance in holding her up.
The Newborn Groom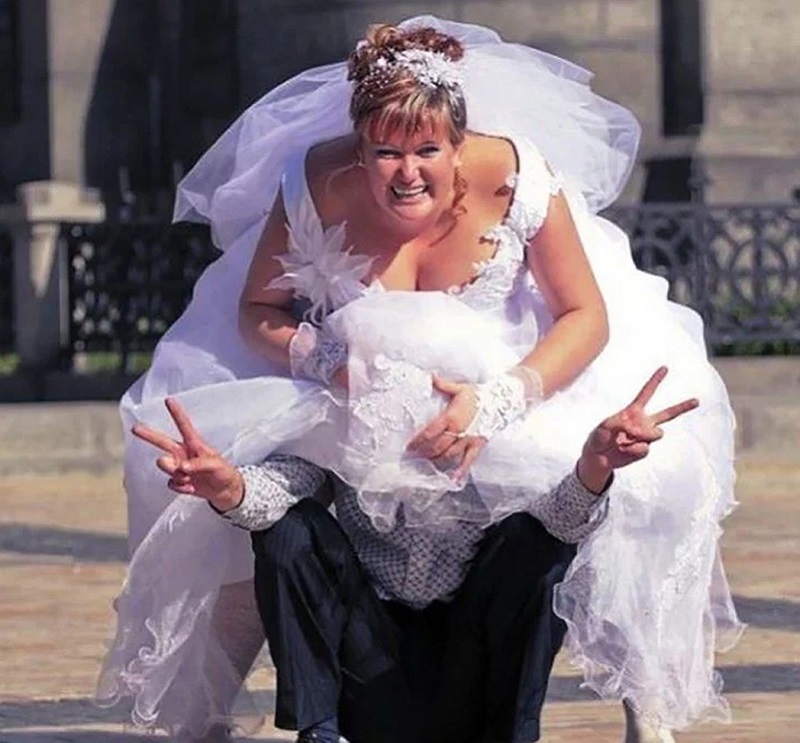 It might take months, or years, to prepare for a wedding. Couples obsess over every last detail to ensure that their wedding day is flawless. Unfortunately, no matter how much time investment we put into arranging our wedding, it's challenging to have everything under control at all times.
Wedding shots are common among brides and grooms, but they usually include a beautiful backdrop and photos holding hands as they walk towards the sunset. This one looks like she is giving birth to her groom. We see nothing wrong with being creative and having fun with your wedding photos, but this is strange.
The Victoria's Secret Wedding Dress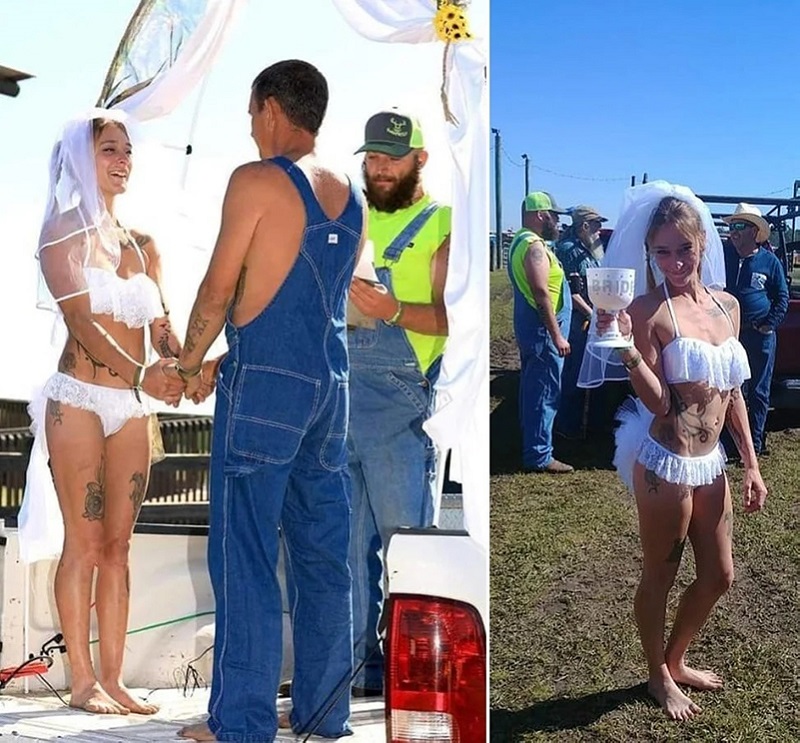 Some wedding gowns are almost too exposing. Thin panels from the neck to the bikini line, with lace covering up everything else God provided you. They appear to be in style everywhere other than the fashion catwalk (which, btw, is where we wish it would stay). Each year, we see more and more skin on weddings. Wedding gowns might sometimes expose more skin than swimming suits.
Take this bride as an example. This happens when you get drunk before going wedding dress shopping and end up spending your credit card in a bikini shop instead of a bridal boutique. Maybe it's stealing people's breath away in the wrong way?
Too Trashy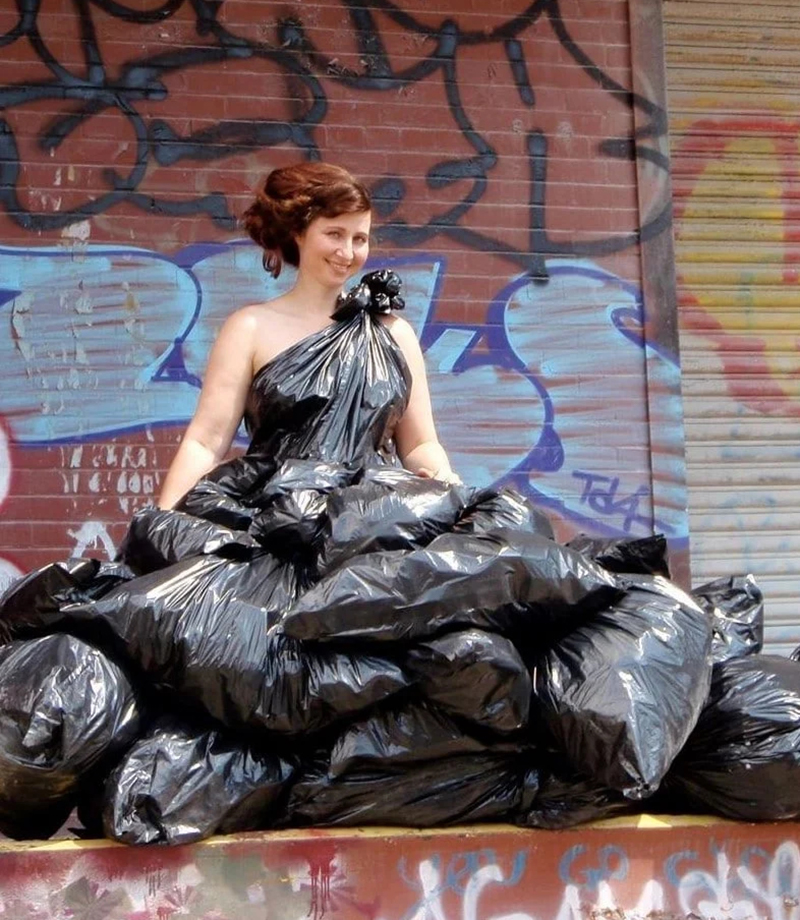 One person's trash is another's treasure. This next bride indeed lives up to that phrase. We're a little perplexed and horrified to think she spent her investment money on this. However, hey, it's the bride's decision. There's undoubtedly a method to her madness, as she's dressed head to toe in what appears to be junkyard debris.
At the very least, the outfit is eco-friendly, right? Her soon-to-be husband doesn't appear to mind in the least. Speaking of which, the groom may be in a trashy suit too. One thing is for sure: this gown is not the best pick for your wedding day. Please toss it in the garbage.
Calling all Train Holders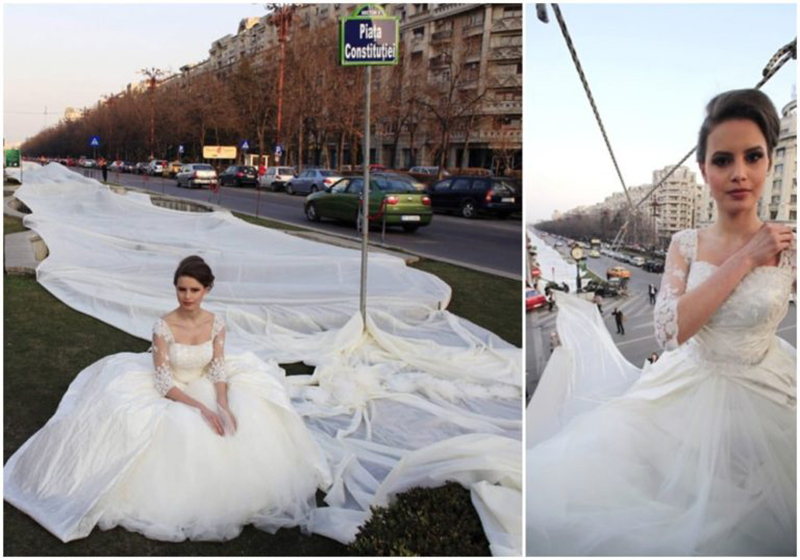 Pity the bridal party who has to carry this train. According to the Guinness World Book of Records, a Romanian wedding salon has designed a dress with the world's longest train. The Andree Salon created a 1.85-mile-long ivory train that ran through Bucharest's city center.
What better way to enlist everyone's help on your wedding day than to have them hold your train! With the world's longest bridal train, the bride needed the help of every single wedding guest to walk down the aisle. We'd hate to be the seamstress in charge of that dress's construction. Imagine the time investment and material! However, hey, no request is too much on a bride's special day.
Seeing double?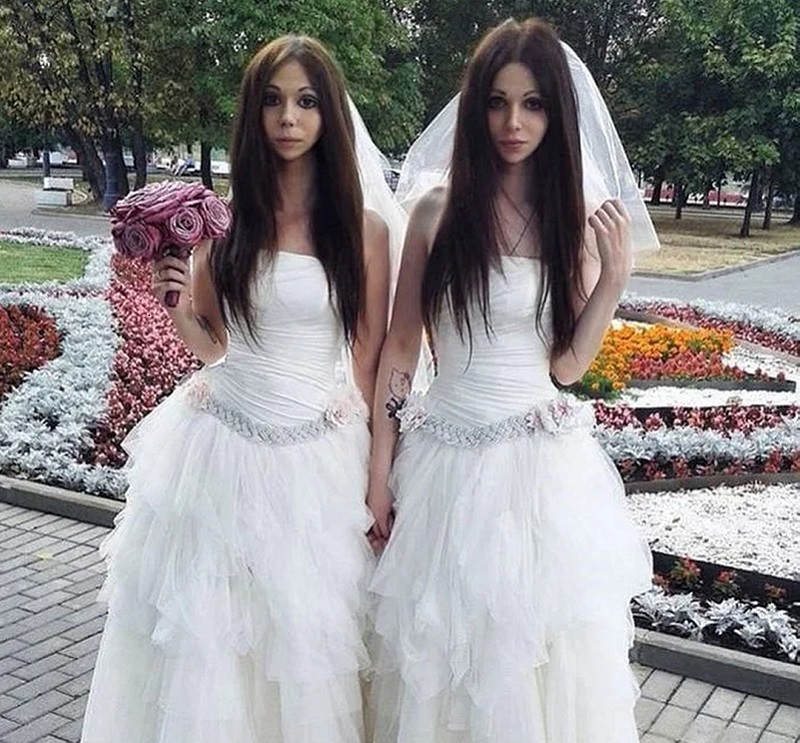 We've all heard of a double wedding, where best friends get married on the same day. However, twins getting married on the same day is unusual. It's understandable if you did a double-take, but your eyes aren't deceiving you. Imagine having such a substantial degree of bond with your sister that the two of you decide to marry on the same day.
The women looked incredible in their matching bridal gowns and crowned veils. It was something that could have given their wedding guests a hard time figuring out who was who. What's even better? These two sisters will remember each other's wedding anniversary for the rest of their lives.
A Very Wooly Bridesmaid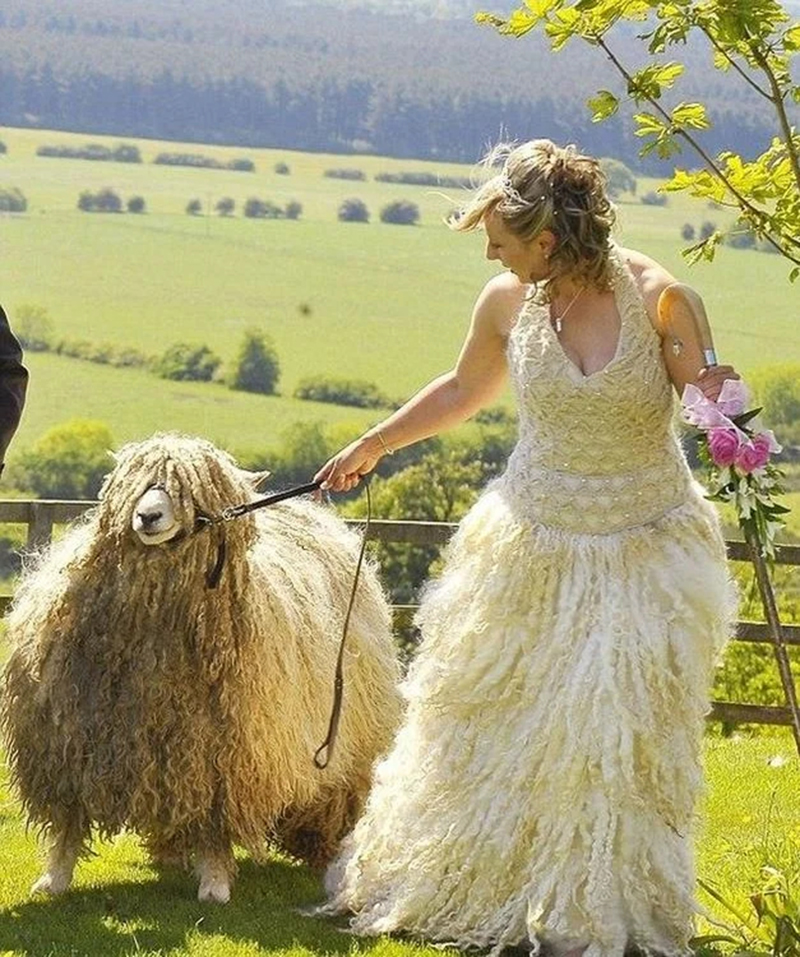 Looking at this photo, many might think that the most unusual thing is the wooly sheep being dragged by the woman in the dress. While the sheep is already the center of attention in the picture, another one is that the woman's dress is made from wool similar to the one found on the sheep she was dragging.
While the dress is somewhat nice to look at, the fact that it is made of wool is quite inconvenient since wool is quite heavy. How the woman managed to carry the sheer weight of the dress is quite unclear. Regardless, it seems that the dress might have taken a lot of investment to make.
Being One with Nature?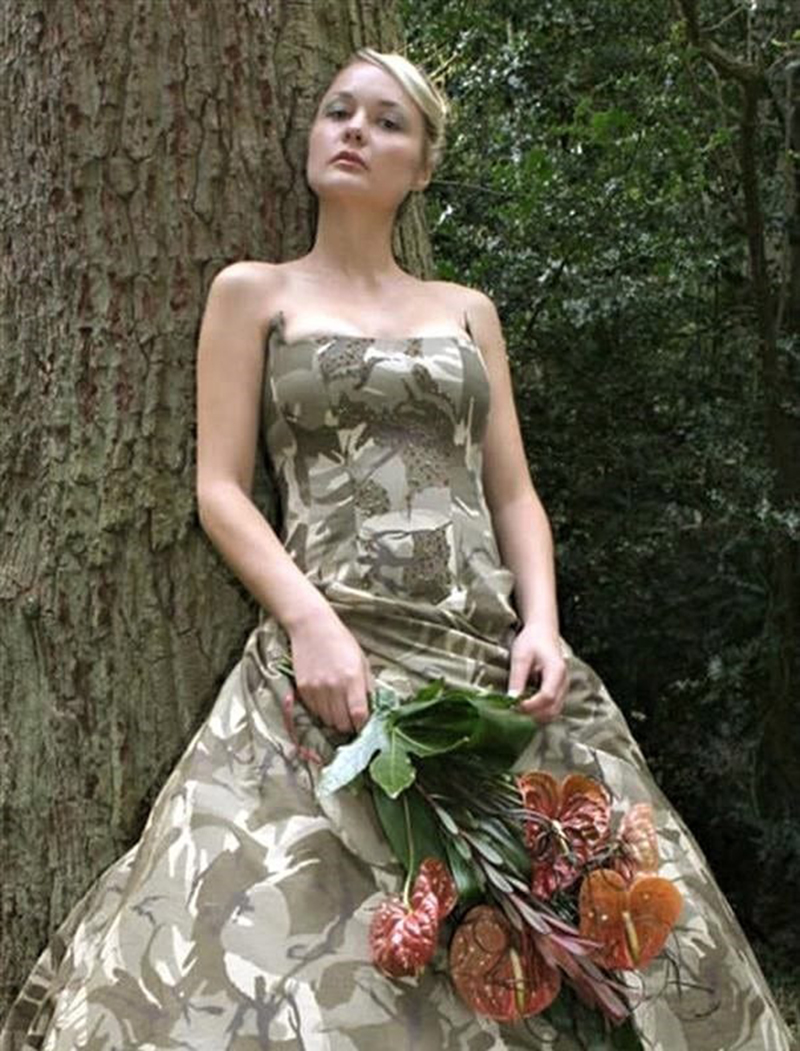 We already are quite aware of people trying to wear camo as a formal attire, which just does not look good at all. Many reasons can be made as to why some wear such clothing, such as apparently trying to blend in with nature. Take, for instance, this woman who decided to wear a camo dress for her big day.
While her dress is quite fit from the top, the fact that something used for utilitarian purposes ended up for fashion just seemed out of place. Then again, it is perhaps something that the bride had wanted and, like many soon-to-be spouses, she may have poured her investment money into this one.
All Covered Up like A Magistrate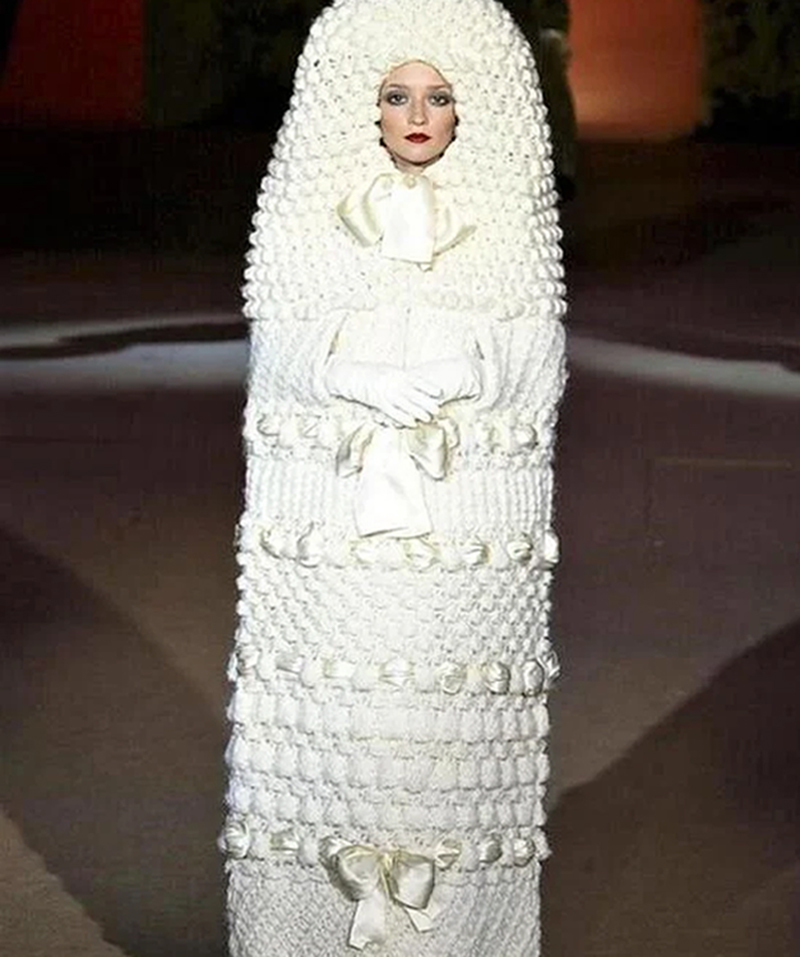 If there is one thing about fashion shows, it is that a lot of dresses showcased are bound to be weird despite some of them being credited for spurring many fashion trends. However, this dress is not one of them.
The dress has managed to convey an aristocratic theme in the trashy sense. If a bride at her wedding decided to somehow wear this, she will stand out like a sore, pale thumb among the attendees and wedding participants. In addition, she cannot dance and move properly while wearing that thing. To add the cherry on top, the woman in the picture wore flats instead of heels, which made the whole affair messy.
A Traditional Dress, Somehow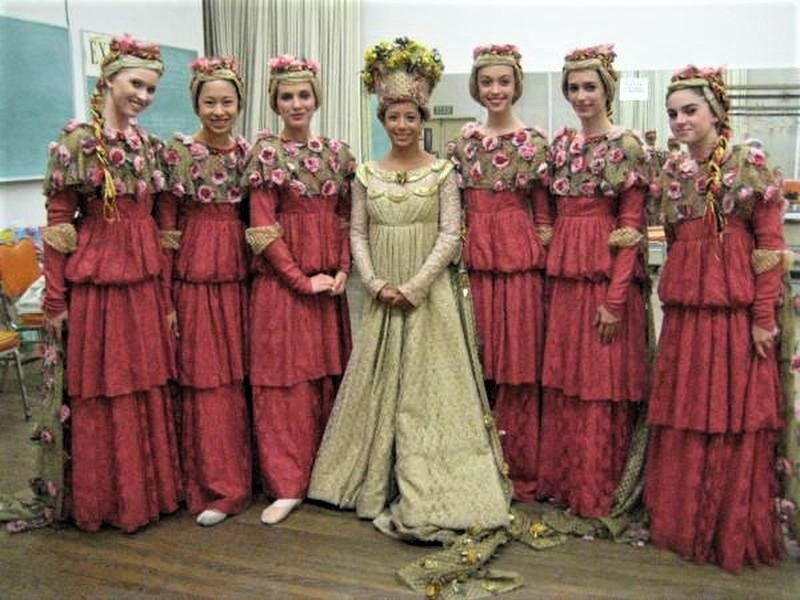 While there are so many traditional wedding dresses that actually look beautiful, this one though is quite meh. The bride's headdress pretty much made it the center of attention instead of the dress, which defeated the purpose of wearing one, to begin with.
To top it off, her bridesmaids wore dresses that seemed to be poorly designed for a traditional dress. While their headdresses are not as prominent as the bride's, it seems that the dresses were pretty much one that can be left to be desired. To the bride's credit, the headdress seems to look nice, looking like a basket of flowers.
Discount Barbie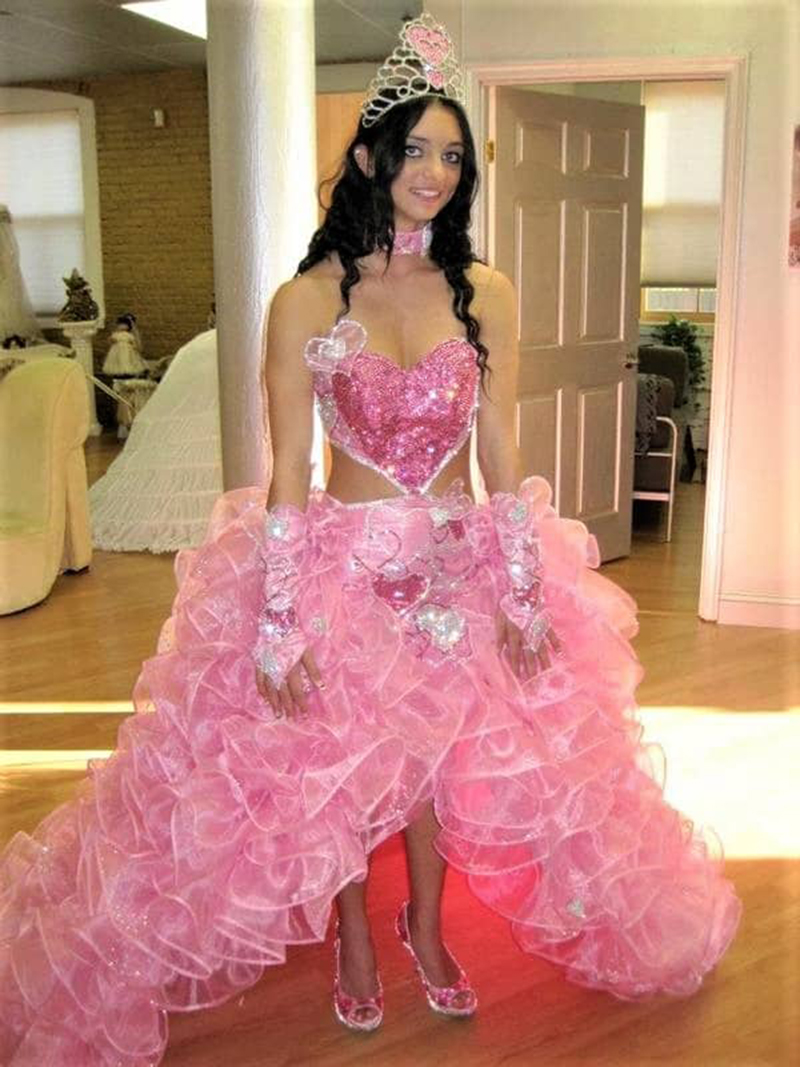 Barbie is pretty much seen by millions around the world as the epitome of an ideal woman. Beautiful and able to work on multiple jobs such as an insurance clerk, teacher, and cook, she is looked upon by many. Yet, translating her style in the real world in the form of a dress can lead to disastrous results.
This woman, for instance, dressed up as the iconic doll for her big day. Just by looking at the photo, two words come to mind: discount and trashy. The shiny pink color pretty much sealed the hideous overall look of the attire.
Too Long to Drag it Out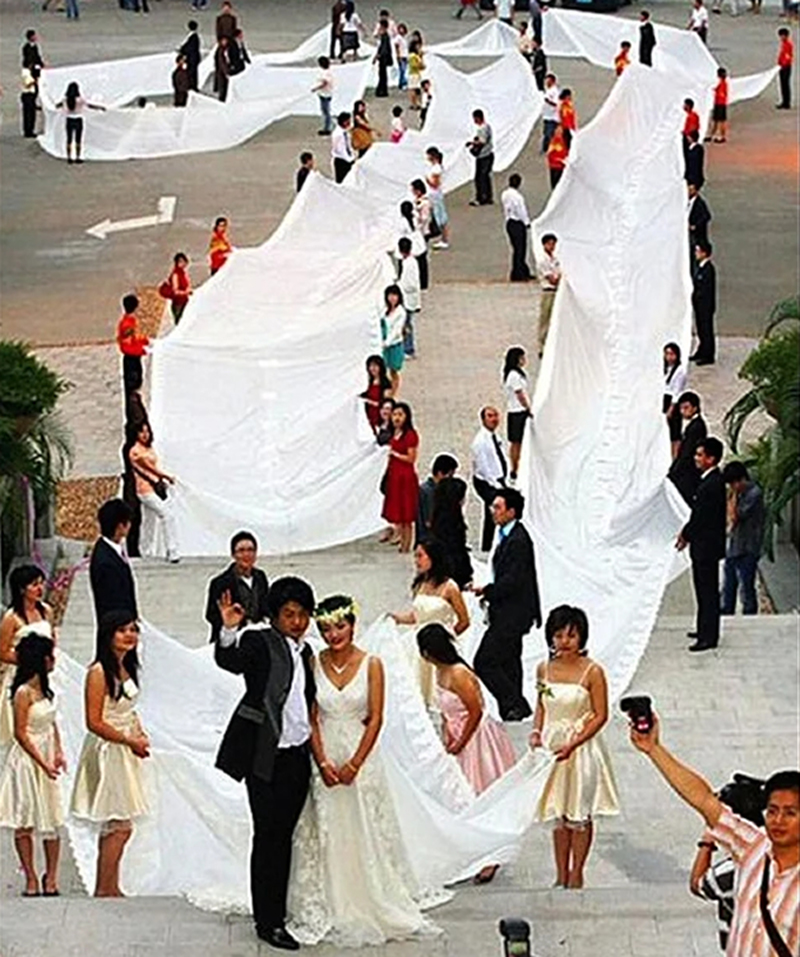 While we expect veils to be quite long, we did not expect this one to be this quite long. Apparently, this bride somehow wanted to wear a veil probably stretching nearly a kilometer in length for her big day. While the belief behind the length of the veil is based on purity, this one is pretty much boasting it unnecessarily.
Just by looking at the photo, we can count at least thirty people tasked with holding her veil. Not only was it an unnecessary cost to her future investment money but also a burden to those holding the veil. However, this veil does deserve a spot on the Guinness World Records for the longest wedding veil ever.
She Really Loves Hello Kitty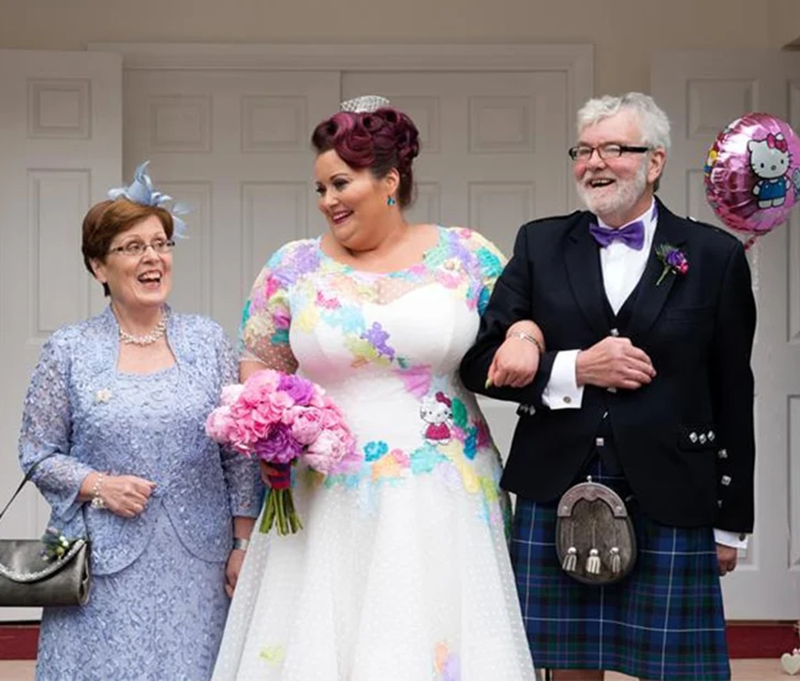 There is a saying that goes 'We are all children inside.' It seems that this bride decided to showcase her inner childhood during her big day by wearing a Hello Kitty-themed dress. While most soon-to-be-wed couples tend to stick to generic themes such as unity, togetherness, and love, this woman made her love for the iconic kitty character known.
While the dress is quite cheaply made just by looking at it, it cannot be denied that she is quite happy about wearing it. Even her parents are happy about it. After all, regardless of how elegant or how much investment one spends on their big day, the most important thing is that the couple ends the ceremony happy.
Champagne-Themed Disaster Waiting to Happen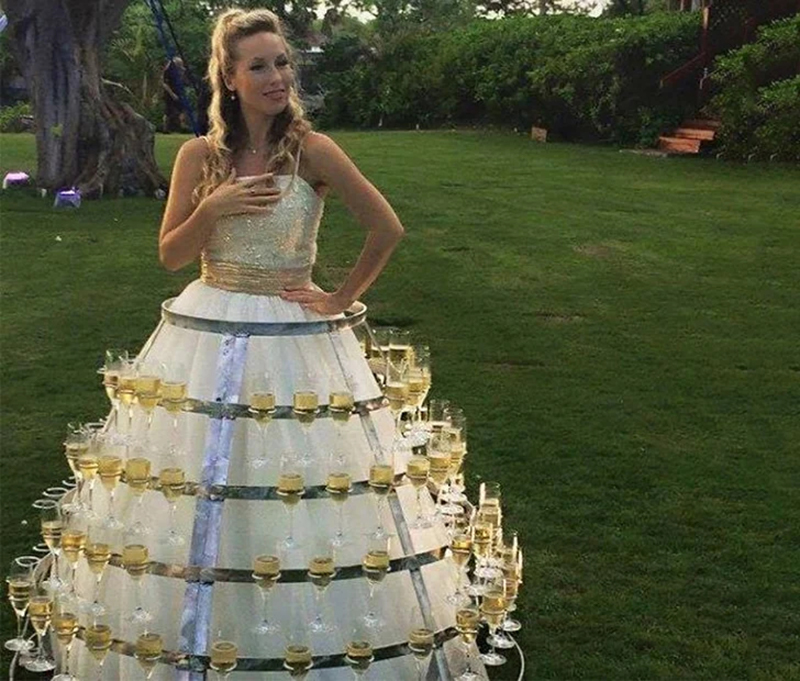 We all have seen our fair share of wedding oddities. This one, though, combines the anxiety many brides faced before the big day and the inconveniences of wearing a dress. This woman somehow decided to wear a dress with a frame from her waist to her feet, which holds several glasses of champagne.
While the overall look is quite novel and unique, what made this absurd is the fact that she managed to trouble her in what should be her most relaxed day yet. In addition, someone can trip easily on the metal contraption and cause a mess throughout the occasion. This can lead to unnecessary usage of someone's insurance in case injury occurs.
One That Fashion Police Fears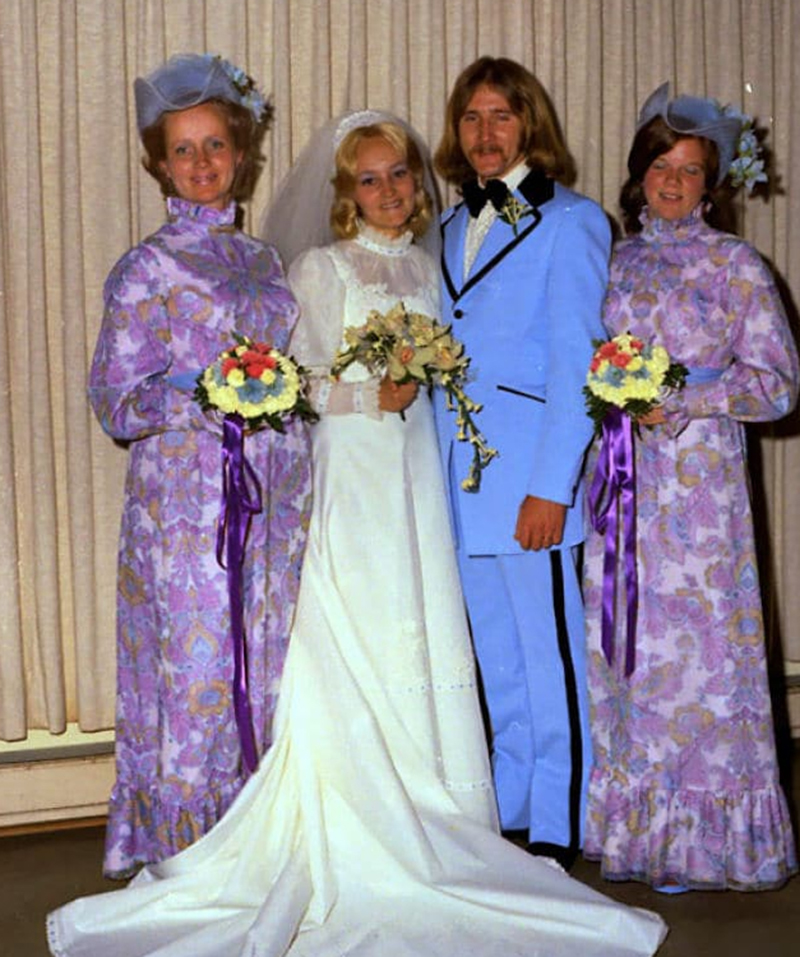 This photo is pretty much encapsulated in the 1970s. From the striped pants by the husband to the shabby gown by the wife, it seems that this pretty much made every fashionista throw up. To make things much worse, the purple attire by the bridesmaids never really worked so well, especially with the wife opting for white. This, in addition to the purple attire showcasing a floral pattern.
It seems that this vintage dress might have been spruced up if everyone just dressed plainly. However, they decided to be unnecessarily bombastic. Such an investment went to waste in the end.
Wearing Nothing at All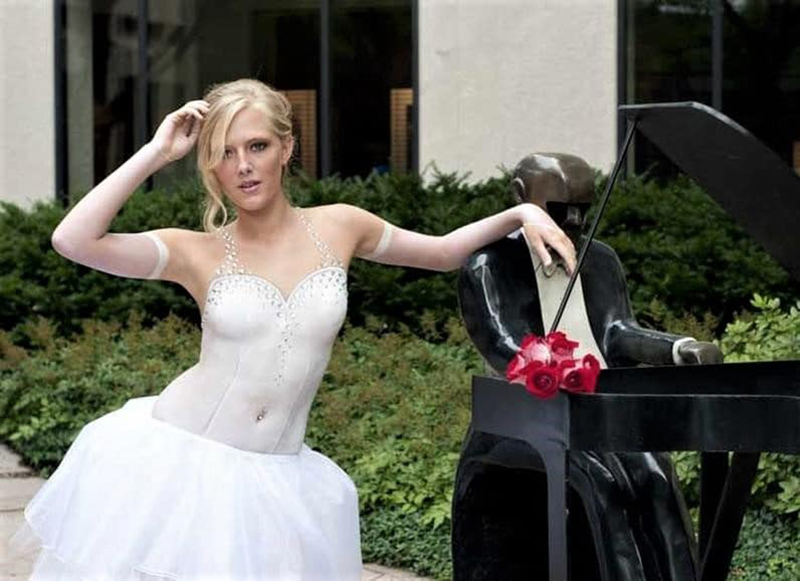 This one is quite unique among the other items on the list. You see, the woman in the photo is not actually wearing anything at all. Instead, she painted her top to make it look like she is wearing a dress to a degree.
While the gimmick is quite unique, there are some issues. First, what happens to the paint when it rains? For sure, nobody wants to see someone topless during the big day. Second, did many of the wedding participants agree to this?  Somehow this might have caused strong opinions in others. For those thinking of doing this, you might be better off not doing so.
Orange is In Vogue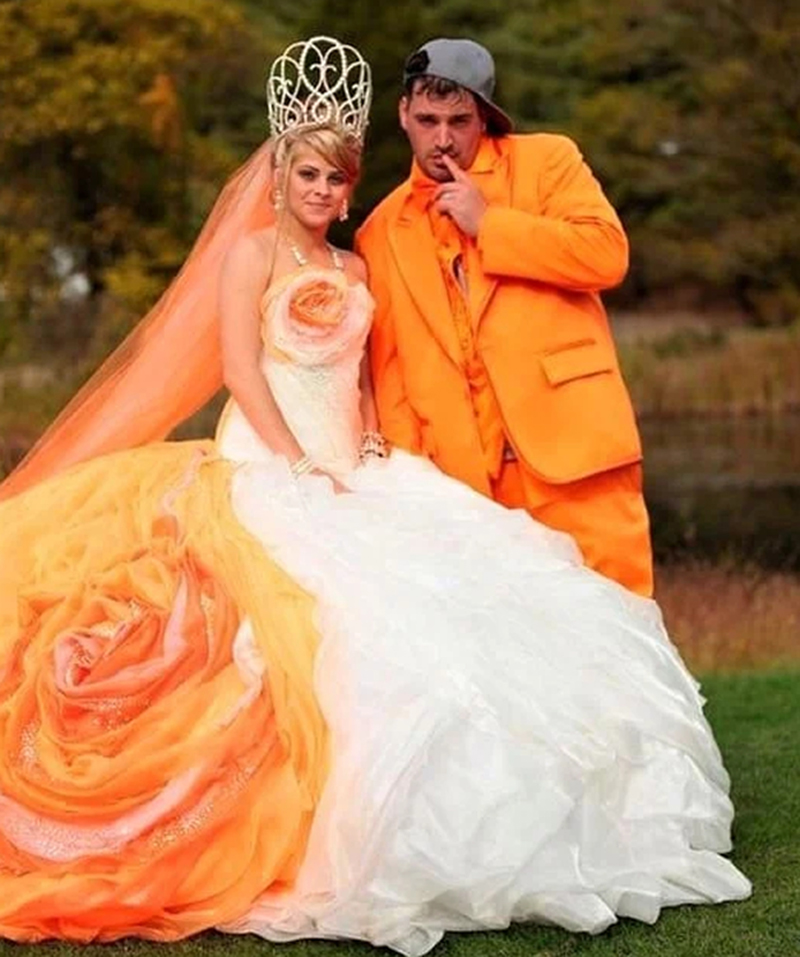 For fans of the reality show Big Fat Gypsy Weddings, they may recognize this unique wedding look. The show follows several couples who are Irish Travellers, a minority group in Ireland known for their unique and bombastic attire.
In this instance, it seems like this couple had a motif of orange as part of their wedding theme. While orange is a great color for anything, it is quite a rare sight in weddings, which typically opt for either white, green, or blue. Then again, we cannot judge as this bombastic display of colors is given credit for the popularity of the show.
A Swampy Theme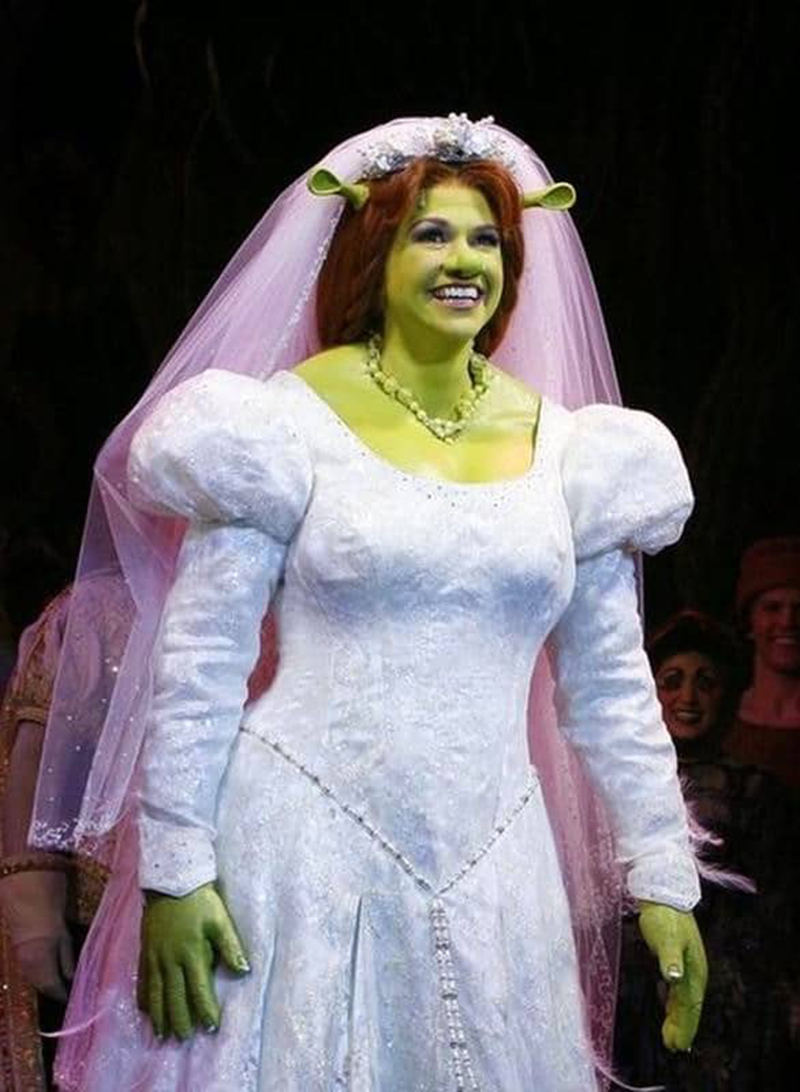 The Shrek series is iconic thanks to its extensive parody and satire of longstanding tropes among various fairy tales. Its central theme, being true beauty comes from within, is pretty much exemplified by this woman who decided to cosplay as Princess Fiona for her big day.
It seems that she made an investment to look the part, from the oversized dress to the green paint on her skin. Of course, we expect that her husband looked like Shrek too. Regardless of what were the reasons why she chose to cosplay, it is undeniable that she really looked the part quite well.
Layer after Layer after Layer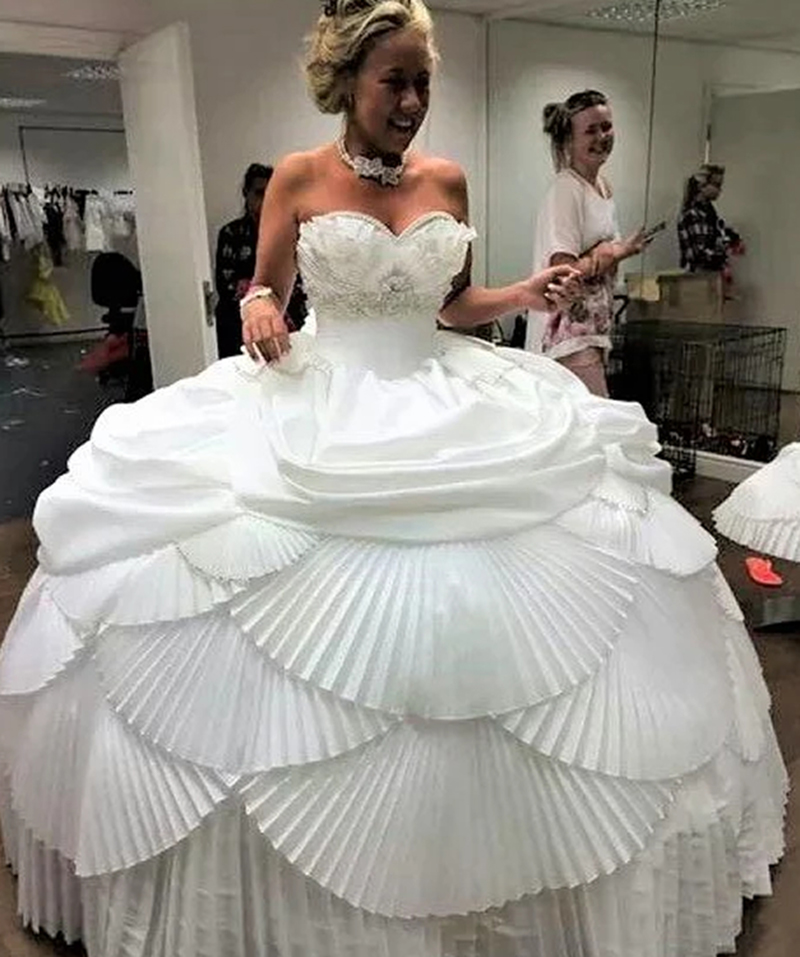 A typical wedding dress has its lower portion designed with layering designs all over. This is to give great flow and elegance to the bride who wears them, in addition to giving them the utmost comfort in wearing it. However, this particular dress pretty much flies off the face of both convention and common sense.
For one, the layers on the dress made mobility for the bride quite difficult. In addition, it appears that she is experiencing discomfort while wearing it. At the end of the day, though, despite having an investment in this impractical dress, she is very happy at least.
Classic or Punk?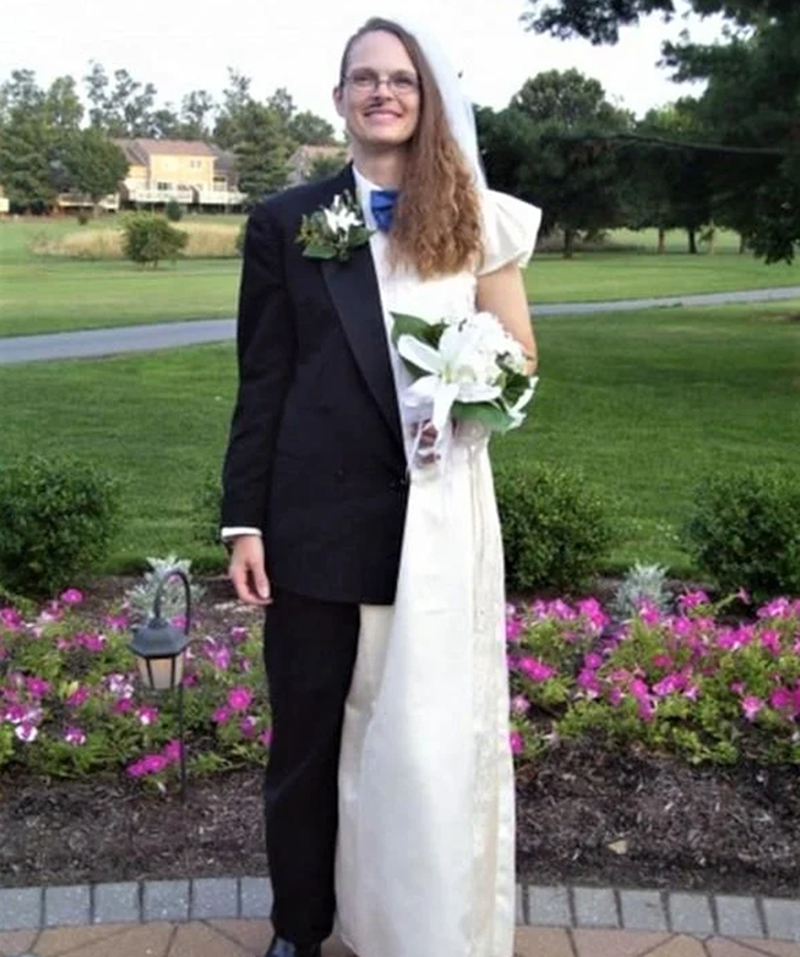 Another one of those unusual creations that appeared during a fashion show. This one apparently combined the classical appearance of the wedding gown with something that is straight out of the Venetian Carnival, with its bunny ears, mask, and long leather gloves.
This dress can be credited to Maria Lucia Hohan, who designed the dress as part of her 2011 Bridal Collection. While the dress is elegant in some areas, the overall look made it less of a bridal gown and more of something that one wears during a costume party or to a carnival. However, if that's what the bride wants, then that's what she gets.
High Fashion, Apparently
The fashion industry has always been one of extravagance, boldness, and immense creativity. Thus, it is not unusual for many attires credited to some of the world's most renowned designers to look like some eldritch or alien piece of clothing. Of course, this extends to wedding gowns.
This one, for instance, has a very unconventional approach to the wedding gown. Unlike most gowns that feature intricate designs, this one is quite plain in appearance. This makes it dull yet appealing at the same time. In fact, this dress, while still unusual, is not as bad as the others on this list.
Horn-themed Wedding?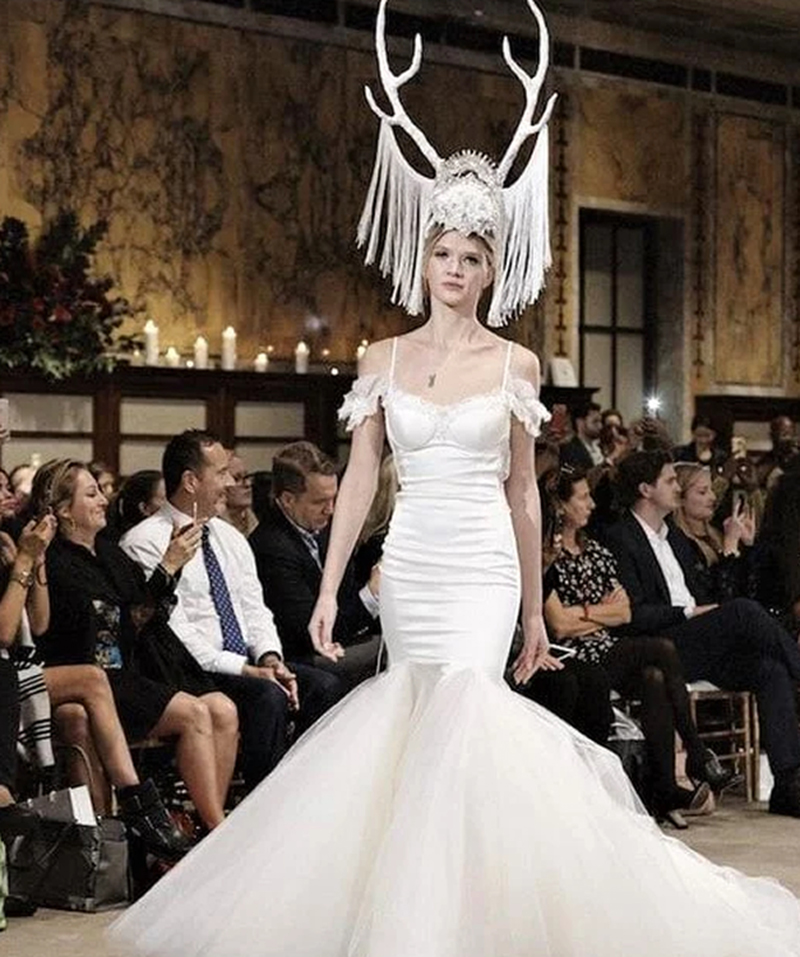 We may never know what was the theme of this particular fashion show. What is certain is that this dress was apparently made by an acclaimed fashion designer. Apparently, the dress sold for a lot of money, which was probably bought by either a collector or a financial advisor. Either way, it sold for a large sum.
Looking at the dress itself, it is not that bad. In fact, the dress actually looks marvelous. However, the horned headdress made the whole thing look ridiculous to wear. Thus, this attire can certainly be only worn during runway shows, where every designer can go wild with their creations.
Literally Hungry for Attention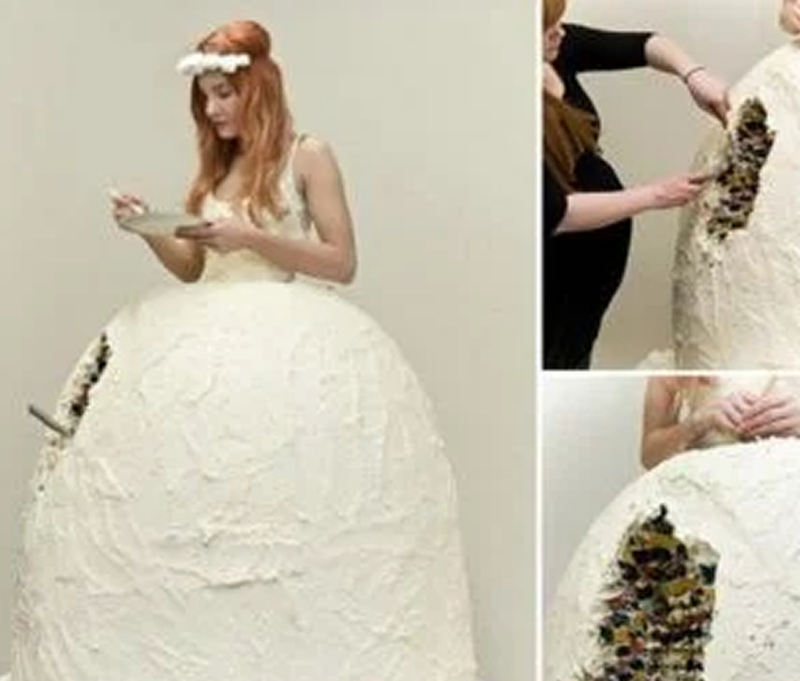 We think that wedding dresses and cakes should be separate. After all, it is quite impractical for the two to be together. Right? Wrong! This dress did the impossible and managed to unite the two concepts into one attire. The dress, which acted as a ball gown, had its lower portion made largely of cake.
Now, we may never know how this woman managed to exchange her vows while many of the wedding attendees were possibly drooling over the sight of the cake, let alone not tripping to a disaster. Regardless, this unconventional approach to having the cake and wearing it may be a risky investment for those who want to try it.
Metallic Yet So Wrong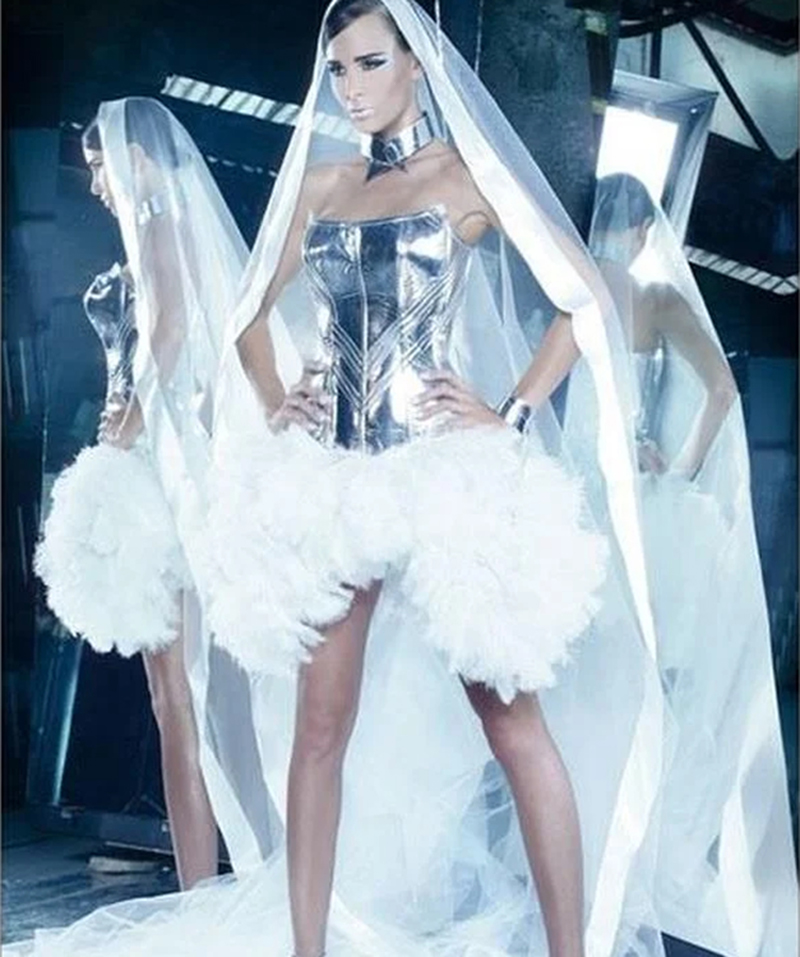 Futuristic attires are pretty much a relic of the 1990s, which can be credited as the evolution of futurism. During the attire's height, celebrities and common people started riding the wave of the signature metallic sheen that defined this aesthetic. Today, wearing such attires can lead to a lot of unwanted stares from people.
This dress, in particular, is something that can leave more questions than answers for many. Such as, why did this woman decide to wear so obsolete or why did she go for the skimpy route? Regardless, it seems that this dress is quite absurd. Then again, so are the various dresses found on this list.
Fluffball Couture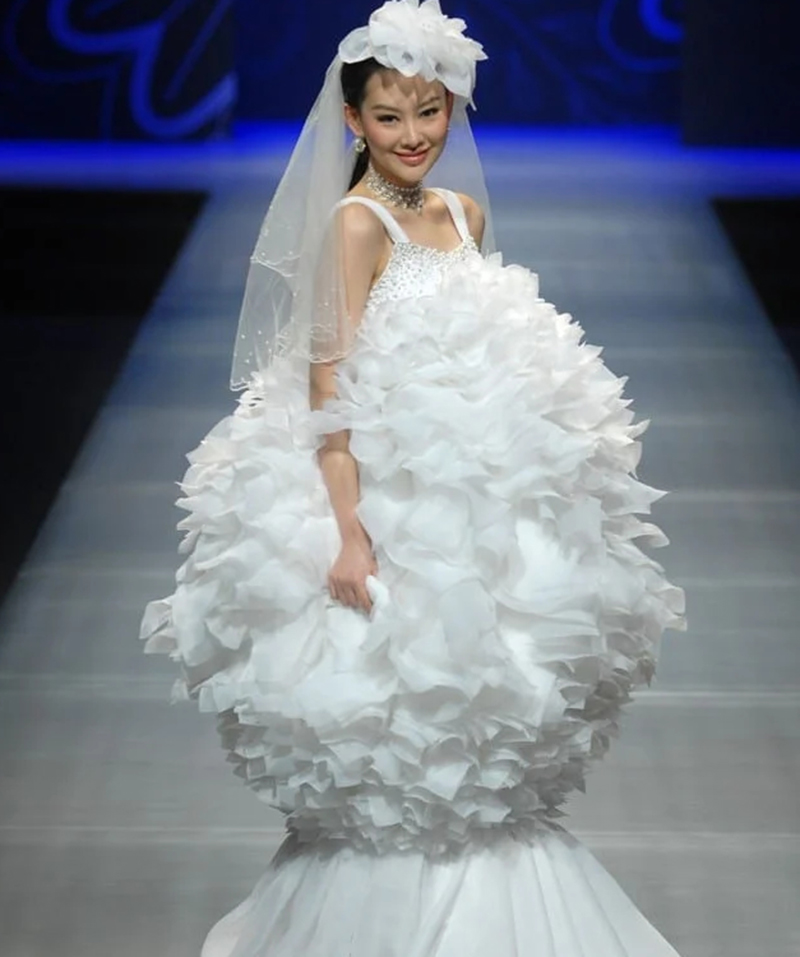 Here is another dress on the list that has made the rounds on the high fashion scene. This dress with a large fluffball is apparently a wedding dress. Why the designer made this fluffball remains a mystery. Although, some parts of the dress are alright.
While this may be a take on a traditional wedding dress, it seems over the top. For instance, it is quite impractical to wear, with the model's uneasy face being an indicator. In addition, the fluffball meant that any dance can be cumbersome to the couple. Overall, the dress, while may have required an investment, is just bizarre.
Pretty Weird in Pink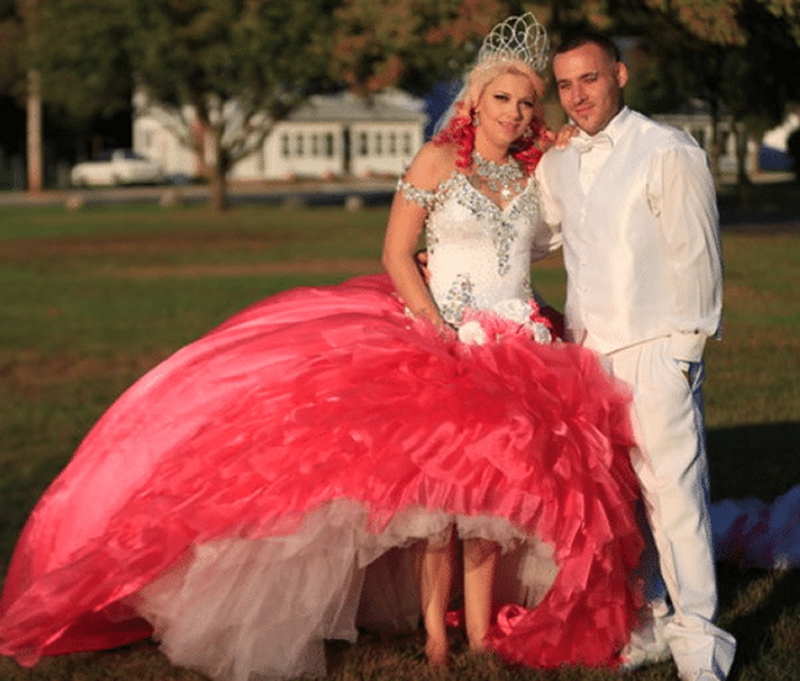 Now, pink dresses are not that unusual at a wedding. After all, if someone can design a great dress, then any color can go with it. This one, however, is not the case. The bride's attire is quite all over the place. At the top, we might see some modesty. On the bottom, however, it looks like someone's misplaced carnival costume.
With that said, it is not then surprising that this attire was seen in Big Fat Gypsy Wedding. The participants on the show have been known for their extravagant and perhaps unusual attires. Overall, the attire is below average but credit for the woman for being able to soldier on.
Too Thrifty for A Dress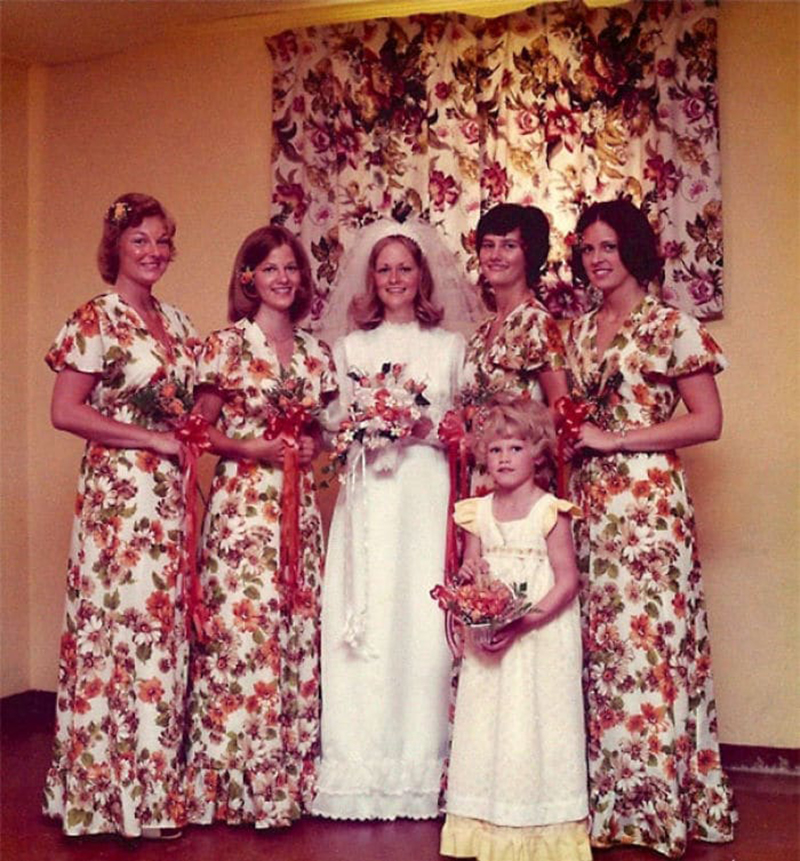 Many people today may not remember a time when the very clothes some wear came from the very fabric they use as curtains. Such is the case for this photo during the 1950s. While the bride dressed in a traditional gown, her bridesmaids may have dressed well. Unfortunately, the curtain in the background puts the costumes in doubt, as they may have been made from the same fabric.
While the dress overall is nice, it certainly did not stand the test of time, as the unfortunate snapping of the photo can attest. Then again, they may have saved up a lot and did not have to spend their investment money.
You've Reached The End