Extraordinary People with Unique Looks

We've all heard of the saying that beauty is only skin-deep. Although most of us deem this to be true, there are harsh realities in mainstream industries that tell us what is acceptable and not. Fortunately, our society has long since progressed from archaic unreasonable standards.
We made this list to credit brave individuals who have dared to put their extraordinary looks for all the world to see. They are champions of body positivity, and their success shows us that beauty is truly in the eye of the beholder. Because of their growing presence and online influence, we can all be proud of our own uniqueness. Surely, it won't be long before most of them hit international stardom for the world to see.
Yasmine Aisha Khalifa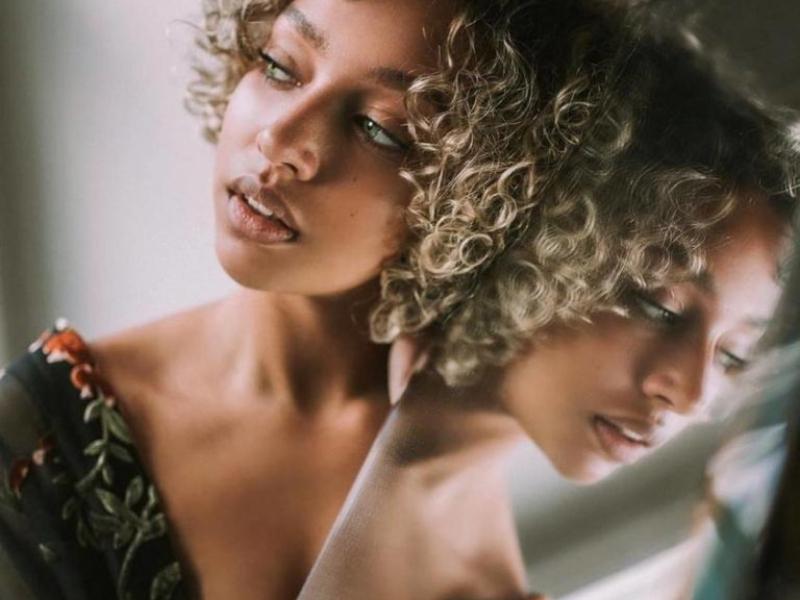 Yasmine Aisha Khalifa is one of the promising investments of the fashion industry. She is a model with a unique look that will surely leave you envious. Her striking appearance stems from a combination of features that you wouldn't expect anyone will have. She has a smooth copper-like complexion and has mesmerizing light-green eyes.
This Swedish beauty is steadily making a name for herself. As of now, she is recognized as a Victoria's Secret model. Moreover, she is a social media star with thousands of followers. One look at her work, and you wouldn't be surprised why she has been getting people's attention around the world. Nonetheless, we can all expect great things from her, and we will most likely see her become a supermodel soon.
 Winnie Harlow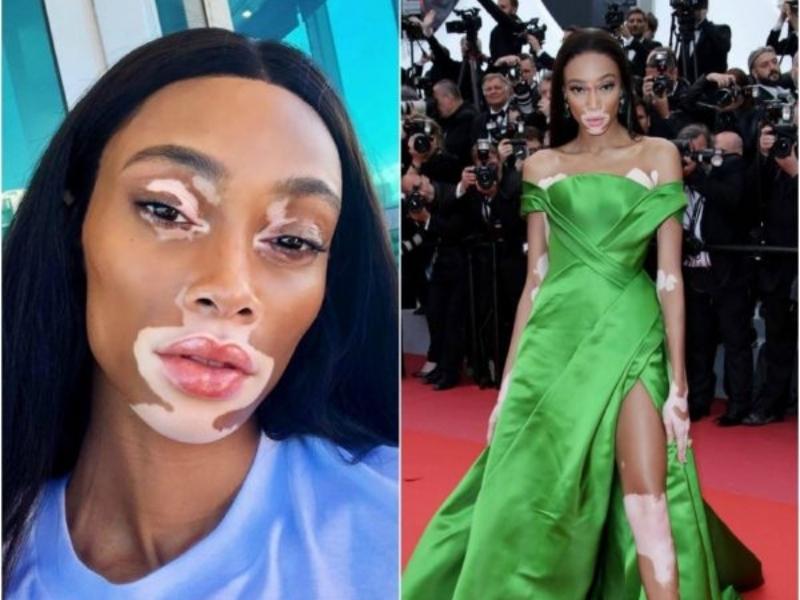 Most of us are already familiar with Winnie Harlow. She was discovered by supermodel Tyra Banks through Instagram in 2014. Soon enough, she was introduced to the world through the reality contest America's Next Top Model. Her unique looks surely made a lasting impression, and she finished as a finalist.
Banks wasn't the only one that credits Harlow for her bravery and talent for modeling. The contest may have led her to the limelight, but her talent has been recognized by top industry magazines such as Glamour, Vogue, and other esteemed designers. She serves as an inspiration to many, and even though she was born with Vitiligo, it hasn't stopped her from achieving great things in life. Harlow is more than ready to face the world.
The Baby With the Darkest Skin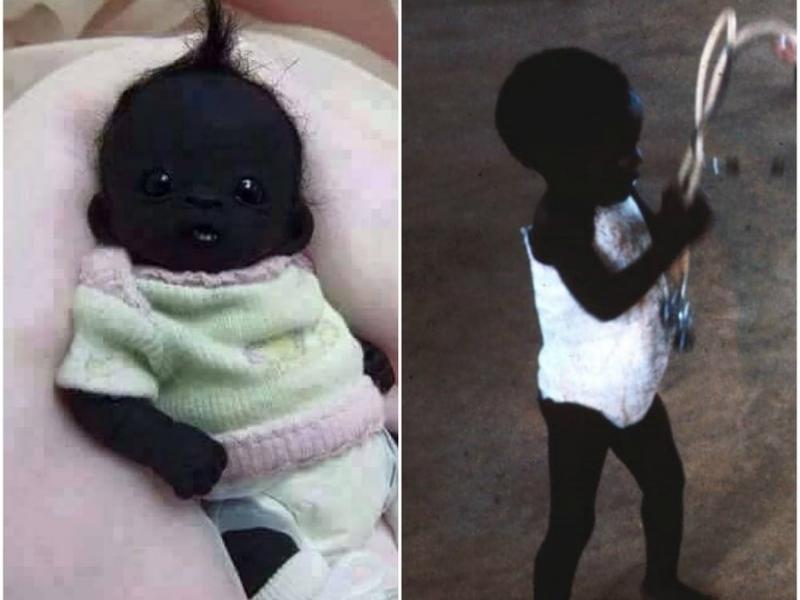 An unusual photo of a baby with dark skin circulated the net around 2015. As you can see, that baby might just have the darkest complexion of any human alive. While all people on our list have real unique characteristics, this one is sadly fake.
According to Snopes, this baby is actually a doll. They credit artist Lila Pearsons for crafting it, and she calls it Breath of Heaven. She began sculpting in 2005 and has drawn inspiration from her love of animals. Soon after, she started a career out of it. She has crafted and sold dozens of dolls, and each of them was made out of polymer clay. This doll of the darkest baby, however, might be her most famous work.
Swantje Paulina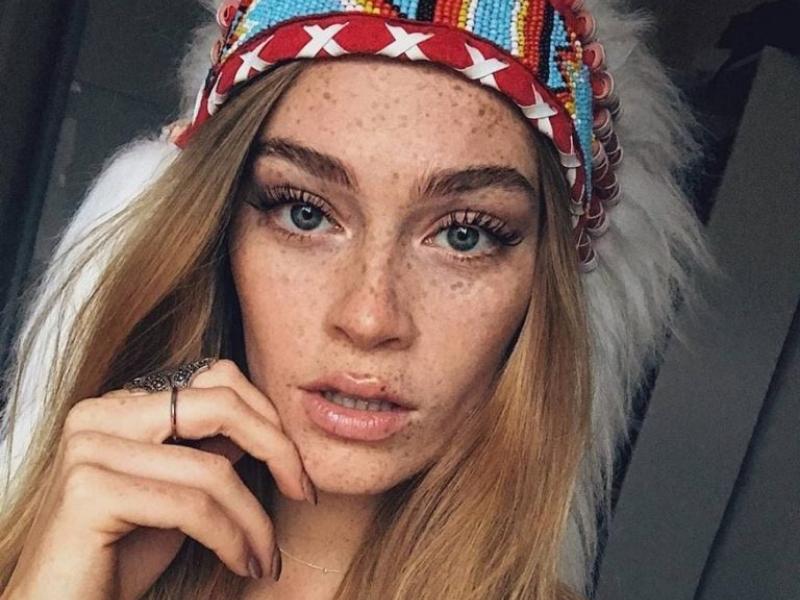 Who says you need make-up to cover your freckles? Swantje Paulina is a model who exudes beauty through imperfection. She and other models like Hamad Jamam are credited for gaining much success in the world of fashion by flaunting their unique freckles. Moreover, she utilizes the magic of Photoshop not to hide her freckles but to emphasize them. She makes them look bolder, which has become her signature alluring look.
This German model has been on the steady rise in the fashion industry. She has hundreds of thousands of social media followers and has been featured in magazines such as Glamour. Paulina is living proof that you can be comfortable with your own skin, and you will still be surely seen as beautiful.
Sveta Kazelen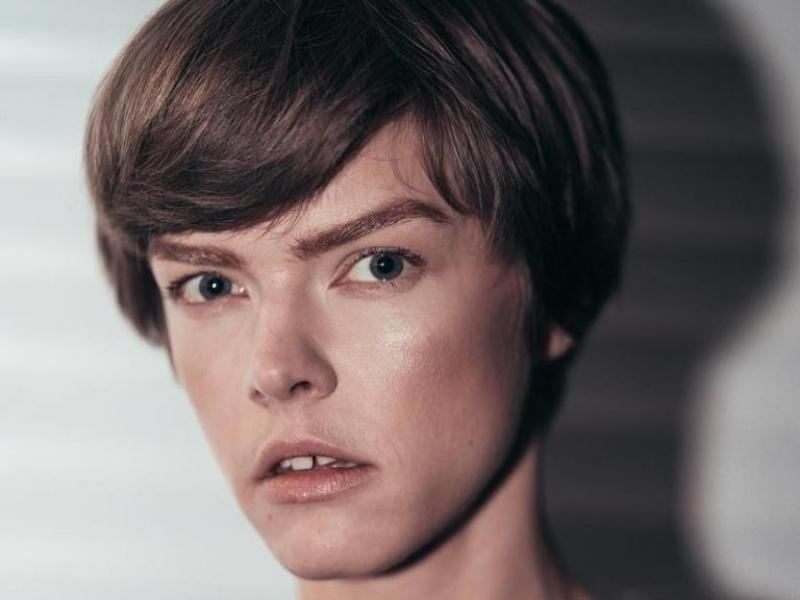 Sveta Kazelen is truly a unique individual. She is widely credited for being proud of her androgynous look and has even built her career around it. This social media star is truly comfortable with her own skin and even embraces her masculine side. She keeps her hair short and often flaunts her athletic physique.
However, her social media fans aren't just drawn by her unique looks. She may be a champion of body positivity and is seen as someone who embraces her individuality, but, in the same light, she is also a very talented photographer. Her fans endlessly praise her creative talents, and her social media accounts are not only filled with photos of herself. She frequently documents her travels, sharing pictures of nature and landscapes.
 Sophia Hadjipanteli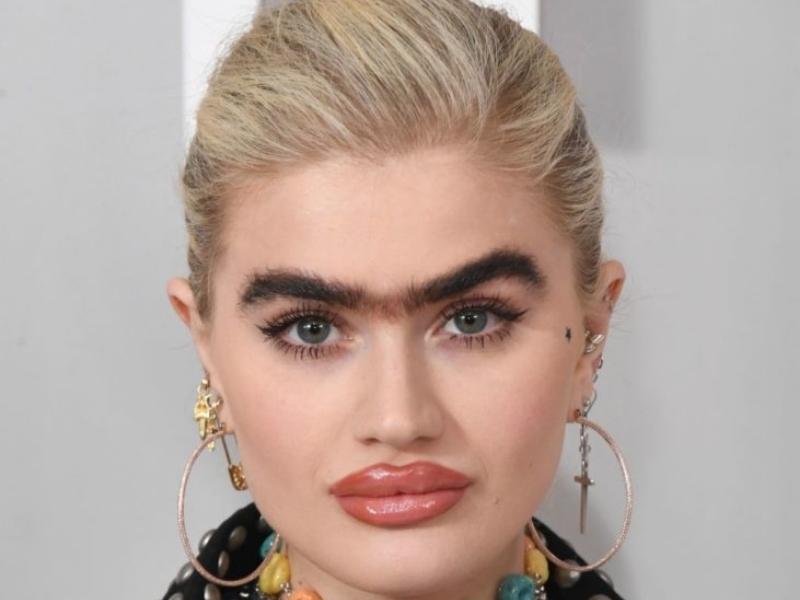 A famous Mexican artist named Frida Khalo was widely credited for her amazing self-portraits. And what's probably most appealing about her is her unibrow. Like this iconic artist, Sophia Hadjipanteli has embraced this unique feature. Without a doubt, she even resembles Kahlo in many ways.
The fashion industry hasn't overlooked Sophia's bold look and confidence. She has gained recognition and has even accumulated over 500,000 social media followers as of this writing. Her unibrow has been a forerunner in the Instagram unibrowmovement. There is no question that she is a trendsetter and is a big inspiration for people around the world. She continues to change the conventions of natural beauty in the modeling world, and this will surely put her in places someday.
Simone Thompson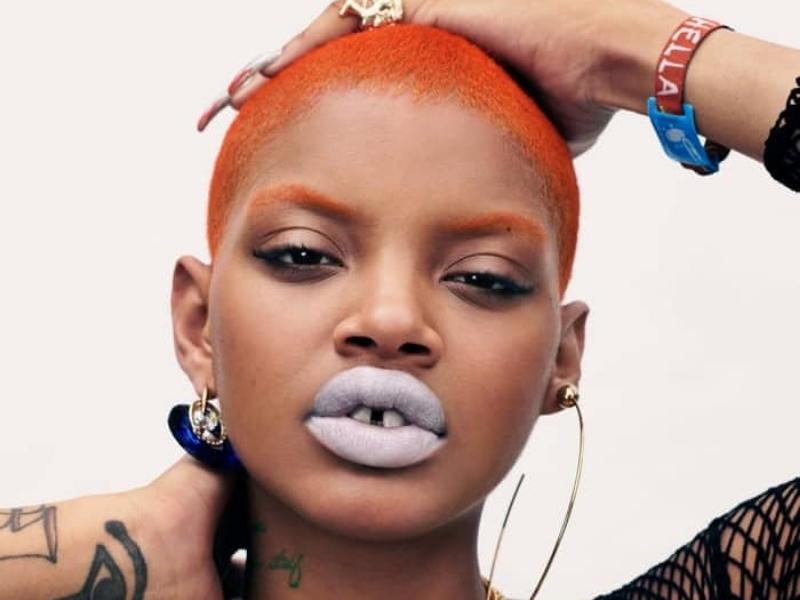 One look at Simone Thompson, and you can already tell that she exudes confidence and has a look that is hard to forget. Not only does she boldly flaunt her gap-teeth, but she also chooses to shave her head, which not many women can confidently do. Moreover, she decides to stand out, wearing colorful dresses and tattoos.
Thompson is part of the social media modeling movement and has found tons of success at a young age. She has modeled for the likes of Marc Jacobs and Rihanna. Moreover, she has been credited for working with top industry figures, such as Calvin Klein and Vogue. She is someone who will never be ashamed of her looks, and we all find inspiration in her career.
Shankar Jalota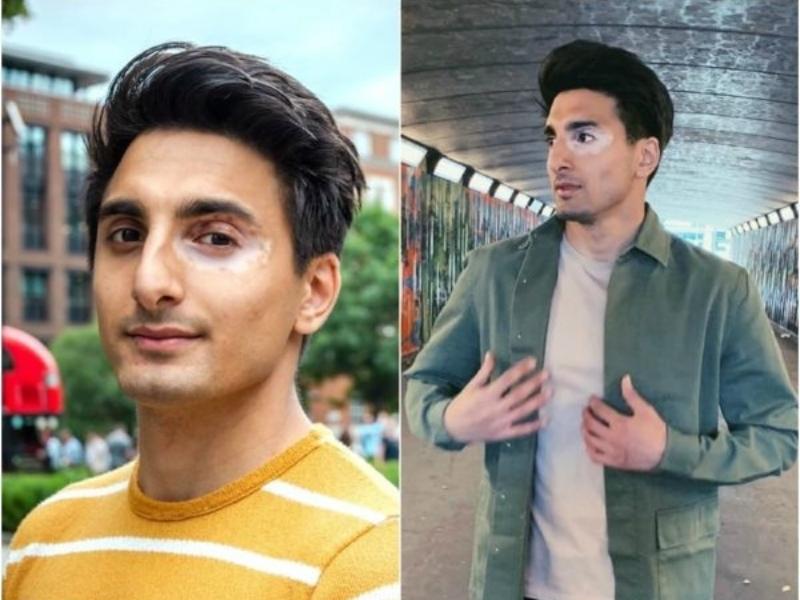 We have seen models like Winnie Harlow who have fearlessly flaunted their skin condition called Vitiligo. Shankar Jalota is another bold model who has been credited for this unique trait. Although, he has confessed to his hardships during his formative years when it comes to embracing his uniqueness. He attempted to dress up and hide his skin condition in fear of being socially unaccepted. However, he did grow to love this unique feature and even enjoys it.
Today, Jalota is a popular spokesperson for positive body image. He is an international role model and inspiration who spreads awareness about Vitiligo. It won't be long before people understand the uniqueness and beauty of this skin condition. Without a doubt, he continues to change social norms for the better.
Shaiwel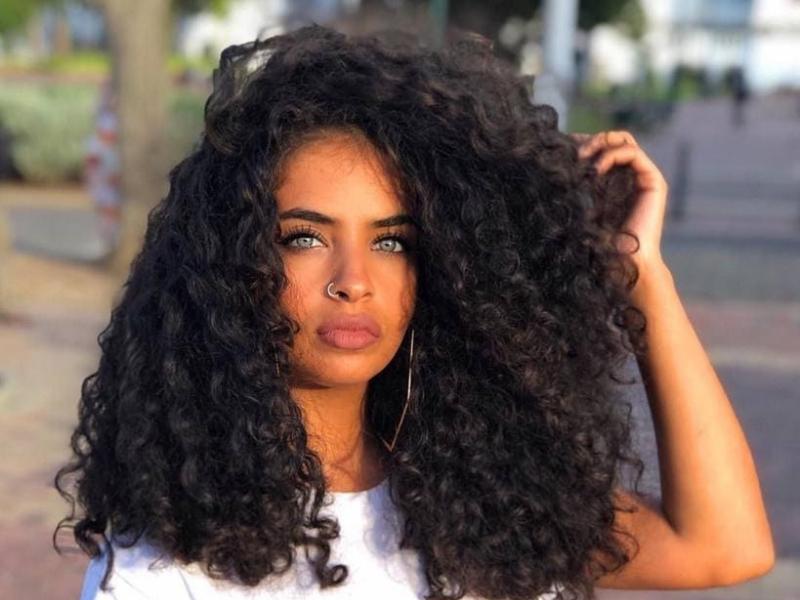 Shaiwel is a rising star in the fashion world. She is your new-age fashion model with an ever-growing platform on social media. Her mesmerizing blue eyes, along with lovely curls, make her as unique as she can, and they surely make her stand out. She is an influencer with thousands of followers.
However, Shaiwel's beauty isn't the only thing that makes her special. The young model is also credited for being a personal development coach. Moreover, her Instagram covers a wide range of her interests, such as traveling and food. It wouldn't come as a surprise if her career suddenly blows up and she becomes a supermodel overnight. She certainly already has the makings for one, and we can all expect more great things from her.
Sarai Lewis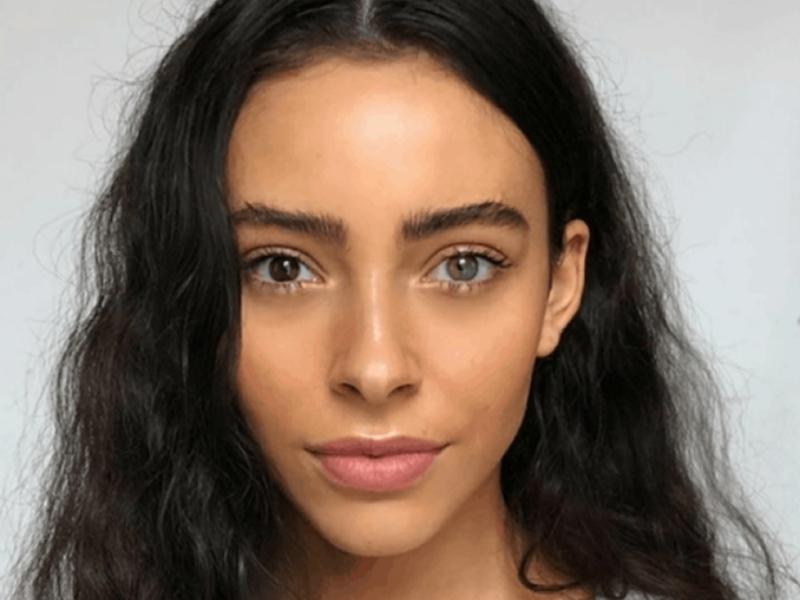 Sarai Lewis is a model who has built a career around her uniqueness. This gorgeous model has heterochromia. One look at her mesmerizing eyes, and you wouldn't be surprised at why she has grown to be as popular as she is. She has thousands of followers and is a bonafide social media star.
Lewis is not only known for her modeling, but she is also credited for spreading awareness about heterochromia. She is a role model who uses her platform for a great cause. She travels around the world as a model, and wherever she may go, she has proven to be an inspiration to many. She can be proud of her achievements, and she will continue to gain recognition the further she goes.
Refilwe Modiselle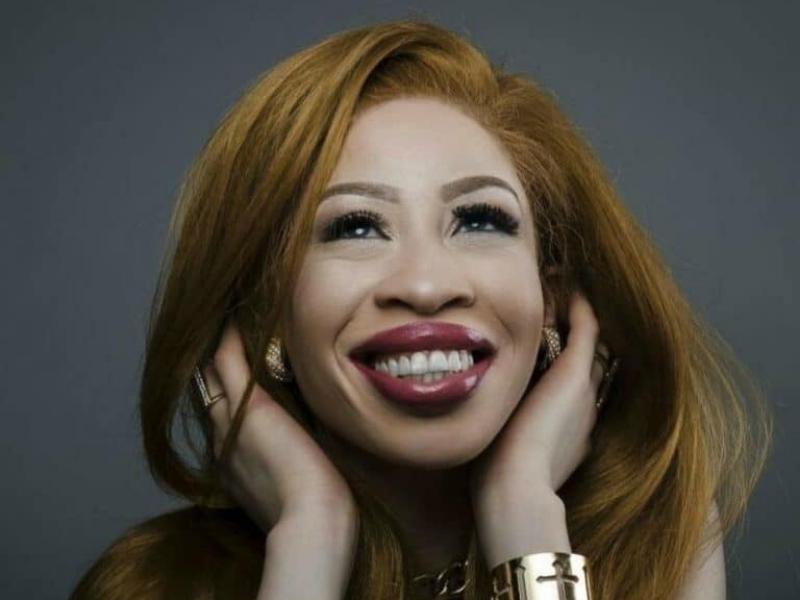 Refilwe Modiselle was discovered during her early teenage years. However, she wasn't as confident as she is today at the time. She has albinism, and she was bullied because of this. After all, it seems to be a norm for kids to notice someone for being different. Nonetheless, this did not deter the South African from pursuing a career in fashion. She is widely credited for working with David Tlale in 2005's South Africa Fashion Week. Moreover, she was even included in Oprah Winfrey's Power List.
Nowadays, Modiselle is one of the most famous South African Models. She will forever be part of fashion history as the first-ever South African model with albinism. Likewise, she is also the first albino to walk on a runway in South Africa.
Rain Dove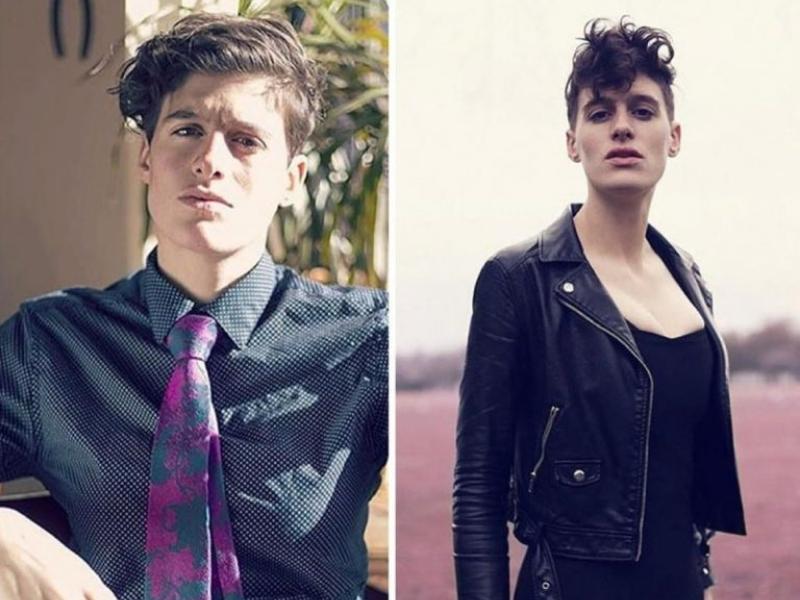 People have grown to learn and appreciate the vast spectrum of genders in today's culture. No longer are we constricted within the conventions of the standards of old. Rain Dove is someone who has opened the eyes of people about the uniqueness in every one of us. Dove is non-binary and goes by the pronoun "they/them." They was born as a female, but the model initially felt masculine and ugly. At the same time, they felt like they wasn't a man either.
Nowadays, Dove is more comfortable than ever when it comes to beauty. They poses as either a woman or a man in photoshoots, and they is seen as beautiful nonetheless. They is credited for bravery, boldness, and fluidity as a model.
Nyadak Thot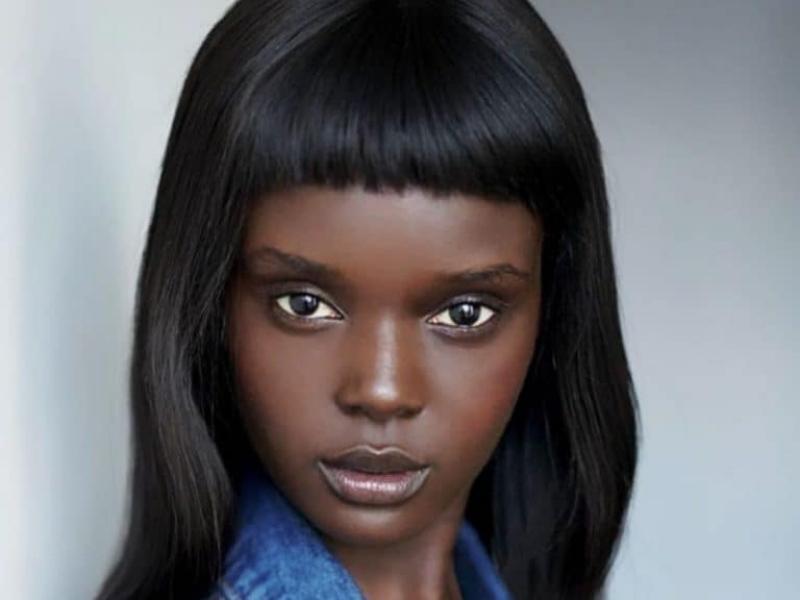 Nyadak Thot is a popular model from South Sudan. She was raised in Australia, and as an immigrant, she had her fair share of hardships. As a child, fitting in and finding your place within social circles is already tough enough. Combine this fact with Thot looking different from other kids her age, and she fell victim to bullying. Her peers even gave her the nickname Duckie because they found it hard to pronounce her name.
Nonetheless, Ducki embraced her uniqueness and is now amongst the many rising models in New York. Her complexion is now her badge of beauty and her ticket to success. To her credit, her boldness and bravery, coupled with her work, make people grow to love and appreciate her beauty.
Natalia Castellar Calvani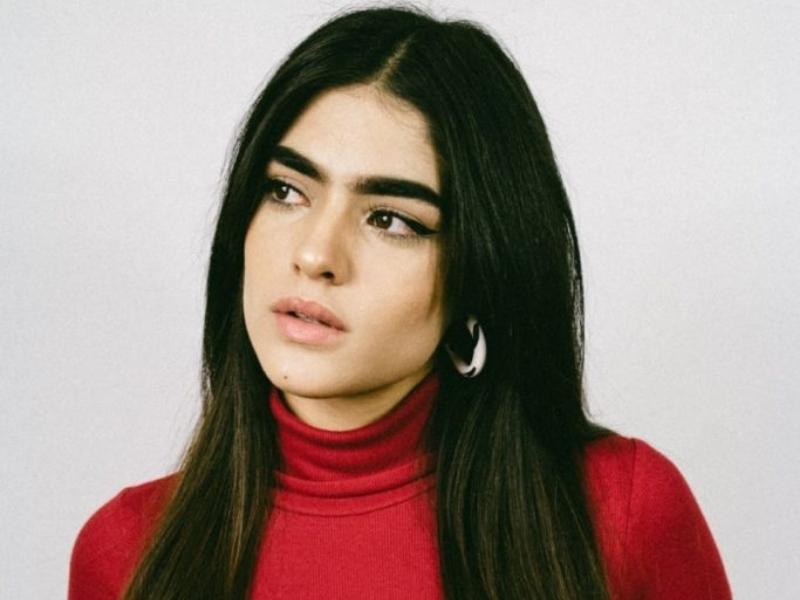 When you look at Natalia Castellar Calvani, you'd be surprised to know that she was a victim of bullying during her childhood. Her natural thick black eyebrows were unusual for her peers, and as a result, she was ostracized and made fun of. However, this did not deter her from embracing her natural beauty. While some women would pluck their eyebrows to look normal to others, this American-Cuban model flaunts her unique look. She is proud of her heritage, and her distinctive eyebrows have even become her signature model look.
Calvani is a rising star in the world of fashion. She is one of the prized investments of the reputable modeling agency Next Models, and the company, too, has grown to appreciate her unapologetic looks.
Mikayla Holmgren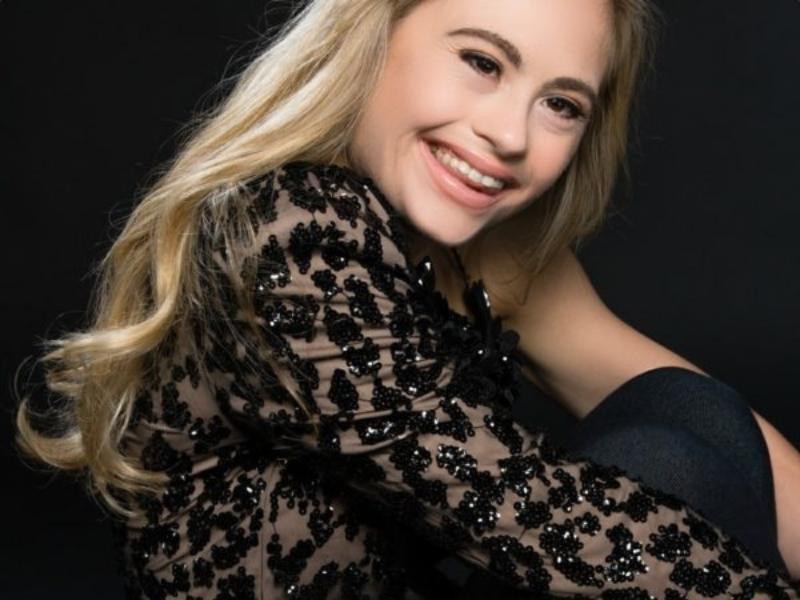 For decades, beauty pageants have been one of the best events to set international beauty standards. As such, when Mikayla Holmgren entered the scene as a contestant for Miss USA representing Minnesota, it was a sign of the times that society has grown to be more accepting. She is credited for being the first woman with down syndrome to compete at the iconic pageant. Not only did the blonde beauty participate in every round, she even won two awards.
Holgrem's unique look was never seen before in the contest's history. She stole the hearts of viewers and even won over the judges. Her confidence and bravery didn't go unnoticed, and she has certainly opened the eyes of many when it comes to the conventions of beauty standards.
Megan and Morgan Boyd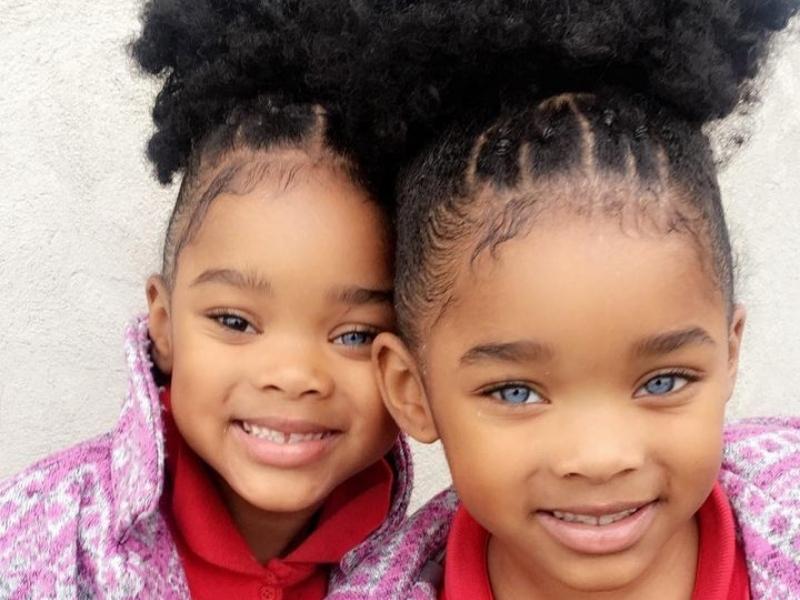 After sharing a picture of her kids, Megan and Morgan Boyd, Stephanie Boyd became an internet sensation on Instagram. The twins gained significant attention and began to be referred to as the "Trueblue Twins." They were over four years old when their mother snapped their viral photo. With more than 720,000 followers on the said social media platform, people just can't resist not visiting the twins' profile.
Born on June 6, 2011, the twins were bound to be recognized because of their glittering blue eyes. Like most new moms, Stephanie would document the twins' development. Apart from their dazzling eyes, the twins also take credit for wearing cute matching outfits! By the looks of it, the two kids are both social media stars in the making.
Man's Best Friend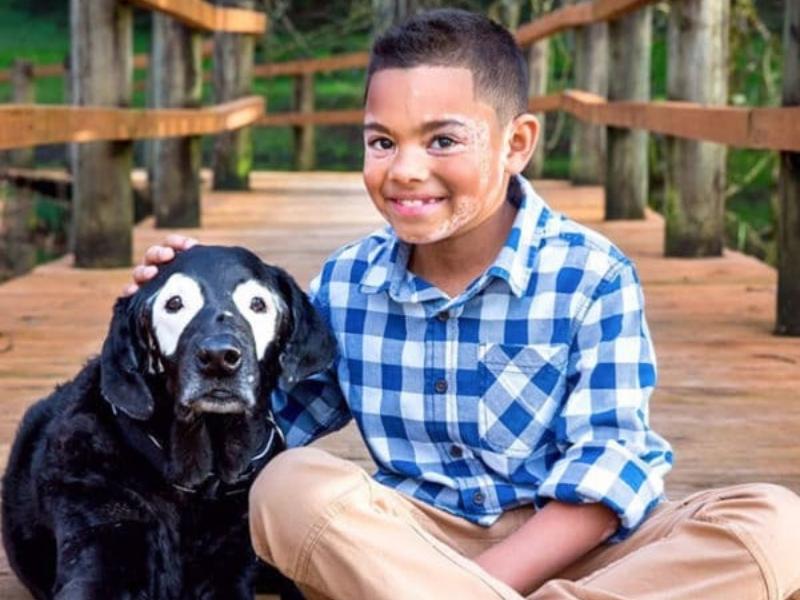 Your friend, your companion, your defender, among other things—a dog is one of the most extraordinarily best friends a person can have. While dogs are unlike humans in many ways, these creatures take credit for providing their owners with affection, love, and security. They are also the best exercise buddies!
It can't be denied that spending time with these kindred souls works wonders. Dogs will always be there for you when your friends and family are too busy. When you are stressed out, walking or merely playing with one lowers blood pressure and heart rate and can even relax your worn-out muscles. They are a particularly great company, especially when they represent your condition like this boy and his dog in the photo. They both have birth marks and pigmentation on their faces, so the kid probably doesn't feel alone when he sees his much-loved furball.
Man with Vitiligo on RightSide of the face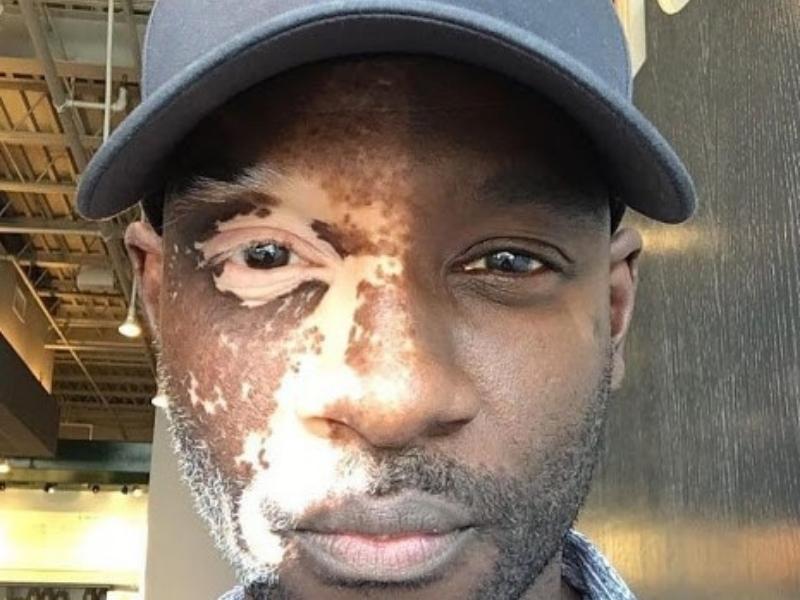 The identity of this man is unknown, but the Vitiligo on the righ of his face makes him unique. According to the American Academy of Dermatology, Vitiligo is a disorder that causes the skin to lose color. This disease affects a relatively small percentage of the global population, apparent in different races. However, it is highly noticeable in people with a dark complexion because the contrast between the skin and the pale patches is more emphasized.
While the disorder is not life-threatening, it can affect one's life. Apart from the scattered patches on your skin, you may experience bouts of emotional and psychological struggle. In the present time, you need not worry. Investments in research about this disease are now being made. There has also been an increase in support groups, so you don't have to suffer alone and in silence.
Maeva Marshall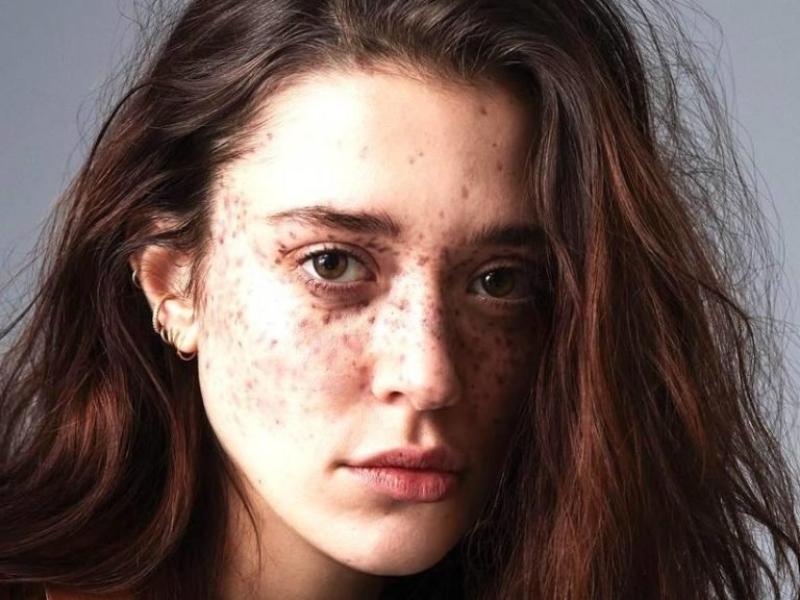 A native of France, Maeva Giani Marshall is one of the most sought-out models in the industry. As a child, it was her dream to walk on the runway; this dream was realized when her unique face features made it on social media. Looking as if it is filled with freckles, these spots on the model's face aren't actually freckles; they are hyperpigmentation spots that proliferated on her face. These started to appear when she took certain medications after suffering from a stroke.
Since her photos became viral, Marshall has been an icon in the "freckle movement," which many models joined. She even takes credit for revolutionizing the word beauty through the beauty spots that cover her face. With that being said, she should definitely be proud.
Madeline Stuart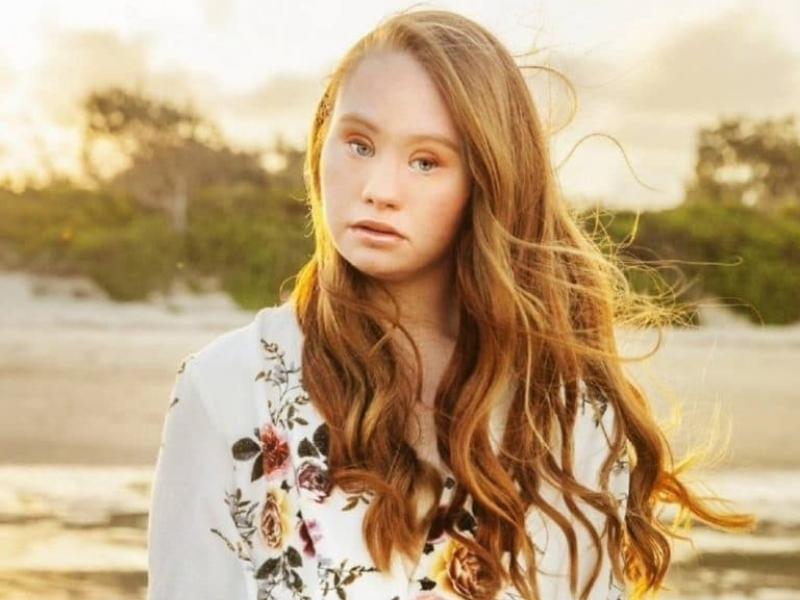 Madeline Stuart is recognized not because of her beauty but because she has broken boundaries. The model is a popular face on the runway despite having Down Syndrome. She has represented different brands at various fashion events in New York, Paris, London, Dubai, Russia, and China, among others. She takes credit for being the first professional model diagnosed with the said disease in the world.
She had dreamt of becoming a model since she was a child. After coming home from a fashion show in Brisbane, Stuart shed 44 pounds and posed in front of the camera. In 2015, she began her professional career with the help of her mother, who made waves in social media. She eventually became the face of Manifesta and EverMaya.
Lotte Zuidema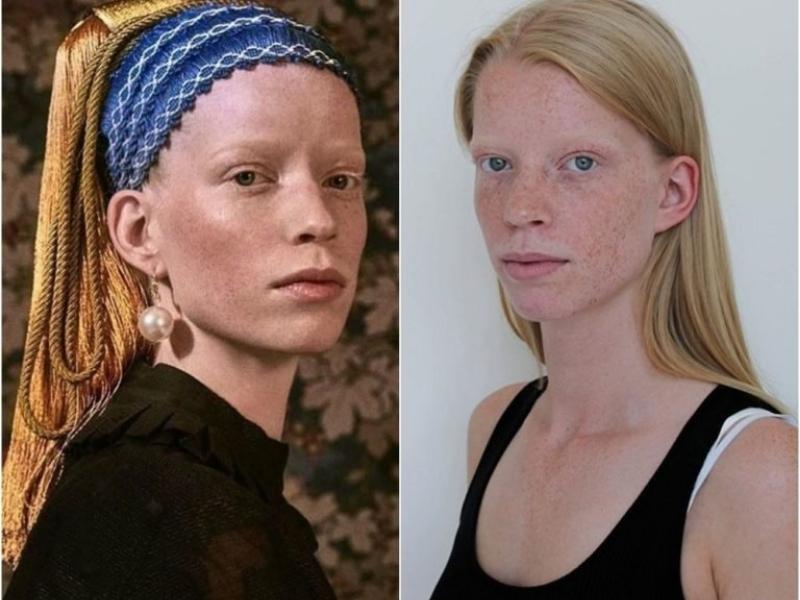 Lotte Zuidema is one of the models who went on and defied the stereotypical image of a "model." Despite being diagnosed with albinism, this disorder didn't hinder Zuidema from thriving in the fashion industry. Her angelic features arose in part from her Nordic genes. Thanks to her Dutch genes, her condition seemed even to compliment her look. Zuidema is a testament to accepting one's flaws rather than trying to look like the majority.
Albinism is a genetic condition that results in someone having excessively light skin, eyes, and hair; this is caused by the deficiency of melanin in the body. While these people are known for being a degree whiter than most, it is worth noting that they are just as healthy as everyone else.
Liza Ostanina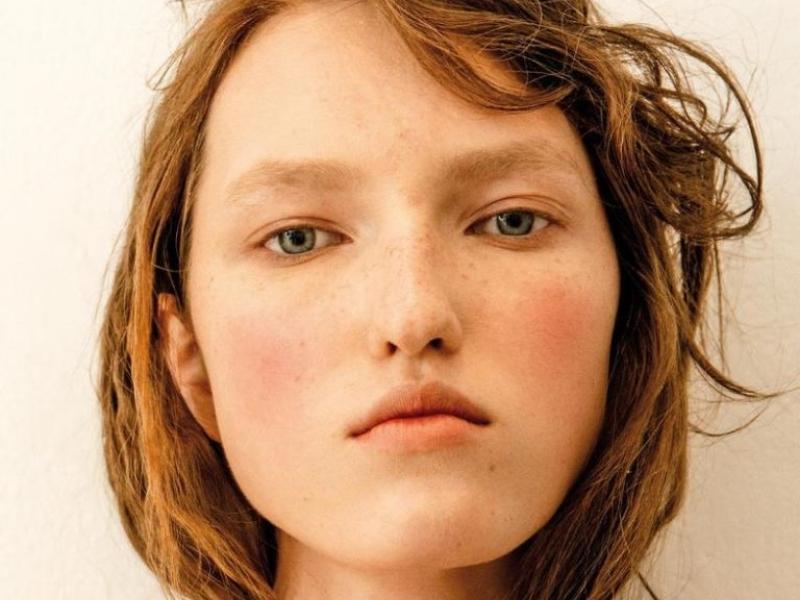 Liza Ostanina's beauty is impeccable in many ways. With her striking blue eyes and dilute freckles, she has represented huge brands on the runway, such as Gucci, Balenciaga, Alexander McQueen, and Dior, among others. She started her career back in her hometown of Russia. What began as a bunch of photos taken when she was only 12 or 13 years old ironically became her breakthrough. When a modeling agency, StarSystem, reached out to her, Ostanina was left in a state of disbelief.
Aside from being a familiar face on runways, Ostanina had posed for magazines such as Dazed & Confused. Working in New York as a model, she credits her friends for making her life easy. Outside of work, she spends her time going on museum tours.
Linus Jasper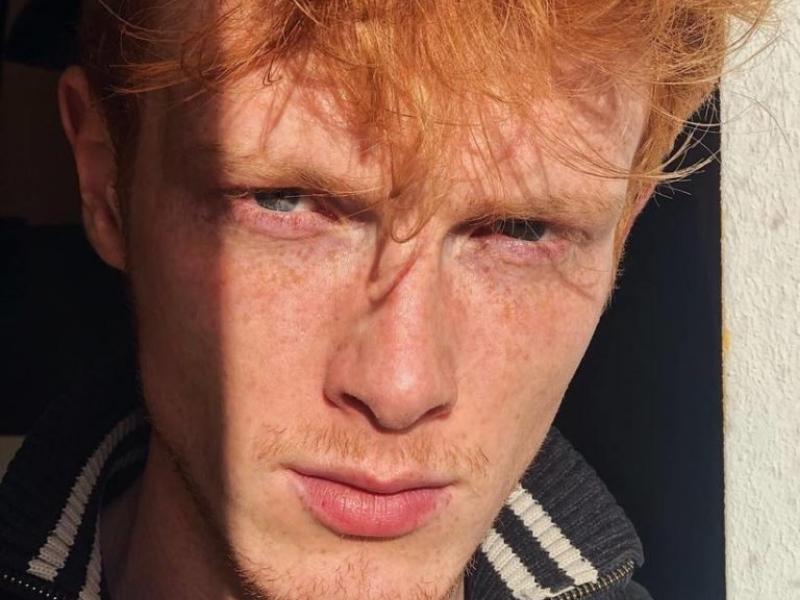 Born as Linus Jasper Wördemann, the 21-year-old model is a native of Osnabrück, Germany. Growing up, he originally intended to be a scientist or a philosopher. But perhaps with the influence of her sister, who sent his pictures to a German modeling agency, Jasper went on to build a career in the modeling industry. It is worth noting that if he hadn't pursued modeling, Jasper would perhaps acquire a degree in illustration or animation.
When he is outside the runway, Jasper often spends his time playing instruments—he is a big fan of Chilly Gonzales and Pat Metheny, by the way—or outside taking his motorbike on adventures. He is the face of Alfred Dunhill, a brand that he looks up to.
Lindsey Wixson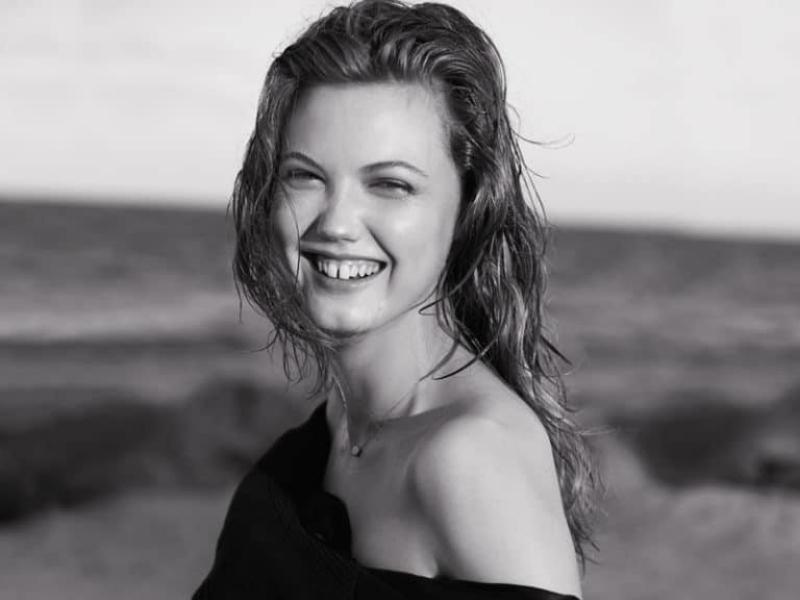 Lindsey Wixson is best known for her exceptional features that fans dub as "bee-stung lips" and "rosebud pout". She is also notable for having gapped teeth. These unique physical attributes of the model attracted big brands such as John Galliano, Versace, Miu Miu, Alexander McQueen, and Chanel, among others.
Wixson debuted in the modeling world back in 2009, and her first professional gig was with Vogue Italia. She appeared on the runway a year later at the Spring 2010 New York Fashion Week, representing Cynthia Steffe. Taking credit as the modeling industry's biggest rising star, Wixson appeared on CNN as a 17-year old supermodel. Wixson spends most of her time on her art when she is not busy working or walking the runway.
Like Mother Like Daughter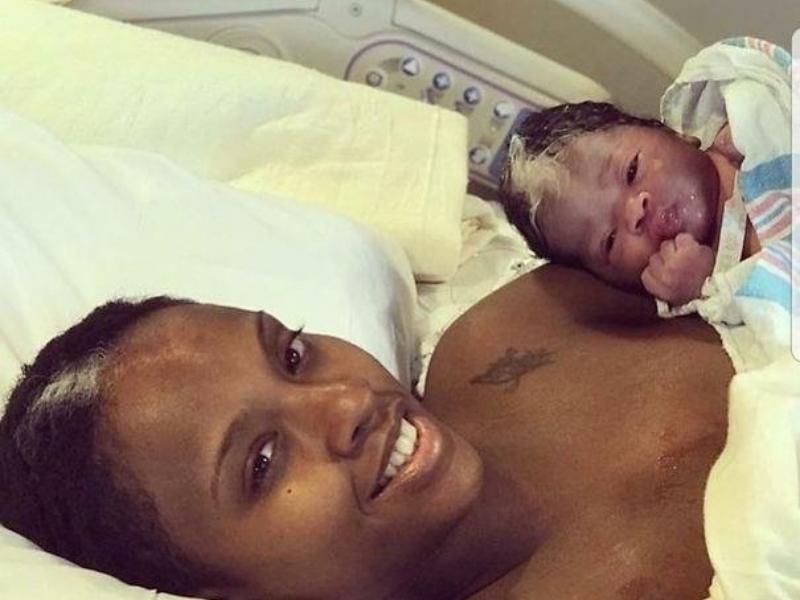 Most people have a preconceived bias that a daughter is a whole lot like their mother. Most times, these hunches have a certain degree of truth in them. Both mothers and daughters are essential members of society: they care for the succeeding sons and daughters. In the process, mothers and daughters, who will be future moms themselves, pass on values and goals to the next generation. This is an attempt in raising children to be mindful and mature adults when their time comes.
In this photo, we see miracles personified, life begetting life. This exact moment marks two starting points for the mother and the daughter, motherhood for the former and life for the latter. It is also worth mentioning that the daughter is a spitting resemblance to her mother, inheriting even her unique features.
 Laura O'Grady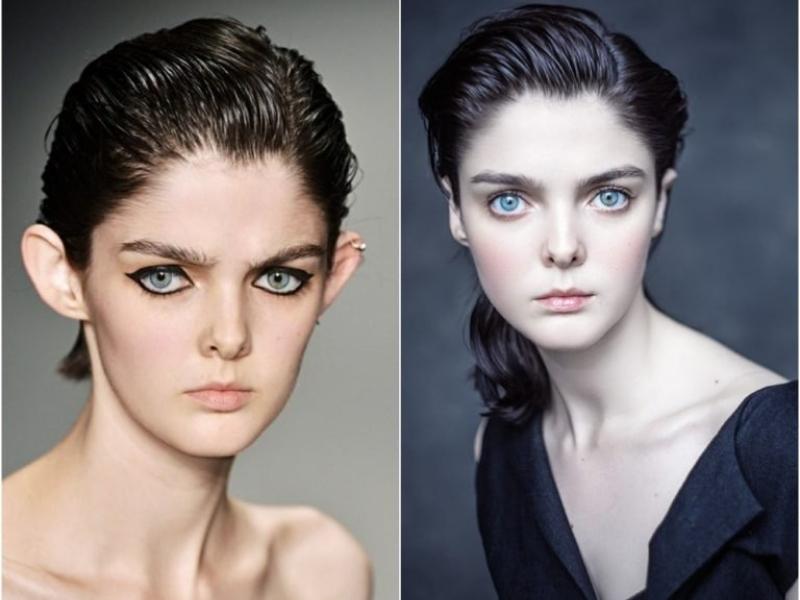 In 2013, then-schoolgirl Laura O'Grady's path to stardom was paved before her when she signed a contract with a London model agency. At 17 years old, the Castleknock native was noticed by prominent agent Anne Morgan during the Elite model finals two years back. Morgan exclaimed that O'Grady's knowledge about modeling and fashion was extensive. "This girl was born to model," she said. Despite not garnering the top spot on the aforementioned contest, O'Grady was offered a place at the Absolute Model Agency in 2011.
After having a stellar start, she remains ecstatic after being in a few projects. With the fast turnaround of models in the industry, O'Grady is optimistic about her future. She also mentioned acquiring a degree in English or Philosophy in an interview.
La Ostergren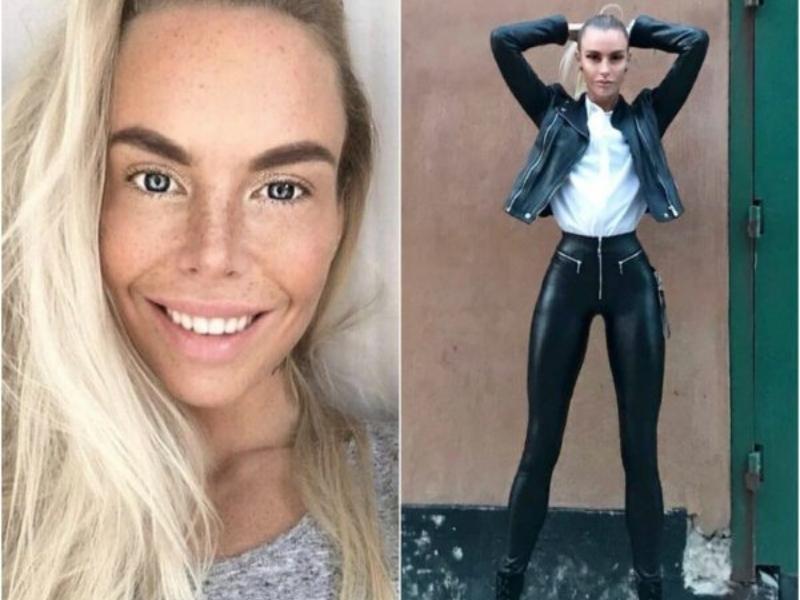 Try to put yourself in the place of someone who has immensely long legs, and think how it feels. In primary school, this would often attract bullies or unwarranted gossip because of how you look. Worst case scenario, you might even feel sad about it. This is what happened to La Ostergren. However, after making it through all the remarks thrown at her, she persisted and used her long legs to cement her reputation as an exceptional model.
Ostergen has a huge amount of social media followers who validate her beauty. Despite this, she still thought of herself less and made an effort to work out. The model eventually thrived and met the love of her life, Torbjorn Ostergren, who is also a model and bodybuilder. In the present, she takes credit as among Sweden's most recognized models.
Khoudia Diop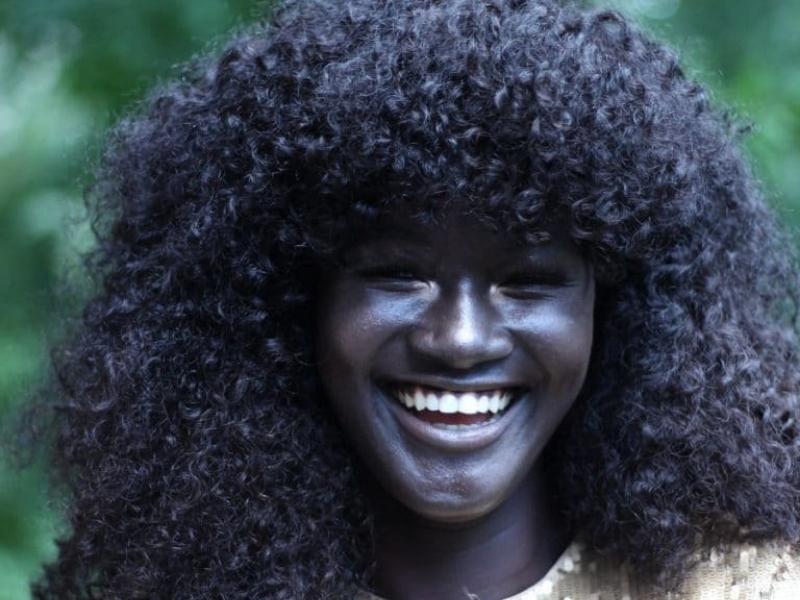 While there seems to be no existing rule on being beautiful, Khoudia Diop believes in being yourself—this is a prerequisite to being an awesome human being! Born in Senegal back in 1996, Diop migrated to New York when she was two years old. It is worth noting that approximately 25% of the dark-skinned women apply bleach on their skin back in her hometown. While Diop never tried this, she wouldn't deny wanting to be a degree lighter back then.
However, everything changed for Diop when they went on a trip to Paris when a local complimented her color; photographers even stopped her on the street and took her photos. From there, she took to Instagram and posted pictures of herself to empower women with dark skin.
Kettellen de Jesus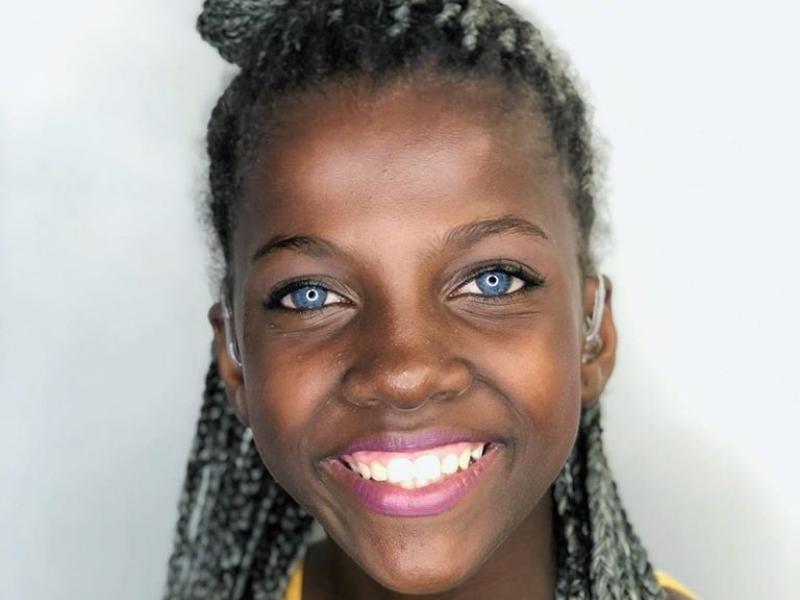 One of the most novel attributes of dark-skinned people is having blue eyes. In some cases, it is worth noting that this eye color only manifests when an individual has a certain disorder called Waardenburg syndrome. This is a set of conditions inherited from family members. Aside from eye color, this syndrome is associated with deafness and discoloration of skin and hair.
Kettellen de Jesus is one of the few who have this syndrome. She even thrived despite having this condition. Although her hearing is severely affected, she has stood out because of her dazzling blue eyes, radiating confidence and positivity! She even takes credit for gaining a lot of followers on social media from all over the world because of her incredible beauty.
Kelly Mittendorf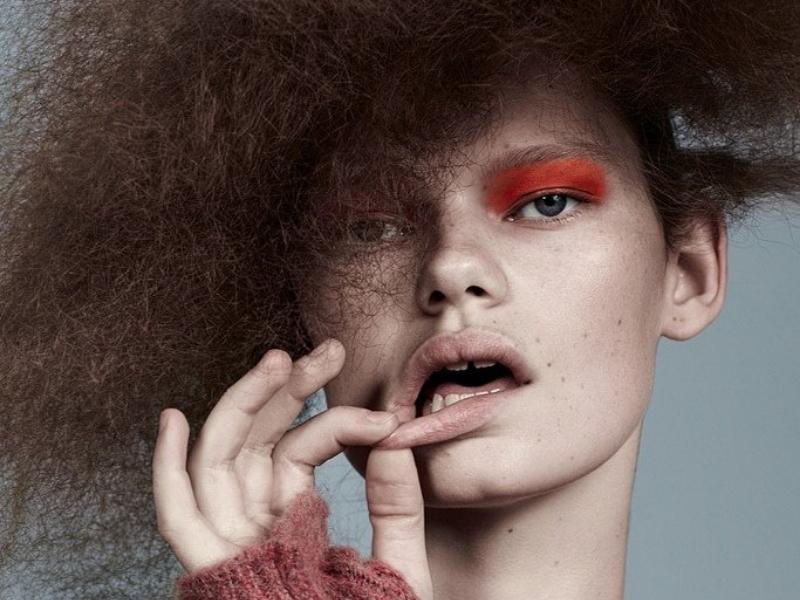 A native of Phoenix, Arizona, Kelly Mittendorf was born in 1994. During high school, she had already been featured in an advertisement by Prada. It is worth noting that she got the call during her Math class. Mittendorf had her earliest appearance in 2011 and 2012, representing the aforementioned brand. She also represented big fashion labels, such as Anna Sui, Giles, Loewe, Mulberry, and Topshop, among others.
Apart from her gigs on the runway, Mittendorf has appeared in different magazines, like British Vogue, Vogue Italia, Marie Claire, and Elle. Outside of her career, she is an avid advocate for the rights of her fellow models. She also acquired a degree in mass communication and media studies from the prestigious Arizona State University.
Julia Zimmer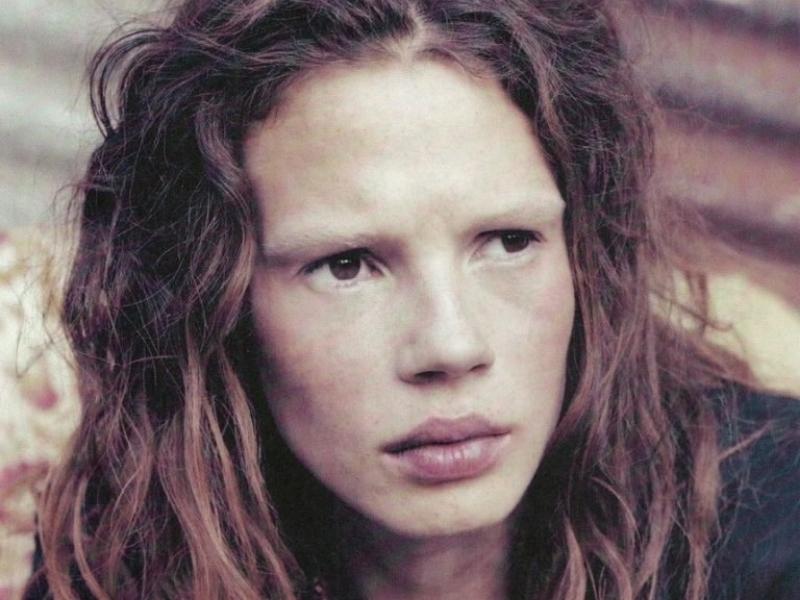 With her stellar career, Julia Zimmer is one of the German models who has achieved stardom status. She carries the same personality at work and outside of work; Zimmer loves to dress extravagantly when traveling. The model's career started when an agent from SMC Model Management discovered her in a mall. To her surprise, Prada contacted her instantaneously and requested her to represent them in the Berlin Fashion Week. Subsequently, Zimmmer has worked with Bravo Models Tokyo, Storm Management London, and Wilhelmina New York.
Zimmer loves to bask in New York's nightlife and devour pizzas outside of modeling. During her free time, she loves to get a cup of coffee and roam around Central Park. She takes credit for having a "killer body" which she maintains through hip hop.
Julia Gnuse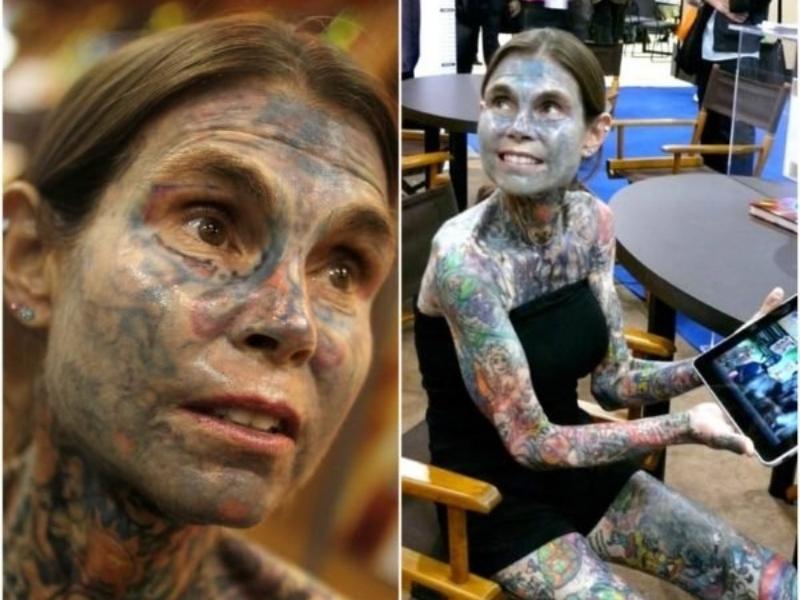 Best known as "The Illustrated Lady" or "The Irvine Walker," Julia Gnuse takes credit for these names because over 95% of her body is filled with tattoos. She even holds the record in Guinness for being the most tattooed woman in the world. However, it is worth noting that this urge started during her 30s when she was diagnosed with porphyria, a disorder that produces blisters after the skin is exposed to sunlight.
These blisters often result in scarring, so she used her tattoos to cover them. While the tattoos have no effect whatsoever of preventing Gnuse's skin from forming blisters, she decided to incorporate different colors to pay tribute to her favorite cartoons and personalities. Gnuse has appeared in Ripley's Believe it or Not and in Aerosmith's music video for Pink.
Issa Lish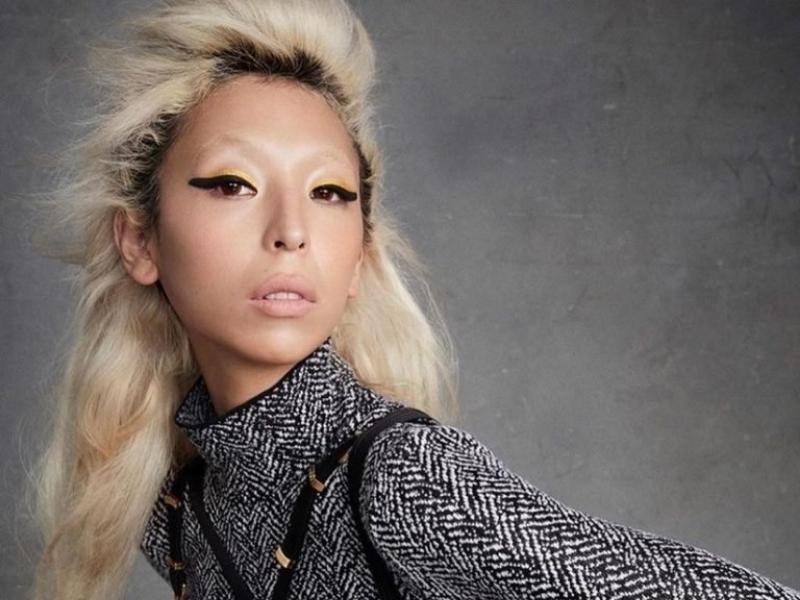 Described as a jolie laide, Issa Lish indeed has a peculiar kind of beauty. Ever since she was young, people around her told her how different she looked because of her mixed heritage. Lish is half-Mexican and half-Japanese, and that makes her really unique. Her face has androgynous features and angular jaws.
In her younger days, she probably felt insecure about her appearance, but that never really stopped her from pursuing a degree in sculpting. Someone broached the idea of modeling to her, and when she discovered this industry, she found where she belonged. She has since then appeared on the cover of Vogue Italia, Vogue Japan, and Vogue Mexico, among others. Thanks to her unique features, Lish will surely go places.
Ilka Brühl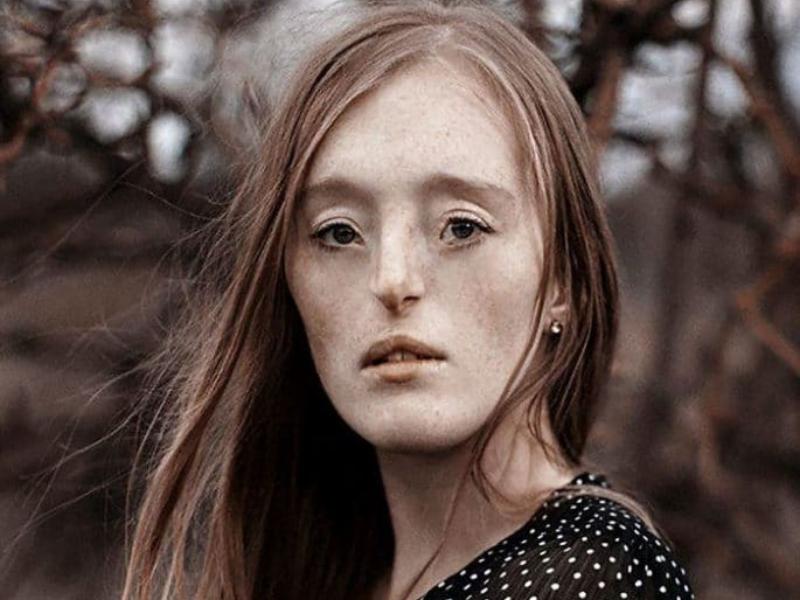 When Ilka Brühl was born, she had several facial defects that led to her inability to breathe. So right from the start that she came into existence, she was already facing challenges. Her family had to come up with a significant amount of investment money to undergo various operations to open up her airways so that she could breathe.
She finally managed to do that, but growing up, she also was the subject of teasing from her fellows because of how she looked. Mostly she suffered not just physical challenges but psychological and mental ones as well. Born a fighter, she used the difficulties to pursue her dream of becoming a model. She is now a confident person, reminding people that everyone has their own version of beauty.
Harnaam Kaur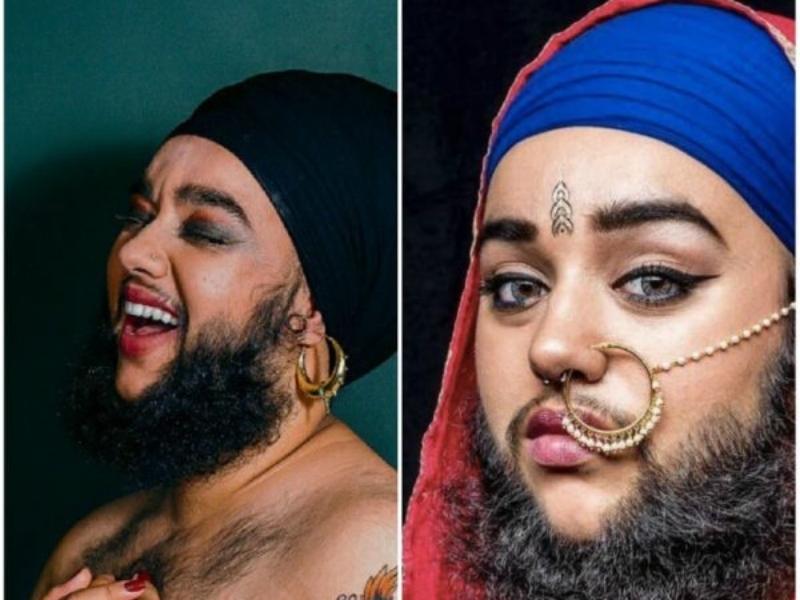 When we hear polycystic ovary syndrome, we usually think of people who need to take hormones because they have problems in their ovaries, something we really cannot see. We must realize that it is a hormonal issue, and hence, it could also affect external appearance.
People have talked to their doctors and health insurance providers to make sure they manage their hormones well, but Harnaam Kaur decided to embrace it. Hers is a rather extreme case of PCOS because she had facial hair throughout her childhood and teens, which meant there was an excess of testosterone in her body. Later in life, she learned how to embrace it and is now a life coach and anti-bullying activist. She advocates self-care and gaining self-confidence.
Hamad Jaman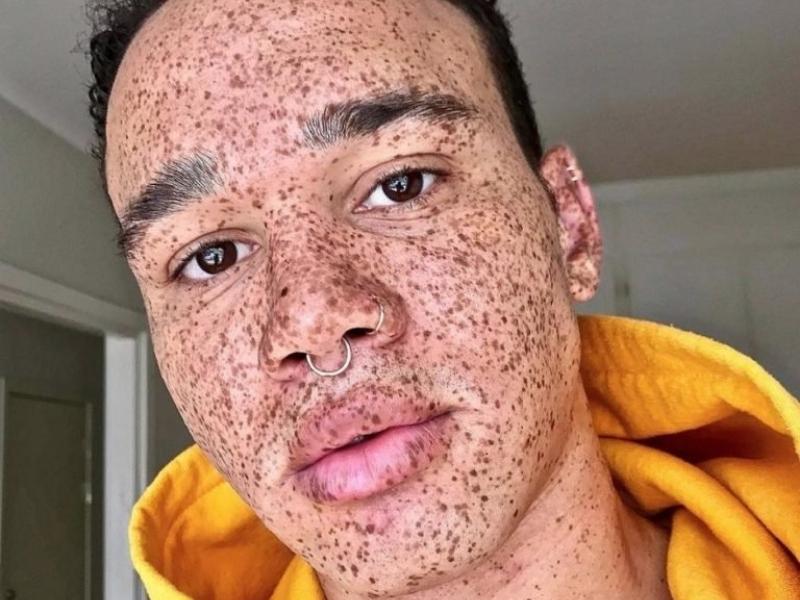 Usually, men or women do not like to focus on their freckles. Many consider this to be a blemish on the face, but not Hamad Jaman. He has learned to embrace that the freckles scattered all over her face are something to be proud of. Jaman was born with freckles, which can technically be called multiple birthmarks on his face.
Despite the constant bullying as a child, he was able to turn things around and use his unique facial features to his advantage. Now, he is a model for various brands. Sometimes they even enhance his freckles using Photoshop to make them bolder and a bit more visible. To a degree, he made it his trademark and learned to use them to his benefit.
Scar Inside the Eye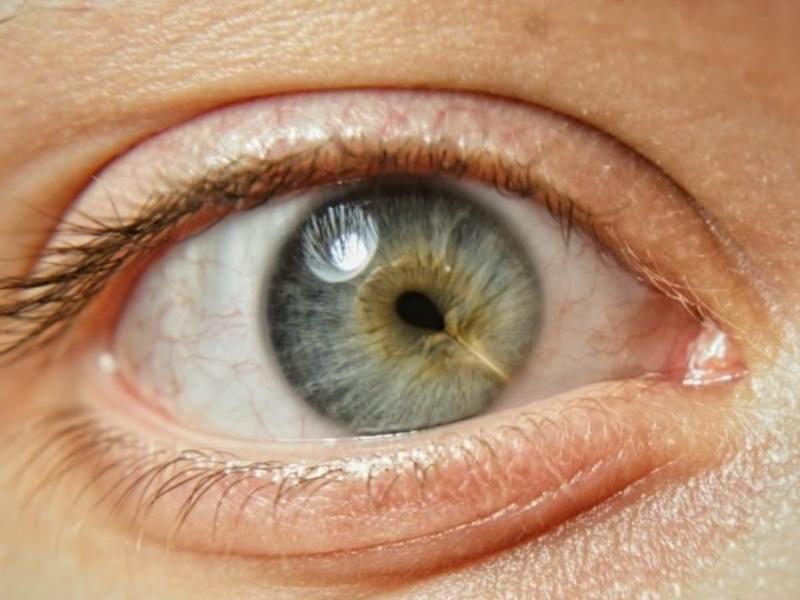 So when we talk about the eyes, we rarely associate them with having scars. You can have blemishes on your skin from wounds, but how do you get a scar inside your eye? Apparently, this person has a one-of-a-kind eye because he got this scar on the pupil as a child. It could be due to a number of reasons, and we do not know for sure.
He was brave enough to share it on Reddit and noted that he had it since birth. It could also appear later in life due to trauma. The person admitted that while the scar is very visible from the outside, it has not affected his vision. He does have to make investments in yearly eye check-ups so that his condition does not get any worse.
Em
Your name is your identity. Hiding your name also reveals something about your personality. Em, a model and an actress, has chosen not to disclose her real name. It remains one of the modeling industry's most kept secrets to this day. So why hide it from the world? She probably wants to let her looks speak for her.
Em has vitiligo, and like other models who have them, she has learned to embrace her condition and leverage it. To a degree, she had made herself an inspiration to other people. Many consider her an ambassador of positive body image, and those challenged usually look up to her for inspiration. If she can survive in the modeling world, others could, too.
Elisany da Cruz Silva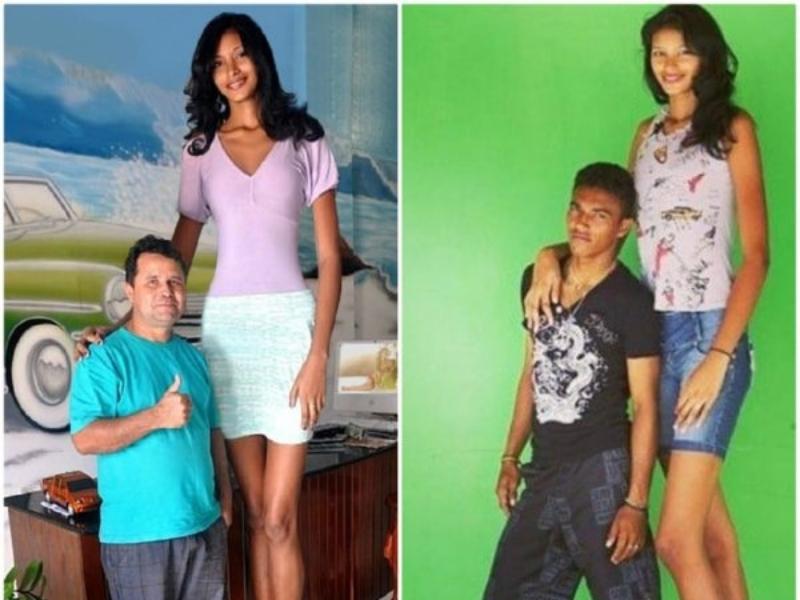 Being tall can be an asset. You stand out in a crowd, so it is easier to find you in cases of emergency. You do not need help when reaching for items at the top of the shelf, and most importantly, you can cover long distances while walking, saving on gas for vehicles if you are up to it. But being very tall can be a liability as well.
This is what Elisany da Cruz Silva realized when she noticed that she was above average. She stands 6'8" tall, and with that height, it is impossible to get men to like you. They would be easily scared, so it would take a real man to come up to her and ask her out. We commend his partner as they are now happy together, despite the difference in heights.
Elaine Davidson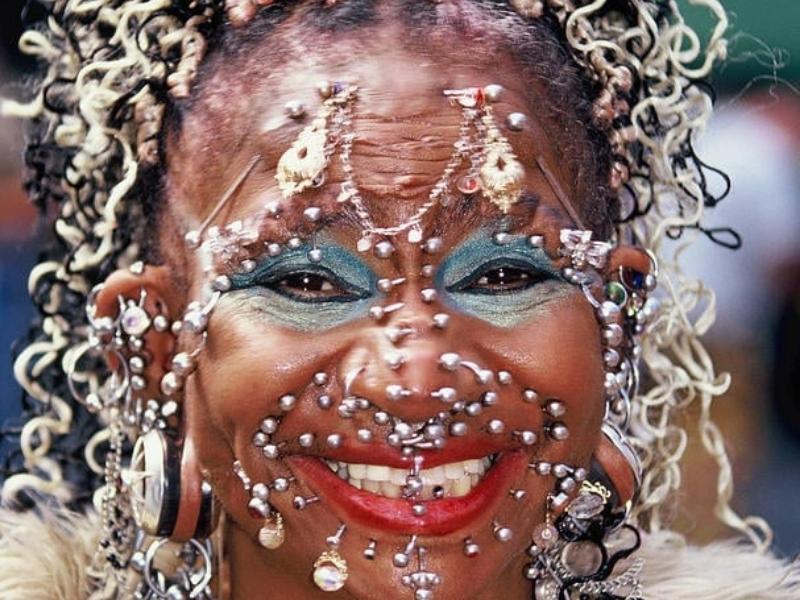 Having piercings is also an expression of one's artistic tendencies, and every single one of them usually tells a story. Ask anyone who has gotten themselves pierced, and they will narrate why they got that particular one on that specific body part. Now, some will take it to the extreme, as in the case of Elaine Davidson.
If Julia Gnuse has more than 90% of her body inked, Davidson has to date, more than 6,925 body piercings. That is a great degree of commitment right there because she started the Guinness World Record in May 2000 with only 462. The entire weight of all her piercings is estimated to be three kilos. If she feels that she is carrying the whole world, it is because she is, with all that extra weight.
Dru Presta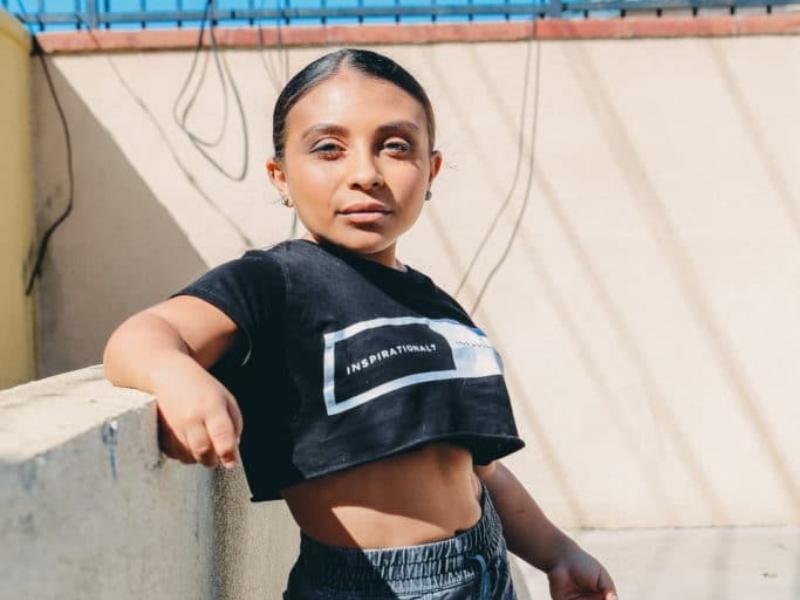 There is this long-standing belief that models must be tall. For the most part, that is the case because of the clothes they have to wear. But these are simply the ideal. Being a model means being able to influence and Dru Presta certainly has that skill. She stands 3'4" feet tall and is considered a dwarf, but she was able to overcome all boundaries and became a part of the fashion industry.
It is true that she may never walk the runway, but she is slaying it everywhere else. She has big dreams for herself, and credit goes to her for using social media to her advantage. We can only compare her with Peter Dinklage, who also broke barriers in the world of acting.
Diandra Forrest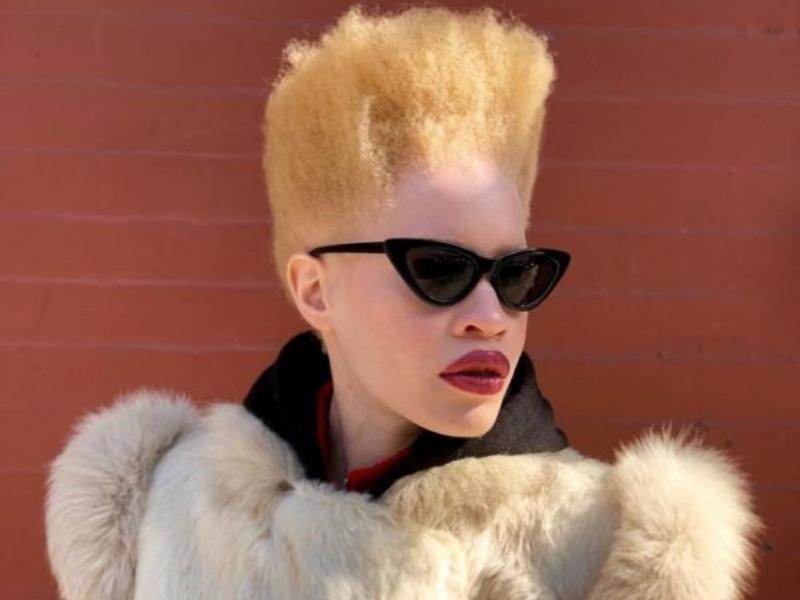 Being the first is certainly important, and that is why we always remember the first to do something. Diandra Forrest has albinism and is certainly not the first to have this condition. Albinism is a condition experienced by a lot of people worldwide that causes them to have light skin.
Did we mention that Forrest is African-American? So it was really a challenge for her because she stood out and got the attention she never wanted. However, she used her albinism to her advantage and became a model. The lawyers for the biggest modeling agency in the world were called on to sign her up, creating a world-first for an African-American woman with albinism to become a model. There is a long way to go for Forrest, for sure.
Devon Gallagher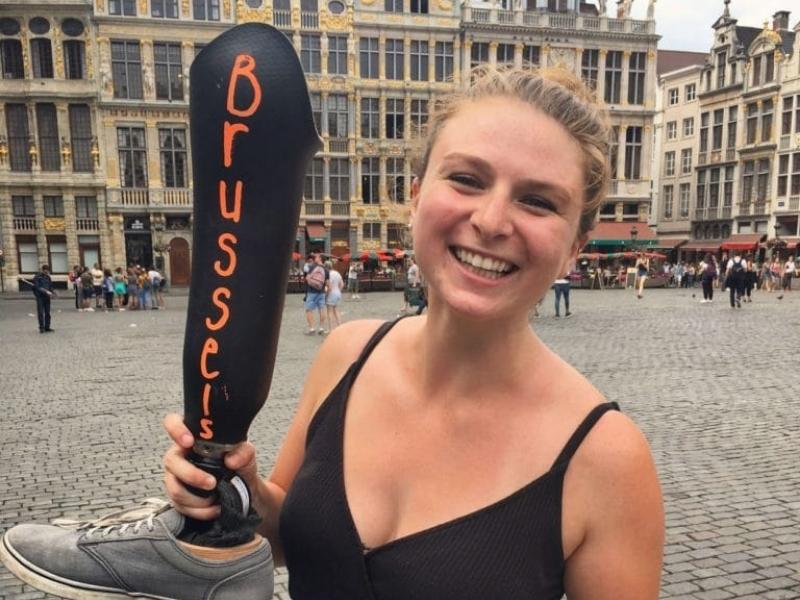 People are normally born with two legs, and when they are left with only one, that becomes a huge challenge. With today's advanced age, there are options for prosthetics. With the right investments, one could easily obtain one. That is exactly what Devon Gallagher did.
Instead of being bogged down by the fact she only had one leg, she decided to get a prosthetic leg. She took it further and then went on to become a traveler. She would normally go to new places and then write the name of that new place on her prosthetic leg. As many people are now on Instagram and social media, she is able to influence and inspire others with similar conditions to do what they want without being limited.
Daphne Groeneveld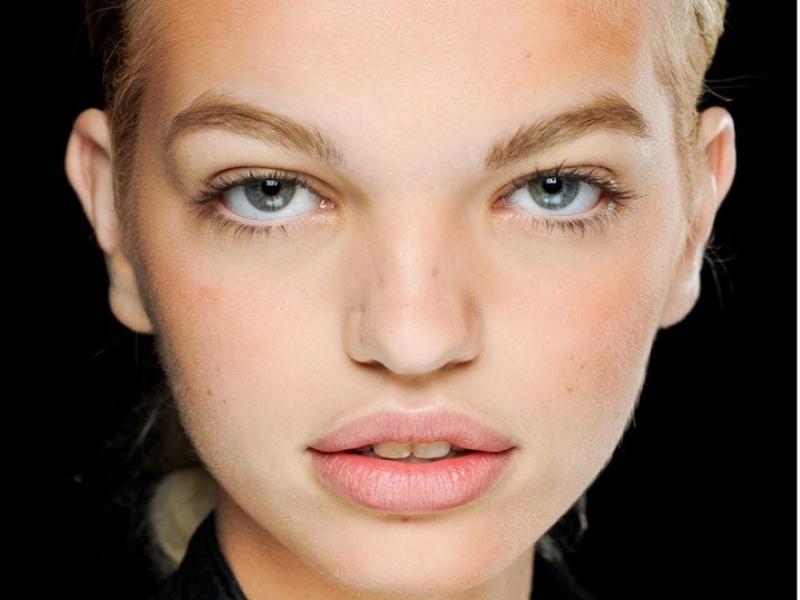 Having a unique look means that people's eyes will generally gaze towards you. For a model, that is important because the first thing you want people to do is look at you. There is no doubt that Daphne Groeneveld has that rather mesmerizing appearance. It is not the usual beauty standard you see, but something special is really.
Now a model, Groeneveld has captured the attention of the industry. In 2011, she was recognized as The Best Dutch Model by the Marie Claire Netherlands Fashions Awards. This was just a year after she started modeling. Receiving that initial credit made her a well-sought-after model, and now she works with brands like Gucci, Dior, Vogue, and Fendi, among other famous brands.
Danielle Kroon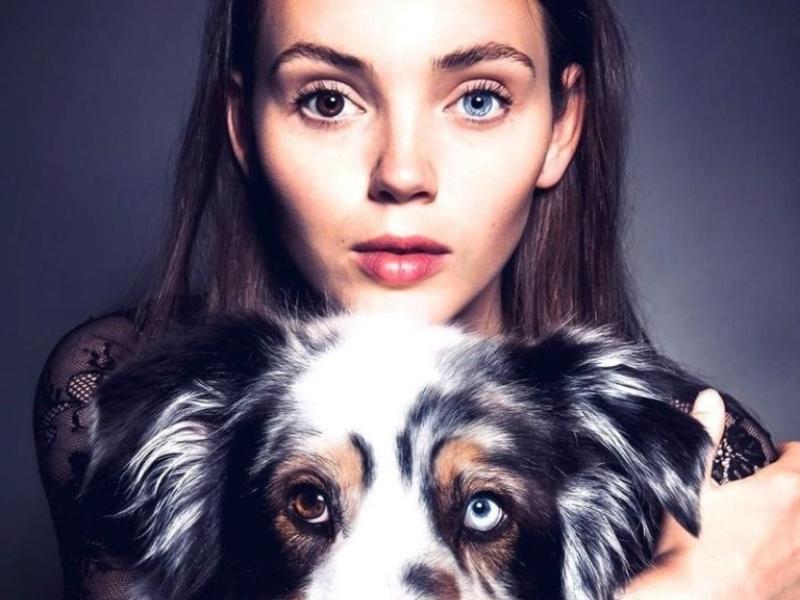 Heterochromia is the condition where a person has two different eye colors. They always say that the eyes are the windows to one's soul. Does that mean that those with two colors have two souls? Whatever the case, Danielle Kroon, born with the condition, had made a living out of this.
Not many people can claim to be both brown-eyed and blue-eyed. Kroon has reached that degree of confidence that she is no longer self-conscious about her eyes. She used that to advance her modeling career instead. Also, the successful model became inspired by her condition to study medicine, perhaps in an effort to understand it better. For sure, as a doctor, she could help more people understand this condition and gain confidence.
Coralie Jouhier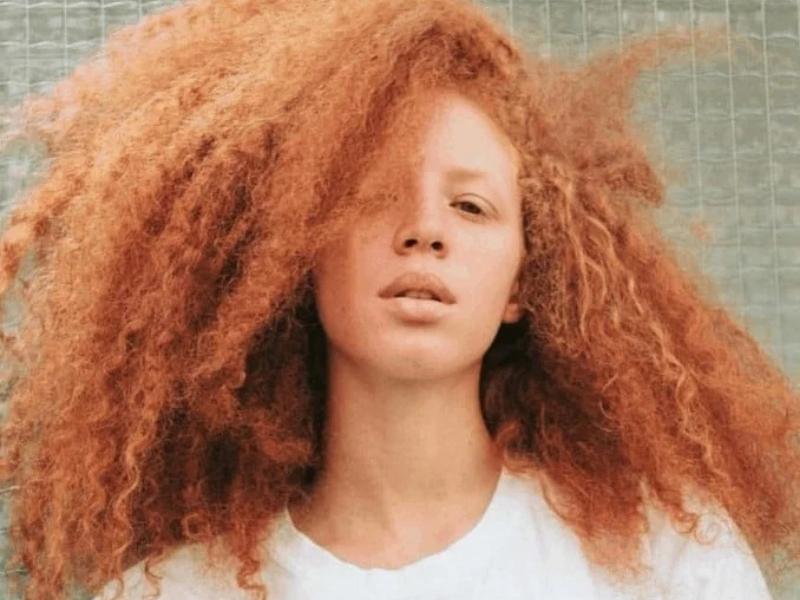 Having ginger hair is normal nowadays, but having this color and curly hair at the same time is a unique combination. We saw extremely tall people or have freckles, and we can say that this ranks high up in the most distinctive looks in history. As with others, Coralie Jouhier has learned early in life that she looks different and eventually learned to love it.
She could probably be a model or a fashion designer, but that is not her passion. What she did instead was to pursue a career as a chef. She likes the kitchen and coming up with vegan meals specifically. Of course, when she is inside the kitchen, she would make efforts to secure her hair. Otherwise, a mistake in increasing the gas stove's fire could burn that precious crown.
Cierra Skye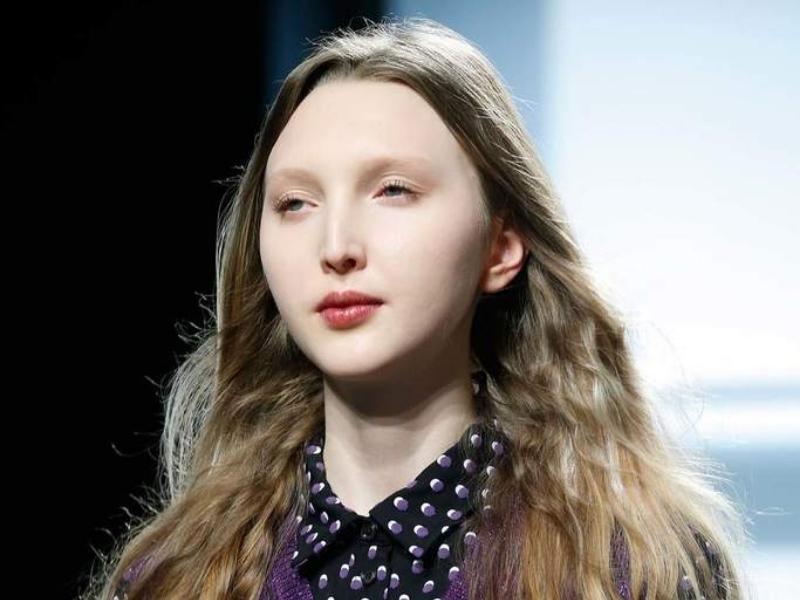 If you are said to be a Renaissance Man, that means being intelligent and having many talents. Cierra Skye has been described as someone from the Renaissance period because of her unique facial features. She has a round face, long wavy hair, and a thin nose, similar to those seen in paintings depicting women of the period. Perhaps it was the standard of beauty back in the day.
As such, many consider Skye to have unique looks. That same characteristic has made her quite famous in the fashion world. Fashion house brand Marc Jacobs, for example, has made investments in her and hired her on multiple projects. Apart from modeling, she also likes writing poetry and prose in true Renaissance fashion.
Kid with Cat Eye Syndrome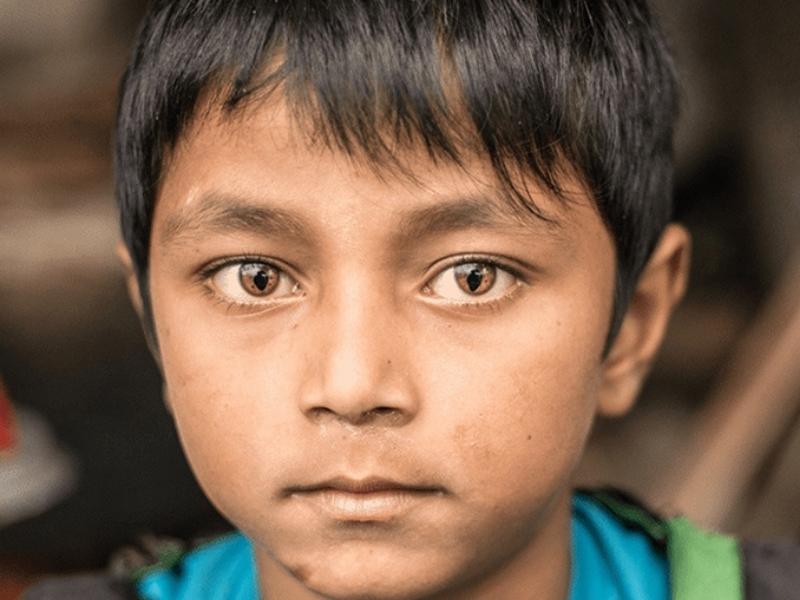 The kid in this picture is from Nepal, and he has a medical condition colloquially known as Cat Eye Syndrome. A person with this syndrome has a pair of eyes similar to a cat, hence the name. But behind the looks, there is a serious condition beneath it. It is actually a much more difficult condition because it can also affect the kidney and the heart.
Doctors and health insurance providers are actually at a loss on how to cure this. So far, there are now new studies that say how to handle it. Genetics is said to play a huge part in this. Does this mean that whoever has this should just give up? Of course not! Just like the child in this picture, it makes the person unique, and he should really be proud of how he looks.
Two-Toned Hair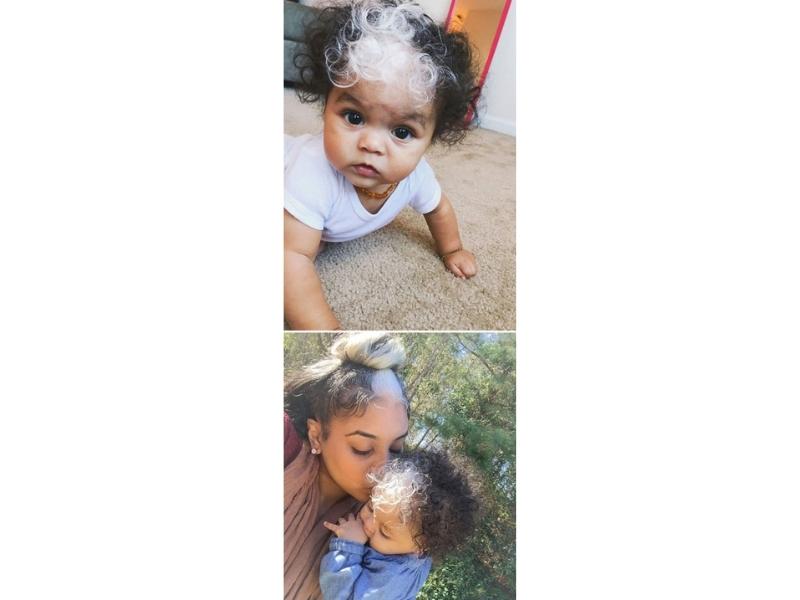 They say that a woman's crown is her hair, which is true to a certain degree. This is one reason why many spend so much time making sure that their hair is perfect whenever they go out. Having the right color is also one aspect of hair care that they truly go crazy about. But what if you have two hair colors? And no, we are not talking about artificial hair colors, but natural ones.
What you see in the picture is a head with two natural hair colors. Apparently, it can be inherited as the child also has that unique condition. Does it make for an attractive feature? It sure does. It can also be a great conversation starter, apart from the weather.
 Bera & Tsotne Ivanishvili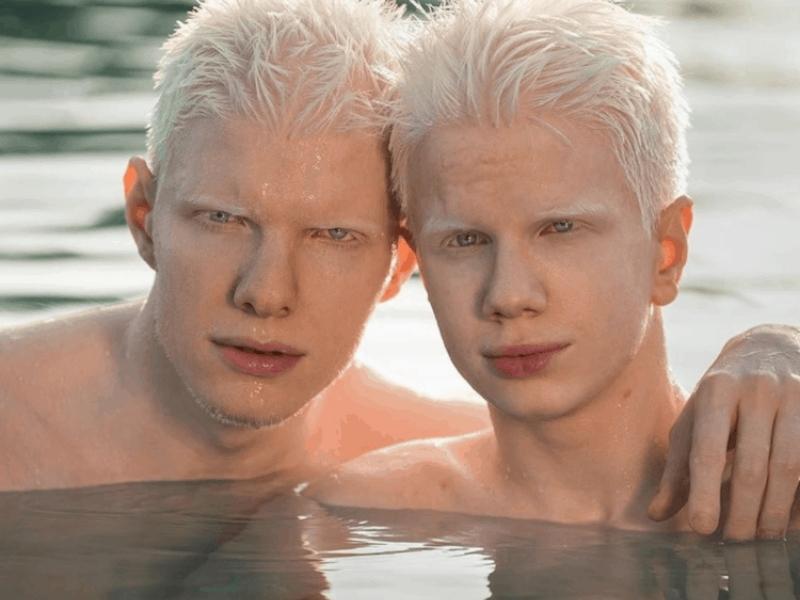 More often than not, when someone sings quite well and makes great songs, we instantly become a fan of them. Sometimes, though, artists would add another degree of surprise to their profiles to make them more distinct in the scene. Besides their records, another way to catch people's attention is how they carry themselves in public, with their clothes and such.
Well, even if you haven't heard of his songs yet, it's safe to say you'll want to take a second glance when you pass by Bera Ivanishvili, not to mention his brother Tsotne: this sibling duo was born with albinism. While Tsotne opts for a more low-key lifestyle, he's pretty active on social media and even appears in several of Bera's Instagram posts.
 Bee Melvnin
 Maintaining a particular color scheme in our clothes and the things we bring is undoubtedly a hobby many people have. For one, if done right, that person would look pretty good and even seem like they came straight from a photoshoot. Besides the clothes and items, though, many would also spend some credit card points buying hair dye.
Well, for those who always need a stock full of white hair dye, you might be in for a surprise when you see Bee Melvnin. A Gambian model who has since become a worldwide sensation, with over a hundred thousand followers on Instagram, was born with the condition that made her have naturally white hair. Suffice to say; she has made the most out of it.
 Ava Clarke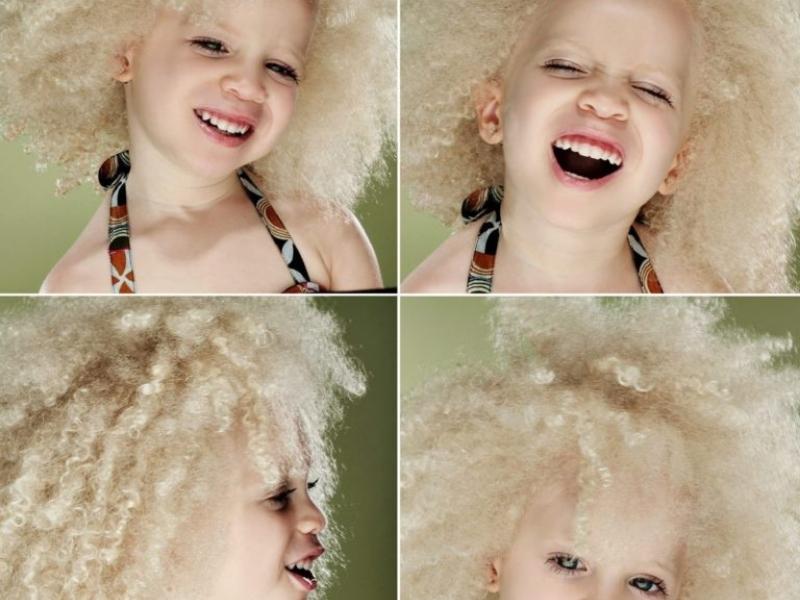 Albinism is a rare condition that people have gradually become more aware of through the years. This is without a doubt thanks to more than a couple of people. Along with the previously mentioned Bera Ivanishvili, Ava Clarke is another person born with albinism that has become a popular figure in recent years. Although her type of albinism has affected her sense of sight a bit, that hasn't stopped Clarke from making investments in the things she loves.
Along with keeping a YouTube channel for her vlogs and other activities, she also has an Instagram account and has tried her hand at acting, appearing in the 2017 short film Milk. Plus, it would be wrong to ignore the fact that she also had the chance to work with Beyoncé on the singer's 2016 TV special, Lemonade.
 Arina Lubiteleva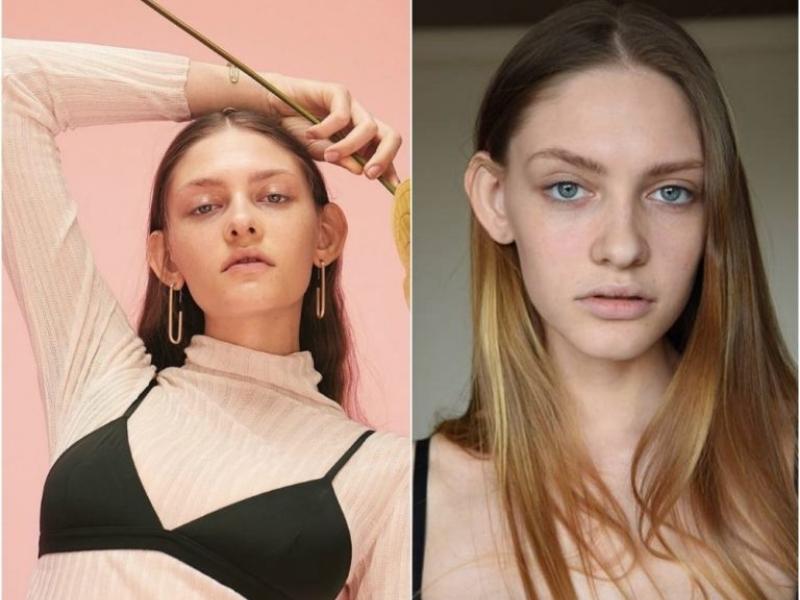 There are some things we don't want people to see whenever we're out and about. For that, we often find ways to cover them with the clothes we wear or the things we bring. Speaking of which, some people are pretty conscious of how their ears look in public: some of them might even say they think it's too big and that they feel like Dumbo.
Well, to those who have that sentiment, Arina Lubiteleva would like you to think otherwise and be proud of them. While she may have distinct ears, that isn't the only feat Lubiteleva has to show to the world. A model with a growing fan base, Lubiteleva's career is far from over, and by the looks of it, she still has plenty of fuel in her gas tank for her journey to stardom.
 Anisocoria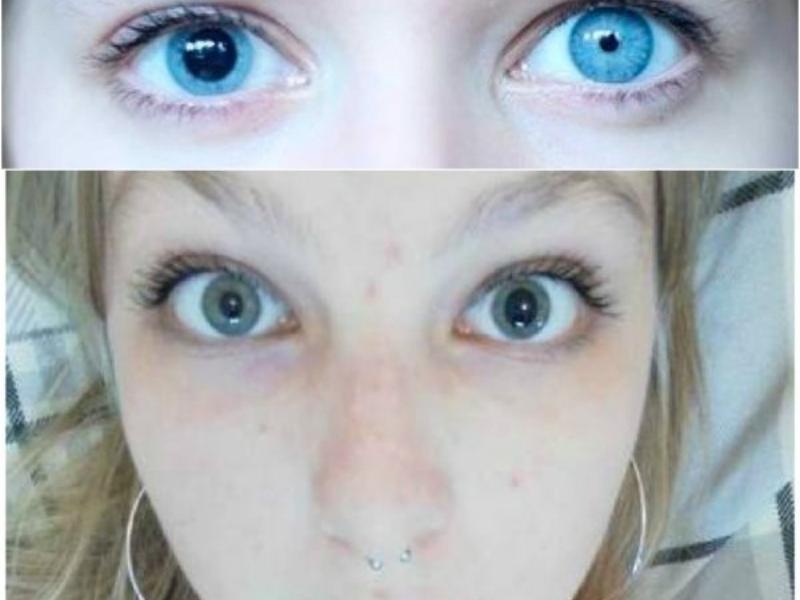 The eyes are probably one of the first few things we notice about a person. Along with attractive colors, some eyes might even have conditions as interesting as one known as anisocoria. Translating to "not equal pupil condition," anisocoria means one pupil is larger than the other. One such person who has this is the late-but-never-forgotten icon, David Bowie.
With his left eye's pupil significantly wider than his right, the condition undoubtedly gave the late singer/actor a degree of mysticism to his appearance. However, how he got anisocoria isn't as mystical: he got into a fight with his friend, who punched him in the eye, permanently paralyzing the iris. On the bright side, that brief scuffle didn't damage their friendship – Bowie even thanked him later on.
Angel Giuffria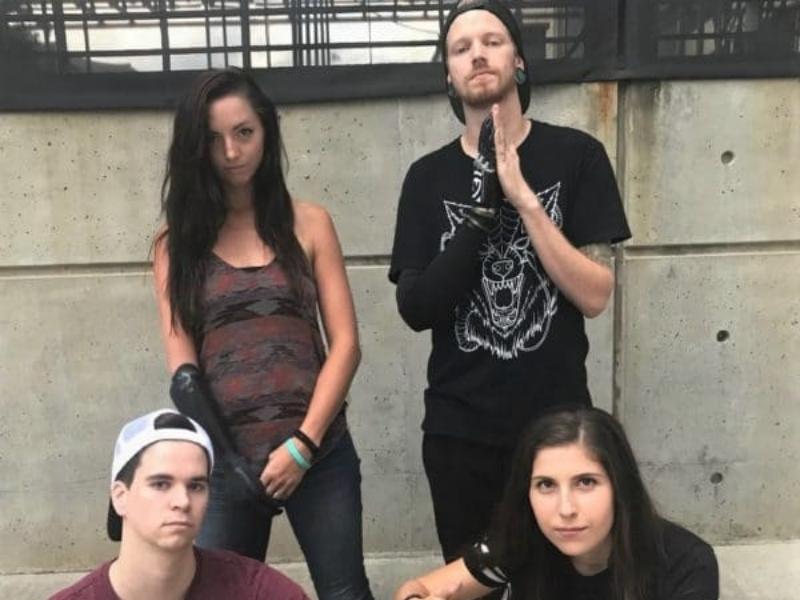 There's no denying that missing something doesn't make you any less of a person. Another person who supports this notion is none other than Angel Giuffria. Born without the lower half of her left arm, Giuffria spent the first few years of her childhood wearing a prosthetic arm. After a while, though, she finally replaced the prosthetic with a bionic arm.
Over the years, she has become quite a popular figure. Along with being an ambassador of sorts for people with bionics, she has also become an actress, landing on-screen credits in projects such as Impulse, Claws, and Chicago Med. Now, if that doesn't make her any cooler, wait until you see some of her cosplay work, where her bionic limb comes in handy.
Alek Wek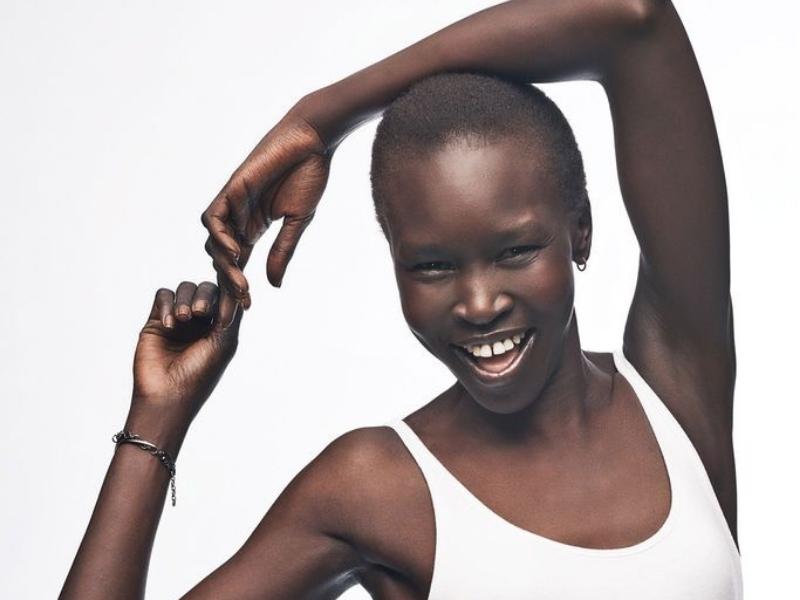 Alek Wek had a tough childhood, having lived in a house without running water or electricity. Even so, the experience didn't bring her down or convince her she'd never get anything better than that. At 14 years old, Wek went to London and studied fashion there. After a while, she eventually made her way into the modeling scene.
Since then, she has become a very influential figure in the industry. She has also been cited as the source of inspiration for many. Besides gracing the runways, however, Wek has also dabbled in other endeavors through the years. This includes Wek 1933, a range of handbags she has designed. Plus, she has also tried her hand at acting, having appeared in two films: The Four Feathers and Suspiria.
Aleece Wilson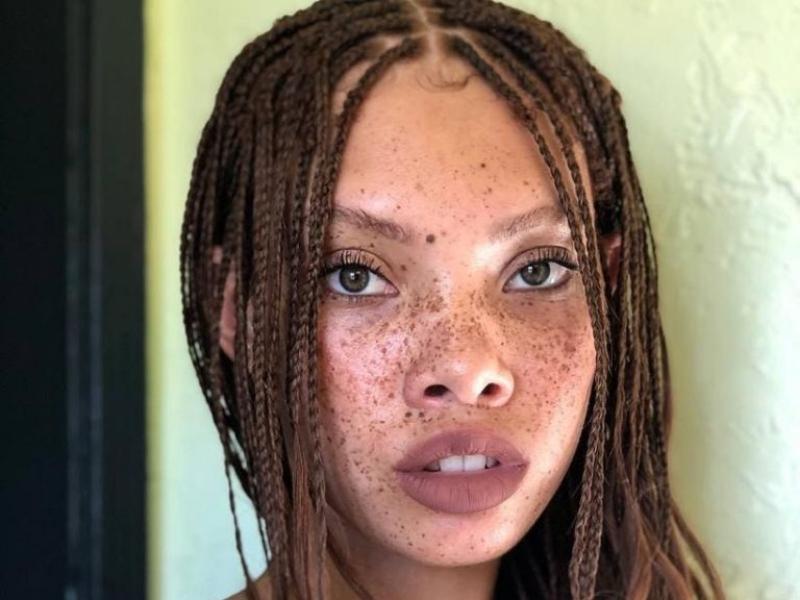 While model Aleece Wilson is quite celebrated today, it seems that she never thought that she could have achieved her lifelong dream. According to her, even as she managed to fulfill her dream job, she was initially quite doubtful. She said that her freckles were quite a detriment during her childhood. However, it became a great asset for her when she started her modeling career.
Wilson started her career after getting the attention of Canada's Elite Models agency. Shortly thereafter, she walked at the 2017 New York Fashion Week, which she credited for putting her into the spotlight considerably. Since then, she has worked and posed for various prominent names in the fashion world, such as Vogue, Marc Jacobs, and Fabien Baron.
A Young Boy from Uganda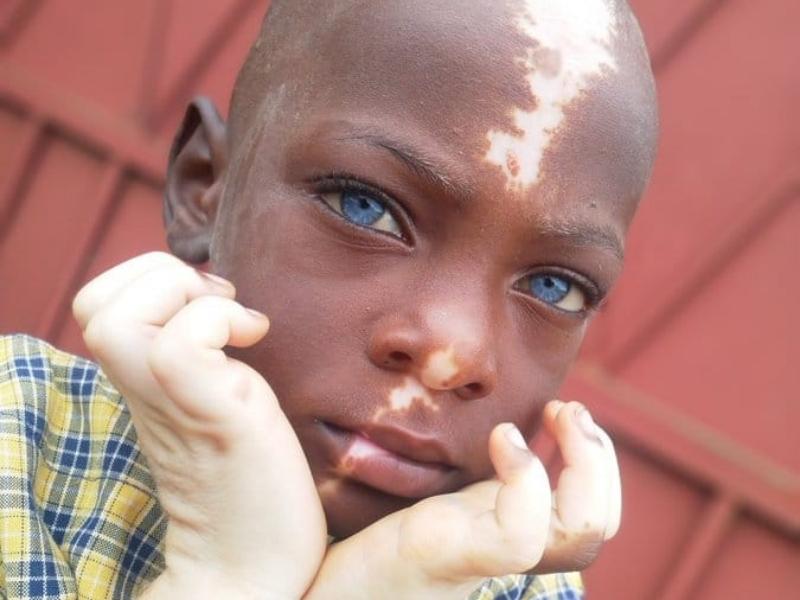 When photos of this young boy from Uganda were posted on the web, he quickly became a center of media attention. Thanks to his blue eyes and patches of pale skin throughout his body, the boy became known. While initially the boy's name was not revealed, he was later known as Shakul. The aid organization Compassion International can be given credit, as they did a feature about the boy.
According to reports, the boy has a genetic condition called Waardenburg Syndrome. This condition most commonly affects eye color or skin pigmentation. While the boy's situation is quite unique, it might be why he was abandoned during his infancy. Fortunately, a child development center took him in, and he is now growing up quite well.
You've Reached The End